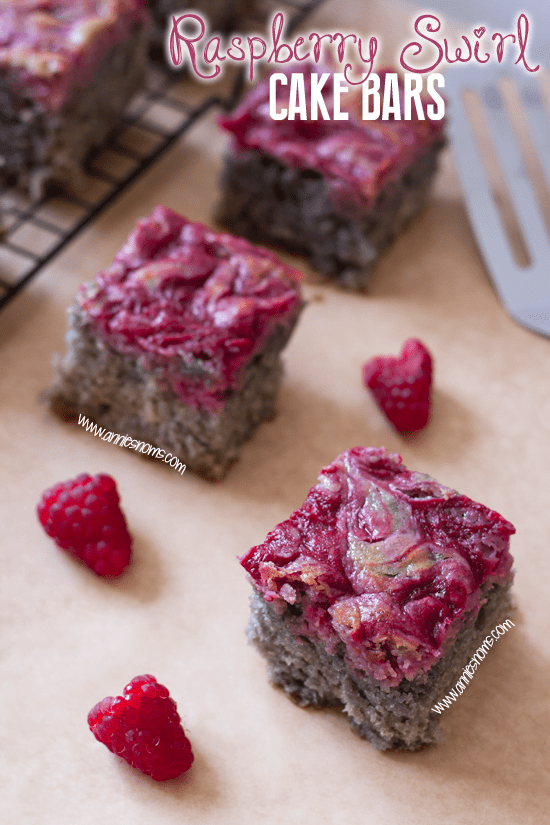 Hey y'all , it's me again 😀 (Annie from Annie's Noms in case you missed last months post – which was these amazing Black and White Cheesecake Bars!)
Anyway today I bring you cake. Not just any old cake, raspberry cake bars with fresh raspberry purée in the batter and swirled in the top!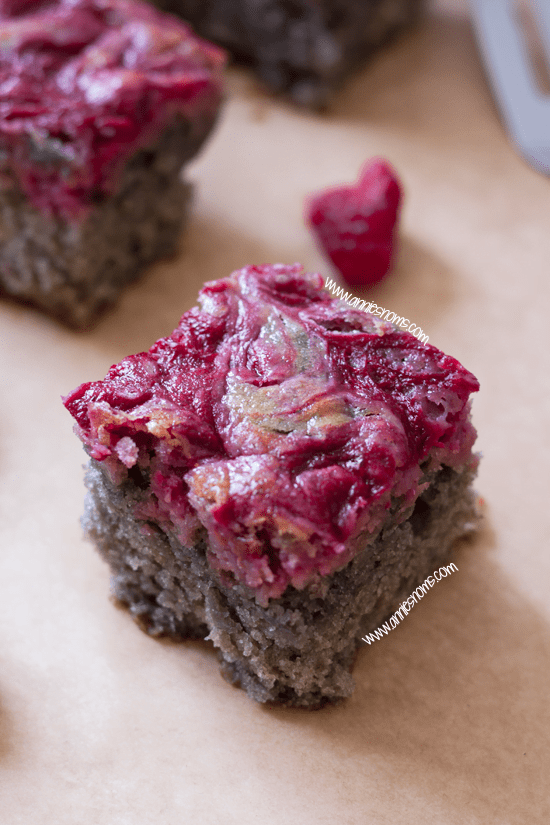 I know Summer is practically over, but I'm trying my hardest to cling on to it for a bit longer, before I get my thermals back out 😉 and Summer for me = berries!
Don't get me wrong, I love cosy nights in on the sofa with a hot chocolate and I adore all the flavours of Fall, but it just feels like, here at least, Summer doesn't last very long! I made my first Fall recipe yesterday with caramel and apples, which made me feel slightly better about Summer leaving us. I'm finally going to try pumpkin in baking this year too! Pumpkin purée is soooooooooooo hard to find here, but I think I've found a place that stocks it so I'm going to get loads and go mad!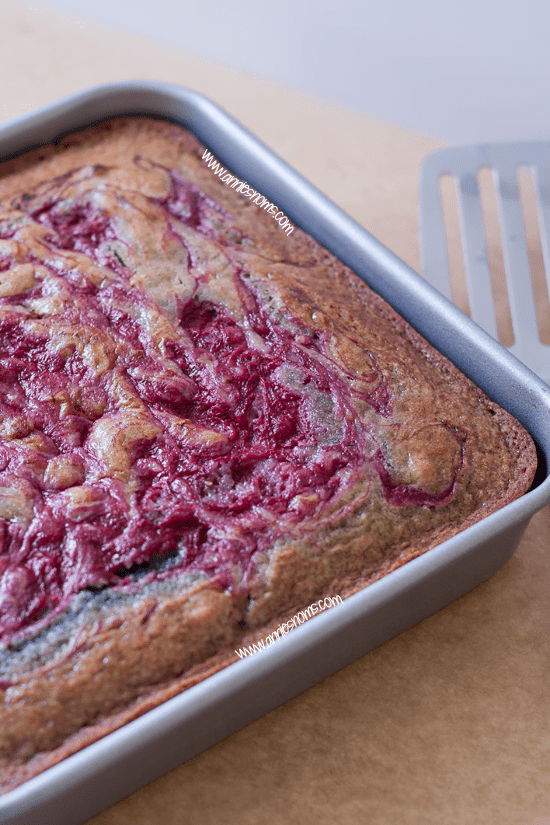 These bars are easy to whip up and super versatile. You could add any flavour purée you want, in fact you could skip the purée in the batter all together and just add in some whole fruit and a swirl on top!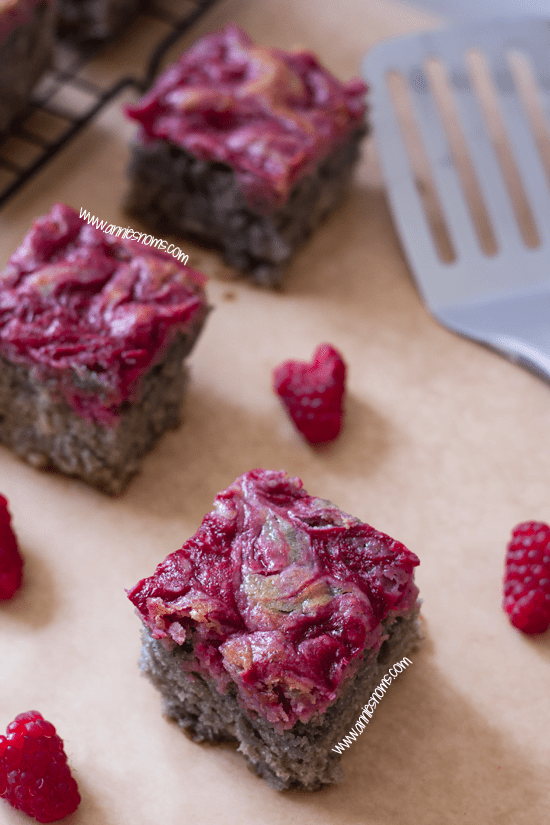 These turned out great, they are moist and full of flavour. Not too sweet and not too tangy, the raspberries really pack a flavour punch and they're so pretty 😀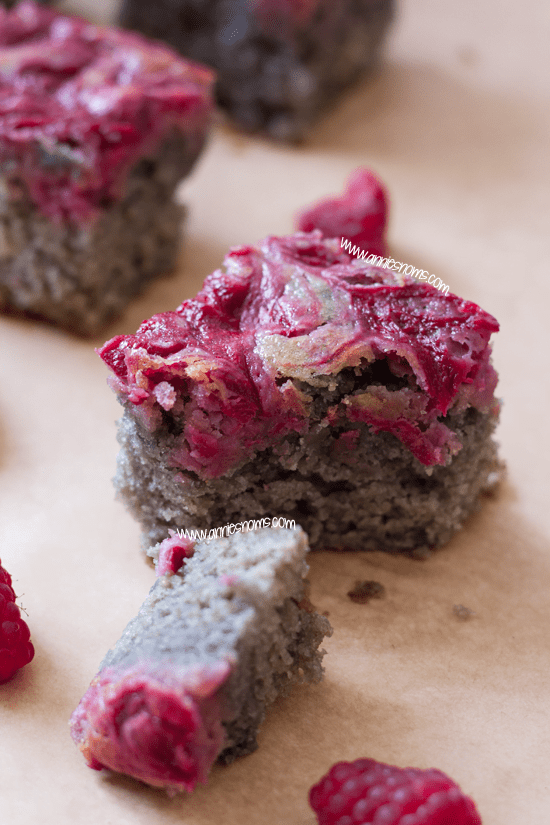 So, use up the last of your berries and make these bars! You won't regret it – the batter comes together in 10 minutes (15 if you're making the purée yourself) and then you just pop them in the oven. There's no fancy icing or anything, I wanted to create something simple for once! These are that perfect treat if you're looking for something quick to make! Until next month…
Annie 🙂
Raspberry Swirl Cake Bars
Sweet, yet tangy raspberry cake bars, with fresh raspberry purée in the batter and swirled on top!
Ingredients
1/4 stick (28g) butter, at room temp
1/4 cup vegetable/sunflower oil
1/2 cup white sugar
1/2 cup light brown sugar
1tsp vanilla extract
1 egg
2 cups all purpose flour
1/2tsp baking soda
1tsp baking powder
3/4 cup buttermilk
1 and 1/4 cups raspberry purée, divided (this was 1/2lb fresh raspberries puréed for me)
Instructions
Preheat the oven to 350F/180C and grease and line a 9×9 inch square pan.
Beat the butter, oil and sugars together until light and smooth, about 2 minutes on med-high speed.
Add in the egg and vanilla extract and mix until well combined.
Add in the flour, baking powder and baking soda and mix until well combined, about 1 minute on med-high speed.
Add in the buttermilk and mix until well combined.
Place 1 cup of raspberry purée* into the cake batter and mix until well combined and smooth.
Pour the batter into the prepared cake tin and then spoon the remaining 1/4 cup of raspberry purée on top. Using a toothpick, swirl the raspberry purée into the cake batter, but leave plenty of purée showing, you don't want it all mixed in to the cake!
Place the cake in the oven for 30-35 mins until golden, an inserted skewer comes out clean and it's slightly pulling away from the sides of the cake tin*.
Leave to cool completely before removing from the cake tin and slicing into 9-12 bars.
Bars will keep in an airtight container in the fridge for 3 days.
Recipe by Annie
*To make the raspberry purée place around 1/2lb raspberries into a medium sized bowl and blitz with a hand blender until smooth or place in a food processor and blitz. Then sieve the purée into another bowl to remove the seeds.
*If the cake is browning too quickly, place foil over the top of the pan and return to the oven.
[amd-zlrecipe-recipe:2]