These Pumpkin Apple Sugar Doughnuts are baked, not fried and jam packed with pumpkin and freshly grated apple. Rolled in cinnamon sugar to finish them off, these are simply sublime!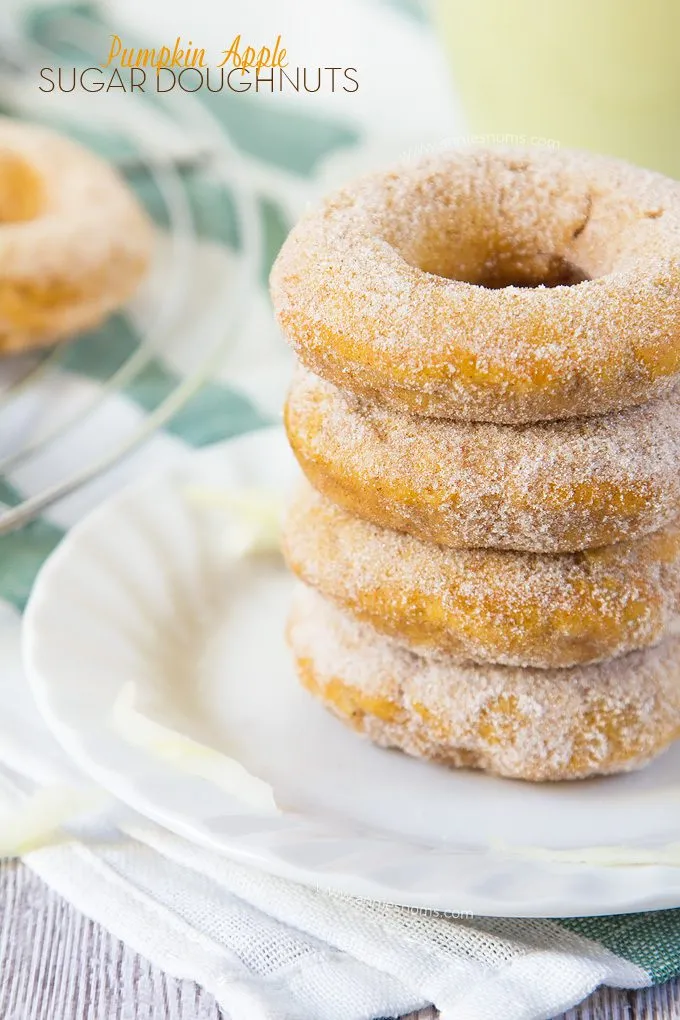 Hello friends! Annie from Annie's Noms here to share with you this awesome recipe for baked Pumpkin Apple Sugar Doughnuts!
These nearly had a completely different topping, but then I thought "I always glaze my doughnuts, let's switch it up this time!" So, I mixed cinnamon with superfine sugar and created a glorious concoction that I wanted to just eat with a spoon! 😀
Now, I know pumpkin is super versatile; I mean I've made cheesecake bars, cookies, cupcakes…etc. with it, but this time I wanted to experiment with adding in some apple as I'd seen a few recipe ideas with this combination.
You know what? It's a fabulous combination. It just totally works!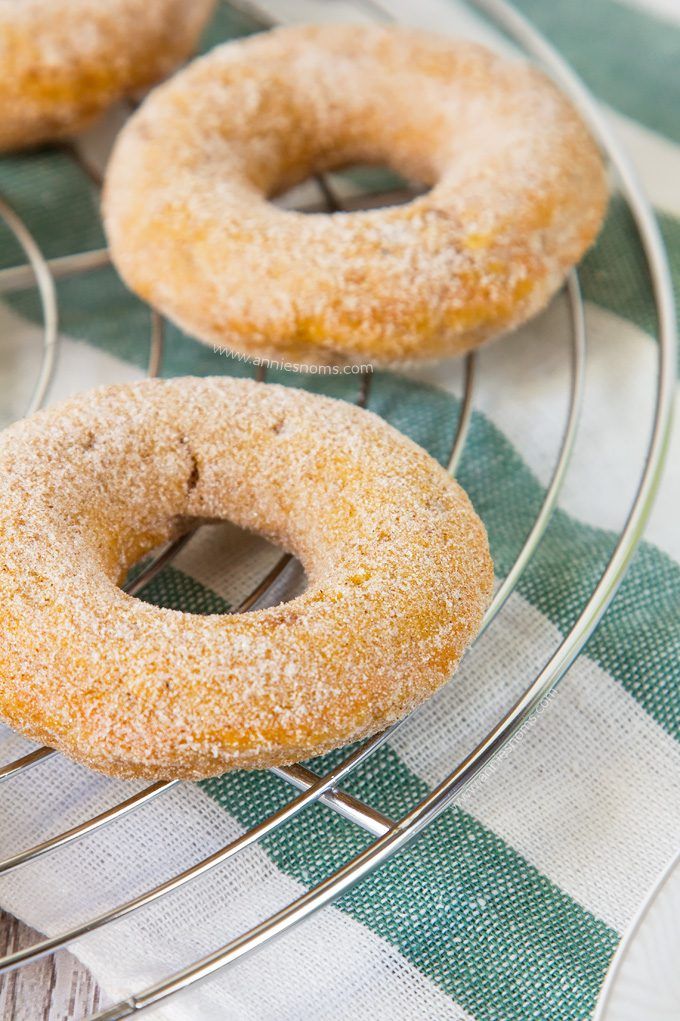 I used Granny Smith apples as I love their sharpness and find them brilliant to bake with, but you can use whichever apples are your favourites.
I would advise a stronger apple though, otherwise it won't pack as much of a flavour punch along with the spices in these doughnuts.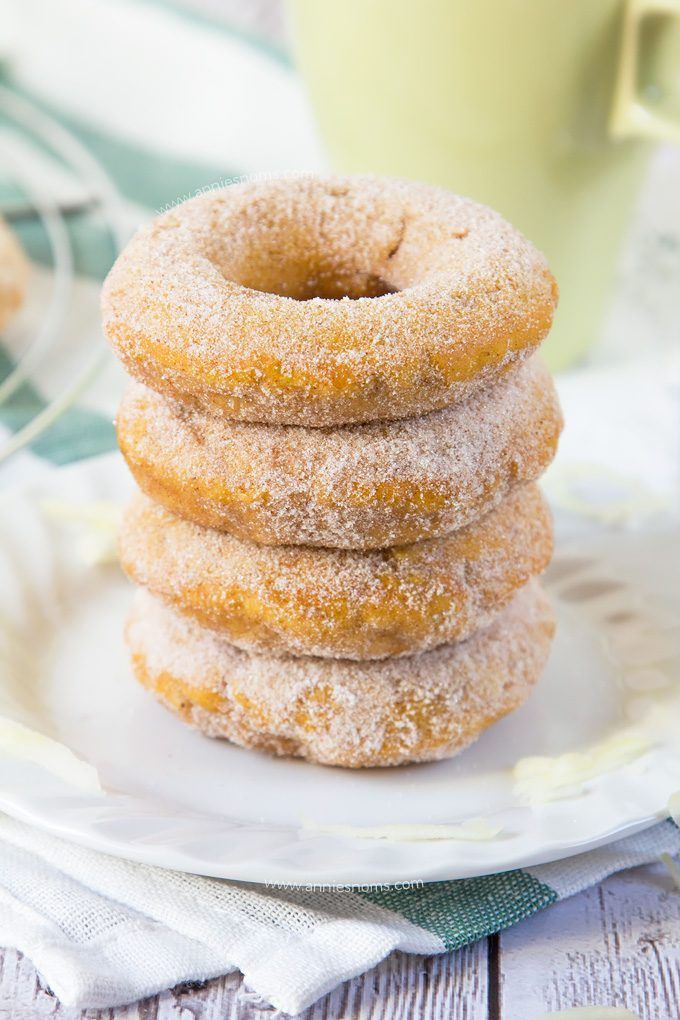 Do you want to know a secret?
I've only ever made fried doughnuts once. I know, I know…. it's embarrassing. Especially as I LOVE to eat fried doughnuts. But… that's probably why. If I always fried my doughnuts I would need to do a whole lot more exercise!
Also, baked doughnuts are so quick to make when those doughnut cravings hit! No waiting for dough, no cutting out, waiting again, frying, draining… I just don't have time.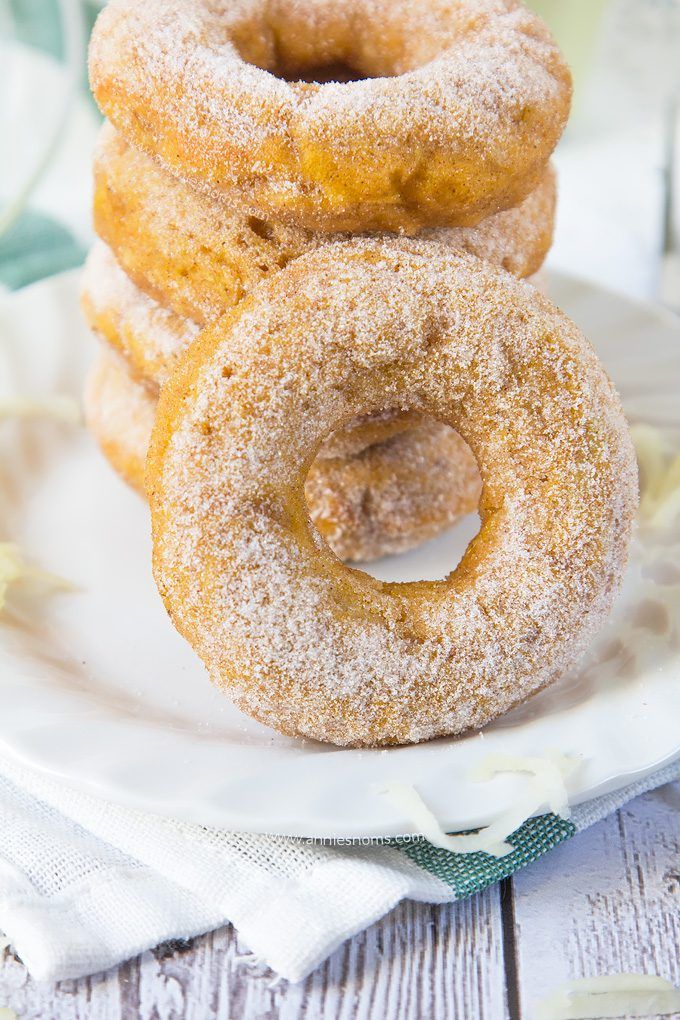 These are so easy to make too; you don't even need a mixer! I prefer to make things like brownies and doughnuts by hand as there is less of a risk that you'll over mix them!
The hardest part is putting the mixture into a piping bag and piping it into your doughnut pan!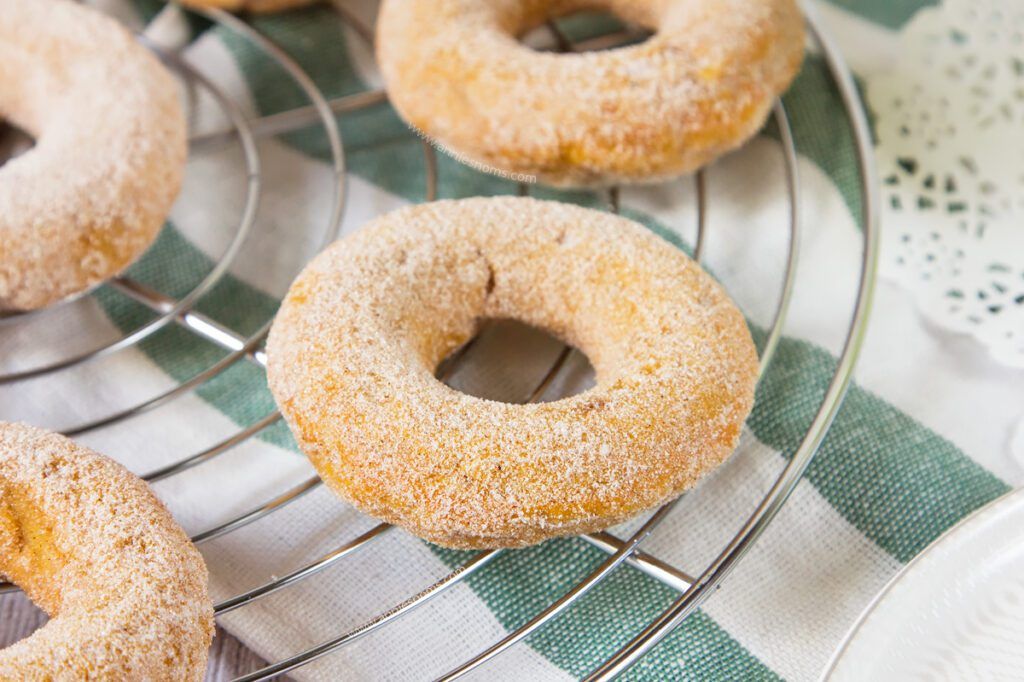 There's an entire cup of pumpkin in here, with plenty of spices to add to the mix. I contemplated chunks of apples, but decided to keep the texture smoother by grating them instead. It's slightly more time consuming, but I think it was totally worth it!
Once I baked these babies, I had to try my hardest not to dig straight in as I wanted to experience the whole thing… cinnamon sugar and all! So, I patiently waited. And believe me, patience is not something I usually have much of.
Again, it was worth it. Rolling these into cinnamon sugar just pushed them off the scale. DIVINE! You seriously need these in your life!
You can connect with me on Facebook, Twitter, Pinterest and Instagram!
Pumpkin Apple Sugar Doughnuts
These Pumpkin Apple Sugar Doughnuts are baked, not fried and jam packed with pumpkin and freshly grated apple. Rolled in cinnamon sugar to finish them off, these are simply sublime!
Ingredients
For the doughnuts:
2 cups (280g) all purpose flour
2tsp baking powder
Pinch of salt
¾tsp ground cinnamon
½tsp ground ginger
¼tsp ground nutmeg
¾ cup (150g) light brown sugar
¼tsp vanilla extract
1 large egg
2tbsp unsalted butter, melted and cooled slightly
1 cup (240g) pumpkin puree, not pie filling
⅓ cup (80ml) milk
1 cup (150g) grated apple, I used Granny Smith
For the coating:
½ cup (100g) superfine sugar
½tsp ground cinnamon
Instructions
Preheat the oven to 350F/180C and spray your doughnut pans with cooking spray, I use Wilton Bake Easy. I only have 2 doughnut pans, so had to bake in batches, if you have 3 great, if not bake in batches!
Place the flour, baking powder, salt, and spices into a medium sized bowl and whisk briefly to combine. Leave to one side.
Place sugar, vanilla and egg into a large bowl and whisk until combined. Add in the melted butter and whisk to combine. Mixture will be very thick and pale brown.
Add in the pumpkin mixture and whisk until well combined.
Now, add ⅓ of the flour mix and ⅓ of the milk into the bowl with the sugar mixture. Mix until combined, then repeat, adding ⅓ of the milk and ⅓ of the flour. Repeat again and mix until everything is well combined and smooth.
Add in the grated apple and fold in with a spoon until evenly distributed throughout the mixture.
Half fill a piping bag fitted with a large, plain round nozzle (you may need to fill your piping bag in batches too if they are small) and pipe into each doughnut hole in your pan. You want steady pressure to pipe in one single line. After you've finished piping, wet your fingers slightly and just smooth over the join where your piped mixture meets on each doughnut. This will create neat little doughnuts!
Place in the oven for 8-10 minutes, until risen and an inserted skewer into the centre comes out clean. They will be pale, that's good!
Tip out of the pan onto a wire rack immediately and leave to cool completely.
Once cool, place the sugar and cinnamon into a flat based bowl. Mix until well combined. Dunk each doughnut into the sugar, spooning it over and flipping it until the whole doughnut is covered. Shake excess sugar off and return to wire rack. Repeat with all doughnuts.
Cooled doughnuts will keep in an airtight container, at room temperature, for 3 days.