This Peppermint Mocha is rich and chocolatey with a hit of coffee and peppermint. Topped with snowman marshmallows, it is one decadent, festive beverage!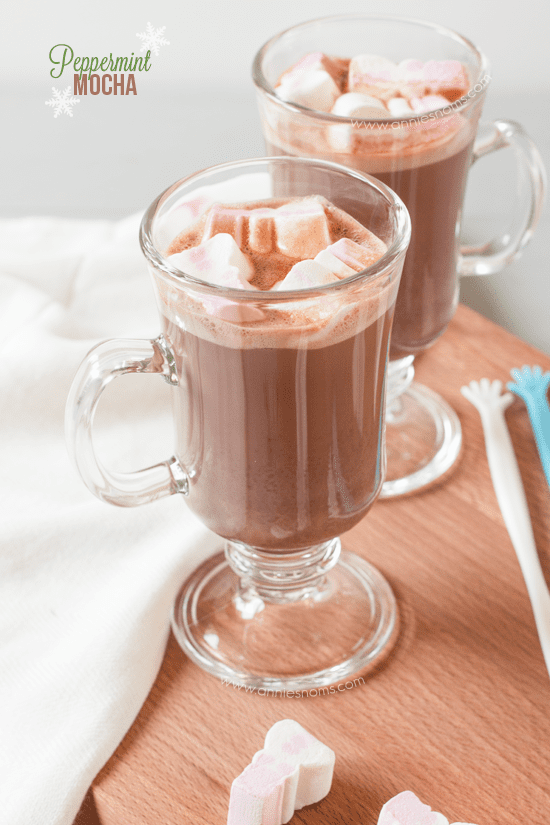 Hello friends! Annie from Annie's Noms here! I know it's been a while since I last shared a recipe with you, but this past few months have been so busy for me!
It's all very exciting and there have been many opportunities on top of making things like this, this and this. It's been crazy how fast the weeks have been flying by!
And now the holiday's are just around the corner!
I'm fairly sure everyone started panicking here this weekend. We went to Costco and IKEA yesterday and oh the queues! And the traffic, I was like "Seriously, it's not next weekend!!"
I'm not sure what IKEA's are like in the US, but here they have enormous car parks, you could probably park 3000 cars there. Yesterday? Completely full and people were parking elsewhere and walking.
I mean, I love IKEA as much as the next person, but it's not that fabulous!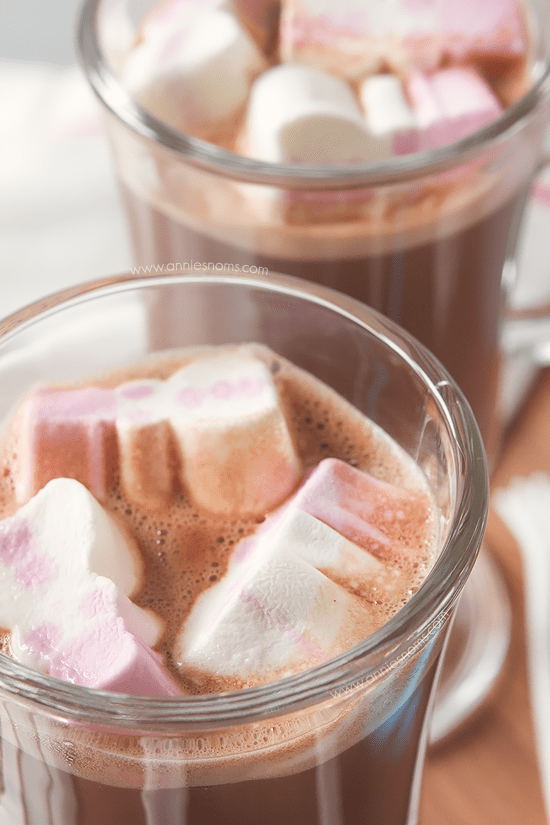 I'm quite surprised I didn't end up having an argument with anyone; people round here seem so ignorant and oblivious to other people around them in stores. They just stop and take up the whole aisle with their trolleys and won't even move if you say excuse me half the time. It's one of the many reasons I prefer online shopping! 😀
When we got back, I just had to sit down and recover with a steaming hot mug of this Peppermint Mocha.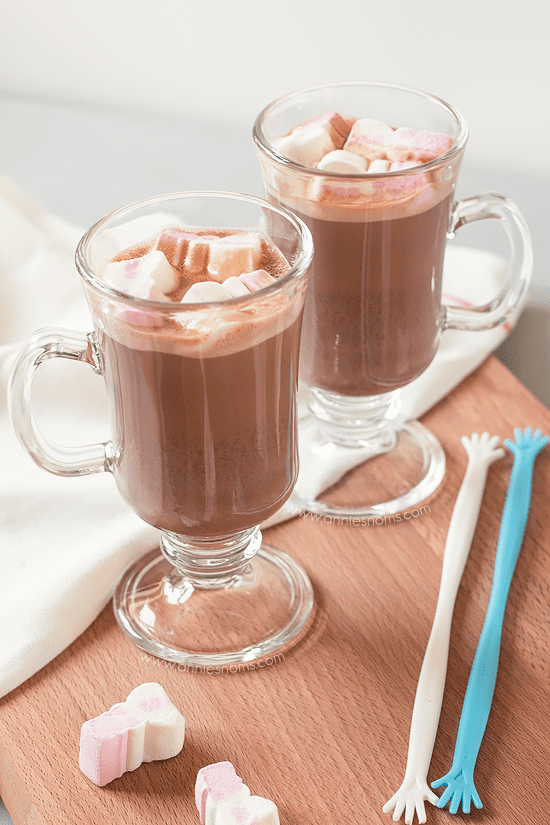 You could, of course, use any marshmallows on top (or whipped cream), but when I found these Snowman marshmallows last week I just knew I had to use them for this recipe! Cute and yummy, what could be better?!
Talking of cute, just look at these drink stirrers!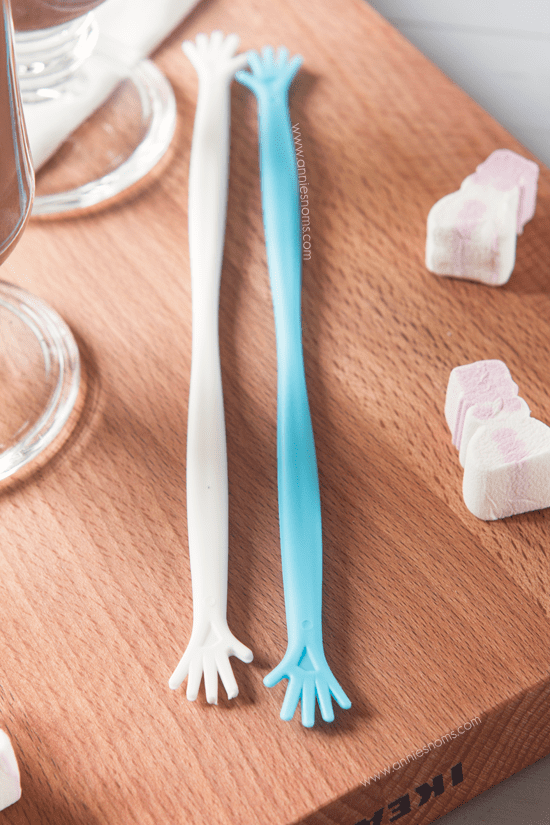 I HAD to buy them, they were calling out to me! But you totally understand that right? 😉
Now, I have been in love with the choco-mint flavour combo for years – it's quite possibly one of my favourites, but this year, instead of just baking with it, I wanted to extend it to drinks as well!
Do you get the Peppermint Mocha at Starbucks? I know you get some really cool combinations and the UK is sadly lacking, but we do get PSLs, Gingerbread Lattes and Peppermint Mochas.
This is a slightly richer, more chocolatey version of the Starbucks one and it's made with peppermint extract rather than syrup. It's basically spiked hot cocoa!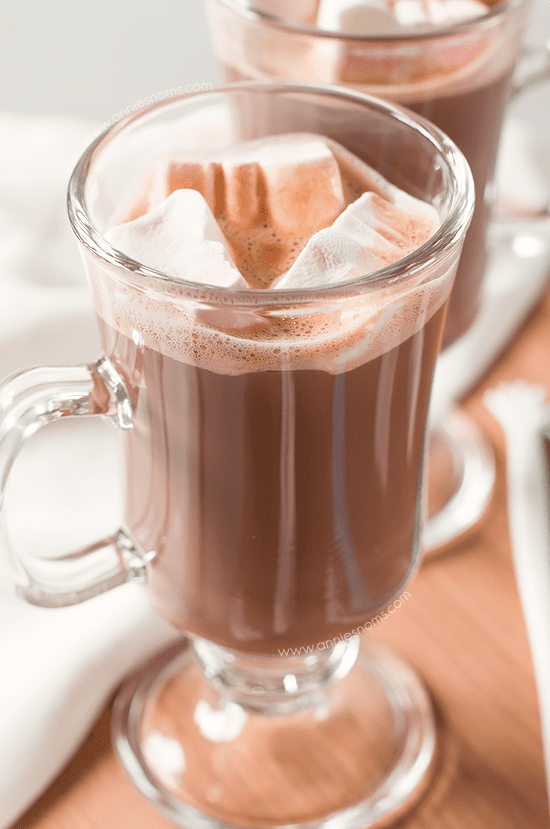 All your friends can think that you're just sitting there with boring cocoa, when actually it's the best cocoa ever and also gives you that caffeine hit 😉 Win-win in my book.
I experimented with making this two different ways: with the Espresso machine frothing the milk and cocoa to warm it up and warming up the milk in a saucepan as you would traditional cocoa.
There aren't many times that I say the Espresso maker isn't my favourite way to make something. BUT, it's definitely better having made it in a saucepan.
I think the flavours turned out slightly richer and whilst I usually like a foamy, light consistency, with this, the smoother, richer consistency was by far the better!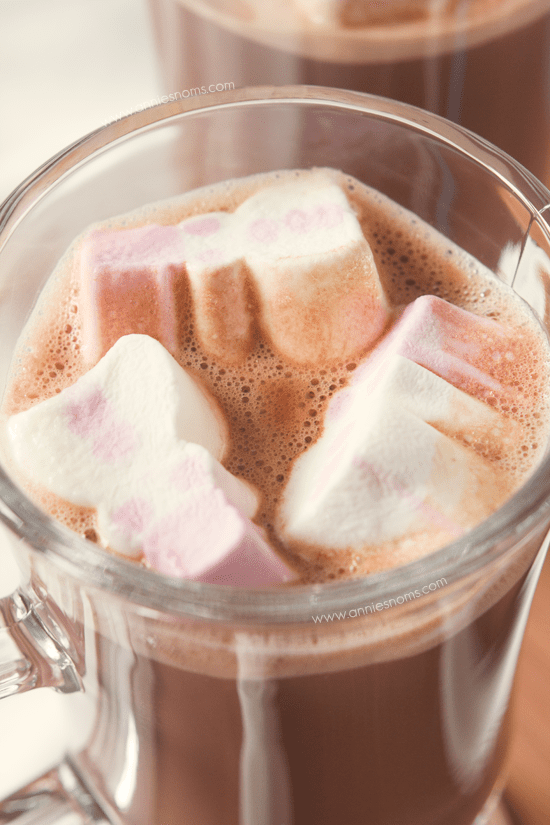 To be honest, even in a saucepan it's not like it takes 5 hours to make… it takes 6-7 minutes.
All you have to do is place the cocoa powder, milk and peppermint extract into a saucepan and whisk until smooth. Leave it to come to a simmer, add in the shot of coffee and some sweetener, simmer for a further minute or so and there you have it.
Personally, I like my coffee quite strong and sweet, so I used 2tbsp of artificial sweetener, but you can use as little or as much sugar/sweetener as you want. Why not try some light brown sugar to give it a caramel-ly note?
I used a 1/4tsp of peppermint extract, bearing in mind this recipe is for two servings, so it's about 1/8tsp per serving. Again, this was plenty for me, but if you want a really strong peppermint hit then up it slightly. You probably don't want to go mad and put a whole tsp in as I find peppermint is pretty strong and it got stronger after I left my mocha to cool a little!
Another fabulous thing?
The mint totally got absorbed into the marshmallows and once they melted it was like gooey, minty, melty sweet bliss. 😀
There may be only 3 marshmallows in the photos, but I won't hide the fact I actually piled on 7 and then ate another 5 from the packet…
What can I say, I like marshmallows!!
You can connect with me on Facebook, Twitter and Instagram.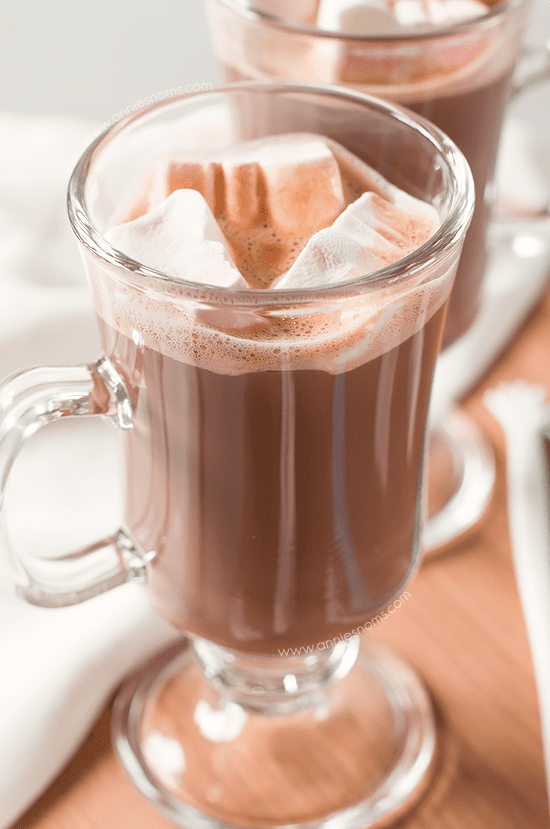 This Peppermint Mocha is rich and chocolatey with a hit of coffee and peppermint. Topped with snowman marshmallows, it is one decadent, festive beverage!
Ingredients
3tbsp cocoa powder
2 cups (480ml) milk, I used skim
1/4tsp peppermint extract
2 shots (60ml) of fresh espresso*
Sugar/sweetener to taste
1/3 (20g) cup mini marshmallows, but you can use any shape/size you like
Whipped cream, chocolate sprinkles, optional
Instructions
Place milk, cocoa powder and peppermint extract into a medium sized saucepan over a low-medium heat.
Whisk until smooth and keep stirring occasionally until it comes to a simmer.
Once simmering, add in shots of espresso and desired amount of sugar/sweetener.
Simmer for a further minute, stirring occasionally before serving immediately with your choice of toppings: marshmallows/whipped cream/chocolate sprinkles - go as mad as you like!
*I have an espresso maker, therefore use 2 shots of freshly brewed coffee. If you don't have an espresso maker, you can use instant, but freshly ground is preferred. If you do use instant, make 60ml of coffee to your desired strength.
Recipe by Annie of Annie's Noms