This Biscoff Marshmallow Crumb Cake is the most tender cake you'll ever have! Filled with Biscoff spread and gooey marshmallows, then topped with crispy crumbs and a Biscoff Glaze; this is one recipe you won't want to miss!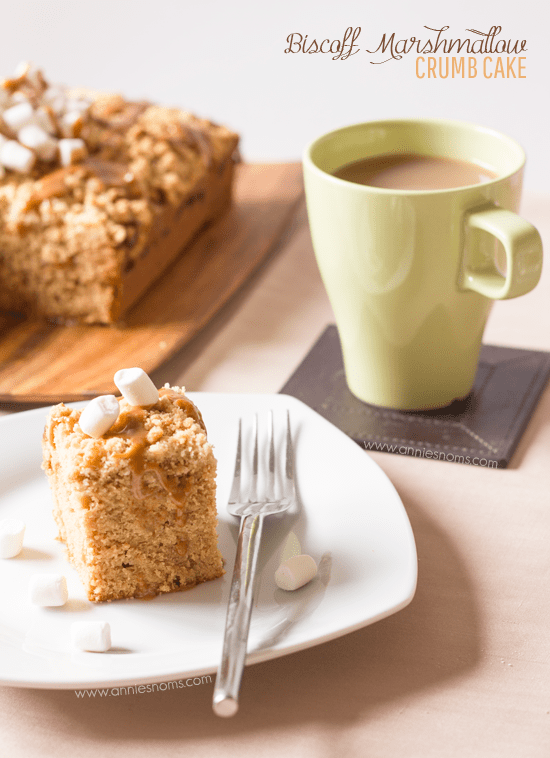 Hello again everyone, Annie from Annie's Noms here and I'm so excited to be sharing this AMAZING Biscoff Marshmallow Crumb Cake with you today!
Seriously, put down whatever you're doing and go make it NOW! OK, I'm kidding, I'm not that bossy, but you really should try it 😀
I was sitting in bed thinking about food (that's totally normal right?) and I suddenly thought: "How amazing would Biscoff and marshmallows be together?"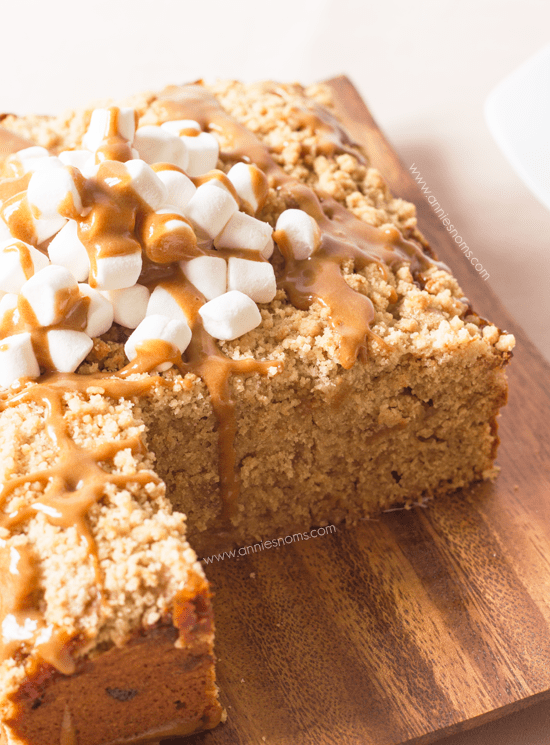 Answer: Even better than I imagined.
I realised I hadn't used Biscoff for ages and I was really craving the smooth, slightly spicy, caramel flavour's of it.
Then as I thought about what I could make, I decided I wanted to make the softest cake ever and top it with sweet, caramel-ly crumbs, a Biscoff glaze and a big ol' pile of marshmallows!
This is quite possibly the BEST cake I've ever made. 😉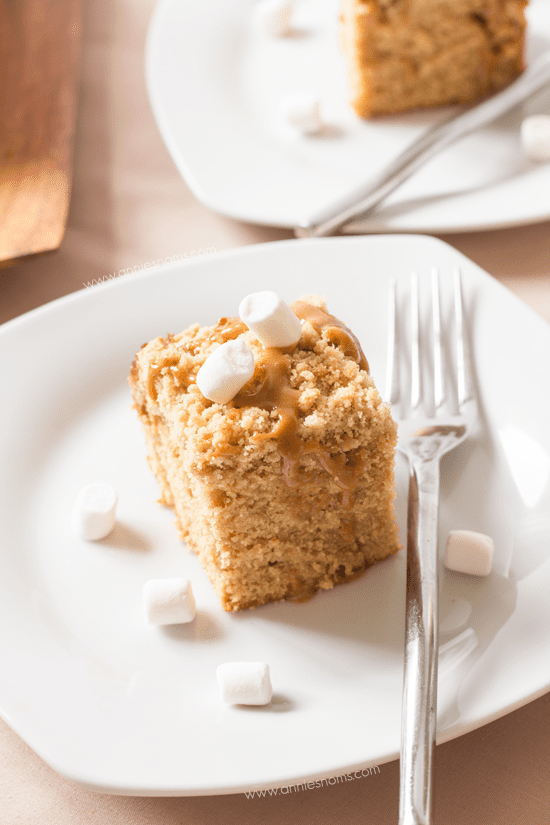 It is perfect with a cup of tea or coffee… or if you just want cake like me… 😉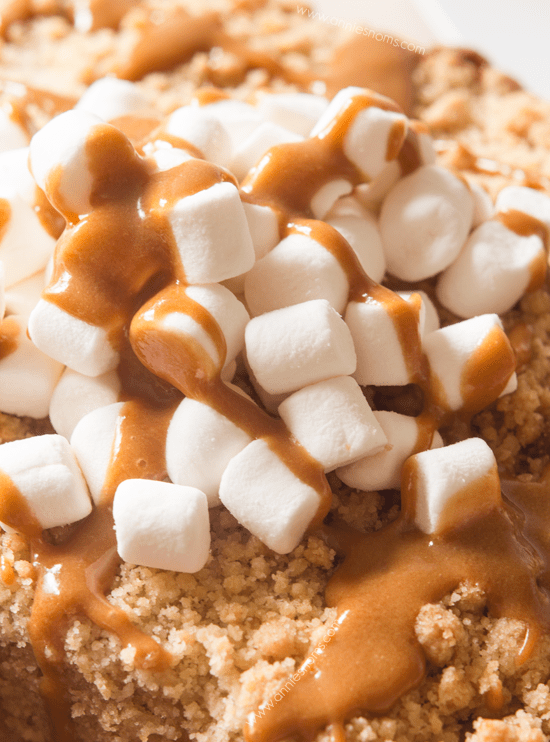 So, how did this cake come to be?
I had a pot of sour cream to use up, so developed a recipe which would use a little less butter and 1/2 a cup of sour cream. It made such a difference; this cake has the most light, soft crumb texture in the world, no dry crumbs you could choke on here!
I also used 3 eggs to 1 stick of butter. Normally, I'd use 2 eggs for an 8 inch cake, but the extra egg gives it a lighter and finer texture. Of course, as with all recipe developing, you run the risk of it all being a disaster and if I'd put too many eggs in, I would have ended up with a tough old cake, which nobody wants and if I'd stuck with 2 eggs, it would have been a bit heavy and possibly a bit dry.
Basically, what I'm trying to say, rather than boring you with science, is that this cake needs 3 eggs.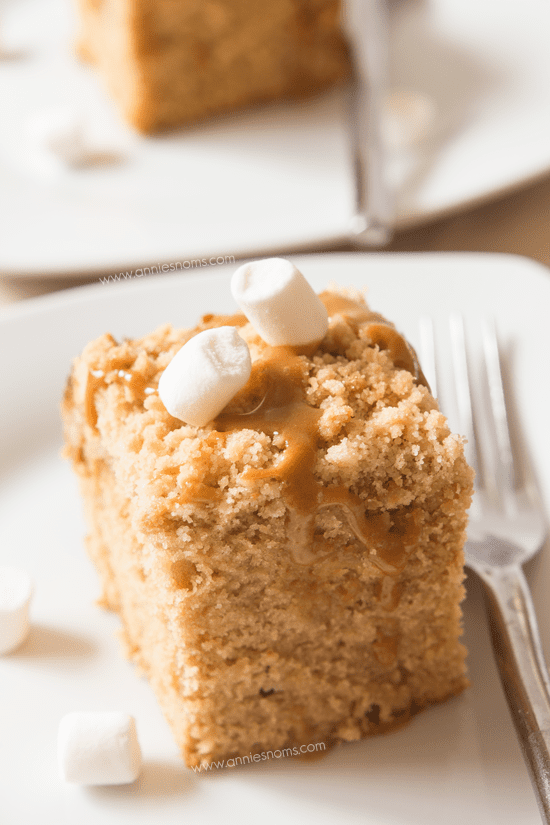 As it is, the only thing I would change about this cake is the size of the marshmallows; larger ones would give you bigger pockets of sticky gooey, marshmallow goodness, but I only had mini ones, so I had to stick with them.
Now, about this glaze! Oh, man, this glaze!!!! It was a complete fluke that it even came about. I wanted a glaze I could drizzle over the cake, but didn't want to use anything which could alter the taste of the Biscoff and possibly make it overly sweet, so I whipped some spread with my hand mixer then added a little bit of milk to thin it out. Result? Basically liquid Biscoff aka heaven on a spoon.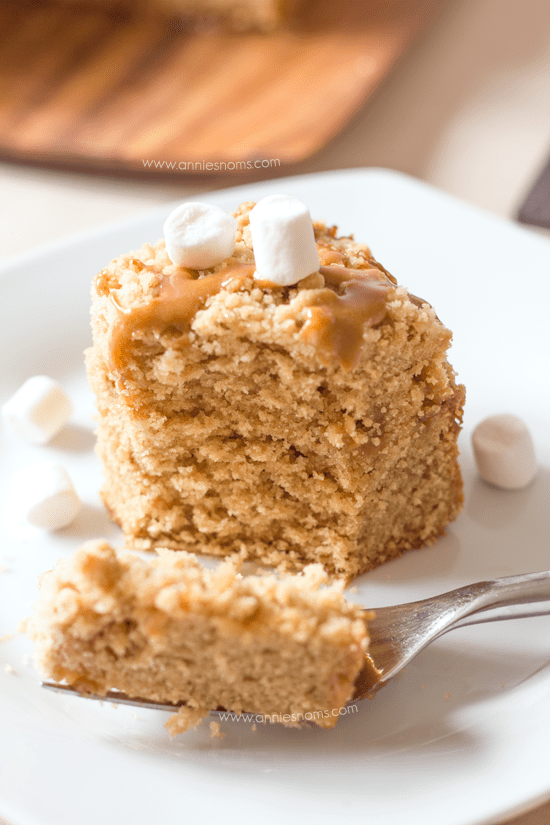 So, there we have it: gooey, soft, sweet, crumbly cake which can be our little secret when you find yourself eating 5 pieces in one go. 😀
That's all from me this month, you can connect with me on Facebook, Twitter and Instagram!
[amd-zlrecipe-recipe:29]