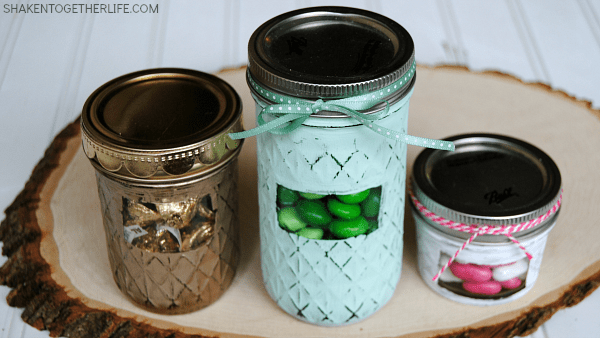 Well, hey there!  It's Keri from Shaken Together and I am thrilled to be back visiting with you today.  It's that time of year and I am sharing the absolute perfect little gift for Teacher Appreciation Week or Mothers' Day!  And of course, it had to include mason jars.  And bakers twine.  And maybe a little something sweet, too!
Peek-A-Boo Mason Jar Candy Holders!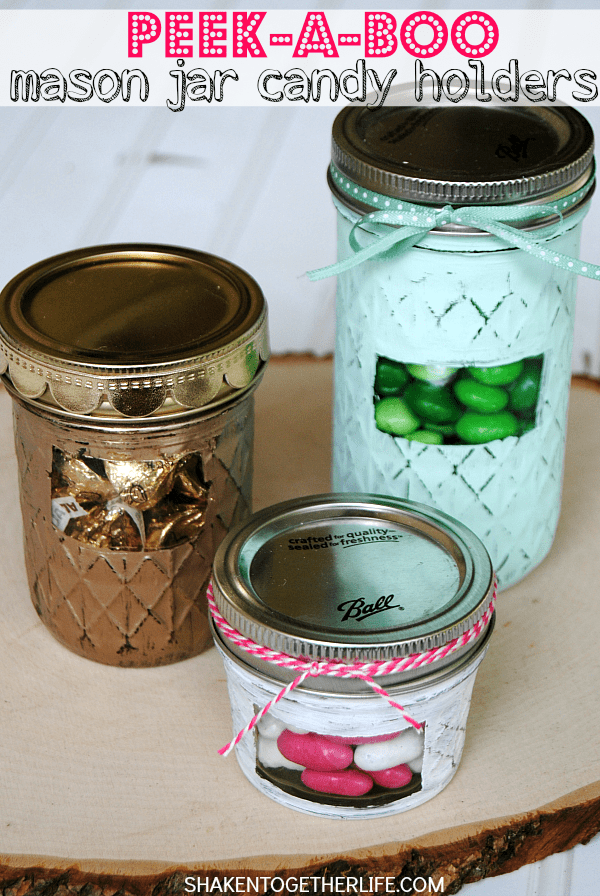 Quilted mason jars (my absolute favorite ones!) get a coat of paint and a little peek-a-boo window so you can see exactly what is inside!  These are super simple to make and they are done in just a few hours (to allow for drying time).
Here are the supplies for your Peek-A-Boo Mason Jar Candy Holders:
4 oz, 8 oz and 12 oz quilted mason jars
Painters tape
Chalk paint in white and mint
Metallic gold paint
Foam paint brush
Sandpaper
Bakers twine, ribbon and trim
Transparent tape, craft glue or hot glue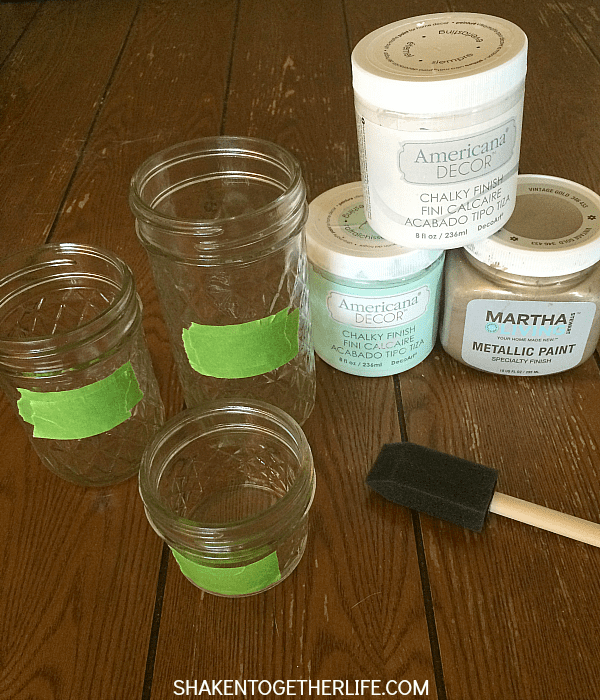 Wash and dry your jars.
Using the painters tape, tape off the area on the jars that is already a smooth, oval window.  (If you are really brave, you can leave off the painters tape and try to paint around the existing oval.)
Paint the outside of each jar with two coats of paint.  I find that on mason jars, using a foam brush to "pounce" the paint on works better than long brush strokes.
Once the second coat of paint is on, carefully remove the painters tape.
After the paint is completely dry, use sand paper to gently distress the outside of the jars.  Use a soft cloth to remove any of the paint 'dust'.
Fill the jars with candy and screw the lids and rings on.
Finally, add your ribbon, bakers twine and trim.  I used a small piece of transparent tape to hold the scalloped gold trim around the gold jar, but you could use craft glue or hot glue as well.
Since it is almost Mothers' Day, I filled my jars with my mom's favorite candy: Mint M&Ms, Good & Plenty and Almond Kisses.  🙂
The mint green jar got a pretty polka dot ribbon and a huge helping of mint M&Ms.
The gold jar was filled with gold wrapped Hershey's Kisses with almonds and decked out with a pretty piece of gold scalloped trim.  I love the gold lid and ring, too!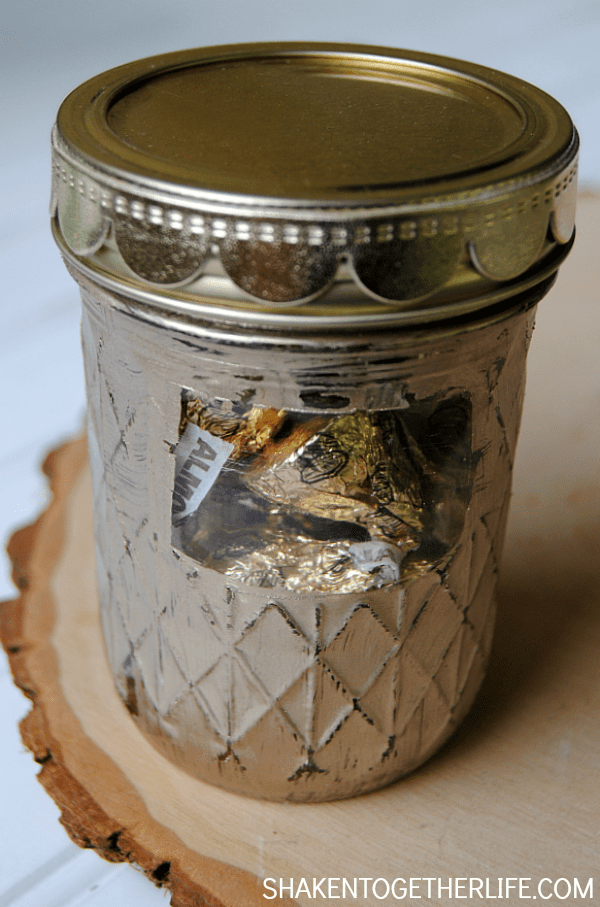 Pink and white Good & Plenty licorice candy filled the small white jar and I added some cute pink and white bakers twine to match!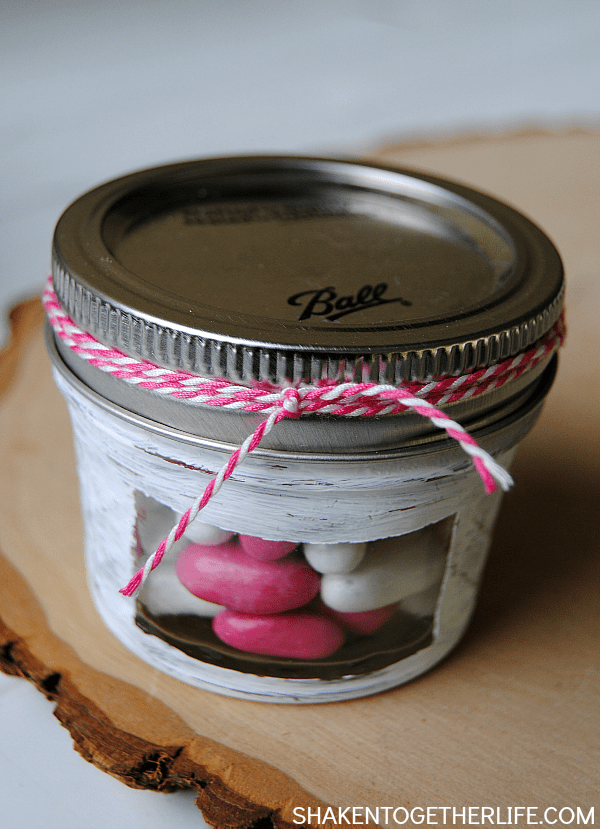 And now I want to make peek-a-boo mason jar candy holders in every color!  They would be so cute for party favors and they can be painted for lots of different holidays.  I love this kind of gift – handmade, quick and thoughtful.  And the candy sure doesn't hurt either 😉
Here are a few more of my favorite mason jar gifts!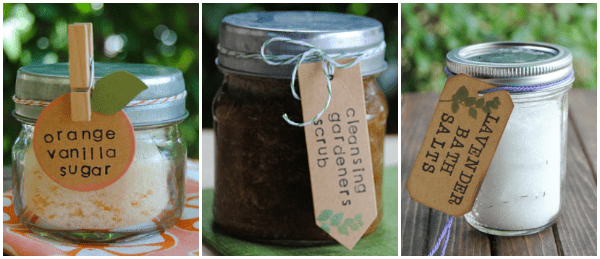 Orange Vanilla Sugar :: Cleansing Gardeners Scrub :: Lavender Bath Salts
Can't wait to see you all again soon!