These Chocolate Chip Oatmeal Gooey Bars marry a gooey condensed milk filling, with a soft, oatmeal cookie dough. With plenty of chocolate chips for good measure! Rich and decadent, these are one dessert bar you simply must make!
Hi everyone, Annie from Annie's Noms here! I hope you're having a great April! It was my birthday this month and it was a sunshine filled day with family and good food – pretty blissful!
I asked for money this year as  I was saving for a new lens for my camera, where do you stand on presents vs. money? I have many family members who are absolutely fine with it as they'd rather I put the money toward something I really want, but then there are a few who insist on getting me presents even though I really didn't want anything this year!
I finally got my new lens last Tuesday, so I'm looking forward to sharing recipes with you guys in the future shot with my new super sharp lens, but for today's post, I used my old lens.
I don't think it makes too much difference though because, Chocolate Chip Oatmeal. GOOEY Bars. Awesome no matter the lens.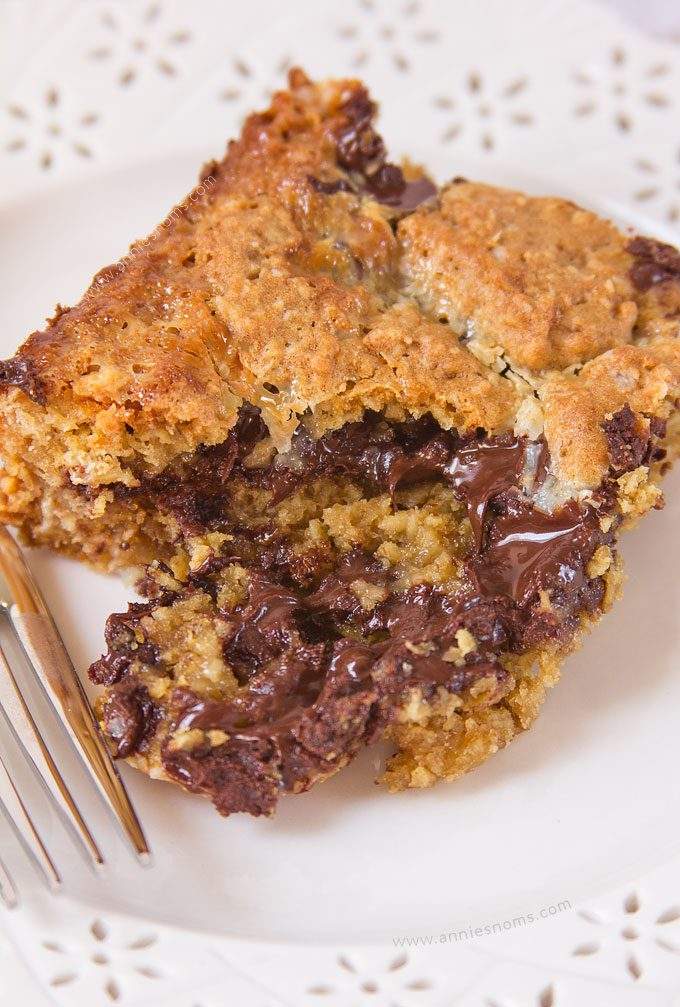 I'm not entirely sure where the idea for these came from. Sometimes waves of inspiration just hit me and I have to jot down immediately the flavour combination I'm thinking of. I guess this was one of those recipes!
Anyway, it turned out to be absolutely amazing, so I just had to share it with you!
I started with a sweet, oatmeal filled cookie dough, pressed it into a greased pan and then poured an entire 14oz can of condensed milk all over it to create that gooey centre everyone loves!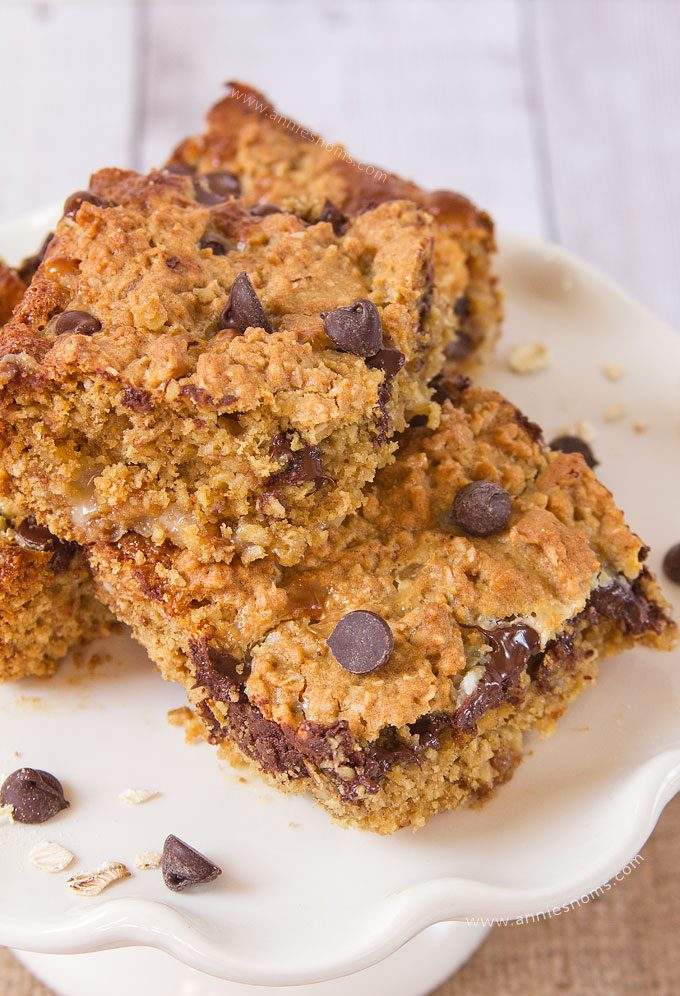 Then I added 3/4 semi-sweet chocolate chips, I went for semi-sweet so that these bars weren't overly sweet. The slightly darker chips really help to cut through the condensed milk and add a real richness.
To top things off, I spooned over the remainder of my oatmeal cookie dough before baking at 350F until golden and bubbly.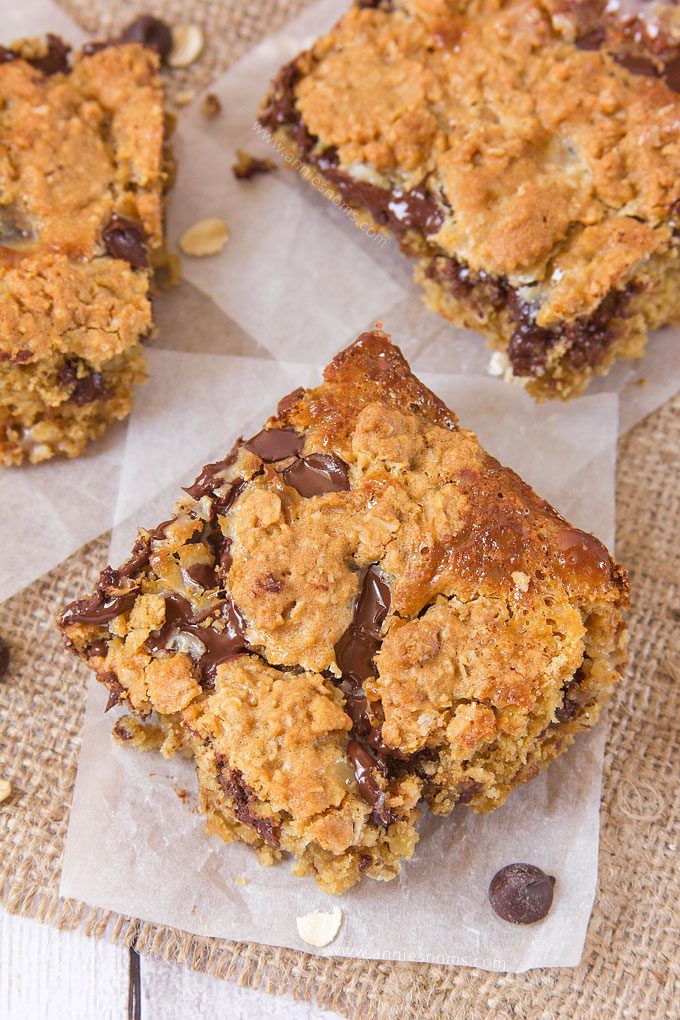 I don't know about you, but I just have to dig in as soon as it comes out of the oven. Hence a rather large hole appearing in one corner…
Just look how gooey they are! Especially whilst still slightly warm as the chocolate chips ooze as well which just adds to the whole sensation when you bite into one.
I simply love to add condensed milk into my recipes as it never ceases to amaze me how it can transform any dish and add an ultra gooey, sweet layer. Just divine.
Then there's the cookie dough. Soft, chewy and slightly crisp on top. The best type of cookie!
Put simply, you HAVE to go and make these gooey bars. I know people who have trust issues with oatmeal cookie dough as they hate when they find raisins instead of chocolate, but I can 100% assure you there are no raisins lurking in my dough. This is a chocolate filled, sweet, chewy bar recipe everyone will love!
I'd love to connect with you on Facebook, Twitter, Pinterest and Instagram!
Chocolate Chip Oatmeal Gooey Bars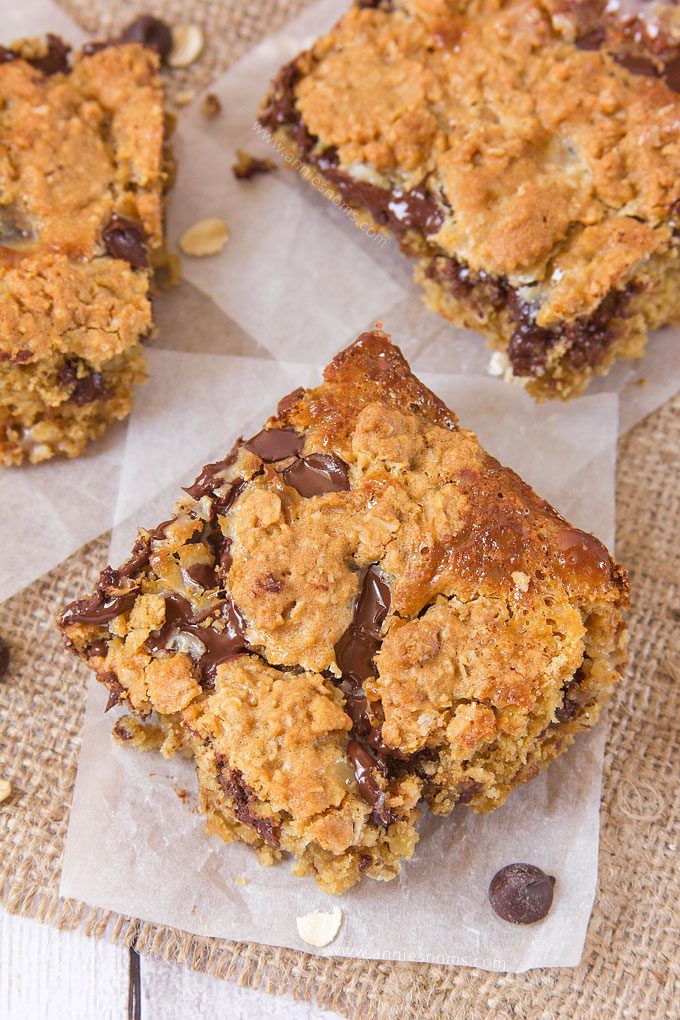 These Chocolate Chip Oatmeal Gooey Bars marry a gooey condensed milk filling, with a soft, oatmeal cookie dough. With plenty of chocolate chips for good measure!
Ingredients
2 and 1/2 cups (200g) rolled oats (not quick cook)
1 cup (140g) all purpose flour
1tsp baking soda
1/2tsp baking powder
Pinch of salt
1/2 cup (100g) light brown sugar
1 stick (113g) unsalted butter, at room temperature
1 large egg
1tsp vanilla extract
One 14oz/397g can condensed milk
3/4 cup (132g) semi-sweet chocolate chips
Instructions
Preheat oven to 350F/180C and spray an 8x8 inch square pan with cooking spray. (I use Wilton Bake Easy.)
Place oats, flour, baking soda, baking powder and salt into a medium sized bowl and stir briefly to combine. Leave to one side.
Place sugar and butter into a large bowl or the bowl of your stand mixer and beat until light and fluffy, about 2 mins on med-high speed.
Add in the egg and vanilla extract, scraping down sides of bowl as necessary, and mix until well combined, 1 minute on medium speed.
Tip in your oat and flour mix and mix on low until a soft dough forms.
Place 2/3 of your dough into your greased pan and press until you have an even layer. I just used my fingers as I found it easier, but use a spoon/spatula if you prefer.
Pour the entire can of condensed milk all over your cookie dough and spread with a spatula until it covers the dough completely and is level.
Sprinkle your chocolate chips all over the condensed milk.
Dot the remaining cookie dough over the chocolate/condensed milk layer. You won't have enough to entirely cover the chocolate layer, this is absolutely fine! Just dot the dough all over and then flatten with the back of a spoon until level.
Place in the oven for 30-35 minutes until golden and bubbly. The top will be slightly crisp and you'll see the condensed milk bubbling in the centre.
Leave to cool in the pan completely (if you can! I had to dig in with a spoon straight away!).
Slice into 9-12 bars inside the pan and use a spatula to get them out.
Gooey Bars will keep in an airtight container, at room temperature for 4 days. You can microwave them for 20 seconds before serving if you want them to be extra gooey.
Recipe by Annie of Annie's Noms