These Mint Chocolate Shortbread Fingers are super simple to make and will easily satisfy your cravings for a sweet treat! Cocoa powder makes them rich, peppermint makes them refreshing and plenty of butter makes them short – the perfect shortbread!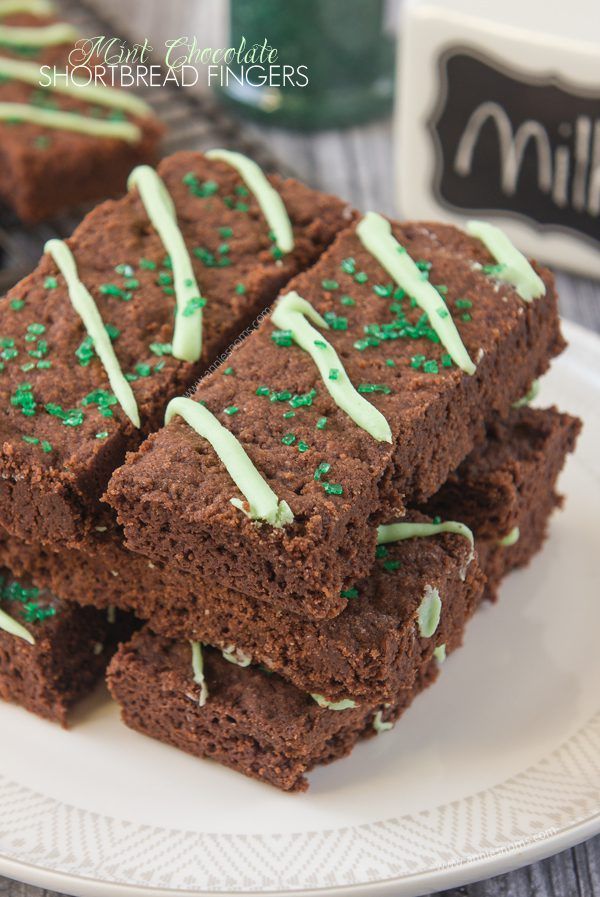 Hello everyone, Annie from Annie's Noms here; I hope you're all well and are having a happy March!
Can you believe it's almost Easter?!?! Where is this year going? I thought last year went fast, but this year is going even faster – time needs to slow the heck down because I have too many things I want to do this year and I already feel like I'm running out of time! 🙁
Now, we don't really celebrate St Paddy's Day here, but the mint chocolate flavour combination will have my heart forever, so I made you these easy, quick Mint Chocolate Shortbread Fingers then topped them with green sanding sugar and green melted chocolate.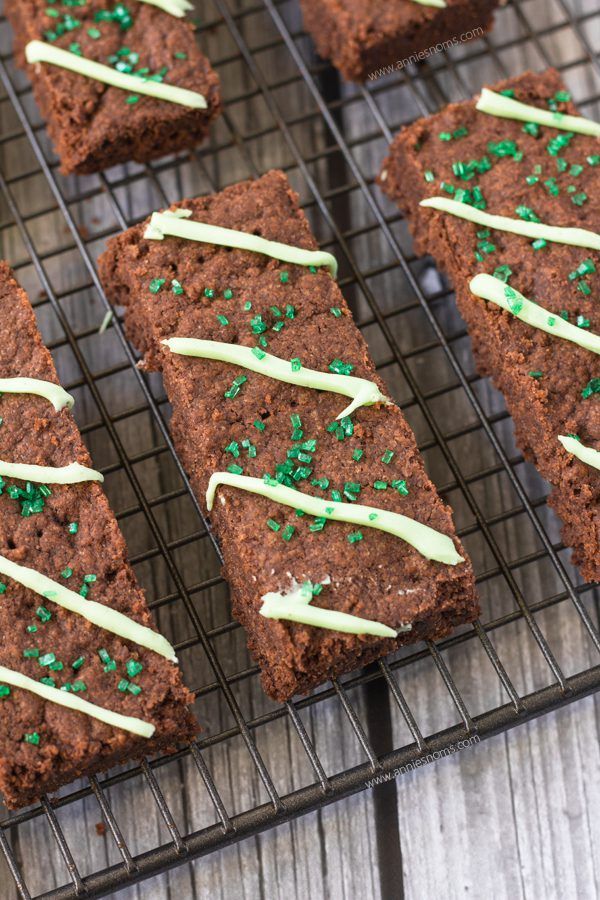 If you know me at all by now, you'll know green is by far my favourite colour, so any excuse to get out the green food colour and sugar is great for me. Seriously, the green addiction is kind of ridiculous; the other day I bought a Swarovski Crystal pen just because it was green (and sparkly).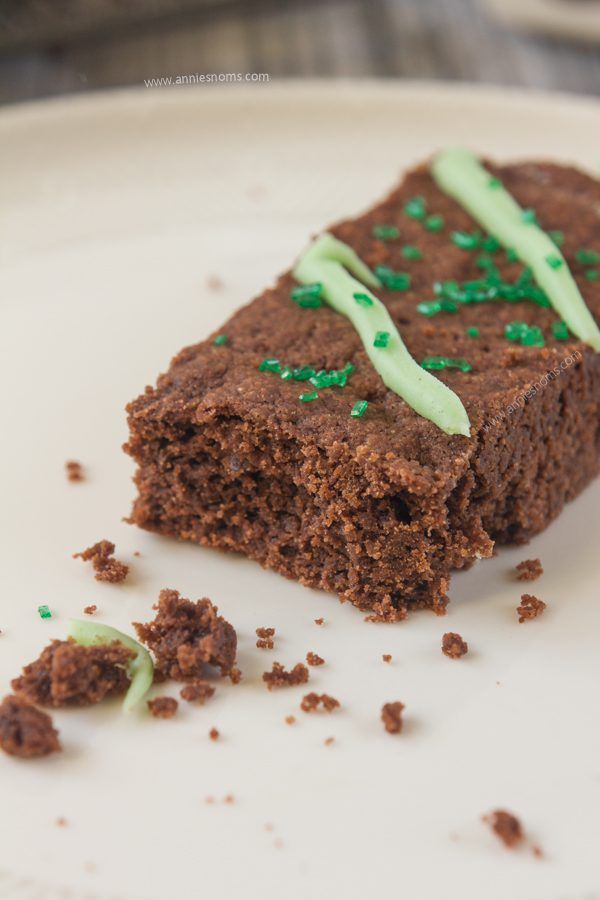 Anyway, in the UK it can be hard to come by Wilton Candy Melts without spending a small fortune, so for the topping on these shortbread fingers, I melted some white chocolate, then flavoured it with a little peppermint and added a touch of food colouring to turn it this pretty mint green. Wilton Candy Melts are preferable and much easier, so I've given them in the recipe instead of the white chocolate.
If you can't get them, drop a little green food colouring into melted white chocolate and mix until incorporated – it may make the chocolate go thick, in which case you'll need 1-2tbsp vegetable oil to loosen it again.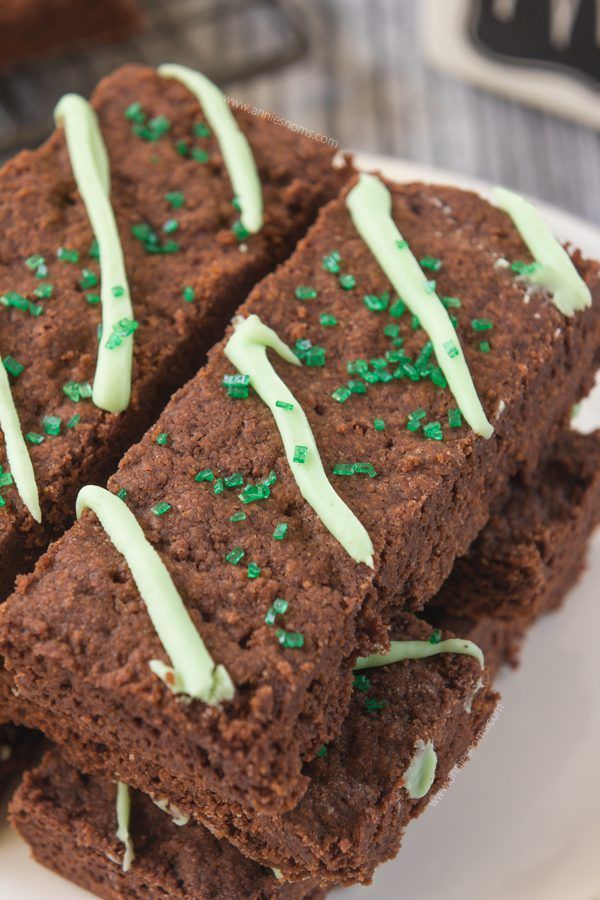 The sanding sugar is optional too. Although if you don't like sprinkles and/or sanding sugar I'm not sure we can be friends… 😉
Now, let's talk about that shortbread. I don't know about you, but sometimes I just crave shortbread so much. It's so simple, yet always satisfying. Crisp, crunchy, crumbly, buttery…
Plain shortbread sometimes does the job, the sweetness along with the butter is just divine, however, sometimes you want something richer: enter my Mint Chocolate Shortbread Fingers. These are not overly sweet, but refreshing due to the addition of peppermint extract, rich due to the cocoa powder and there's almost 2 full sticks of butter in there.
Don't fret that this will be a soft biscuit-y dough. With the cocoa powder, flour and my addition of cornstarch (it gives a melt in your mouth, velvety crunch) this is a good, crumbly mixture. Do not expect it to come together and be a dough you can roll out. This is a tip in the tin and level with a spoon kinda dough. 🙂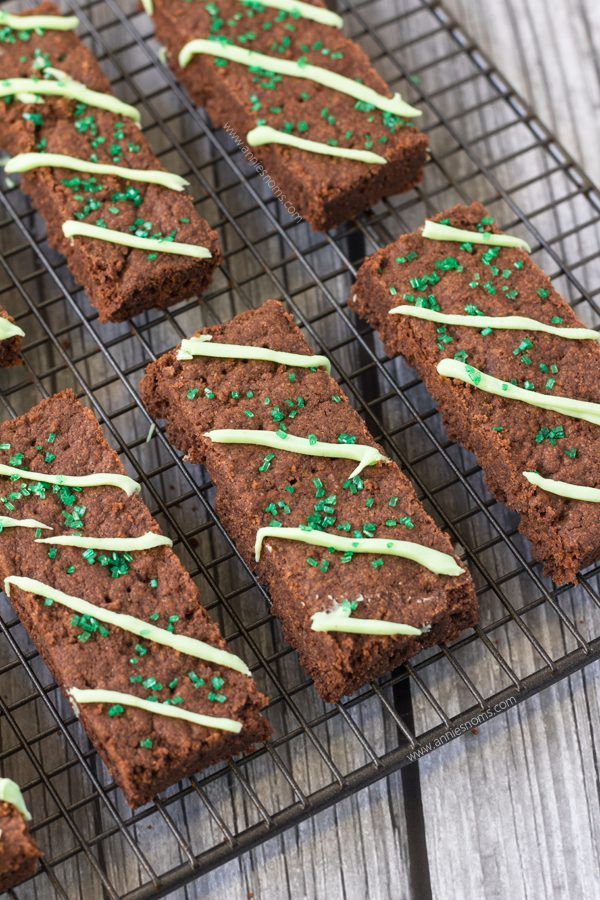 Next, we bake it low and pretty slow. Nobody has time for burnt, black edges on their shortbread! Believe me, it's worth the longer baking time!
Whilst still warm, score that shortbread into fingers and then the hardest part, waiting for it to cool. (I may or may not have burnt my fingers desperately trying to taste it as soon as it came out of the oven…)
Once properly cooled, it should be easy to go along your score lines and cut the shortbread properly. After that, it's time to drizzle that melted chocolate over them and sprinkle with sanding sugar.
Then, you need to get that shortbread into your mouth STAT.
You can connect with me on Facebook, Twitter, Pinterest and Instagram!
Mint Chocolate Shortbread Fingers
These Mint Chocolate Shortbread Fingers are super simple to make and will easily satisfy your cravings for a sweet treat! Cocoa powder makes them rich, peppermint makes them refreshing and plenty of butter makes them short - the perfect shortbread!
Ingredients
For the shortbread:
1 and ¾ sticks (200g) unsalted butter, at room temperature
2tbsp cornstarch
¼ cup (25g) cocoa powder
1 and ½ cups (210g) all purpose flour
¼ cup + 1tbsp (62g) light brown sugar
1tsp peppermint extract
1tsp vanilla extract
For the topping:
3oz/85g green Wilton Candy melts
¼tsp peppermint extract
Green sanding sugar, optional
Instructions
Preheat the oven to 325F/160C and grease and line an 8x8 inch square pan.
Place butter, cornstarch, cocoa powder, flour, sugar, peppermint and vanilla extract into a large bowl or the bowl of your stand mixer and mix on a medium speed until you have a crumbly mixture which sticks together when you pick a bit up and press it together.
Tip the mixture into your lined baking tin and then press it into a flat, level layer with a spatula/back of a spoon/your hand.
Place in the oven for 40-50 minutes until it looks puffy and is slightly firm to the touch. The edges should feel firmer.
Whilst the shortbread is still hot, score it into fingers: score in half one way, and score 5-6 times (depending on if you want 10 or 12 fingers) the other way. Use a fork along each fingers to poke holes in the top if you wish.
Leave to cool completely before transferring to a cutting board to slice properly. Then make the topping: place Candy Melts into a heat proof bowl and microwave in 20 seconds increments, stirring in between each, until melted. Add in the peppermint extract and stir to combine.
Place in a small Ziploc bag, then snip a small hole in one corner of your bag. Drizzle melted chocolate all over cooled shortbread fingers and sprinkle with sanding sugar, if desired.
Leave to set, before keeping in an airtight container, at room temperature, for 5 days.