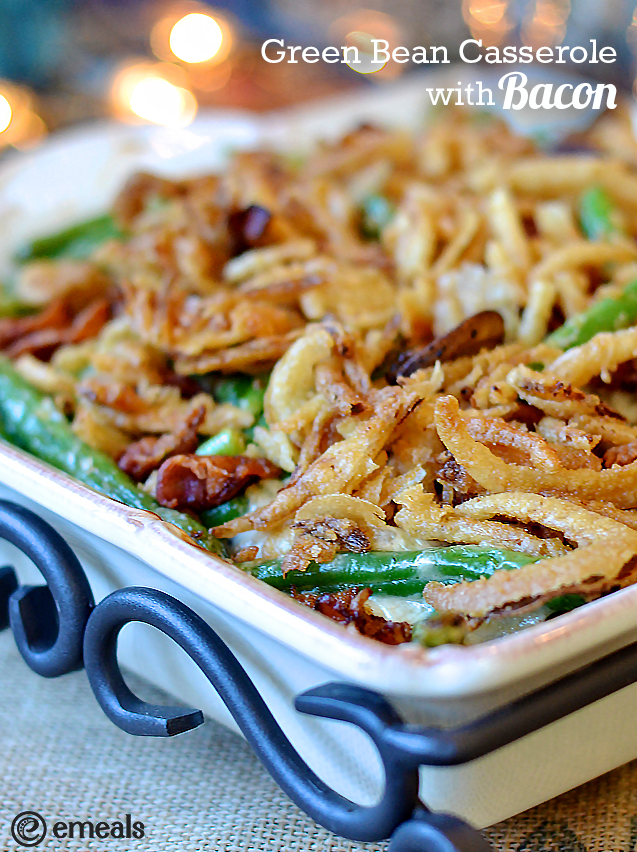 eMeals has a Traditional Holiday Menu Plan, a Paleo Holiday Meal Plan and a Clean Eating Holiday Meal Plan available for Thanksgiving and Christmas. They are even complete with a pre-made grocery list!
eMeals knows it can be daunting to enter the kitchen to cook for your family during this time of the year, so take this as your easy way out!
As you prepare for the holidays this year be good to yourself and let eMeals be your game plan.  Along with the free holiday plans, save money and make time for family with delicious eMeals weekly meal plans everyone will love.  eMeals provides easy recipes with concise directions and a grocery list for budget minded and busy people. eMeals is the new way to organize and simplify the usual chaos of dinner at home.
Check out this Traditional Holiday Meal Plan recipe below. Doesn't it look SO good?
**Join eMeals During November and December and Get a Holiday Plan for Free**

Green Bean Casserole with Bacon
Prep time:
Cook time:
Total time:
Ingredients
2 (12-oz) packages steam-in-bag green beans
1 (8-oz) package sliced fresh mushrooms
1 tablespoon butter
4 slices bacon
1 small onion, chopped
3 cloves garlic, minced
1 (15-oz) jar Alfredo sauce
1 cup shredded white Cheddar cheese
1 (2.8-oz) container French fried onions
Instructions
Preheat oven to 350°F.
Cook beans in microwave as directed.
Transfer to a large bowl.
Sauté mushrooms in butter in a large skillet over medium-high heat 10 to 12 minutes, stirring once after 8 minutes.
Season with salt and pepper.
Add to beans in bowl.
Cook bacon in skillet until crisp.
Crumble bacon, and add to beans.
Reserve 1 Tbsp drippings in skillet.
Cook onion and garlic in drippings until tender.
Add to beans.
Stir in Alfredo sauce and cheese.
Spoon into a greased baking dish.
Sprinkle with French fried onions.
Bake 20 minutes or until bubbly.