Do you have any big plans for the 4th of July? Cookouts, BBQs or fireworks in your future? There are just so many exciting summer activities to take part of and even more reasons to skip the housework (*wink*) during this time of the year. I'm really excited to be here to share how to make very simple DIY Red, White & Blue Glass Bottles to kick off the 4th of July right. These will be great if you want to add a little festive flair to your home.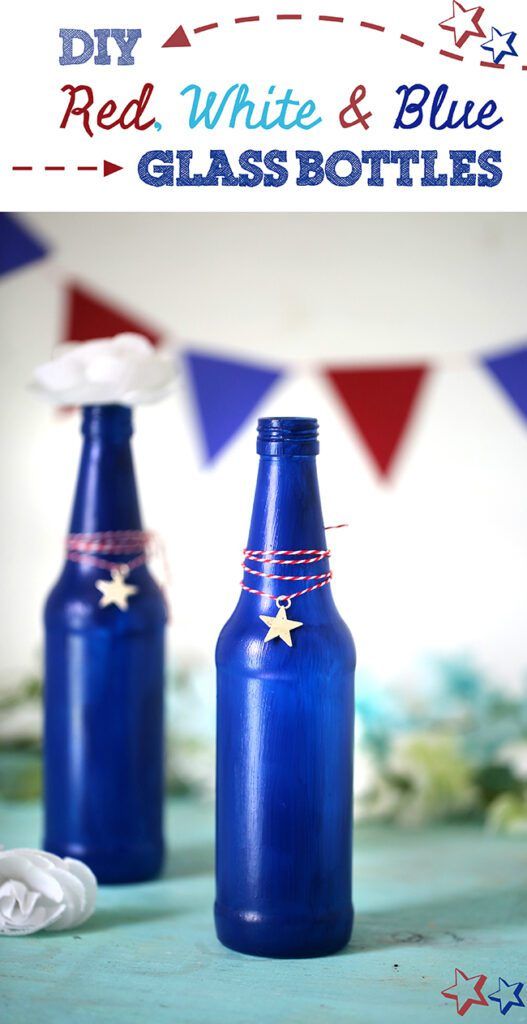 My project today was inspired by my last visit to Michael's. I was picking up some supplies for a project my son and I are working on for his bedroom. I couldn't resist peeking at their holiday goodies while we were there. I spotted these really cute red and blue bottles and although I could have just purchased them, it's so much fun to make DIY Red, White and Blue Glass Bottles instead. Don't you agree?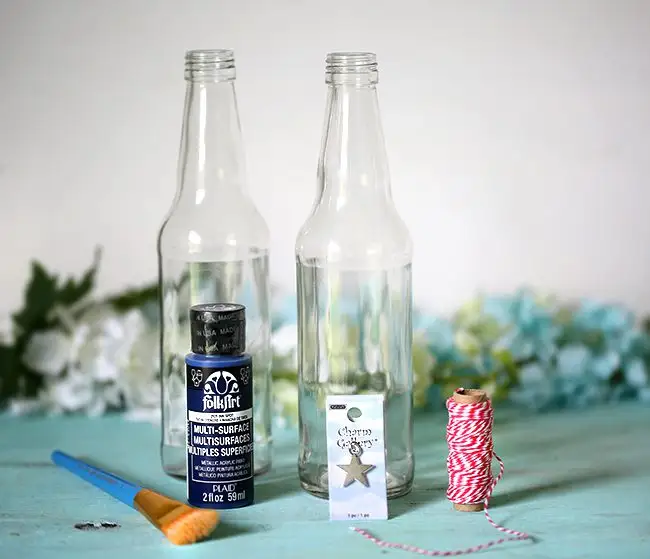 For this DIY, here are the supplies I needed to create these bottles:
Glass Bottles (purchased at Michaels)
Folk Art Multi-Surface Acrylic Paint in "Plaid" color (Michaels)
Star Charms (Charm Factory brand, purchased at Michaels)
Red and White Baker's Twine (had some on hand)
Paint Brush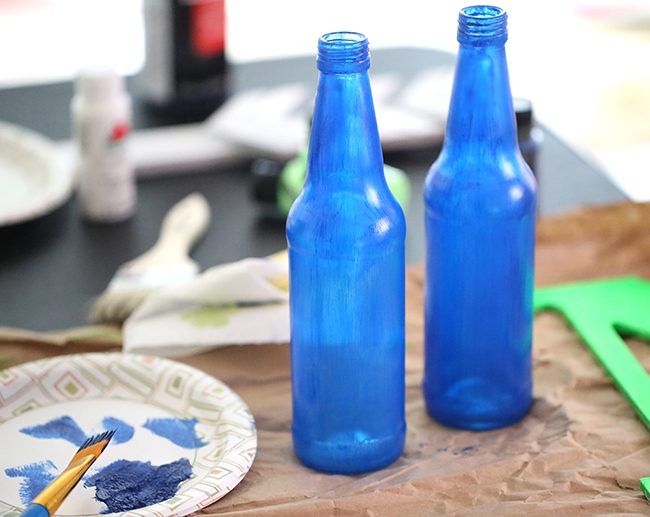 This was my first time using this paint on glass bottles and I have to say that I really liked it a lot. I've used acrylic paint that was made specifically for glass and was not impressed. This was nice and thick and easy to use. Very fast drying as another added bonus. Painting glass can be relatively tough, but I feel like this color and paint type really worked out great for this particular project.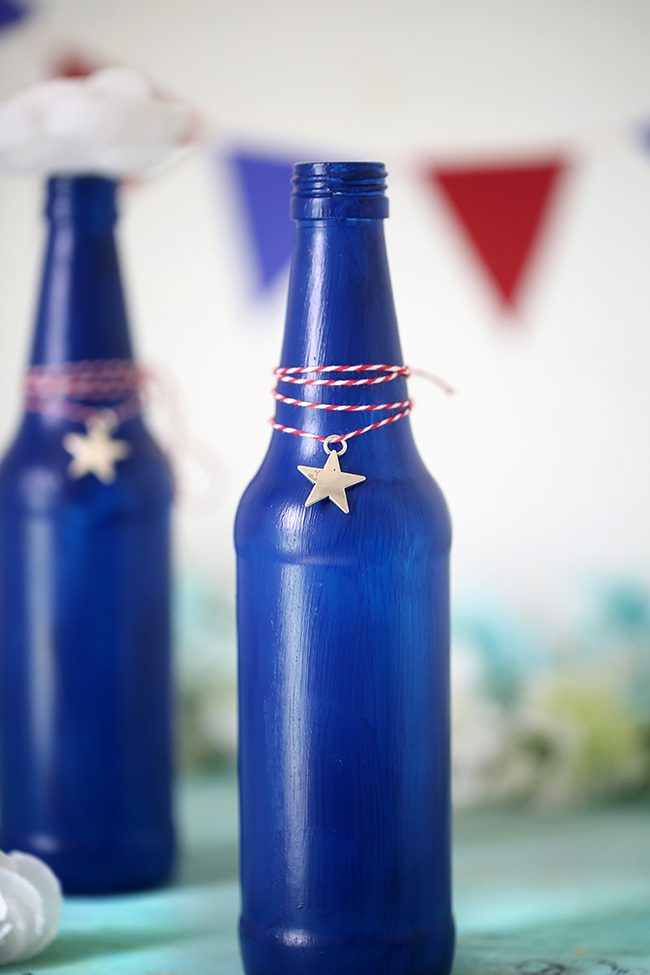 There are also other methods to do it such as pouring the paint inside the glass and rolling it around. That is a bit time consuming especially when it comes to drying it. Note that it would not work with this particular paint type. But, it is an option if you ever wanted to try, you'd need a thinner paint to do it. Also just note that if you use a water based paint inside the bottles, you won't be able to add water to use as a fresh flower vase. I wanted to keep that option open for mine.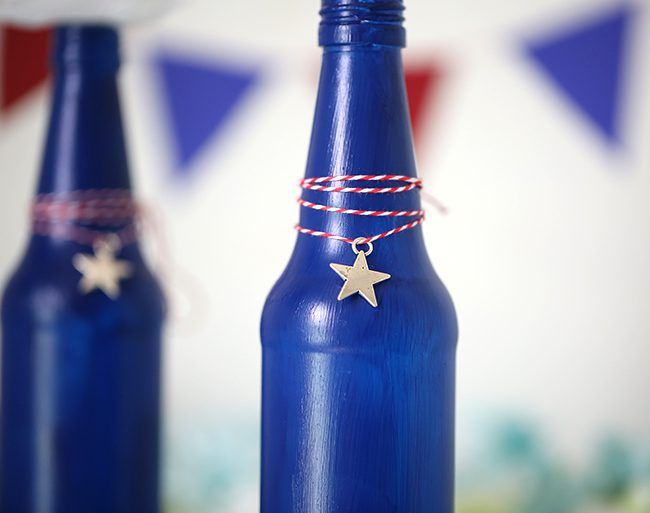 I ended up using two coats of paint for this. One was definitely too thin, and three might even be a little better. It gave great coverage with the two coats. The trick to this, especially if you have grooves in your glass bottle of choice, you'll want to move quickly and not paint on too thickly. Long quick strokes worked best for me. Make sure to smooth out paint immediately, as I said, it dries pretty fast! It's easier to try to spread the paint out right away otherwise your final product could be very uneven.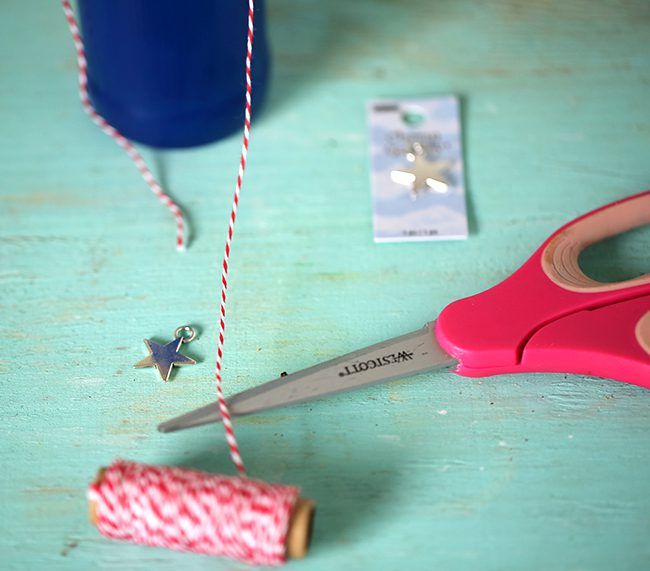 After letting my glass bottles dry,  I measured the baker's twin out for trimming. I wanted to wrap the twine around the bottle tops three times and center the star charm in the front. To secure, I simply just tied a bow in the back of the bottle. See how easy that was? You can do it however you like, but this was similar to how the bottles at Michaels were styled and I thought it was super cute!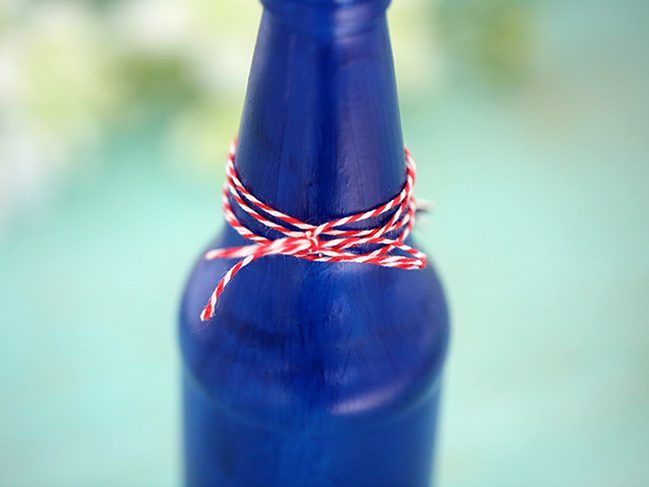 Voila! That is totally it! Within a couple of hours you can have really festive red, white & blue glass bottles to spruce up your home! You can use them as a vase or just as-is.
More options to add variety to your glass bottles:
You can use red as your base paint color and blue and white baker's twine too. I bet it would look cute to have both colors alternated.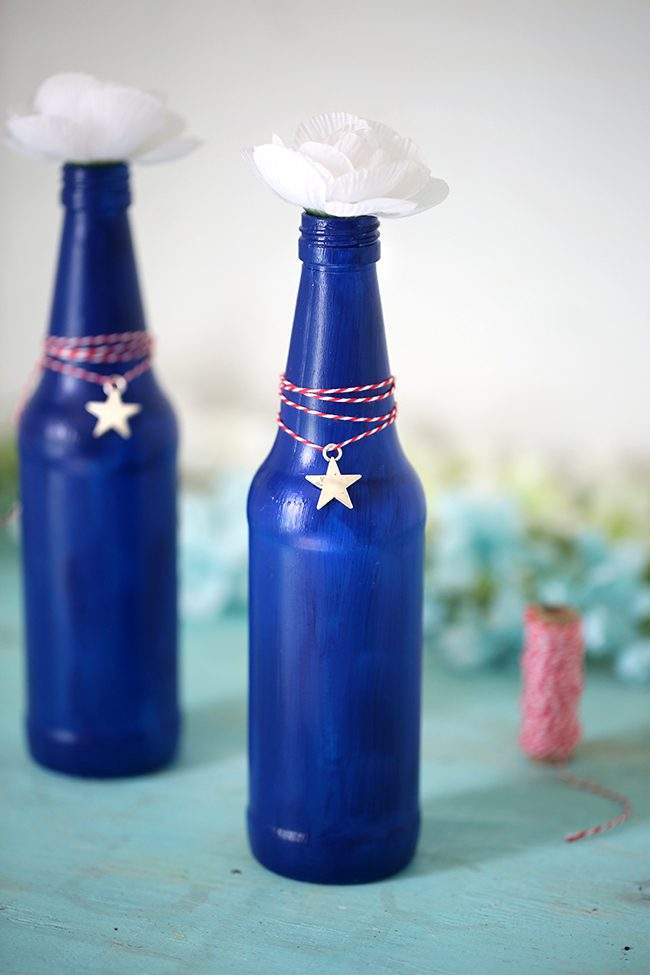 Hope you enjoyed this quick tutorial, it was so much fun sharing with Reasons to Skip the Housework readers 😉 For the record, I totally don't think you need an excuse either! I'd also love to invite you to come visit me over at HomemakingHacks.com to say hello anytime!
Do you have any fun 4th of July DIY projects planned? Please share!