These Chocolate Chip Banana Bread Cookies have all the very best elements of the traditional Banana Bread, but in cookie form! The addition of chocolate chips cut through the sweetness of the banana to create a delicious treat!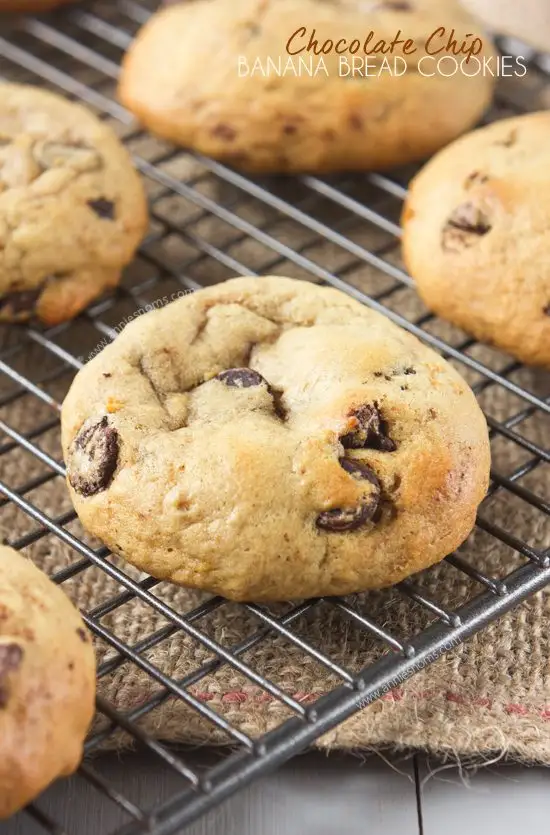 Hello! I am so happy to be here today sharing this recipe for Banana Bread Cookies!
For those of you who don't know, I'm Annie and I blog over at Annie's Noms where I develop all kinds of sweet treats and share the results! I've been contributing at RTSH for a while now, but for the last couple of months I've had a ton of stuff going on and haven't been able to contribute here too much, but I'm getting back into it now!
As a recipe developer, I find inspiration absolutely everywhere and always have a notebook to hand (I'm still old-fashioned and haven't quite got used to making notes on my phone!!). I also normally have a bunch of bananas waiting to be eaten and getting browner by the day.
So, what's a girl to make?
Cookies of course. Because it had been a full 2 weeks since I last made cookies.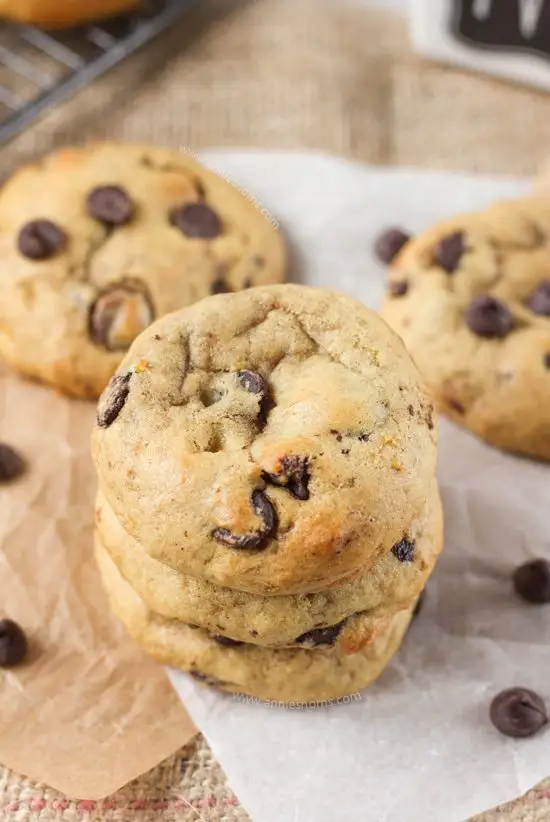 I am the cookie monster!
My motto is "If it tastes nice on its own, it will taste nice in a cookie!" – think of any candy/chocolate bar you can and I've probably put it into a cookie. These, these and these are a just few examples!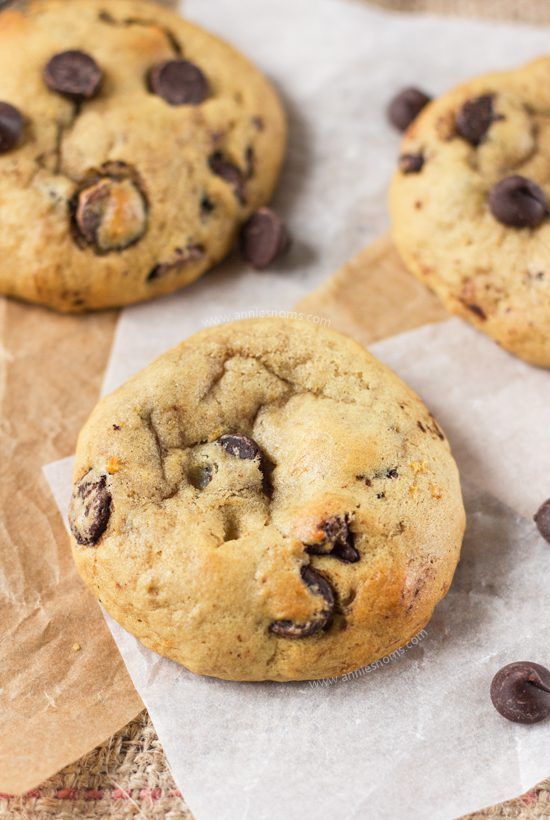 Now, let's talk about these particular cookies.
Think of your favourite banana bread – soft, packed with banana, sweet and hearty.
These cookies encompass all of that. Normally, I like soft, chewy cookies, but this time I wanted them to be slightly more cake like, so they were more like banana bread, so I added in a little baking powder and used only light brown sugar instead of my normal mix of white and light brown.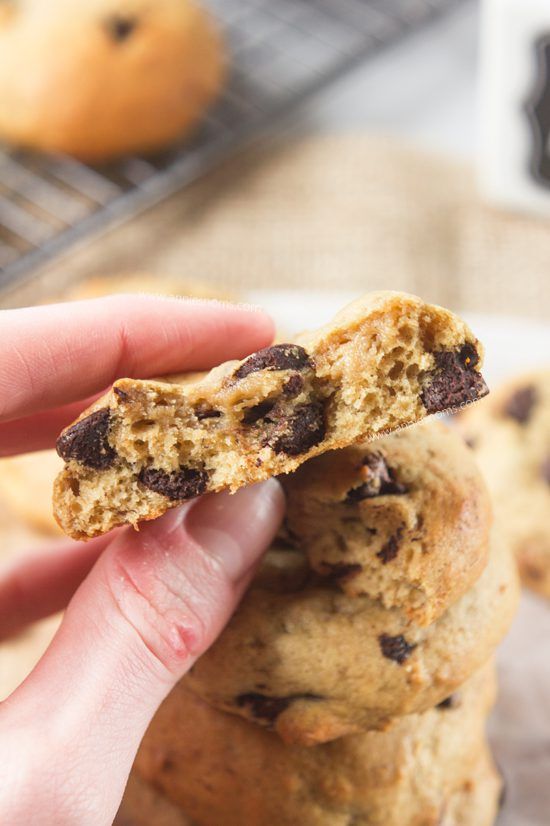 I love the caramel flavours of light brown sugar and I always make sure there's plenty in my banana bread, so it seemed only natural to make sure my cookies were full of it too! To top it all off, I added in 1 cup of dark chocolate chips. I was going to use milk chocolate, but I thought the dark chocolate would cut through the sweet dough better and I was right!
The chocolate just adds a little intensity and richness to the soft, banana filled cookie. I put 3/4 cup of mashed banana in, which was 2 medium sized bananas for me and it was just the right amount to give good flavour, but not overpower the cookies.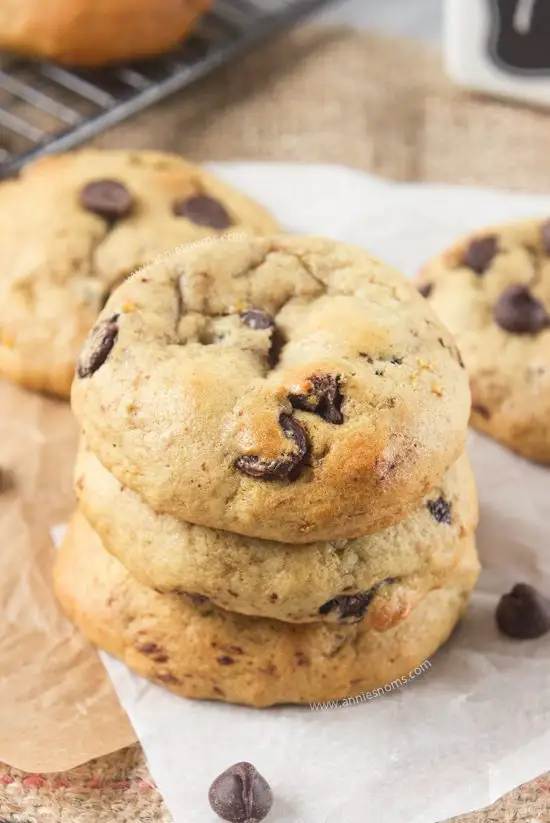 Like most things with banana, they taste better on the second day as the flavours have time to infuse – I left my cookie dough in the fridge for a full day before baking and the dough definitely tasted better the next day (of course I had to "try" it – by try I mean I probably ate 1/4 cup of dough….).
This dough is still a little softer than my normal cookie dough, so I would advise using a cookie scoop as it could get messy if you try and roll them by hand! They don't spread much which is exactly what I wanted and I made sure there were plenty of chocolate chips in, so you get one in every bite!
I won't judge you if you eat 3 as soon as they come out of the oven. That warm banana/melting chocolate combination is just divine! Enjoy! 🙂
You can connect with me on Facebook, Twitter, Pinterest and Instagram!
Chocolate Chip Banana Bread Cookies
These Chocolate Chip Banana Bread Cookies have all the very best elements of the traditional Banana Bread, but in cookie form! The addition of chocolate chips cut through the sweetness of the banana to create a delicious treat!
Ingredients
2 cups (280g) all purpose flour
½ cup (70g) bread flour
1tbsp cornstarch
1tsp baking soda
½tsp baking powder
Pinch salt
1 cup (175g) dark chocolate chips
1 stick (113g) unsalted butter, at room temperature
1 cup (200g) light brown sugar
2 large eggs
1tsp vanilla extract
¾ cup (195g) freshly mashed banana, measured AFTER mashing. (this was 2 medium sized bananas for me)
Instructions
No need to preheat the oven yet, this dough needs to chill.
Place flours, baking soda, baking powder, salt and chocolate chips into a medium sized bowl and stir until all the chocolate chips are covered in flour. Leave to one side.
Place the butter and sugar into a large bowl or the bowl of your stand mixer and beat until light and fluffy, 2-3 mins on medium-high speed.
Add in eggs and vanilla extract, scraping sides as necessary, and mix until well incorporated and smooth, about 1 minute.
Add in your flour mix and mashed banana then mix on low until a soft dough forms.
Tip the dough into a medium sized bowl and cover with cling film. Place in the fridge for at least 6 hours, overnight if possible.
Once chilled, preheat the oven to 350F/180C and line 2-3 baking trays.
Using a 1.5tbsp cookie scoop, place balls of dough 2 inches apart on each baking tray.
Place in the oven for 9-12 minutes until risen, lightly golden on the edges, but still soft in the middle.
Leave to cool on the trays for at least 30 minutes, before transferring to a wire rack to cool completely.
Once cooled, cookies will keep in an airtight container, at room temperature, for 5 days.
Notes
Cookies taste best on the second day, but stay soft for 5 days.