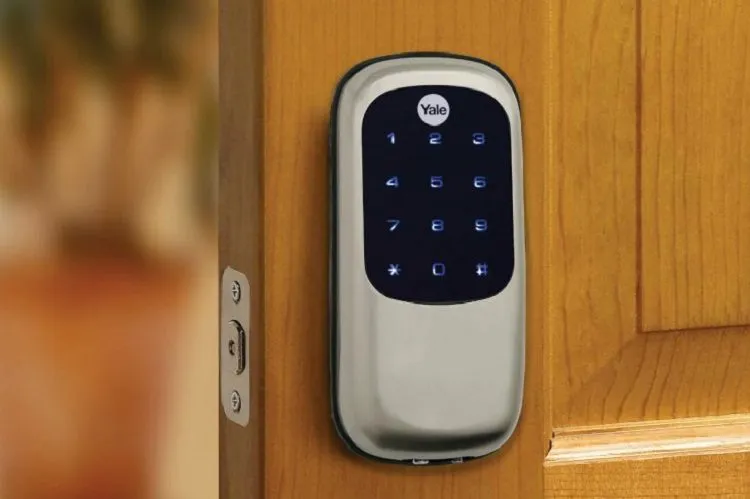 When searching for ways to keep your home protected, finding the proper lock, best keyless door lock with advanced and convenient features makes all the difference in the world. We live in a fast-paced world, and the need for quicker technology that meets our needs as consumers is vital.
These advancements must include more security to stay ahead of potential intruders while providing ways for homeowners and business owners alike to gain entry with convenience; knowing that the lock is built for utmost consumer ease yet secure protection at the same time.
Thanks to modern innovations and upgrades with locks, you now have a wide range of options with everything from touchscreen locks, RFID and card swipe features to more advanced Bluetooth or fingerprint technology; allowing you to have complete control via web and apps from your phone or computer.
The options allow for consumers on different budgets to find the best lock to meet their needs. And even more, advanced locks are much more affordable as the market grows. Regardless of what capabilities are for the lock you choose, it should be a quality item to serve its purpose and ensure you made a worthwhile investment and avoided replacement in an unreasonable amount of time.
The list below contains 10 well-researched locks that are on the market and that have gained attention for their capabilities, reliability, ease of installment, and flexibility of functions in addition to positive consumer reviews and ratings.
10. Ultraloq UL3 Fingerprint and Touchscreen Keyless
This attractive and advanced Ultraloq UL3 Fingerprint and Touchscreen Keyless features the option to use a code, fingerprint, key access to unlock, and complete control over guest access. With an easy-to-follow DIY installation process, the reversible lever is perfect for right or left-handed use.
This lock system is weatherproof and has a long battery life, with the low-battery alarm notification feature. There is a lifetime mechanical and 18-month electronic warranty. The "Anti-peep Password" feature prevents criminals from stealing your password using sneaky techniques. The "Advanced Fingerprint Identification" system uses waterproof and scratchproof technology.
Pros & Cons
Pros:
Easy installation

3-in-1 Function

Lifetime mechanical warranty

Attractive design
Cons:
Sunlight interferes with functionality

No option to leave unlocked

Poor technical support
---
9. Kwikset 92640-001 Contemporary Electronic Keypad
Kwikset 92640-001 Contemporary Electronic Keypad Single Cylinder...
Keyless entry with a motorized driven deadbolt for 1 touch locking, low battery indication, and easy install with just a...
For use on exterior doors where keyed entry and security is needed.Customizable automatic door locking after 10 to 99...
6 customizable user codes along with temporary codes that can be used just once, perfect for visitors and service...
This Kwikset 92640-001 Contemporary Electronic Keypad Single Cylinder Deadbolt Lock system features one-touch motorized locking, keyless entry, and easy installation. You can also have peace of mind knowing this deadbolt lock meets Grade 3 requirements and has the added convenience of auto-lock after 10-99 seconds. Additional perks include a 10-digit backlit keypad, 6 user codes, with the option to set temporary codes for controlled user access, and a latch that is adjustable to use with all standard door fittings.
Pros & Cons
Pros:
Affordable

Pleasant appearance

Lifetime mechanical and finish warranty
Cons:
Auto lock function is reported to lock too quickly

Instructions are difficult to follow
---
8. SoHoMiLL YL 99 Keyless Electronic Keypad Lock
SoHoMiLL Electronic Door Knob (Spring Latch Lock; Not Deadbolt; Not...
Easy Setup; Design for Do It Yourself (DIY); No Professional Needed; Everything Included!
Fit Both Left and Right-hinged Doors; Replace Most Existing Door Knobs, Outdoor or Indoor, Easily!
Flexible: Master code, and upto 8 User Codes and P-Code, all Controlled by Your Own Master code.
This SoHoMiLL YL 99 Keyless Electronic Keypad Lock fits right or left-hinged doors and features an easy setup process. You can have the option of up to eight user codes, including temporary codes, that are controlled by the master code. This lock can replace most indoor or outdoor locks. It will auto lock in three seconds from the exterior for added security. For added convenience at night, the keypad features a LED-lit pad when touched. In addition to low battery warning, a battery box jumper is included. It's constructed of a heavy-duty metal material and is built to last.
Pros & Cons
Pros:
This lock component is weatherproof and can be used year-round even on the outside

Low battery warning with backup battery box jumper

Strong and durable stainless-steel design
Cons:
Some users reported that the unit did not last for very long

Easily affected by weather and temperature

Warranty must be requested
---
7. Samsung Ezon SHS-3321 Keyless Smart Universal Deadbolt
The Samsung Ezon SHS-3321 Keyless Smart Universal Deadbolt has an attractive design that is PSB Fire-tested, features standard 160/161 prep. installation, anti-theft mode, RFID card or password options, and 9-volt battery backup.
This unit is easy to install and program. It features out-of-home and in-home double-locking security, keypad volume adjustment, double authentication mode, intrusion detection, and random code options. Enjoy peace of mind with a trusted brand that stands by its products and offers superior support.
Pros & Cons
Pros:
One-year warranty

Sturdy and attractive design

Easy installation and programming
Cons:
The motor is reported to be faulty

It is not compatible with smartphones
---
6. TurboLock TL-99 Bluetooth Smart Lock
TurboLock TL99 Bluetooth Smart Lock for Keyless Entry with App | Share...
LIVE MONITORING – Never wonder about your security again with real-time updates and notifications via the smart lock...
UNLIMTED eKEYS – Use the app to create permanent, time sensitive, or single use eKeys on demand for visitors and...
PASSIVE MODE FOR GUESTS – Activate Passive Mode during high traffic occasions so guests can enter with a press of any...
The TurboLock TL-99 Bluetooth Smart Lock for Keyless Entry & Live Monitoring is packed with many enticing features. In addition to its highly-durable stainless steel construction, this locking unit is easy to install, is weatherproof, and offers the convenience of modern technology.
Enjoy keyless technology with Bluetooth function, allowing you to unlock your door with your smartphone. The system allows unlimited eKeys for use by guests or other residents, along with passive mode for frequent use when a code is not needed. There is also a backup battery pack to prevent lock-out and remote monitoring capacity.
Pros & Cons
Pros:
Responsive customer service

Modern technology

Live monitoring
Cons:
Poor user instructions

App malfunctions
---
5. Schlage FE595 CAM 619 ACC Camelot Keypad Entry
Camelot Accent Lever Entry Flex Electron
Applications: Residential single and multi family doors; Backset: Universal latches and deadbolts fit 2 3/8(60...
Backset is adjustable;Flexibility to choose; switch from automatic relocking to unlocked as needed
Lever is reversible
This Schlage FE595 CAM 619 ACC Camelot Keypad Entry with Flex-Lock features an attractive satin finish and durable construction. With no need to keep up with bulky keys or worry about the need to hide a key for visitors, the many features include a reversible lever, adjustable backset, convenient illuminated keypad for night time entry, 3-year limited electronics warranty and limited lifetime mechanical and finish warranty, low-battery indicator, Grade 2 Higher Residential Security Rating, and the option to it keep unlocked.
Pros & Cons
Pros:
Flex-Lock allows the owner to switch to unlocked or automatic re-locking

Easy installation by one person in less than 30 minutes

Easy to add or delete codes
Cons:
Short battery life

Affected by temperature
---
4. Samsung Digital Door Lock SHS-1321
No products found.
This Samsung Digital Door Lock SHS-1321 has a sleek and stylish design. It is light but durable and easy to install. In addition to being manufactured by a trusted brand, it offers many benefits, including three modes of entry: password, smart card, or RF card.
You'll also enjoy a range of settings and modes including random password mode, anti-theft mode, automatic door look, and double-lock feature. Keypad volume control, low-battery warning, and a 9-volt backup battery are also included.
Pros & Cons
Pros:
KS and KPS Certified

Double-Locking

"

Do Not Disturb

"

Mode

Batteries are included
Cons:
Instructions are difficult to read because they are in Chinese

Difficult return process

Not made for outdoor use
No products found.
---
3. Schlage BE365VCAM619 Camelot Keypad Deadbolt
Schlage BE365 V CAM 619 Camelot Keypad Deadbolt Electronic Keyless...
KEYLESS CONVENIENCE: Use 2 pre-programmed codes for easy setup out of the box; assign up to 19 codes for trusted friends...
PREMIUM SECURITY: High-quality metal construction provides strength where it counts; Grade 2/AAA rating offers trusted...
BATTERY POWERED FOR RELIABLITY: Deadbolt operates with included 9V battery; avoid lockouts with dedicated low-battery...
The Schlage BE365VCAM619 Camelot Keypad Deadbolt features a heavy-duty metal construction with an attractive finish that coordinates well with many modern styles. Enjoy easy installation without the hassle of wiring and it is guaranteed to fit standard doors. The keypad is coated with silicone to prevent the numbers from getting worn off. This impressive system allows for up to 19 access codes that you can easily create and delete. Enjoy added assurance with a low-battery warning and back-lit keypad for convenient night-time access.
Pros & Cons
Pros:
3-year limited electronics warranty and limited lifetime mechanical and finish warranty

Grade 2 Higher Residential Security Rating

Easy One-Tool Installation
Cons:
Does not fit all lock sizes

Consumers report the ability to manipulate the lock
No products found.
---
2. Schlage Z-Wave Connect Camelot Touchscreen
This Schlage Z-Wave Connect Camelot Touchscreen Deadbolt with Built-In Alarm offers consumers a multitude of benefits. In addition to a very elegant design with solid metal construction, this lock system offers the benefits of security with modern technology. You'll enjoy the freedom to create and store up to 30 user codes at a time.
It fits standard door locks, is easy to install, and is battery operated. The built-in alarm allows for three alert settings. Z-Wave Technology gives you the power to unlock from any location using your phone or via web. It works with Amazon Alexa for voice recognition and commands.
Pros & Cons
Pros:
Grade 1 Highest Residential Security Rating

Easy installation without wiring

Limited lifetime mechanical and finish

,

and one-year electronic warranty
Cons:
Short battery life

Sensitive to climate changes
---
1. PIN Genie PGD 728 Bluetooth Enabled Touchscreen Smart
Lockly Keyless Entry Smart Lock, PIN Genie Door Lock (PGD 728) with...
KEYLESS ENTRY AND CONVENIENCE: Lock and unlock your door with one finger tap on your smartphones via bluetooth or by...
HIGHLY-SECURE SMART LOCK: The world's first patented peek-proof smart door lock, the next step in automation. The unique...
FAMILY SHARING WITH EKEYS: Each family member could get their own smart code for keyless entry. PIN Genie is designed to...
Hailed as the "world's first patented peep proof, hidden camera proof" touchscreen pin pad to prevent malicious copying of your pin, the PIN Genie PGD 728 Bluetooth Enabled Touchscreen Smart Door Lock offers a wide array of features for consumers seeking top-notch security with the benefit of technology.
The built-in Bluetooth technology enables you to unlock your door from your smartphone using the complementary app. With the ability to store up to 8 codes and choose from 6-8-digit pin codes, you also have the option to use a key if preferred. This advanced system offers a variety of modes to keep you secure, including limited wrong entry, an alarm, do not disturb mode, and scheduled key access.
Pros & Cons
Pros:
Highly-secured 256-bit encrypted Bluetooth technology VS. WiFi technology to prevent hacking

Do not disturb mode

95 dB built-in alarm with three sensitivity levels
Cons:
Batteries not included

Warranty is not stated
What Keyless Door Lock is Best for Your Home?
Keyless entry front door locks are probably not the first thing that a homeowner thinks about when they open the door. Because unlocking regular lock systems are pretty easy, it's no wonder electronic keyless door locks are not getting the attention that they should in terms of home security.
The truth is, a keyed entry has many drawbacks when it comes to securing your home, first of which is, it relies heavily on a piece of metal that can be lost, stolen, or even copied. This is where keyless entry door locks shine. Because access to your house does not rely on a key, it is more secure and will protect you from lock picking.
Commercial keyless entry door locks have been popular for some time now and have paved the way for keyless door locks for home. While these digital locks are most common on exterior doors, there are homes that have also equipped their interiors with this kind of lock.
There are many features that come with a keyless door lock like automatic locking, ability to open with either a touch of a button, a mobile app, or a device, a reversible lever that enables the handle for either left or righthanded use just to name a few. Even with all of these features, you can still get the classic cylinder deadbolt that you're familiar with.
Since every house is different, not to mention that people who are living in them, it's only fair to say that the best keyless door locks would be different depending on the house and the preference of the ones who are dwelling in it. So make sure that you do your due diligence and know what locks would work best in your house, whether you'll use it inside or outside, as well as what you think will work best for you.
Final Review of the Best Keyless Door Locks
These options make for a competitive selection, and the choice is a matter of taste, functionality, and what is going to benefit you. Of this list, the top recommendation, at number one, is the PIN Genie PGD 728 Bluetooth Enabled Touchscreen Smart Door Lock. This is based on overall consumer ratings, technology and security. While the cost is a bit higher, the overall investment makes more sense considering you get what you pay for. This lock is also equipped with a more secure Bluetooth technology, advanced alarm features, password theft prevention, and a more advanced code setup.
See also:
10 Best Coffee Travel Mugs Reviewed
10 Best Car Seat Covers Reviewed
Top 5 Best Instant Pots Reviewed
Last update on 2021-12-09 at 06:14 / Affiliate links / Images from Amazon Product Advertising API