Many people underestimate the abuse that the seats in our car take. From spills, dirt, to just the general oils on our bodies, the seats in our car come into contact with a lot. Over time, this can make them look grungy and dirty. A perfect way to hide those stains are seat covers! So, what makes the best car seat cover?
Additionally, if you are lucky enough to own a brand new car, you're going to want to protect those seats as much as you can, right? Well again, car seat covers are the perfect solution. There are many different styles, price ranges, and designs to choose from but many might ask, "What are the important things to consider when choosing the best car seat covers for me?"
To start, plan your budget because there are different price ranges. Just figure out where on that spectrum you feel most comfortable. Secondly, know your make and model and always be sure to verify that they will fit. Some companies provide a guide, while others will give the measurements of each cover.
A quick measurement of your seats is a good way to set yourself up for success. The final important thing to consider is design. Some might want leather, others might prefer cloth. Again, think what will be useful to you. Each person has their own needs.
Some other things to consider when choosing the perfect car seat cover for you are airbag compatibility, comfort, and which seats to cover. If you don't use your backseat very often, maybe you can get by with just the front seats. Regardless of your needs or preferences, we have compiled a list of the 10 best car seat covers and trust me- there's something here for everyone. Let's take a look!
10. Leader Accessories Platinum Vinyl
Leader Accessories is an up and coming brand that is committed to quality products. These faux leather seat covers have a 3 mm padding and are breathable, wear resistant and durable.
It is compatible with side airbags for safety. Additionally, it has a pocket for storage and is stretchy so as to fit most seats. For easy cleaning just wipe them down and let them air dry. There is a stretchy opening to get it over the headrest easily as well as easy installation with adjustable straps.
Pros:
Adjustable straps

Leather finish

Includes storage
Cons:
Some reviews say they are annoying to put in

Fits most models, but not all even though it's supposed to be universal
---
9. OxGord 17 Piece Leather Car Seat Cover Set
This car seat set from OxGord includes 17 pieces which include a two-piece bench protector, two three-piece bucket seat protector and even has extras like a steering wheel cover and four seat belt protectors.
Each piece is washable and built to last due to its PU leather and breathable mesh fabric construction. It includes a 3 mm foam core for comfort and even com3es in a variety of colors and styles.
Pros:
Includes great accessories

Foam core for extra comfort
Cons:
Can be a pain to install

Can come with a smell that will go away

Doesn't fit all models although there is a search bar to check your make and model
---
8. IVICY Car Seat Cover
The IVICY Car Set Cover does not come as a set but is rather sold individually. Since each piece is priced separately, this one can get a bit more expensive. That being said, it is machine washable, will not fade in the sun and includes a 1-year warranty.
IVICY goes the extra mile to make sure their quality matches the price. They feel and look like suede but are made of a much more durable blend of polyester and cotton substrates. If they went soft enough, they are super comfortable as well since they have a 1 cm thick inner layer of foam.
Extra attention was paid to the design of these seats as the edges were developed specifically to combat pleating and folding edges.
Pros:
1cm thick foam core

1-year warranty

Specially developed edges
Cons:
Does not come as a set

Color can fade but not necessarily noticeable in daily use
---
7. Copap Universal 4 piece Front Seat Covers
These front seat covers by Copap come with two seat protectors for the front and two seatbelt covers. They do not come with backseat covers. However, they are still a great way to protect the front seats which take the brunt of wear and tear.
These seat protectors are compatible with many models including ones with adjustable or built-in headrests. With three Baja designs and premium saddle blanket construction, one of them is sure to fit your style.
Pros:
Wide compatibility

Three designs

Premium saddle blanket material
Cons:
Only for the front seats

Slightly small for bigger vehicles
---
6. FH Group FB102GRAY102 Gray Air Car Seat Covers
These seat protectors from FH Group come with either just the front seats or a set that includes both the front and rear seats. They are machine washable, have breathable air mesh, and have a universal fit.
They hook with snaps for extra security and include a highback design that works with non-detachable headrests. They have a 3 mm foam padding that disperses heat to keep you cool in hot weather. The polyester material is washable and comes in quite a few colors.
Pros:
Breathable mesh

Washable

Universal application
Cons:
Not compatible with front side airbags

Some buyers wish they were a bit thicker
---
5. CAR PASS Universal Car Seat Covers with Lace
Though this set from Car Pass is one of the more expensive sets on our list, it does come with 17 pieces includes a steering wheel cover and matching floor mats. This one really is the whole package. The lace detail does make them a bit feminine, but they are still airbag compatible and have a 100% money back guarantee.
The floor mats have no skid backing and are good for all kinds of weather. In addition to their money back guarantee, Car Pass also offers a 2-year warranty. The company also provides measurements of each piece for you to be able to make sure it will fit your seats.
Pros:
Money back guarantee and warranty

Includes accessories such as floor mats

Airbag compatible
Cons:
Feminine design

Shipping can be slow
---
4. Ankiv Universal Car Seat Cover Set
This car seat protector set is made by Ankiv and is admittedly the most expensive on our list. However, it has some great features including waist support pillows, neck support pillows, and an armrest box pad. Though they are pretty universal, Ankiv does note that they will not fit trucks or sports cars.
Additionally, you can still recline your rear seats since the 3 piece rear cover is detachable and can rejoin with a zip fastener. They come in four classy colors, will ship in 10-12 days, and is made of an eco-friendly material that is stain resistant.
Pros:
Eco-friendly

Comes with unique accessories

4 neutral, classy colors
Cons:
More expensive

Does not fit trucks or sports cars
---
3. Outlaw Products Heavy Duty Canvas Seat Cover
These seat covers made by Outlaw Products have a wide variety of prints, including camo which is pictured above. They are airbag safe with their "safe stitch" technology, have a front storage pocket, and even have a patent pending.
Their size is compatible with most vehicles including trucks. However, these seat covers do not come in a set, they are only sold individually.
Pros:
Airbag Safe

Patent Pending

A wide variety of prints

Heavy Duty
Cons:
Only sold in a package of one

On the more expensive side
---
2. Realtree Camo Low Back Seat Covers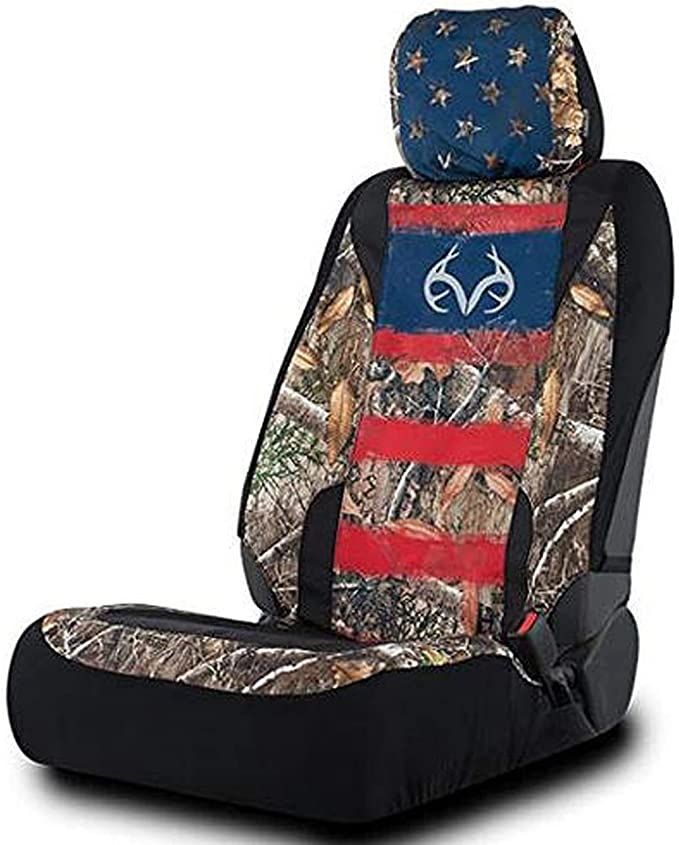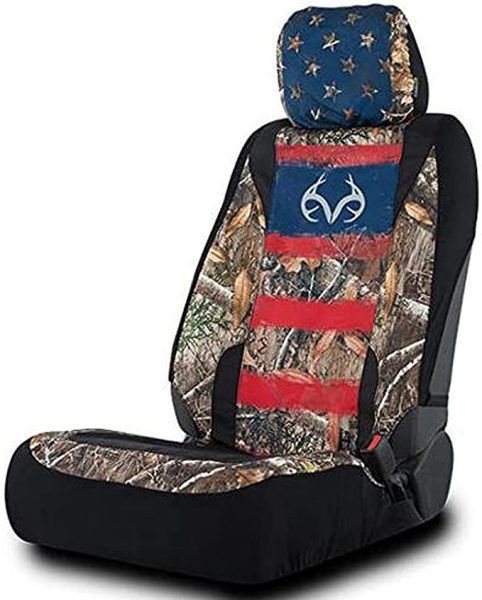 Realtree has put some thought into their low back seat cover not just in print, but also in the design. The polyester material is abrasion and water resistant. Additionally, the foam backing helps secure the cover in place. As if the design wasn't thought about enough already, the built-in controls of your seat are accessible which also makes them airbag compatible using safe seam technology.
Realtree does recommend buyers to take two things into consideration when choosing their seat cover. First, make sure your seatbelt retraction device is on the frame of your vehicle instead of on the seat itself. The second thing is to be sure you have an adjustable and removable headrest.
They say that if your vehicle has those two features, then their covers will fit. So although they are not universally compatible, there are at least clear in their sizing guidelines.
Pros:
Honest sizing guidelines

Well thought out designs

Water and abrasion resistant
Cons:
Only comes in a package of two

Does not fit all vehicles
---
1. Qbedding Cooling Series Universal Fit
Qbedding cooling series car seat covers are a universal fit, however, the company does make note that these do not fit bucket seats, high back seats or bench seats. Regardless, since they are made of Rattan, they can be easily wiped clean and have a design that includes lumbar support.
Additionally, these seat covers are breathable, durable, and have a single piece design that attaches with elastics to ensure a quality fit. Each package comes as one seat cover and they are not sold as a set.
Pros:
Has lumbar support

Easy clean

Single piece design
Cons:
Does not fit high back seats, bucket seats, or bench seats

Sold individually
Why You Should Consider Buying a Car Seat Cover
Getting a car is probably one of the biggest and most important investments that anyone could make. That's why it's only natural that a car owner should take care of his or her investment by making sure it can stand the test of time and any depreciation is kept at a minimum. While it's obvious that you should take care of your car's exterior, it's just as important, if not more, to take care of the interior. After all, you don't ride on the outside of your car, do you?
Car seat covers are just one of many things that you can buy for your car that is specifically for the interior. For those who love having their furry friends in the car, this is especially useful. These are also a necessity if you have kids and want to preserve the condition of your car.
There are many seat covers to choose from. You can even have custom car seat covers if that's the look you're going for or you just can't find ones that fit your style.
The best car seat covers are generally those that perfectly fit and integrate not just in your seat but also with the other safety features of your car. While a custom seat cover may look good, you have to make sure that they do more than that. After all, a seat cover should do more than just make your car look good; it should be an investment to protect a bigger investment.
Final Review of the Best Car Seat Covers
Though everyone's needs are different, out of the car seat covers listed above, our favorite is the Oxgord 17 piece set.
Of course, the more pieces, the better quality; or any special features will increase cost, which is why it is important to think about your budget and your needs before choosing the car seat cover for you. So, what are you waiting for? Start shopping!
See also:
10 Best Keyless Door Locks Reviewed