10 Travel Tips to Keep You Fabulous Throughout Your Travel Days
It's no secret that traveling can take all the energy out of you and leave you looking a bit worse for wear – the recycled air of the plane, the long hours sitting in uncomfortable chairs and tiresome security checks. It's enough to make anyone feeling a bit haggard.  But, why should your face reflect that fatigue? Here are some great, cost-effective travel tips for you to use to keep yourself looking fit and fabulous even on an all-night flight.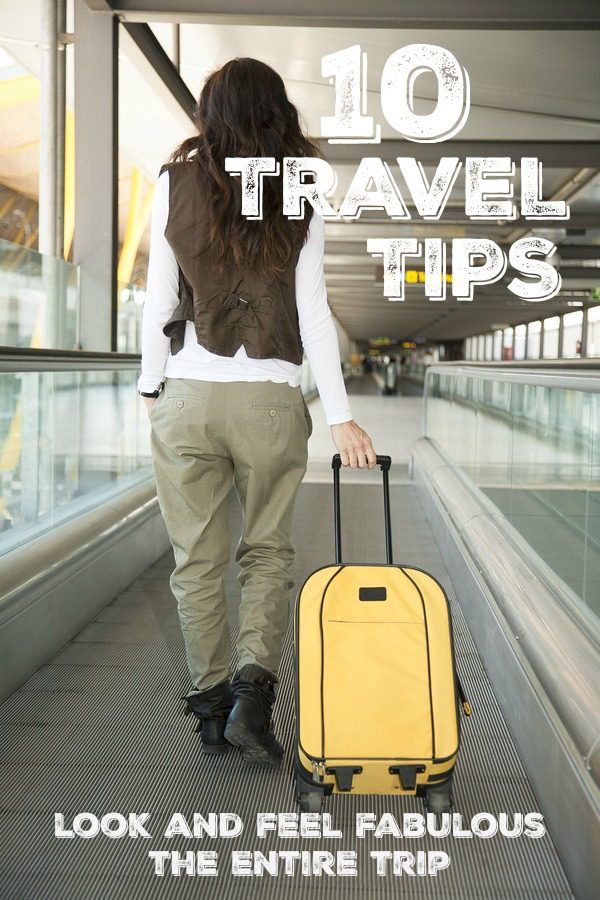 Pre-flight Travel Tips: to Stay Feeling Like a Million Bucks
Looking great is directly connected to feeling great, so before you hop on your plane, make sure that you've prepared yourself properly. Take into consideration what you will eat, what you will wear, where you will sleep etc. All of these things factor into how the rigors of travel will affect you. If you master these five hacks, you're sure to come out on top in any traveling situation (even if you have any mishaps).
Bring healthy snacks & stay hydrated
One of the keys to staying on top of travel stress is making sure that you eat well and stay hydrated. Keep healthy snacks like dried fruit and nuts with you for a healthy (and cheaper) alternative to the offerings on the plane. Keep an empty water bottle in your handbag that you can fill after you pass security to make sure you get plenty of H20 without the inflated prices that you'll find at the airport.
Book your car & hotel together
Just because you travel on a budget doesn't mean that you have to sacrifice the comforts of a luxury hotel room and comfortable rental car once you reach your destination. Try searching on the various platforms out there like Expedia, to get discounts on travel packages at premier locations without spending the extra dollars.
Do your homework on what type of car will give you the most comfort, reliability as well as which cars are least likely to be ticketed should you find yourself in an unfamiliar driving environment. Your stress levels will thank you later.
Enroll in TSA pre-check
There isn't much quite as tedious as airport security. You can make this part of your journey run that much smoother by enrolling in TSA pre-check. You'll have shorter lines, as well as the convenience of not having to undress yourself every time you find yourself on the move for work or play.
Pack a versatile wardrobe
It's always better to travel light when possible. You'll have less to lug through the airport, and you can skip the bag check lines at the terminal desk. This also doesn't mean you need to sacrifice a stylish wardrobe. It just means you need to get a bit creative.
Concentrate on packing pieces that you can mix and match – neutral colors, layers like cardigans and camis, as well as a few colorful scarves for a pop of color. This great piece from Womensforum.com has some useful tips on where to start. It's true that you aren't necessarily what you wear, but you'll feel more confident when your ensemble is on point no matter the situation.
Listen to soothing music & don't forget a face mask and/or neck pillow
Once you're on the flight and safely in your seat, take advantage of that time to get some rest and relaxation before arriving at your destination. While this may not be so easy on the plane, you can get around the crowded environment with your favorite relaxing tunes.
Support your neck properly with a great travel pillow, and close out the extra light with a cushy face mask. You'll be sleeping like a baby in no time and wake up refreshed and ready to go at the end of the flight.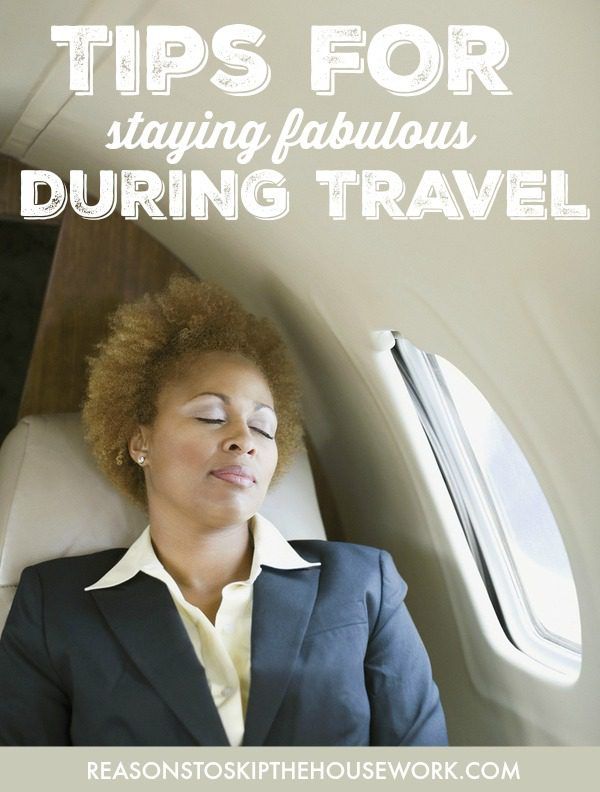 Post-flight Travel Tips: To Stay Looking Like a Million Bucks
So you've arrived as rested as possible for your next business engagement or vacation, but you still feel like you need to freshen up after all that time spent cramped in the recycled cabin air of the plane. These five items below are all the essentials you'll need to take care of that (without taking up too much space or denting your pocketbook).
A makeup survival kit
Your makeup survival kit should include: BB Cream, a corrector stick, a simple kohl eyeliner, neutral eye shadow, tinted lip balm, travel size deodorant stick and a small essential oil travel spray (like lavender – a natural stress reliever). Be sure to also include makeup remover wipes to take off applied makeup, and also give your face a quick clean. You'll save space (and avoid stress with liquid allowance), but still have everything to be completely put together for whatever life has to throw at you once you leave the airport.
Eye drops & cucumber eye pads
Heavy travel days, no matter how much rest you get, can still take a toll on your eyes. Combat dry, red eyes with simple saline drop to refresh and moisturize. You can also reduce puffiness and dark circles by carrying some revitalizing cucumber eye pads. You'll come out of the airport bathroom looking like you've just spent the night in the world's most comfortable bed instead of an upright plane seat.
Toothpaste & folding toothbrush
You also can't neglect your teeth while you're traveling. Keep a travel size tube of toothpaste and toothbrush on hand. These can even fit in your purse so you'll have them even while you're out and about during your work or vacation activities. Nothing is more welcoming than a great and confident smile.
Dry shampoo, hairbrush, hairpins & scarf
There may also be times during your travels that don't give you the luxury of a nice shower before you have to arrive. Save time and money by packing dry shampoo, a foldable brush and some hairpins in your bag. Batiste is one of the best out there when it comes to dry shampoo, and with your brush and hairpins you'll be able to create a hairstyle worthy of the salon. Make the scarves you packed do double duty as a hair accessory as well to keep the options interesting.
Moisturizer
Finally, you'll want to find a moisturizer that is great for both your face and body, as well as practical for where you are traveling. This is a great list that gives you 'best of' options for different climates you might travel to.
Now that you've got your pre and post flight travel tips, you're ready to hit the road and take to the skies – all the while staying fabulous without overspending.