It is not by coincidence that the holidays coincide with the unofficial opening of cookie season. The two are married because cookies, although enjoyed throughout the year, are especially shared by family, friends, and even co-workers during the holidays.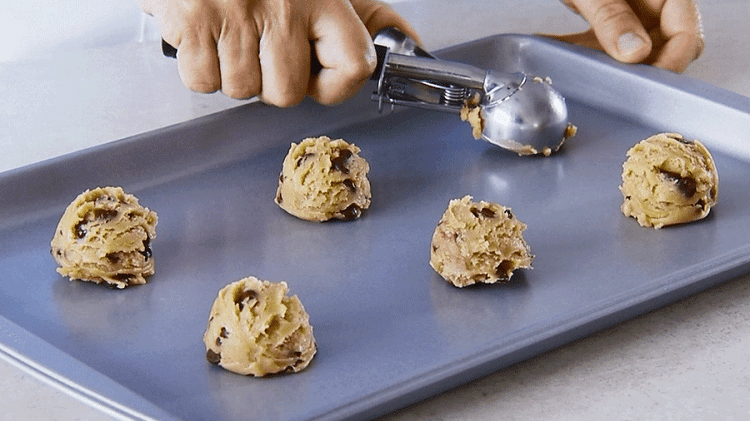 Additionally, cookies are commonly the introduction to baking for many people, so baking cookies with family and friends during the holidays is also a means by which traditions are passed through generations. However, because of constant baking, these sheets take a beating; and this is often the time that failing sheets are replaced.
10 Best Baking Sheets for Cookies (2022 Reviews)
However, buying a good sheet that can handle the rigors of baking from the outset can stave off the pan buying exercise for some years. Cookie sheets are made from many materials that make some sheets non-stick because of additional coatings or because of the natural slickness of the product.
However, the issues that occur in cookie sheets that make they're replacing necessary are things like warping, staining, sticking, and overall wear. Additionally, certain characteristics separate good sheets from bad ones such as the addition of handles of the appropriate size, the thickness of the sheets themselves, and overall performance.
10. Wilton Recipe Right 3 Piece Cookie Pan Set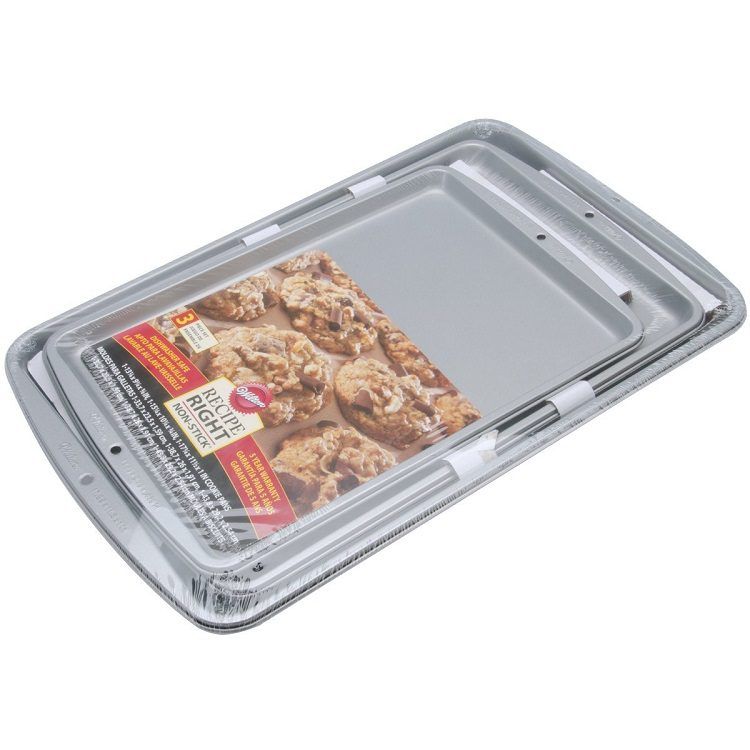 The Wilton Recipe Right 3 Piece Cookie Pan Set is a 13-1/4 by 9-1/4 inch, a 10-1/4 by 5-1/4 inch and a 17-1/4 by 11-1/2 inch set of steel constructed pans. The steel construction provides for consistent baking over the entirety of the pan.
It contains a non-stick surface coating that makes foods release easily during cooking and in the cleanup process. The pans are warp resistant due to their steel core and because of the thickness and the physical properties of the core material. However, they are recommended for hand washing only.
Pros
Steel construction

Non-stick coatings

3 pan set
Cons
No hand holes in handle making handle smaller

Thinner than many sheets
---
9. AirBake Natural 2 Pack Cookie Set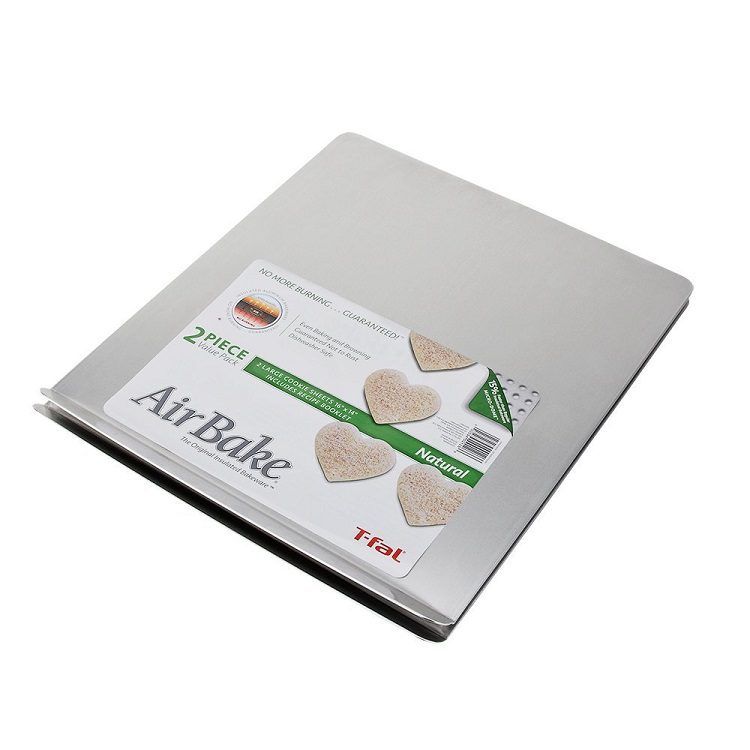 The AirBake Natural 2 Pack Cookie Sheet Set is a set of two 16 by 14-inch pans. These 100 percent aluminum sheets feature a 10-year warranty and a  no rust promise. It has a micro-dome system that not only speeds up cooking time by fifteen percent but also minimizes burning due to the insulating nature of the two sheet feature. They are 100-percent heavyweight aluminum sheets that utilize a layer of air to reduce the temperature of the top sheet so that the surface that's in contact with the dough does not heat to the point of the cookies sticking to it. This unique system makes for moister, evenly cooked and browned cookies
Pros
They are dishwasher safe with the expressed exception of dishwasher detergent tabs and are not to be soaked

.

Even cooking and browning

;

Air insulation fail-safe

.
Cons
Before initial baking, the sheets must be conditioned with a teaspoon of cooking oil

;

Scratches easily, so only plastic utensils should be used

;

There are slight surface marks or abrasions, this, however, will not affect the performance of the non-stick coating

.
---
8. Rachael Ray Cucina Nonstick Bakeware 10-Piece Set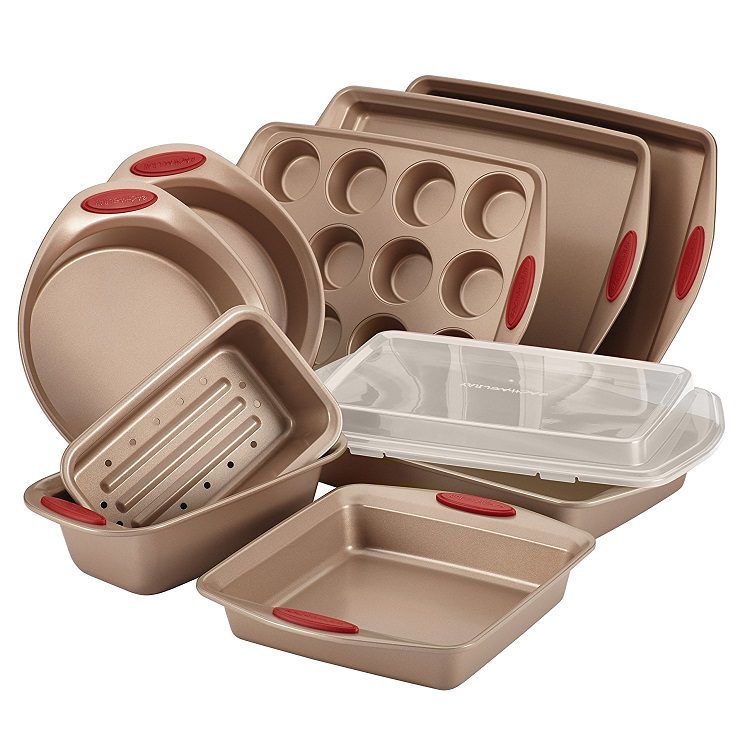 Rachael Ray Cucina is a 10-piece latte brown set with gripped cranberry heat-safe red handles. They are made of durable carbon steel with edges on the baking sheets and pans that are rolled which is effective in preventing warping.
They are nonstick on both sides so that food releases easily after cooking. And because both sides are painted, the outside nonstick surface also makes for a quick cleanup. The grips are made of heat-safe silicone, and they offer a safe grasp with potholders. The set is part of the greater Cucina collection, so they maintain the style and functionality of the wider well thought Rachael Ray Cucina kitchen design pattern with enough variety to be the solution for pans, and in particular, baking pans.
Pros
Unique style and color

Oven safe up to 450 degrees Fahrenheit

Has all essential pans for cooking different items
Cons
Color choice is somewhat limited

Style choice is also somewhat limited
---
7. Nordic Ware Commercial Baker's Half Sheet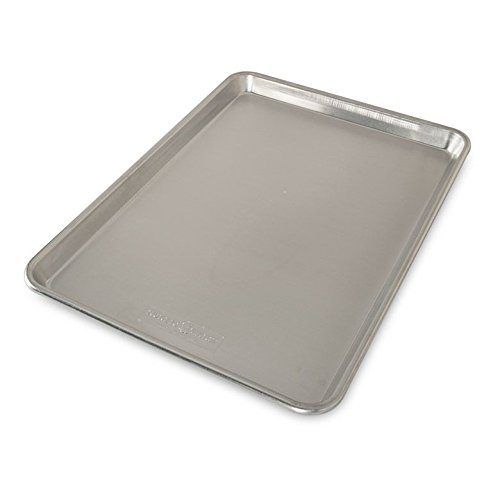 The Nordic Ware natural aluminum commercial baker's half sheet is a traditional half sheet pan made by a venerable food supply company. The pan's interior dimensions are the standard commercial 16.5 inches by 11.38 inch by 1 inch half sheet. It is the company's commercial bakeware, so it far exceeds the durability of the standard home baking pan. And because of its sturdy commercial construction, it bakes uniformly.
The edges are large, so the entire perimeter is a handle, and the light color aids in preventing excessive browning. The Nordic Ware brand has made durable bakeware for many years, and this pan is a pan that could survive very heavy home use. If there was ever a pan for someone who wanted to only buy a few pans, this is the one because it will never rust making it a lifetime pan.
Pros
Made of pure aluminum

Baked goods rise and bake evenly

Reinforced steel edge prevents warping
Cons
Hand wash only, but with easy cleanup

Size for home use only
---
6. Umite Chef 3-Piece Baking Sheet Pan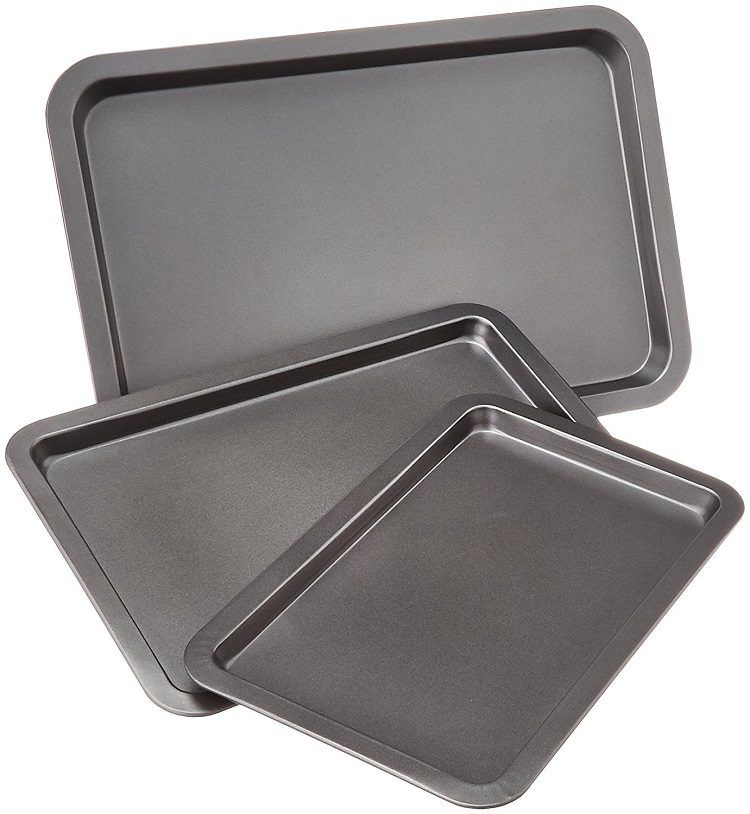 This 3-piece baking pan set from Umite Chef is made from 18/0 food grade stainless steel and has no toxic coating making it very safe for your family. These pans are not just for cakes, but can also be used for brownies, sticky buns, cinnamon rolls, cornbread, and many others.
This 3-piece baking sheet set is a great starter set for beginning bakers or homemakers. It has a 100% Quality assurance warranty and offers worry-free shipping.
Pros
No toxic coating

Made of 18/0 food grade stainless steel

Easy cleanup and dishwasher safe
Cons
There are complains of incorrect pan dimensions

Smaller than most pans, although the quality is great
---
5. Vollrath 68085 Wear-Ever Cookie Sheet Pan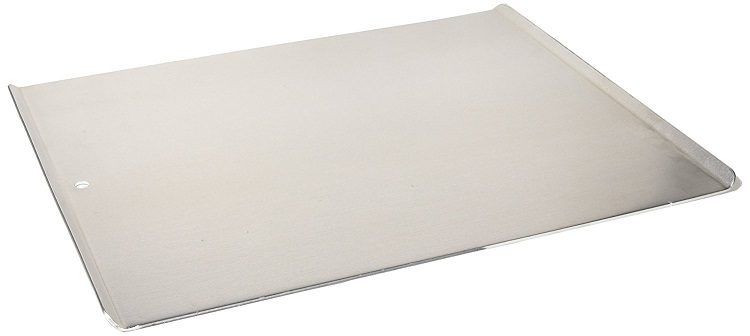 The Vollrath 68085 Wear-Ever cookie pan could be rated for commercial use., And because these are pans that are suitable for heavy commercial use, many years of home use can be expected of this brand. It is constructed of thick gauge 3004 aluminum, so it delivers perfectly with even heating and has excellent browning propensity.
This commercial baking pan contains two curved sides and two flat sides so that foods can be slid off easily, making it excellent for bread and bun making as well. Additionally, the rolled edges prevent the pan from warping during use, and its 10 gauge construction also makes food release easily.
Pros
Commercial type

Multiple uses

NSF certified
Cons
Not dishwasher safe

Slight scratching can occur
---
4. USA Pan  Warp Resistant Non-Stick Aluminized Steel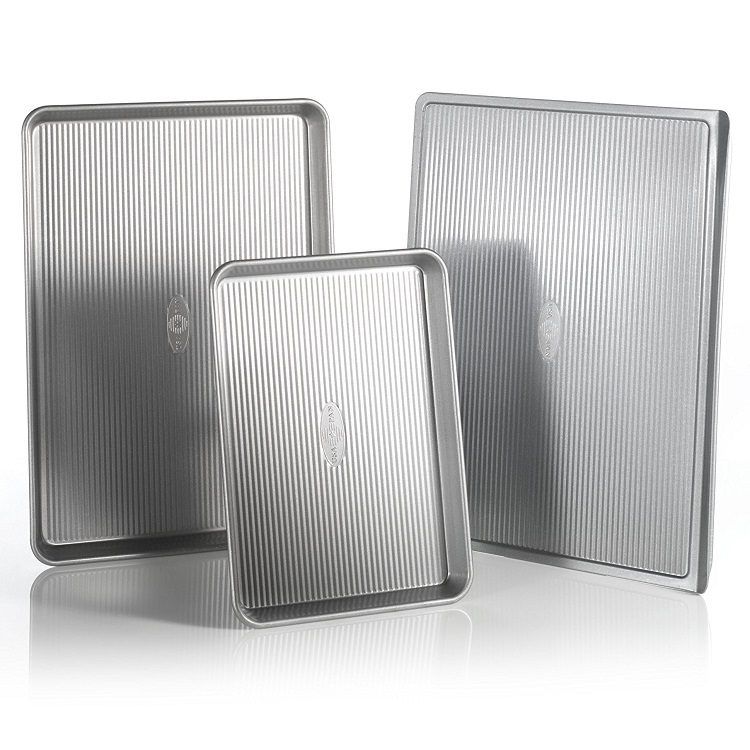 The set contains a 17 by 12.25-inch sheet, a 12.5 by 9-inch pan which is considered a quarter sheet pan, and a 17.25 by 12.25-inch baking pan which is a standard-sized half sheet. These sheets are so good, that they include a lifetime warranty, and are coated with the patented Americoat non-stick patented silicone coating.
This coating makes for easy cleanup because of its easy food release properties. The pans make browning occur evenly regardless of the food being cooked, and because of the light-colored coating, foods do not over brown. The fluted surface promotes air circulation and resists warping.
Pros
Non-stick silicone surface

20 gauge construction

Fluted surface
Cons
Small handle size

Very light warping after extended heavy use
---
3. Gridmann 15″ x 21″ Commercial Grade Aluminum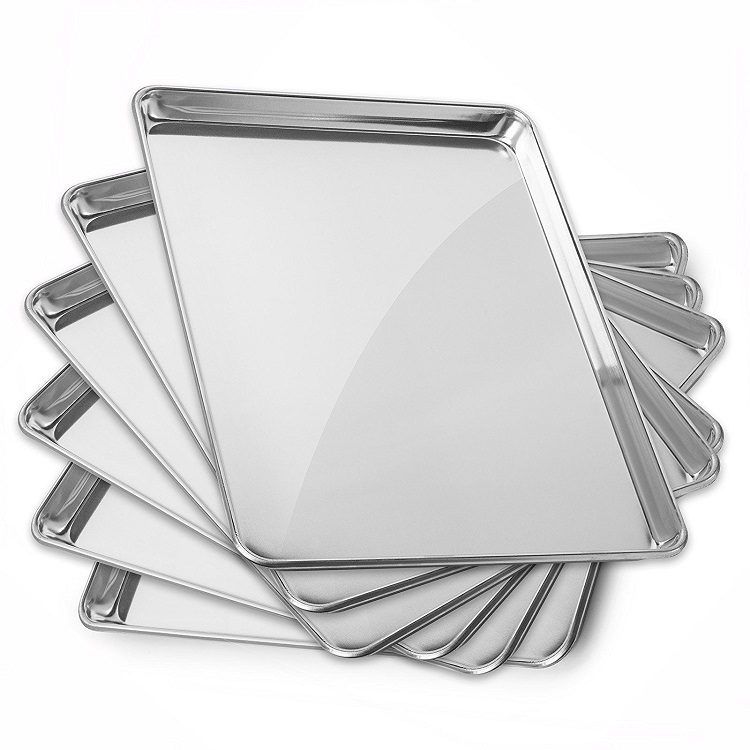 The Gridmann is a three-quarter sheet commercial level 20 gauge pan. The cooking dimensions of this phenomenal pan are a generous 16 inches by 21.75 inches with rolled edges that have been reinforced with a 1.0 mm gauge wire. It is fully aluminum constructed and has the unique quality of often being used for freezer or display case duties.
This hefty aluminum pan can achieve all of these because beyond being sturdy, they are also very lightweight. Being sturdy and lightweight also means that it has the capacity to cook plenty of items in one process without becoming cumbersome.
Pros
These hefty pans are lightweight

They cook food evenly

They are durable
Cons
Three quarters is slightly larger than standard

The surface may have to be oiled occasionally
---
2. Emeril Lagasse 62671 Aluminized Steel Nonstick 3-Piece

This three-piece set is constructed of steel, but with aluminum, coating to aid in heat distribution. In what amounts to a three-layer system, the aluminum coated steel then has an additional non-stick silicone coating applied. The pans have edges that are reinforced by being rolled creating a sturdy cylinder around the entire perimeter of the usable surface.
This added strength allows the pan to be handled easily while preventing warping due to use. The surface also heats quickly and provides safe cooking up to 450 degrees and measure 17 by 11 inch, 15 by 10 inch, and 13 by 9 inch.
Pros
Rolled edges for strength

Aluminum coating heats quickly and distributes heat evenly

Slick surface promotes almost complete releases every time
Cons
Minimal handles

Could be sturdier
---
1. Calphalon Nonstick Bakeware 10-pc. Bakeware Set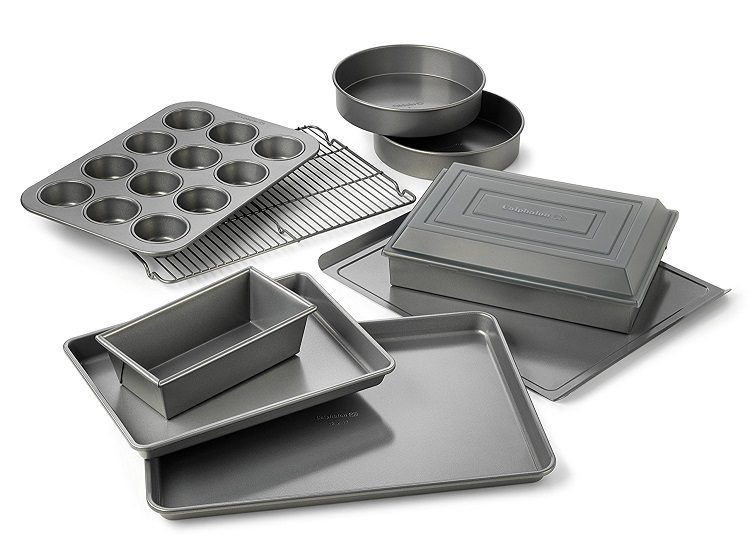 This extensive set is offered by Calphalon, a worldwide leader in cookware for commercial and home use. The set includes a dozen cup muffin pan and a covered cake pan which includes a cooling rack. It also features two 9-inch round cake pans as well as a 9 by 13-in cake and brownie pans both with corresponding lids.
A medium loaf pan and a 12 by 17-inch baking sheet complete the set. The bakeware set is completely dishwasher safe and incorporates a heavy-duty gauge steel core and features many additional layers of a uniquely applied non-stick coating. As with all things Calphalon, the set comes with a lifetime warranty.
Pros
Lifetime warranty

Large Set

Durable
Cons
Some pans must share a lid

Dual Sizes
Tips When Purchasing Baking Sheets
Trying to decide what the best baking sheets are is already hard enough with all the options that are available in the market today. If you add the fact that baking sheets come in many different sizes (and sometimes shapes), it's easy to see why making a choice can be overwhelming for some, especially for those who are just starting out.
From aluminum baking sheets, and cast iron baking sheets, to silicone baking sheets, you could be facing hundreds, if not thousands, of options. But beyond its material and construction, there are also many things that you need to think about when choosing the best baking sheets for your needs.
Determining which baking sheet sizes you need is also crucial because you don't want a sheet that's too small or big for your oven or your intended use. Not to mention that sometimes, cleaning baking sheets could be quite a hassle depending on what you baked. While you could employ the help of things like a silicone baking mat, aluminum foil, or baking sheet paper that can help prevent food from sticking directly on the tray, it is still advisable that you get a baking sheet that is easy to clean and hopefully, dishwasher-safe.
Whether you go for stainless steel or aluminum baking sheets remember that you have to ensure that the baking sheet you choose fits just right in your oven, and what you will be using it for.
What Is the Best Baking Sheet for Us?
After reviewing each of the best10 baking sheets in 2022, it is difficult to know which one will be right for you. I know I am tired of buying what I think will be a quality baking sheet, then 10 minutes after I put it in the oven, I hear a loud pop. I wanted to be sure that I declare a winner that I know would stand up to the test of time.
My pick for the best baking sheet is the Calphalon Nonstick Bakeware set. This is a great set that is sure to meet all of your baking needs. The set comes with a multitude of pans and options that will offer great flexibility when you want to try a new recipe. The best part is the quietness I hear all the way until I am ready to take my goods out of the oven.
Even though many people do not give too much consideration to what they want in a pan when they begin to bake, eventually when they become proficient, equipment will mean everything. There are a tremendous amount of options on the market, so this list represents the best makers and in many cases, the most prominent chefs endorsing and designing them.
Because of this, cooks should choose something that preferably has a long life of use as well as an economical price. When this is followed, the pan will become part of the tradition.
See also: