On my blog,
Missy Dear
, I like to share recipes that have been passed down to me from various family members.  I call the series
Picked From The Tree
(get it, my family tree).  Here is a recipe that comes from my Grandma.  A delicious Angle Food Cake.  Growing up we had an angel food cake with basically every family get together.  If the family was getting together angel food cake with fruit  was pretty much a givin'.  Usually the fruit in the Spring/Summer was fresh strawberries, and in the winter it was peaches from our backyard that had been frozen.  The peaches were the best when they weren't fully thawed yet, not sure why, but it was heaven.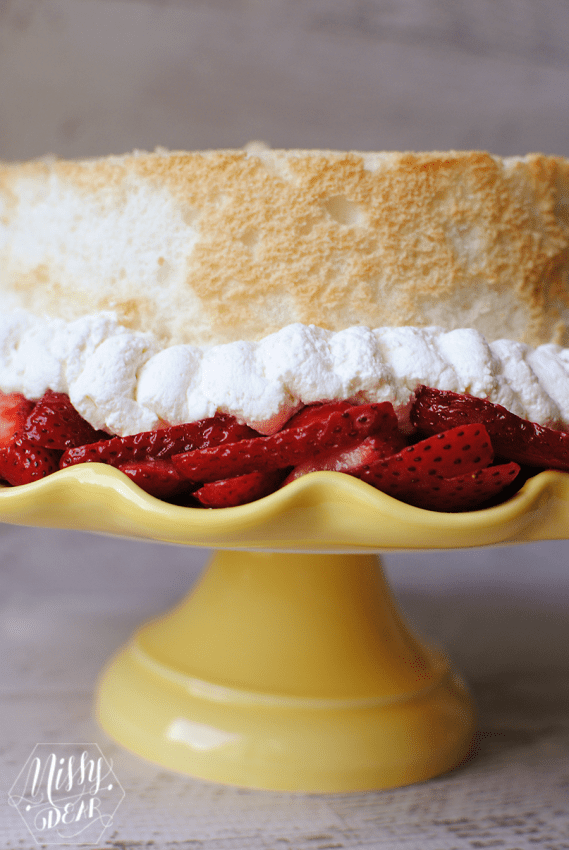 Sometimes my grandma would share stories about her time growing up in rural Ohio near the end of the depression (I loved those stories because she was a little bit of a tom boy like me.  In fact she was on the first women's high school basketball team to win the state championship. So cool.).  One of my favorite stories though is about how she helped her mom to support their family through the toughest times of the depression. My great-grandpa was a farm equipment mechanic and even when people couldn't pay him he would still fix their equipment for them.  Sometimes they would trade, but most of the time they worked on credit he knew he would never see.  Grandma always told me it was because he didn't feel that he had the right NOT to help someone harvest their livelihood, even if they couldn't help him with his.  So my great-grandma and grandma would help out where they could to raise a little money.  They would go door to door selling fresh eggs, dressed chickens and angel food cakes.  She once told me that it took her years, almost until she was an adult, to realize that the people they were selling these things to didn't really need to buy them - they raised their own chickens and eggs - but back then people would do whatever little thing they could to help.  I've always loved that story. So, here is my angel food cake recipe in memory of my grandma.
Angel Food Cake
Ingredients
1½ cups powdered sugar
1 cup minus 2 tbsp flour + 2 tbsp corn starch
12 egg whites
1½ tsp cream of tartar
1 cup granulated sugar
1½ tsp vanilla
¼ teaspoon salt
Instructions
Heat oven to 375* with rack in lowest position
Mix powdered sugar and flour/corn starch mixture and set aside.
Beat egg whites and cream of tartar until foamy.
Beat in granulated sugar 2 tbsp at a time adding vanilla and salt at the end.
Continue beating until stiff and glossy meringue forms.
Sprinkle the sugar/flour mixture ¼ cup at a time over meringue. Fold in just until the sugar/flour mixture disappears.
Pour batter into an UNgreased angle food cake pan, running a knife through to release any air pockets.
Bake 30-35 minutes or until the cracks feel dry.
Immediately turn pan upside-down over a heat proof bottle (I use a glass coke or rootbeer bottle). Let cool, hanging, for 2 hours.