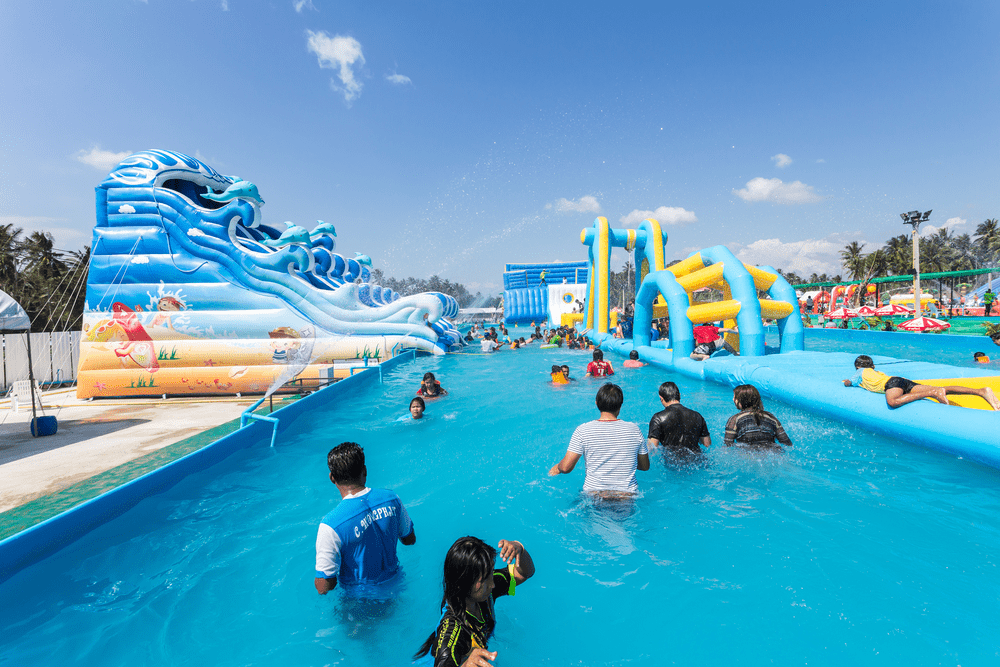 When the temperature rises, don't sweat! You and your family can have a blast and a splash at some of the country's best water parks! Whether your family includes tiny tad-poles or thrill-seeking pirates, the water parks on our list offer a variety of attractions for all ages. Don't forget your sunscreen because these parks will keep you swimming all day long!
Best Water Parks: FAQ
1. What Can I Expect From a Day at a Water Park?
Water parks offer several different ways to have fun in the sun. They typically feature a series of water slides (some are quite significant architectural feats!), pools, roller-coaster-like rides, sprinklers, and play areas. Many parks also host special events throughout the season.
2. Do Water Parks Offer Food?
Yes! We know that you work up an appetite when you swim. Rest assured, the water parks on our list have places to eat on-site. Most offer American fare, hamburgers, pasta, and pizza. Of course, a water park wouldn't be a water park without ice cream!
3. How Long Should I Plan to Stay at a Water Park?
For most water parks, you should plan to spend at least one full day. If you are planning a family get-away to a larger water park, you can book a hotel in the area and spend several days.
4. What Is the Most Economical Way to Visit a Water Park?
Most water parks offer seasonal passes that enable you and your family to visit whenever you want at a discounted rate. This is a great choice if you live close enough to visit several times a year. You can also save money by going right at the beginning and end of seasons, though the weather is usually colder at these times.
5. Which US Water Park Is the Largest?
Noah's Ark is the country's largest water park.
How We Reviewed
In choosing the best water parks for this list, we considered how many attractions the parks offer and whether there is something there for the whole family. We looked into the experiences of recent visitors to the parks and their reviews. Finally, we took cost into account.
What We Reviewed
Wet 'n Wild Emerald Pointe, Greensboro, NC
Noah's Ark
Knott's Soak City USA, Buena Park, CA
Schlitterbahn Kansas City Waterpark
Typhoon Texas, Katy, TX
Splashin' Safari
Dollywood's Splash Country, Pigeon Forge, TN
Water World
Camelbeach, Tannersville, PA
Six Flags Hurricane Harbor, Jackson, NJ
Wet 'n Wild Emerald Pointe, Greensboro, NC
Features
Wet'n Wild Emerald Pointe is the largest water park in North Carolina. Through it flows millions of gallons of water and half a million visitors every year. Great rides for small children include Ollie the Octopus. Older kids will enjoy Daredevil Drop and Dr. Von Dark's Tunnel of Terror.
This park isn't just about rides. Check it out for fireworks, character meet and greets, the annual Bubbalymics, and special days for homeschoolers and youth groups.
Pros
Over 36 exciting rides
Fun special events for children
Private cabanas available for rent
Many options for food including burgers, fried chicken, and ice cream
Beer available for adults
Cons
Noah's Ark
Features
If you are looking for some family fun at one of the best water parks in North America (and the largest!), look no further than Noah's Ark. This park boasts 51 slides, two wave pools, and a surfing simulator. Infamously thrilling rides for daredevils include Scorpion's Tail and the Black Anaconda water coaster.
Pros
Numerous fun rides
Good food at Monk's Bar and Grill (including Wisconsin-famous cheese curds)
Over 70 acres of amusement
Cons
Knott's Soak City USA, Buena Park, CA
Features
For California kids hoping to keep cool, Knott's Soak City is the place to go. Not only is it one of the best water parks, but it is also part of a slew of Knott's Berry Farm attractions in California. It features 22 slides, a children's zone, the "lazy river," and a giant wave pool.
More adventurous rides include the Banzai Falls steep slide, the Laguna Storm Watch flume, and the Old Man Falls. Younger children and those looking for a more relaxed experience might enjoy the Sunset River Ride and the Total Wave bay pool.
Pros
Offers a range of rides, from relaxed to thrilling
Cabanas available for rent
American and Italian fare offered at the Longboard Grill and Portside Pizza
Cons
Ticket cost higher than at some water parks
Schlitterbahn Kansas City Waterpark
Features
Schlitterbahn Kansas City offers both extreme rides and more relaxed aquatic experiences. When you spend the day there, you can explore the world's largest tidal river, Torrent River, savor the heated pool, enjoy the rides, and chill out at the swim-up bar.
Pros
Extreme rides
Swim-up bar
Colorful, festive park lay-out
Many visitors report short lines
Cons
Some rides are closed for maintenance on a regular basis
Typhoon Texas, Katy, TX
Features
When it comes to the best water parks, Typhoon Texas is the new kid on the block. Having opened in 2017, it is a relatively small park, but it offers a big fun factor.
Numerous mini-slides and splash pads are available for toddlers, while children age 3-10 will enjoy the 800-gallon water bucket. The Typhoon and the Twister offer a bit of a thrill for bigger kids. An especially good time to visit is during the annual week-long "Christmas in July" festival. During the festival, you can enjoy holiday-themed rides and real snow.
Pros
Variety of attractions for different people of ages
Cabanas available for rent
Family movie nights and other fun special events
Texan BBQ available at the Smoke House
Great promotions and seasonal passes available
Cons
Busy seating areas
Not enough ice cream
Splashin' Safari

Features
When a park is located in Santa Claus, Louisiana, it's bound to be fun for kids! Not only is this one of the best water parks, but it also has two of the world's longest water coasters, the Mammoth and the Wildebeest. The Mammoth is especially thrilling, taking raft riders up seven stories for a series of seven drops.
This is a large waterpark and might require two days to fully experience. Visitors can enjoy fireworks every Friday through part of the summer.
Pros
Thrilling water coasters
Fireworks
Many high reviews
Cabanas available
Free parking
Free soda
Free sunscreen
Cons
Dollywood's Splash Country, Pigeon Forge, TN
Features
Located in the Great Smokey Mountains and affiliated with Dolly Parton's Dollywood resort, Dollywood's Splash Country provides incredible family fun. One feature is a 25,000-square-foot wave pool.
Gentle attractions include the Downbound Float Trip, Little Creek Falls, and The Cascades. For some adventure, check out Fire Tower Falls and Mountain Scream. Want spiraling corkscrew tunnels and 55-foot slides? Look no further than the Butterfly!
Pros
Fun rides
A large wave pool
Fun events held regularly at nearby Dollywood Park
Lots of food options—from tacos to baked goods
Cons
Parking can be a challenge
Food can be pricey
Water World
Features
Water World is big, and it features equally big attractions. Take, for example, the Mile High Flyer. This water coaster has a notable reputation for its speed. Speaking of speed, those with a competitive streak can check out the Turbo Racer, a water slide where races are held and winners are announced.
Meanwhile, the Storm is a ride designed to create just that, with a pitch-black tube and realistic storm sounds. While you are in the area, you can drive the Mount Evans Scenic Byway for some gorgeous panoramic views.
Pros
Fast rides and slides
Water races
Proximity to other attractions in Denver
Cons
Some visitors feel the food could be better
Camelbeach, Tannersville, PA
Features
You can find this water park in the Pocono Mountains in Tannersville, Pennsylvania, where it operates as a ski park during the cold months. In addition to gentle attractions for little visitors and thrilling attractions for the big kids, Camelbeach offers a lot in between. Families can visit the Mummy's Oasis water play area, the Spin Cycle, and the Checkered Flag Challenge.
Can't wait for summer to visit a water park? You can go year-round to the Aquatopia Indoor Waterpark.
Pros
Variety of attractions
Can be visited year-round
Fireworks
DJs on the weekends
Restaurants on-site
No rules against bringing food
Cons
Six Flags Hurricane Harbor, Jackson, NJ
Features
Not only is this one of the best water parks, it is one of the most popular destinations in New Jersey! During a day at Hurricane Harbor, you can enjoy numerous slides, lazy rivers, wave pools, and shopping spots. Families will like taking a dip in the Surf Lagoon and Hooke's Ship. Kids can have fun at the Splashwater Beach water playground.
For some aquatic thrills, go to The Dive Bomber and the Tornado, which starts horizontal but finishes in a 6-story slide.
Pros
Very large park with lots of attractions
Epic reputation
Pizza and pasta at Peg Leg Pete's
Healthy food options at Pedro's Pier
Cons
Busy
Parking is expensive
The Best of the Best Water Parks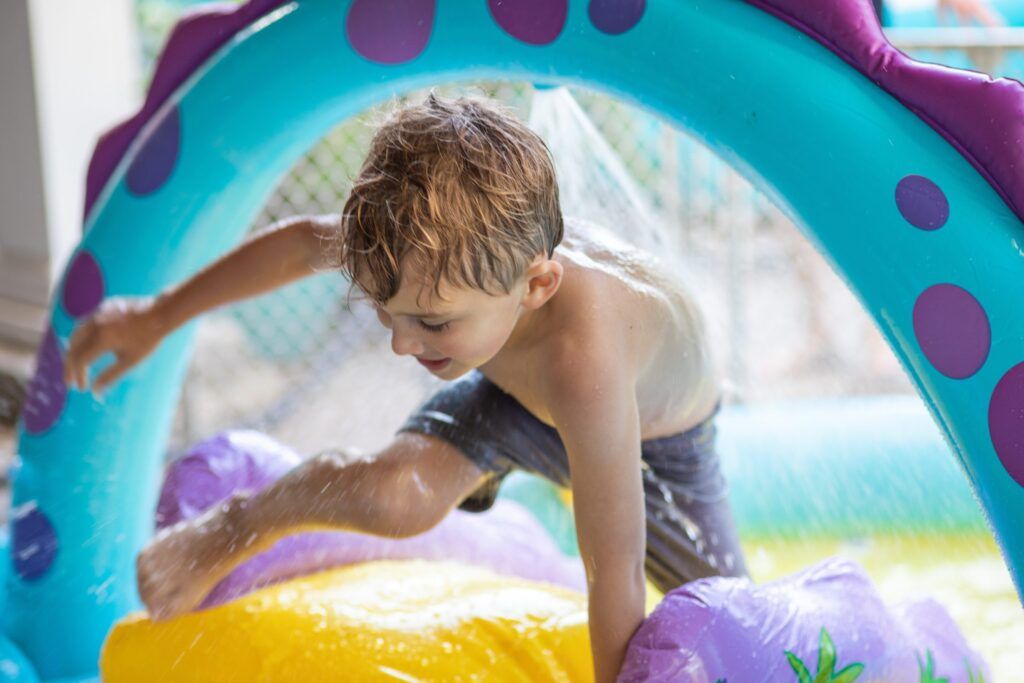 Your family can enjoy a day of sun and fun at any of the water parks on our list. Here are the parks that stood out the most to us:
The Most Thrilling Park
The Six Flags brand is known for its daring roller coaster parks, so it's no surprise that for a thrill, you should head over to Hurricane Harbor.
The Best Value
Typhoon Texas is the most budget-friendly water park on our list, and also one of the most fun. You gotta admit that a week-long, watery Christmas in July festival is a pretty creative idea!
Best Park for Explorers
If you and your family want to plan a large-scale water excursion, Noah's Ark is the place to go. This place is huge, and will offer hours (even days) of fun. From a park this size, you can expect lots of variety and excitement.
A water park adventure is a great way to add a highlight to your family's summer. While the pool can help you keep cool, a day at a water park will provide endless entertainment, interaction, excitement, and summer memories. Don't miss out this summer—check out some of our country's best water parks!