Making refried beans isn't as hard as you would think!  My family has been making them for years and they're simple to whip up!  Only challenge is you can't make these last minute.  The pinto beans need time to soak and simmer!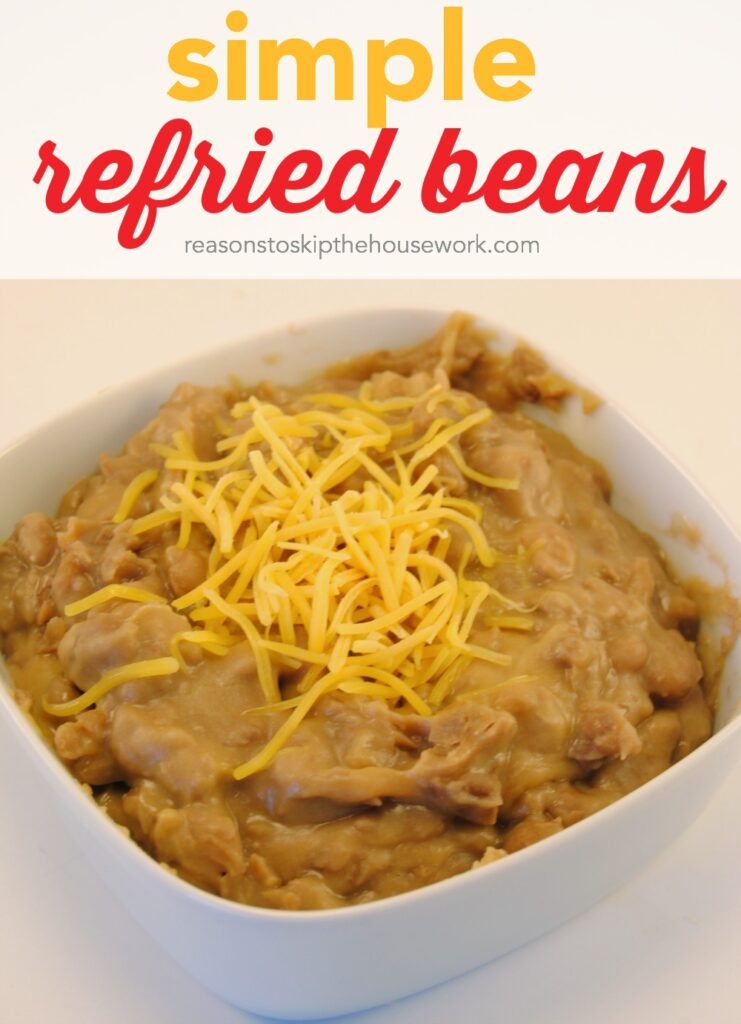 To make refried beans you'll need three ingredients and a few hours of simmering, and a meat smoosher tool!

Simple Refried Beans
Prep time:
Cook time:
Total time:
Refried beans are simple to make with just a few ingredients!
Ingredients
1 bag pinto beans
2 cups cheddar cheese, shredded
a few pinches of salt
Instructions
Soak bag of pinto beans overnight in a bowl full of water. ( I just put the bowl out on the counter)
In the morning, drain the beans into a strainer and rinse them off.
Put the beans into a large pot and fill the pot with water ( about 2 inches over the top of the beans)
Bring beans to a boil, then reduce to low-medium heat and simmer for 2½ - 3 hours, stirring occasionally.
If you need to add more water you can.
About 1 hour in, put in a few pinches of salt.
Once beans are mushy, you can turn the heat off.
Keep a small amount of water in the beans, and pour out the rest into a bowl and set aside (just in case you need to add more) It's best to start with a small amount and add if you need it. Can't take the water out once you smoosh!
Add 1-2 cups cheddar cheese. I start with 1 cup and add more as I taste it!
With your meat smoosher, start smooshing those beans up!
Smoosh as long as you want to get the desired texture. I leave a few beans whole but smoosh until a majority of the beans are smooth!
Add in a small amount of water as you smoosh if you think they're too dry!
Serve immediately, refrigerate leftovers.
These beans make great bean burritos, tostadas, or layered bean dips!  PERFECT for a Super Bowl party!
I even put some in my bowl, heat them up, add some salsa and sour cream and dip away with my chips!
The perfect food if you ask me!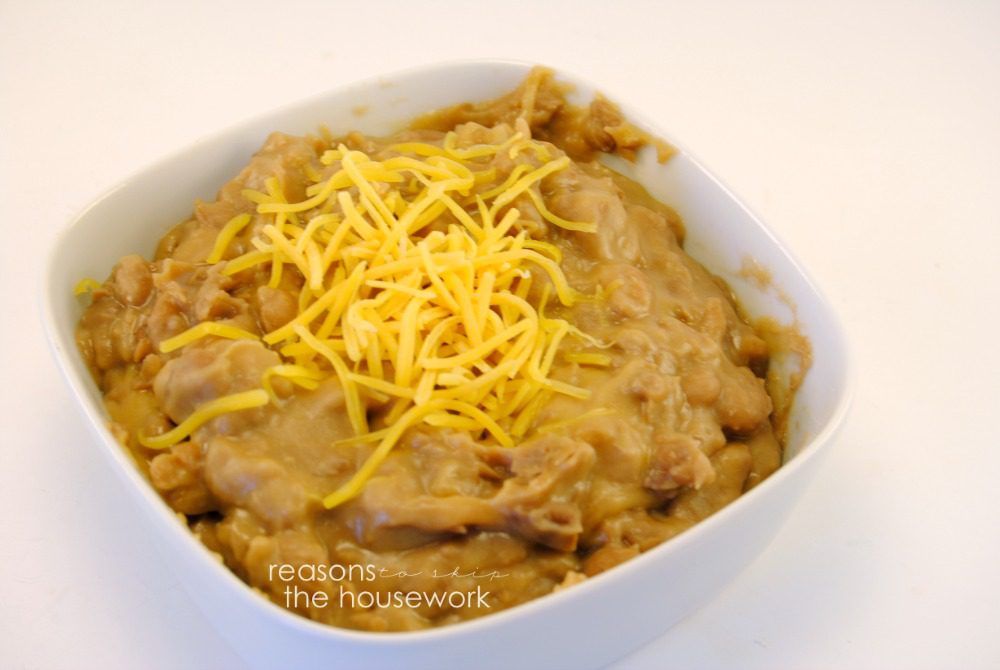 I've even cooked the beans in the crockpot all day and then mashed them right before eating!  PERFECT!