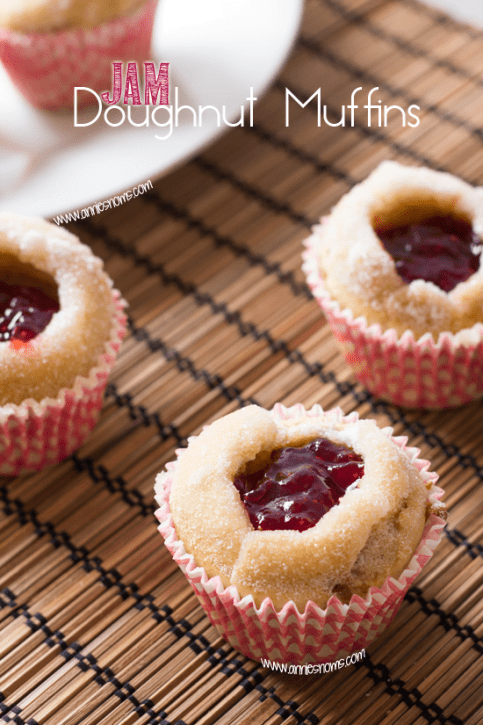 Good morning! It's Annie from Annie's Noms here!
I have a really great recipe to share with you all today 🙂
I absolutely adore doughnuts, but quite simply I don't have time to knead dough and wait for it to prove before frying it these days, so these are just perfect! I also love muffins, there's nothing better than a fresh homemade muffin for breakfast, warmed slightly and spread with butter…. bliss.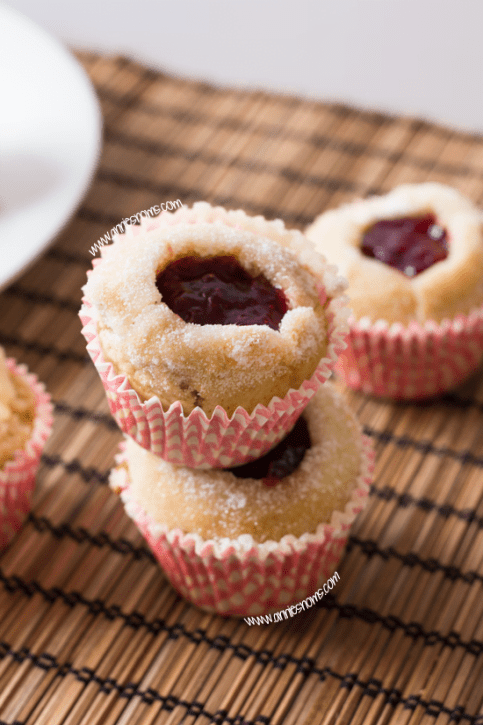 These are the perfect marriage between everyone's favourite fried dessert and muffins. It also basically means you can eat doughnuts for breakfast…
Not that I ever do that.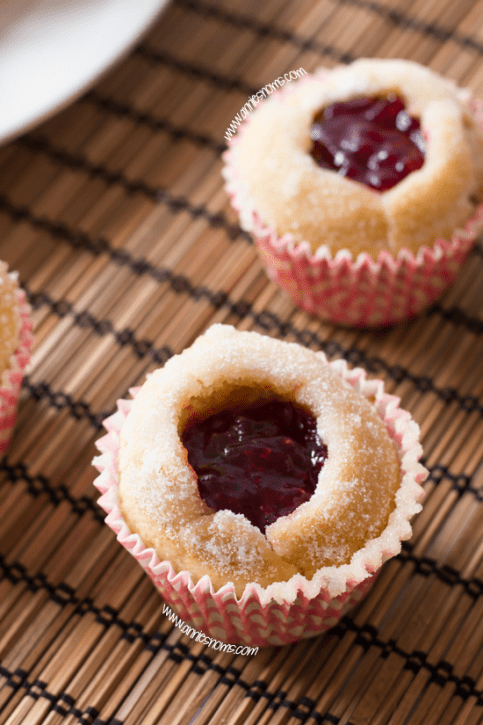 Moist and soft vanilla muffins, these babies are rolled in sugar and then filled with your favourite jam! I chose strawberry, but they would be good with raspberry, blackcurrant…. you name it!
In fact I may make them again and make them cinnamon muffins and fill them with apples…. ooooh that does sound like a plan!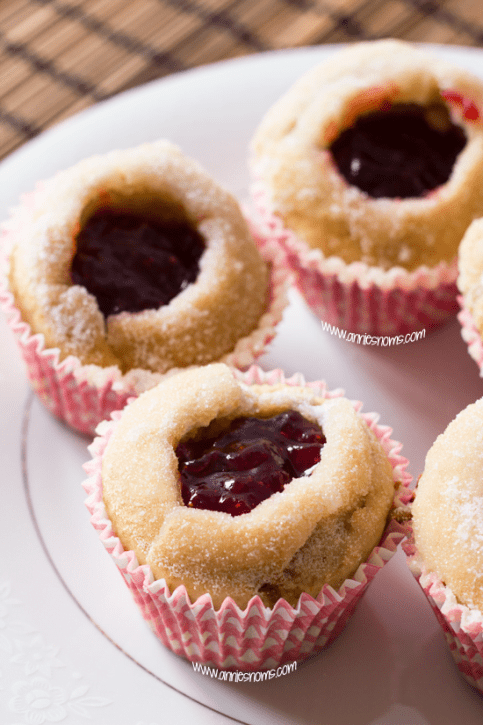 So anyways, you should make these doughnut muffins. Or as Starbucks call them "Duffins" although I think that sounds odd.
Better than Muffnuts though…
Enjoy!
Jam Doughnut Muffins
Moist vanilla muffins, filled with fruit jam and rolled in sugar – the perfect doughnut, but in muffin form!
Ingredients
For the muffins:
1/2 stick (56g) unsalted butter
1/4 cup vegetable/sunflower oil
1/3 cup caster/superfine sugar
1/2 cup light brown sugar
2 eggs
2tsp vanilla extract
2 and 2/3 cups plain flour
1 and 1/2tsp baking powder
1/4tsp baking soda
1 cup milk (I used skim)
For the filling and topping:
1/2 stick (56g) unsalted butter, melted
1/2 cup caster/superfine sugar
1 cup (around 12oz) jam of your choice (I used strawberry)
Instructions
Preheat the oven to 375F/190C and grease and line a 12 hole muffin tin.
Place the butter, oil and sugars into a large bowl or the bowl of your stand mixer and beat until light and smooth, about 2 minutes on med-high speed.
Add in the eggs and vanilla extract and mix until well incorporated.
Add in the flour, baking powder and baking soda and mix until well combined.
Add in the milk and mix until smooth and incorporated.
Divide the batter between the lined muffin holes, fill them level.
Place in the oven for 20-25 minutes, until risen, very lightly golden and an inserted skewer into the centre comes out clean.
Transfer to a wire rack to cool as soon as possible to stop the liners peeling from the sides.
Leave the muffins to cool for 15 minutes before preparing the topping. Place the melted butter and sugar in separate shallow bowls and have the jam ready!
Cut a hole in the top of each muffin and remove. I used a cupcake corer instead of a knife and it was much easier! Discard (or eat :P) the removed centres and then roll the top of each muffin first in the melted butter and then in the sugar.
Fill each hole with jam and then leave to cool completely on the wire rack.
Once cool, muffins will keep in an airtight container, at room temperature, for 2 days.
Recipe adapted from Confessions of a Cookbook Queen – https://www.confessionsofacookbookqueen.com/2013/06/jelly-doughnut-muffins/
[amd-zlrecipe-recipe:6]