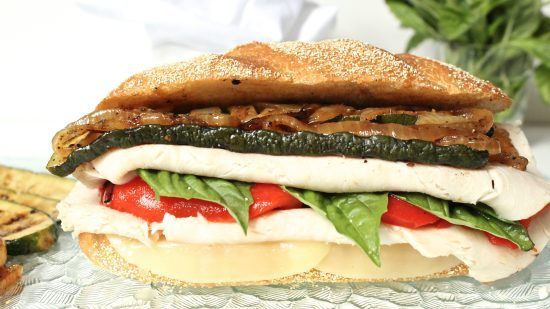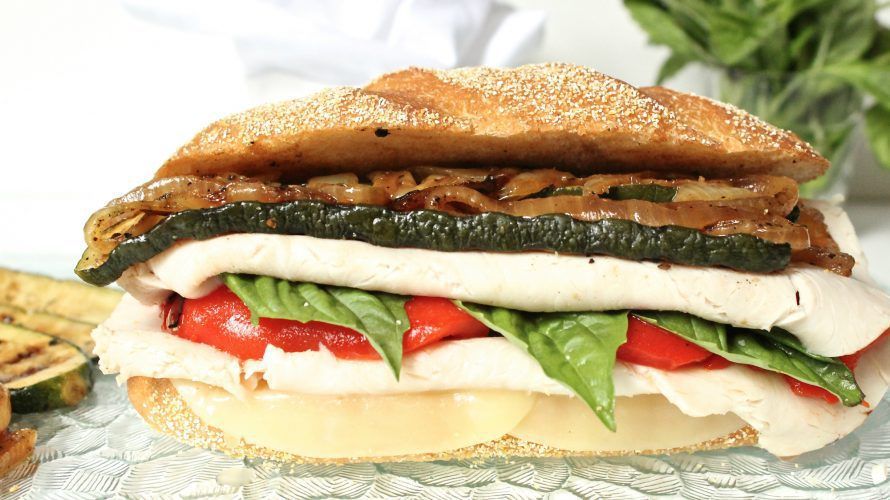 Hello! It's Thao from In Good Flavor with another recipe to share. I'm so glad to be back at RTSTH! This Italian Turkey Sandwich was inspired by two things: my recent trip to Italy and Thanksgiving. Put the two together and you get this super tasty, satisfying turkey sub bursting with the Italian flavors with a little help from marinated zucchini and onion, roasted red pepper, Provolone cheese, and basil. 
I discovered that the best part of the grocery store in Italy was the deli section. There were cases and shelves full of beautifully displayed cured meat and cheeses—so many that made my head spin. And when I saw the marinated vegetables, I swooned! There were marinated eggplants, olives, artichokes, zucchini, onions, peppers…you name it! I could have stayed at the deli and ate the week away. My famished group bought a little of everything—and bread. We prepared an antipasto platter with some and made sandwiches with the rest. Both were delish!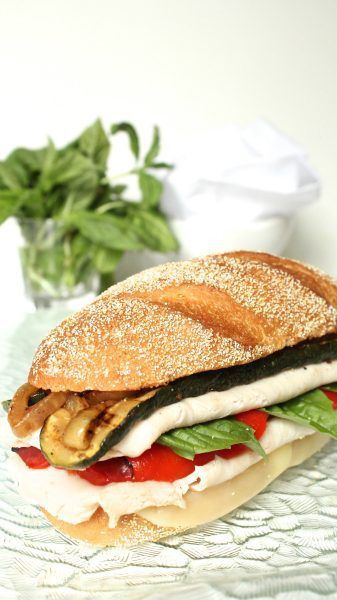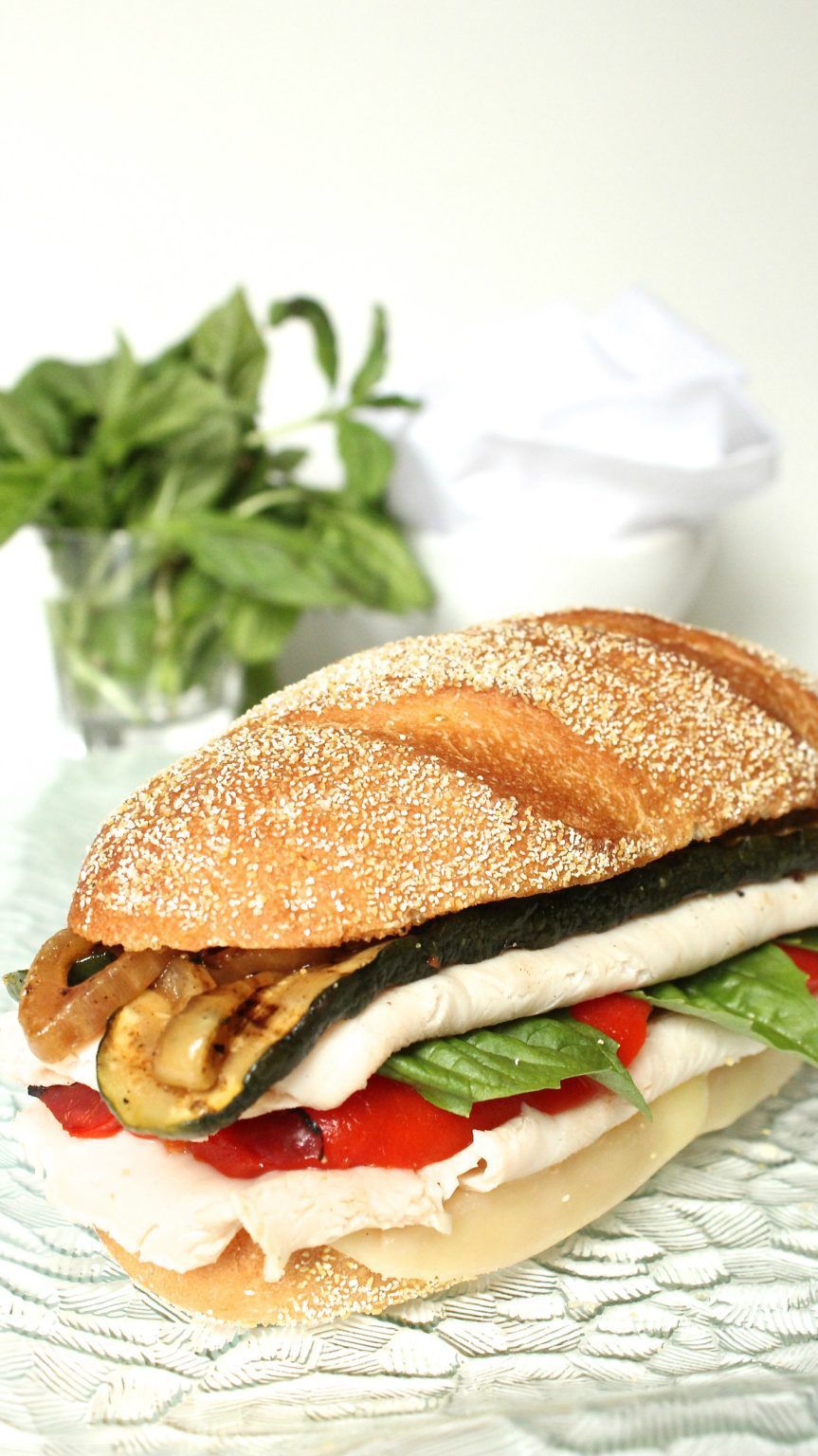 I did not eat turkey while in Italy, but this turkey sandwich brings me right back to Tuscany. I used deli meat in this sub. Since Thanksgiving is practically right around the corner, this sandwich is the perfect way to use the leftover turkey that won't leave you feeing like you are eating Thanksgiving dinner all over again. As yummy as the meal might be, I would rather repurpose the leftovers and turn them into something entirely different with a different flavor profile. Don't you?
To keep it simple, I marinated the zucchini and onion in store bought Italian dressing prior to grilling. I also used jarred roasted red peppers. 
Now for a confession: I normally press the sandwich on the hot grill pan or skillet once it is assembled to get the crust crispy and toasty. I didn't for the one you see here because the bread was so picture perfect, I didn't want to deface it by weighing it down. By doing so, I may have sacrificed extra yumminess for beauty. Normally, I would press away!
I will be making more of these sandwiches post-Thanksgiving. I hope you will too!!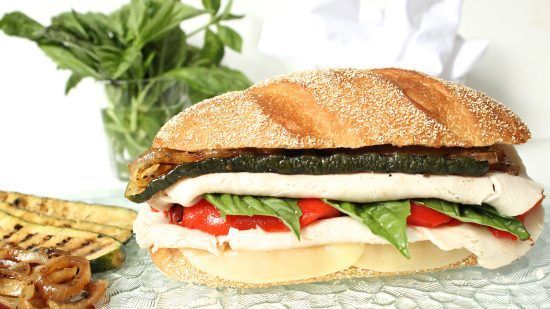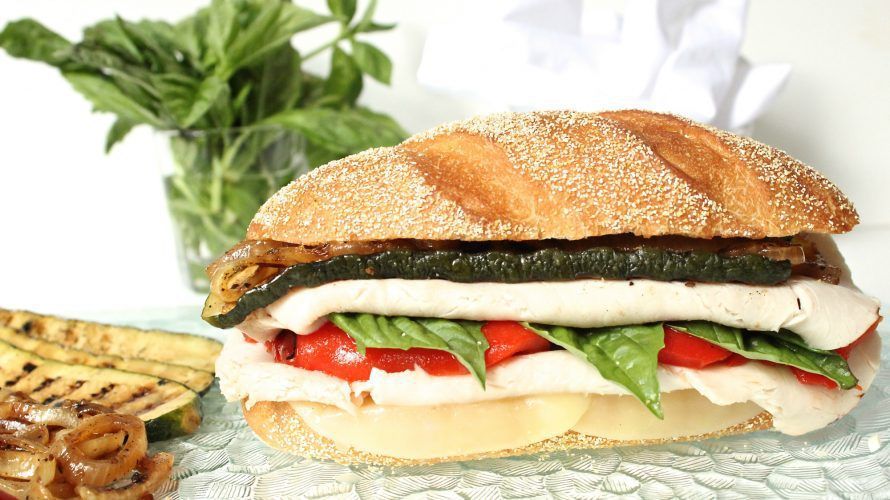 Italian Turkey Sandwich with Marinated Zucchini and Onion:

1 medium zucchini (sliced into 8 slices, about 1/8″ thick each)
1 medium onion, sliced 1/8″ thick
3/4 – 1 cup Italian dressing of your choice
1 (16 oz.) jar roasted sweet red peppers, cut into large pieces
8 large slices turkey, sliced thick 
4 sub rolls or any bread of your choosing
8 slices Provolone cheese 
2 bunches basil leaves
1 tbsp. olive oil
3 tbsp. butter, room temperature  
Place zucchini and onion into a large zip lock bag. Add Italian dressing. Zip close. Gently work the bag using hands to saturate all the vegetables with dressing. Chill for 4 to 24 hours.

Preheat a large skillet or grill pan to medium-medium high heat. Brush with olive oil. Grill zucchini and onion (flipping over halfway) cook until zucchini is tender and onions are caramelized, about 8-10 minutes. Remove and keep warm. Pat roasted red peppers dry and add to grill. Cook just enough to heat through. Remove and keep warm.

Slice rolls and butter the cut side. Grill until lightly toasted. While bread toasts, heat turkey slices in a separate skillet to keep it white. Alternately, microwave to heat through. When bread is toasted, remove from heat and immediately add 2 pieces of cheese to each bottom half.

Complete assembly, layering as follows: add one slice of turkey, a couple pieces of red peppers, a few basil leaves, second slice of turkey, two slices zucchini, dollop of onions, top half of roll. 

Butter the bottom of the sandwich and place butter-side-down in a medium-medium high skillet. Press down using a heavy object such as a water filled kettle or a cast iron skillet. Cook until bottom is toasted. Butter the top, flip sandwich over,  toast and press the second side. Makes 4 servings.
 I love to connect with you on Facebook, Pinterest, Twitter, Instagram, or StumbleUpon.