All the flavours of Apple Pie, but in a quick to make, delicious quick bread! Soft, squidgy and packed with apples and spices, this is the perfect bread for Fall!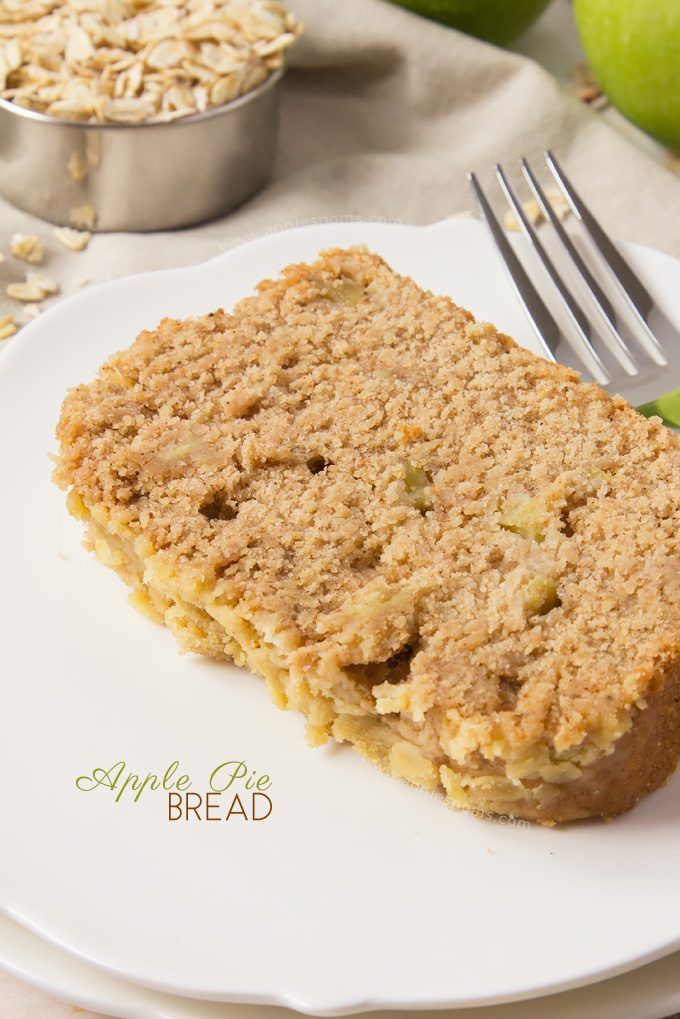 Hello friends! Annie from Annie's Noms here again to share this awesome recipe for Apple Pie Bread with you!
Oh, and it has a streusel topping. Which basically makes anything awesome.
Streusels are my favourite thing ever.
And since this is probably going to be my last apple recipe of the year (WOOOOOOO mint/cranberries/oranges/gingerbread etc. to come!) I thought I'd really push the boat out and make one seriously delicious bread!
It's soft, has the most amazing texture, is packed with chunks of tender apple and plenty of spices. It takes a while to cook this beauty, but boy it's worth it!!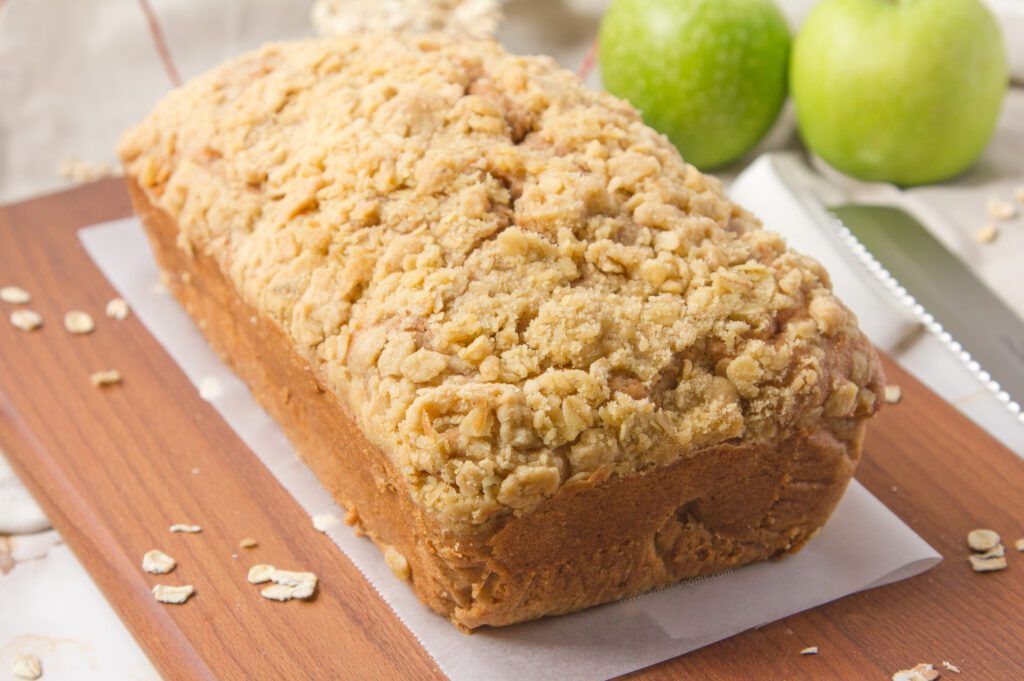 This reicpe is for those days when you want an Apple Pie, but you really don't have the time to make a full double crusted pie. It's the perfect alternative as there's a lot of hands off time when it's just doing its thing in the oven.
I used Granny Smith apples in my bread, but you can use any apples you have to hand. I love a tart, crisp apple, so tend to bake with Granny Smiths a lot, but I know a lot of people don't love the tart apples, so by all means, choose whichever you prefer! 🙂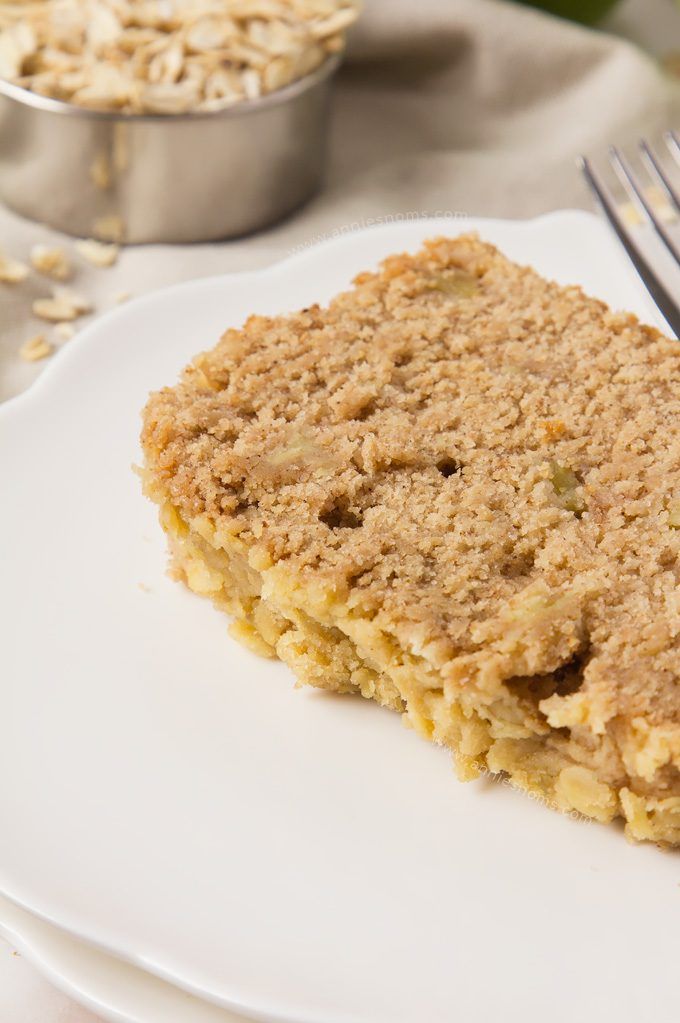 Now, let's talk spices; cinnamon, all spice, cloves, nutmeg and cardamom are all in this recipe. The cardamom is optional, but I love that slightly citrusy/herby hit you get with it.
And crushing the pods is pretty fun too… 😉
I contemplated grating the apple before adding it to the recipe, but I decided I would prefer chunks and that grated apple would probably be too wet. And I didn't want the added step of having to dry the apple.
To top off this sublime Apple Pie Bread, I added a crumbly, oaty, streusel topping.
I'm a tiny bit obsessed with streusel at the moment; I've added it to Cookie Bars just recently and I have many plans for other glorious things I can make with a crumbly topping!
All I do to make my topping, is rub butter, sugar, oats and flour together until I have a coarse breadcrumb texture. I always make sure there are some larger and some smaller lumps as it really adds to the texture once baked.
Pop the mixture and topping into a 2lb loaf tin, bake for 80-90 minutes and then wait until it's cool before enjoying a thick slice with a cup of coffee!
You can connect with my on Facebook, Twitter, Pinterest and Instagram!
Apple Pie Bread
All the flavours of Apple Pie, but in a quick to make, delicious quick bread! Soft, squidgy and packed with apples and spices, this is the perfect bread for Fall!
Ingredients
For the Streusel topping:
¼ cup (20g) rolled oats
2tbsp light brown sugar
⅓ cup (46g) all purpose flour
¼ stick (28g) unsalted butter, left out of the fridge for 15 minutes
For the Apple Pie Bread:
2 and ½ cups (350g) all purpose flour
2tsp baking powder
Pinch of salt
1 and ½tsp ground cinnamon
½tsp ground allspice
½tsp ground cloves
¼tsp ground nutmeg
¼tsp cardamom, either ground or grind the pods yourself (optional)
1 and ¼ cups (187g) apple of your choice, peeled, cored and cut into ¼ inch chunks (I used Granny Smith
1 and ½ sticks (170g) unsalted butter, at room temperature
¾ cup (150g) light brown sugar
¼ cup (50g) caster/superfine sugar
2 large eggs
½tsp vanilla extract
¾ cup (180ml) milk
Instructions
Preheat the oven to 325F/160C and grease and line a 2lb loaf tin. I used Wilton Bake Easy and grease proof paper.
Make the streusel topping first: Place oats, sugar, flour and butter into a medium sized bowl and rub between your fingers until you have a coarse breadcrumb texture. Some larger and smaller lumps are fine! In fact that's best, as it adds more texture! Leave to one side.
Place flour, baking powder, salt, spices and chunks of apple into a large bowl and stir briefly to coat all of the apple chunks in flour. Leave to one side.
Place butter and sugars into a large bowl, or the bowl of your stand mixer and beat until light and fluffy, 2-3 minutes on medium-high speed.
Add in the eggs and vanilla, scraping down sides as necessary, and mix on med-high speed until well incorporated and smooth.
Tip in the apple and flour mix and mix on low until the mixture starts to come together; then add in the milk, before mixing again on low-medium speed until you have a smooth, well combined mixture.
Tip the cake mixture into your prepared loaf tin and use the back of a spatula/wooden spoon to smooth the mixture into a level layer.
Sprinkle the streusel all over the top of the cake mixture and lightly press the topping into the cake.
Place in the oven for 75-90 minutes until risen and a skewer into the centre comes out clean. My bread took 90 minutes.
Once baked, leave the bread to cool completely in the tin, before transferring onto a cutting board and slicing into 9-12 slices.
Apple Pie Bread tastes better on the second day and will keep in an airtight container, at room temperature, for 4 days.