From bold patterns to natural materials, 2023 promises to be a year of experimentation and innovation in interior design. Let's look at top trends to keep an eye on and offer tips and ideas for incorporating them into your home.
Bold Patterns
Bold graphic patterns in home decor, including geometric shapes and colourful stripes, add a modern touch to your home. Add a patterned rug or throw a pillow into a neutral room. You can also use patterned wallpaper or a statement piece of art.
Another great way to incorporate this trend into your home is by using patterned upholstery on furniture pieces such as sofas or armchairs. This can add colour and interest to a room without overwhelming it. Mixing and matching different patterns can also create a unique and dynamic look.
You can experiment with layering patterns using patterned curtains or drapes over neutral blinds or shades to get some depth and dimension to your room while keeping the overall look cohesive.
Overall, the key to successfully incorporating bold graphic patterns into your home decor is to have fun and not be afraid to mix and match different designs and textures.
Floor-to-Ceiling Windows
Floor-to-ceiling windows are a great way to let natural light flood your home and create a sense of spaciousness. They also allow for an unobstructed view of the outdoors, making your home feel more connected to nature.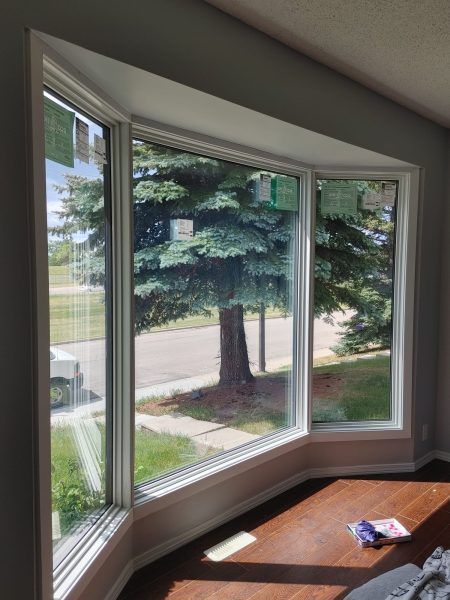 Ecoline windows reviews show that decorated glass, such as frosted, etched, or stained glass, can add a touch of elegance and privacy to these windows. This trend is significant for homeowners who want to make the most of their views and bring the outdoors inside. The decorated glass can also add a unique aesthetic to the home, creating a focal point in a room.
Another advantage of floor-to-ceiling windows is that they can increase a home's energy efficiency by allowing natural light to heat and light the space.
According to statistics, natural light can reduce the need for artificial light by up to 75%;
Modern Ecoline windows are up to 55% more energy efficient than regular units;
Moreover, these windows can also improve the overall value of your house, boosting its appeal to potential purchasers.
Overall, floor-to-ceiling windows with decorated glass can be a great addition to any home, adding functionality and style.
Natural Materials
Another trend that is gaining popularity is using natural materials in home decor. These materials, from wood to stone, add warmth and authenticity to a space. "Natural woodgrain can be a statement without looking like something straight from the '70s," says interior designer Sara Swabb of Storie Collective. Add a wooden coffee table or a stone fireplace to incorporate this trend into your home. You can also use natural materials such as woven baskets or linen curtains to add texture and interest to a room.
You can incorporate natural materials into your home decor by using them unexpectedly:
For example, you can use a reclaimed wood headboard or a natural stone backsplash in your bedroom or kitchen for a unique and modern look;
Additionally, you can bring the outdoors in by using live plants or dried flowers to add a natural touch to any room;
You can also use natural fibres such as wool, cotton, or linen in your throw pillows, blankets, and rugs to create a cozy and inviting atmosphere.
Besides, you can use natural materials to create a sense of balance in your home. Pairing a wooden coffee table with a stone fireplace or a woven basket with linen curtains will create a harmonious look in your living room.
The key to successfully incorporating natural materials into your home decor is to mix and match diverse hues and textures to produce a unified look. Raw materials are a great way to add warmth, authenticity, and a sense of nature to your home, making it feel more inviting and comfortable.
Mixed Metals
Mixed metals have been trending for a while but are still going strong in 2023. The key to this trend is to mix different metal finishes, such as brass and chrome, to create an eclectic and layered look. To incorporate this trend into your home, try adding a mix of metal finishes to your lighting fixtures or hardware. Homeowners can also use mixed metal decors such as a gold and silver vase or a copper and brass sculpture.
Incorporate mixed metals into your home decor by mixing and matching different metal finishes on furniture such as tables, chairs, and bookcases. This can add a unique and modern touch to any room.
Mix metals into your kitchen or bathroom using a mix of metal finishes on your faucets, handles, and knobs;
Another great way to use mixed metals is through accessories such as jewelry or photo frames. These items can serve as statement pieces in your house to bring a sense of class and glamour.
It's also important to remember that sometimes less is more when it comes to mixed metals. Instead of incorporating too many different metal finishes into a space, choose a few key pieces and build the rest of the decor around them. This will help to create a cohesive and balanced look.
Mixed metals are a great way to add depth, interest, and a touch of elegance to your home decor. Mixing and matching different metal finishes allows you to create a unique and layered look that is both modern and timeless. The key is choosing a few pieces and building the decor around them for a cohesive look.
Earthy Tones
Earth tones such as terracotta, olive, and rust will return in 2023. These warm and grounding colours add a sense of calm and stability to a space. Light gray is finally on its way out. Try painting a room in an earthy tone or adding a terracotta planter to your windowsill, for example.
You can also use earthy-toned textiles such as a wool throw or a linen duvet cover to add a cozy and inviting feel to a room.
Entry Doors with Sidelights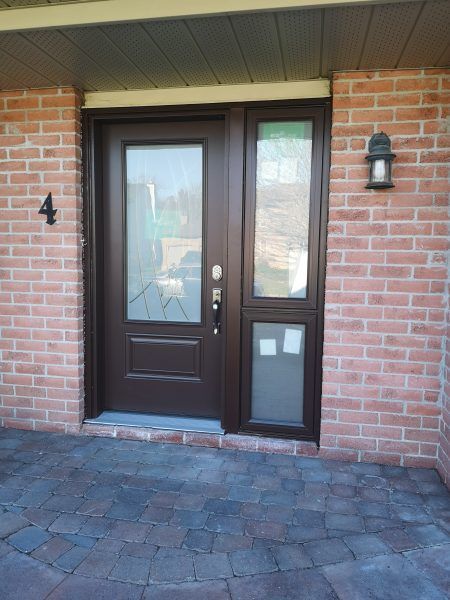 Sidelights on entry doors are a beautiful way to add some class and are a fantastic way to add some style to a home. Sidelights can create a sense of grandeur and allow natural light to flood a home. This trend is perfect for homeowners who want to make a statement with their front door.
Sustainable Design
Sustainability is becoming increasingly important in the world of interior design. Use reclaimed wood or bamboo flooring to incorporate this trend into your home. You can also invest in energy-efficient appliances and lighting fixtures.
Finally, 2023 looks to be an exciting year for interior design, with the emergence of bold patterns, natural materials, and mixed metals as some of the most important trends to keep an eye on. These trends offer an excellent opportunity to experiment and add a playful, modern, and warm touch to your home.
By incorporating these trends into your home decor, you can create a unique and dynamic look that reflects your style. Embrace these trends and have fun experimenting with creating the perfect look for your home.