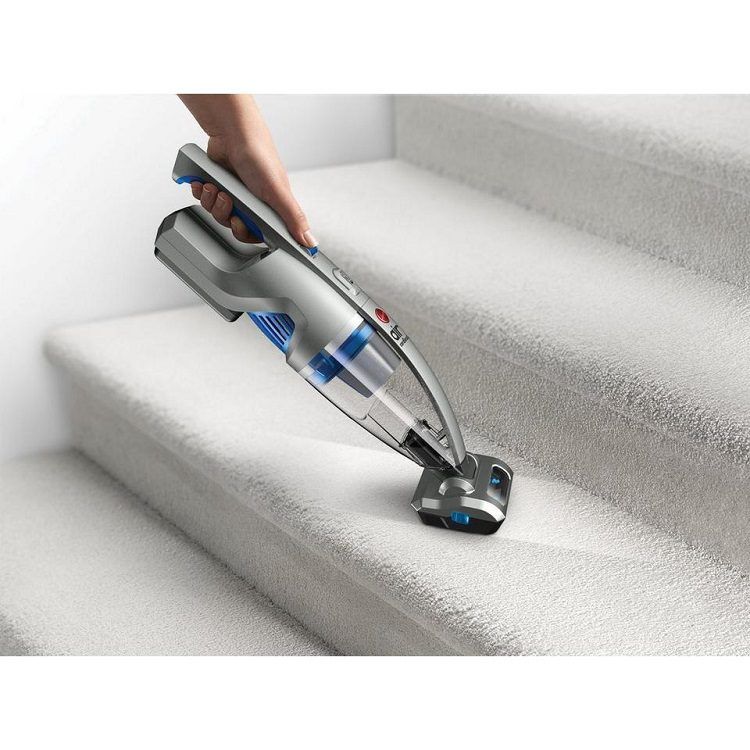 Handheld vacuums are incredibly convenient for all kinds of uses around your house, car, RV, boat, and many other areas. Here is a list of the top hand vacuum for your money. While a handheld vacuum won't cover the space that a larger vacuum can, they can get into smaller spaces more easily than a larger vacuum. Handheld vacuums are easy to maneuver, and are light and easy to move, even if you have trouble lifting.
Handheld vacuum can free you from chords, so they can be taken wherever you need them. When you are considering handheld vacuums, take into account how long a handheld vacuum can run on battery. Some vacuums can only run for about 15 minutes, while others can run up to half an hour at a time. If you usually use a hand vacuum for only quick, light chores a 15-minute run time may be sufficient for your needs. Vacuums with a shorter run time will be lighter because their battery can be smaller, and they are also likely to be cheaper.
If you intend to use your new handheld vacuum to do the extensive cleaning in your car or another area where you will not have access to electricity, you may want a handheld vacuum that has a longer run time so that you can accomplish everything you need without waiting for your vacuum to charge.
Another important consideration when choosing a handheld vacuum is the controls. Controls that are badly placed can get in the way and cause you to accidentally turn on or off the vacuum. Even worse, if the latch to open the dust chamber is badly placed, you may accidentally dump everything you've been cleaning.
Most handheld vacuums come with an assortment of handy attachments so that you can vacuum the carpet or pick up pet hair with ease. Brushes, tools, and shorter accessory hoses can help you reach into difficult places, like under furniture or up into corners.

10.

HoLife Handheld Cordless Vacuum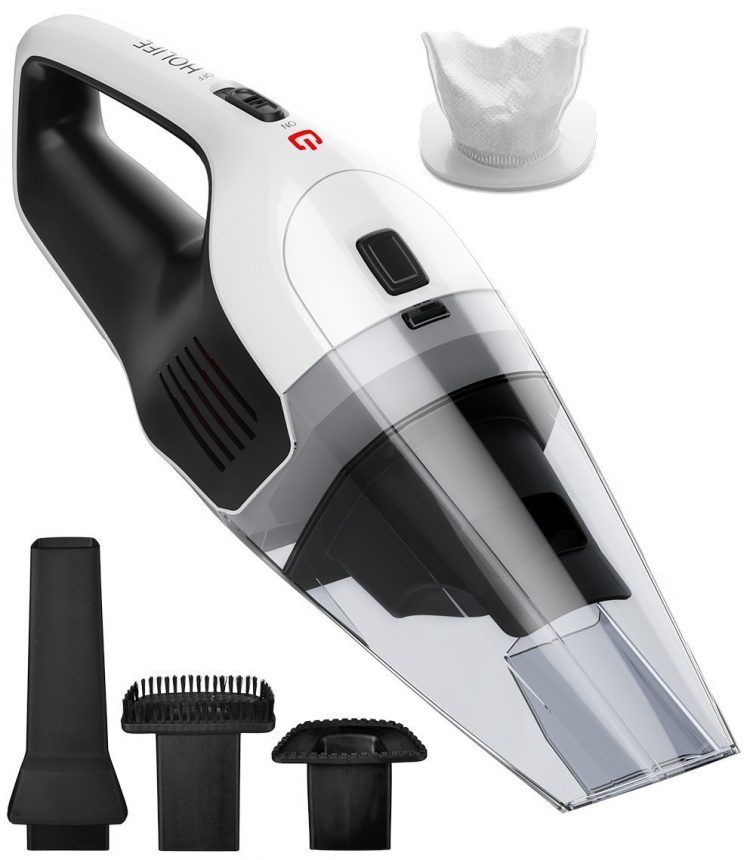 This lightweight and portable vacuum by HoLife offers a lot of power in a light little vacuum. This attractive vacuum weighs only 3.27 lbs and is designed with your comfort in mind so that you will not be fatigued while vacuuming. This vacuum offers a long battery life and charges quickly. The lithium-ion battery can hold more energy than traditional batteries.
This vacuum can run continuously for up to 30 minutes, which means that you can accomplish a lot of cleaning on one charge. This vacuum offers a powerful cyclonic suction due to its 90-watt motor. A multi-layer filter means that your motor will last longer. This vacuum is quiet compared to an older vacuum. You can clean wet or dry and go anywhere with this cordless design.
Pros
Runs up to 30 minutes on a charge
Charges quickly
Designed for comfortable holding
Cons
Not as light as some other vacuums
Does not provide an intense suction power as some other vacuums
---
9.

BLACK+DECKER BDH2000PL MAX Lithium Pivot Vacuum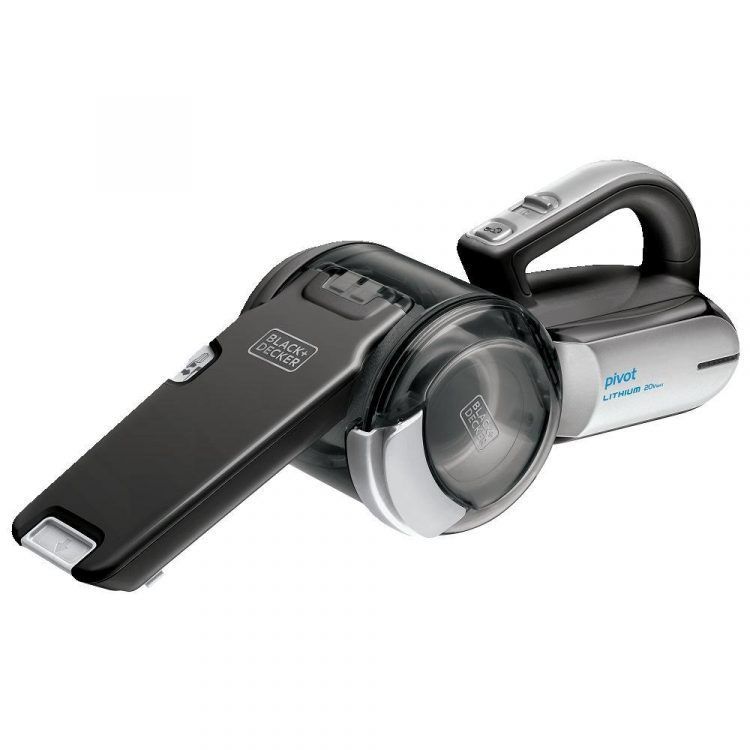 This futuristic-looking handheld vacuum cleaner by Black & Decker offers a lithium-ion battery for powerful suction and a lasting charge. The pivoting nozzle enables more power in a tiny compact size. The high-performance motor in this vacuum provides more suction capacity and the wide mouth can scoop up even very large pieces of debris.
Black & Decker uses a cyclonic action that spins dust and debris away so that the filter stay strong through many hours of suctioning. This vacuum cleaner is lightweight and easy to carry and offers a charging base that the vacuum stands up in for convenient storage and charging.
Pros
Light, easy to carry design
Cyclonic action spins dust and debris away
Standing charging base is convenient
Cons
The snout is too wide and short to fit into many of the places where you may want to use your vacuum
Not constructed to last more than a few years
---
8.

Dirt Devil Scorpion Quick Flip Corded Bagless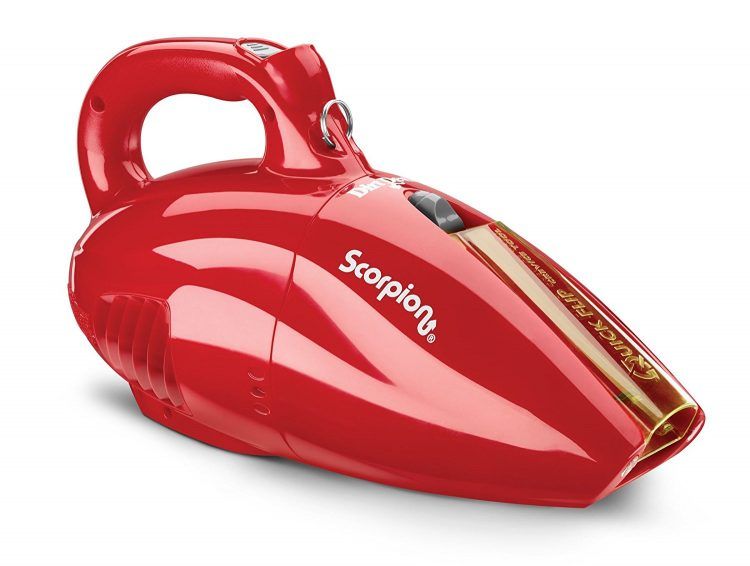 This sharp-looking and attention-getting little vacuum from Dirt Devil gives you easy, quick, clean up in your car, house, or workshop. The powerful motor uses 7 amps of power to tackle even very tough jobs like pebbles or sand. This vacuum cleaner comes with a tool to clean into crevices and tight spaces like in your couch cushions or car seats.
The 16-foot power cord allows you the freedom to clean as much as you want as long as you want. This vacuum has a Bagless design so you won't have to worry about hurting the environment or causing more waste than is necessary when you clean. At only 3.75 lbs, this little vacuum cleaner is easy to carry all day long.
Pros
Sharp red color and sleek design
Corded design means you won't ever run out of power
Strong enough to pick up pebbles with ease
Cons
Cord limits where your handheld vacuum can go
Bright color won't appeal to everyone can can't be changed
---
7.

BISSELL Pet Hair Eraser Cordless Hand and Car Vacuum

This modern looking vacuum cleaner from Bissell was designed especially for pet lovers to make cleaning up after pets easy. This vacuum is lightweight and cordless for easy use wherever pet hair or dirt accumulate. A motorized brush is detachable so you can get more embedded dirt and pet hair out of fabric, carpet, and any other material where it gathers.
Crevice and upholstery tools can be separately used, or stack them together to combine their functions. This vacuum also features a 2-stage filtration system that will extend the filter and provide easier cleaning.
Pros
Designed with pets in mind
Detachable pieces can work together for the best clean
Cordless and light
Cons
Design for pet hair may not be as useful for other types of dirt
The large design of this vacuum is somewhat awkward
---
6.

BLACK+DECKER HHVI315JO42 Dustbuster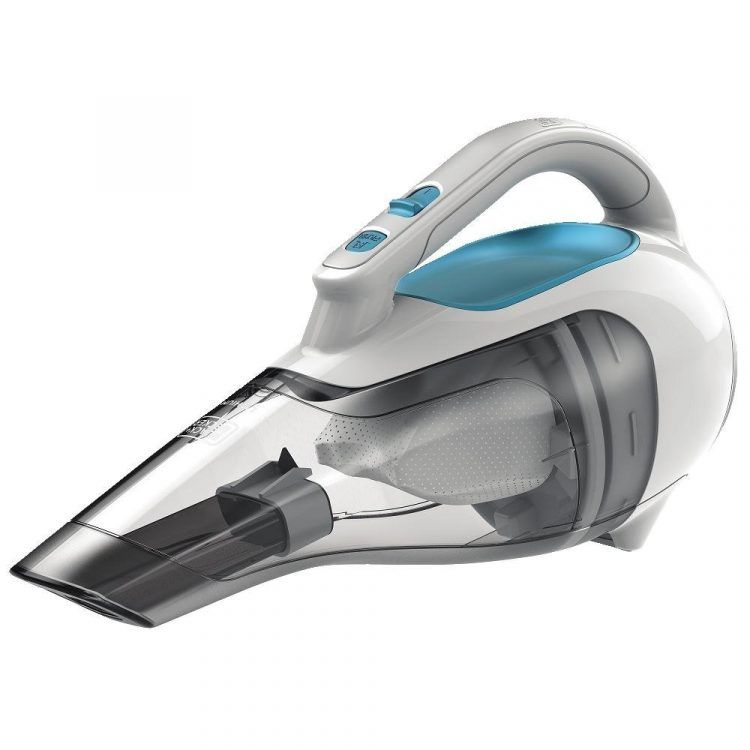 This efficient little vacuum from Black & Decker can pick up whatever dirt and debris you find. A bowl capacity that is larger than the average handheld vacuum allows you to pick up more than 50% more filth before needing to empty the chamber. Lithium-ion technology provides powerful suction and keeps the vacuum running longer.
This convenient vacuums bowl is washable and the filter can also be cleaned, so you know you can have a clean vacuum every time. Black & Decker provides a tool to get into crevices and hard-to-reach areas, and a brush to allow you to make the most of dust as well as vacuum upholstery.
Pros
Large bowl capacity offers more dirt storing capacity between emptying
Tools included for cleaning crevices and upholstery
Wide mouth to scoop up more debris
Cons
Some users find that vacuum stops taking a charge after several months of use
Doesn't provide as much suction power as some other brands
---
5.

Shark Rocket Corded Hand Vac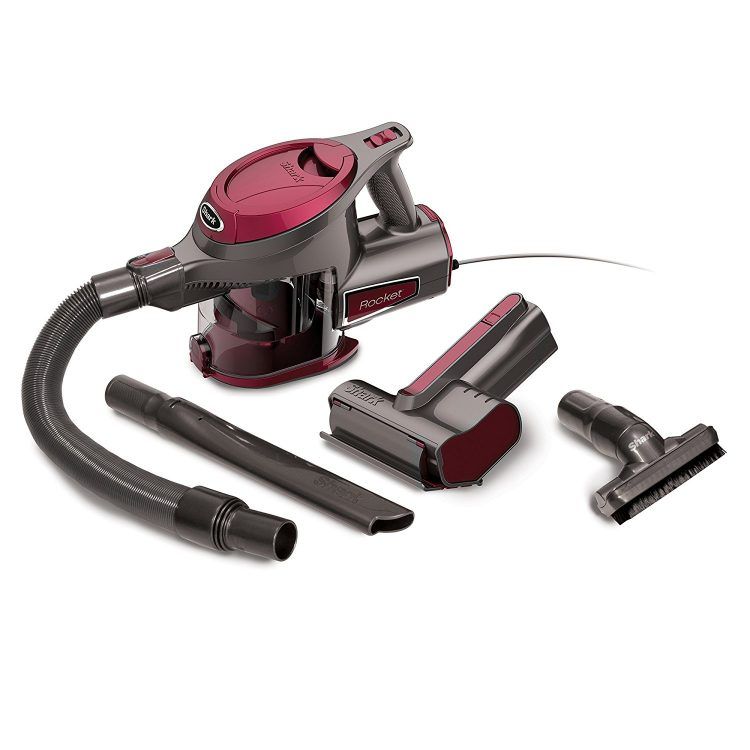 This heavy-duty handheld vacuum from Shark Rocket offers professional cleaning power in a convenient handheld design. This powerful vacuum won't lose power or suction. While it is bigger than other handheld vacuums the sturdy handle enables you to grip this vacuum and maneuver it into whatever spaces you need to clean.
This vacuum has a 15-foot power cord so you can clean where you need to without worrying about batteries dying. This vacuum comes with a tool for getting into hard-to-reach crevices, as well as a brush to help with dusting, and a motorized brush and stretch hose to help with cleaning pet hair, especially from upholstery and carpet.
Pros
Sturdy handle for easy maneuvering
Powerful suction strength
Corded design means you'll never run out of power
Cons
Cord means you can't go everywhere you may want to with this vacuum
This vacuum is large, a little awkward, and heavier than other similar models
---
4.

WELIKERA Dust Buster Cordless, 12V 100W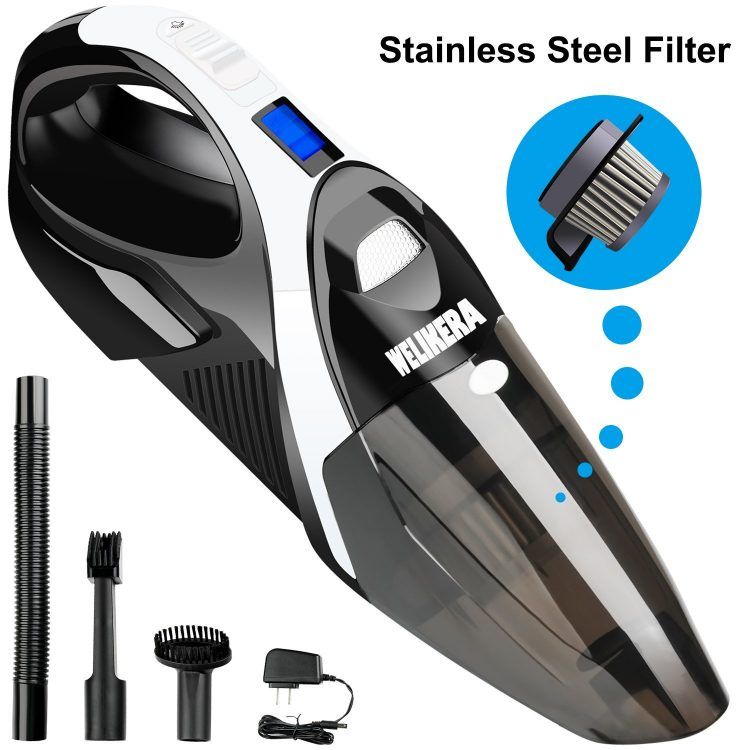 This sleek, classy little vacuum from Welikera offers hassle-free convenient cleaning wherever you need it. This cordless vacuum is easily recharged between uses. The lithium-ion battery allows for up to 20 minutes between charges. While this is not as long as some other vacuum, the shorter runtime is compensated for by the extreme lightness of this vacuum.
A durable stainless steel filter is both removable and washable for up to 20 washes, which is much longer than a traditional filter will last. A clever LED light helps clean into dark places under furniture or in corners. This vacuum can deliver the power to pick up even difficult to remove pet hair. Furthermore, this vacuum can pick up liquids and comes with a convenient carrying case.
Pros
Light and convenient to use
20 batteries of runtime
Durable stainless steel filter
Cons
Runtime is not as long as some other vacuums
The filter must be dried after wet cleaning
---
3.

BLACK+DECKER CHV1410L 16V Cordless Lithium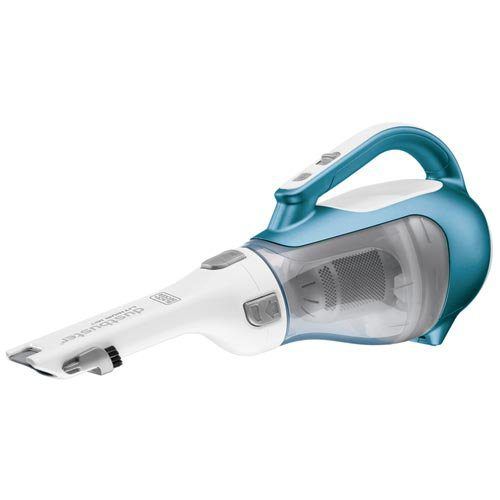 this pretty little vacuum from Black & Decker offers a 16-volt lithium battery for powerful cleaning and strong suction. This vacuum is bagless and offers a translucent bowl so you can see how full it is. This vacuum can hold a charge for up to 18 months off the charger and is lightweight enough to take anywhere you need. The charger for this vacuum will automatically turn off once your battery is charged, so you can store your vacuum on the charger without hurting your battery through the years.
This vacuum utilizes cyclonic action to move dust and debris away from the filter so that you will have more power for longer between cleaning the filter. This vacuum comes with a crevice tool and a brush so that you can clean hard-to-reach places and tackle debris in upholstery and on the carpet.
Pros
Powerful lithium battery smart charges and can hold a charge for a long time
Cyclonic action cleans powerfully while keeping filter cleaner longer
Crevice tool and brush to tackle hard to reach places and upholstery
Cons
Can't hold a charge as long as some other vacuums
The handle is too small for some people
---
2.

HoLife Handheld Cordless Vacuum, Hand Car Cleaner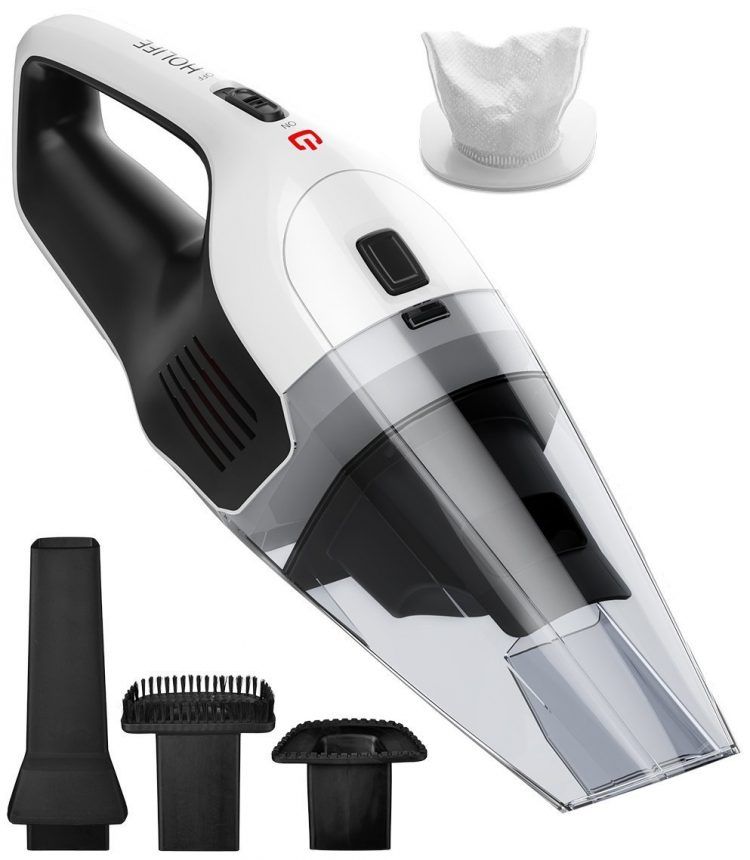 This modern looking vacuum is lightweight and portable at only 3.27 lbs. so that you can clean without becoming fatigued. This vacuum has a long battery life and recharges quickly. The lithium-ion battery can hold a lot of energy and is non-toxic. This battery charges quicker and can run for up to 30 minutes of continuous use. The powerful cyclonic suction of this 90-watt motor will clean whatever you need with ease.
The filter is multi-layered so your vacuum will have powerful suction through the years. This system was designed to be quieter than the average handheld vacuum, so you can clean messes quickly and easily without creating a lot of noise. This vacuum can clean wet or dry and is equipped with the various attachment so you can clean hard to reach corners or tidy upholstery and carpeting with ease.
Pros
Lightweight and portable
Charges quickly and holds a charge for up to thirty minutes
Quieter than many other vacuums
Cons
Heavier than some other vacuums
Not as many attachments as other vacuums
---
1.

Eureka EasyClean Deluxe Lightweight Handheld Vacuum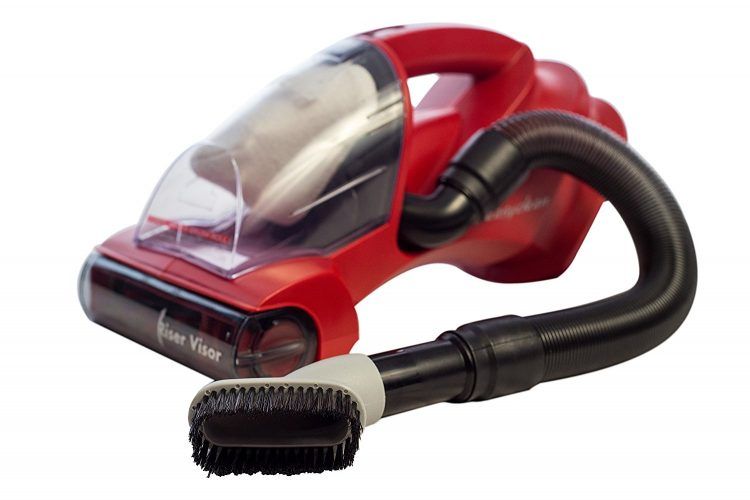 For ultimate vacuuming power consider this easy to clean, powerful handheld vacuum from Eureka. This efficient little vacuum is lightweight but powerful so you can accomplish all of your cleaning goals without becoming exhausted. This vacuum comes with an innovative riser visor system that makes vacuuming stairs or hanging upholstery easy.
This vacuum is also great to use on carpet or on hardwood floors. You can use the roller brush or use it without the roller brush. Either way, you will get an effective clean. An integrated crevice tool means that you will be able to clean tight spaces between furniture, under couch cushions, and in your vehicle without having to change an attachment.
Pros
Powerful cleaning in a lightweight design
The innovative crevice tool is built-in so you don't have to change nozzles
Wide mouth sweeps up anything with ease
Cons
Corded design means you will be limited in where you take this vacuum
Bright color and utilitarian appearance is not as attractive as other vacuums
The Advantages of Using Hand Vacuums
Most people have vacuums in their home, and they're fine with just having one. Usually, they don't think it's necessary to buy another one if they already own a vacuum. However, there are some things that standard vacuums can't do. Sometimes, you have to buy special appliances for certain cleaning projects, and that goes for vacuuming also. Here are a few advantages of using hand vacuums:
The Stairs
If you have stairs in your house, you know how dirty they can get. It's a high traffic area that attracts lots of dirt and particles. A lot of times staircases get neglected because they aren't the easiest to clean, but it shouldn't be that way. Having a hand vacuum can make playing in the stairs fast and simple. All you have to do is run it over the staircase, and you're done. Even if you have a standard vacuum with a nozzle attached for cleaning stairs, it's still a headache. You have to lug the vacuum up each step in order to use the nozzle as you go. It's a lot easier just to run the handheld vacuum and be done.
Quick Clean Up
There are times when you might spill something or spot dirt on the floor, and it doesn't require a full vacuuming session. It's a bit inconvenient to have to pull out your vacuum cleaner to remove particles from one section of the floor and then put it back up. However, if you had a handheld vacuum, you could just reach for it quickly, clean up the dirt, and be done — no unwinding a long cord or going to your closet to pull out of heavy vacuum cleaner.
Lightweight
Standard vacuum cleaners are quite heavy depending on the brand that you have. Some of them can be lightweight, but all of them are more challenging to maneuver. The great thing about handheld vacuums is that they are so light and simple-to-use. You really can't go wrong with them.
Your Car
There are times when your car needs a pick-me-up, and all you need is a quick vacuum job. Well, you can't do that without a handheld vacuum. There are some people who actually pay to go through the carwash even when their car doesn't need it, just to use the free vacuum services. If you get crumbs in the seat, that shouldn't require a full vacuum in session at the carwash. Therefore, a hand vacuum makes cleaning easier for your home and your car.
Small Crevices
There are some areas that a standard vacuum won't reach. You generally have to sweep across baseboards or other tight crevices in order to get everything up. Thankfully, handheld vacuums make these tasks much more simple. Again, even if you have a standard vacuum with a crevice tool attached, pulling the vacuum as you use the hose is inconvenient. You can use the handheld version or your couch, chairs, and even TV stands and bookshelves.
Which should you buy?
The Eureka easy-clean offers the most powerful cleaning in the lightest, most easy-to-use design. Easily see when your bowl is full, and empty it conveniently. The wide mouth of this vacuum enables you to pick up anything from carpet, hard floors, and surfaces in your home with effortless ease. The integrated crevice attachment allows you to clean difficult-to-reach places without having to add an attachment to the mouth.
The exclusive riser visor system allows you to clean stairs or upholstery that is hanging vertically without any difficulty. Because this vacuum is corded you will never run out of power, but you may be frustrated by not being able to bring your portable vacuum everywhere you want to clean.