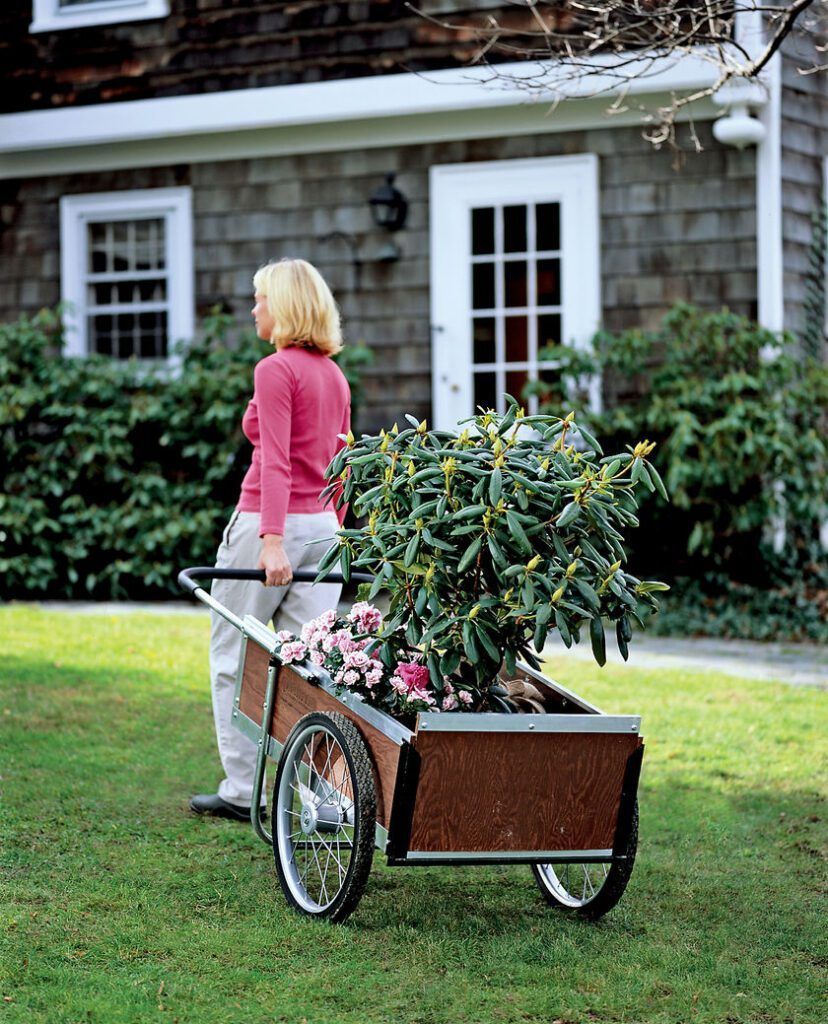 What is more charming than a garden wagon overflowing with flowers ready to plant? A garden wagon is an all-around tool for carting plants and debris around the garden. I was in search of the top garden wagon for me. Wagons are useful for spreading manure or topsoil, or for holding baskets of veggies as you harvest. The wagon is a cornerstone of any well-maintained garden, and luckily for us, they've come a long way from the little red ones.
Some garden wagons have collapsible walls that can be dropped to allow for moving oversized objects. Others are completely collapsible. They can carry from 100 to 1000 pounds depending on the make. All have sturdy wheels for all terrain. Your garden wagon will last a long time, despite the hard work you put it through, and buying one is a big decision. Here are some suggestions to help you choose the right garden wagon for your needs.

10 Gorilla Steel Carts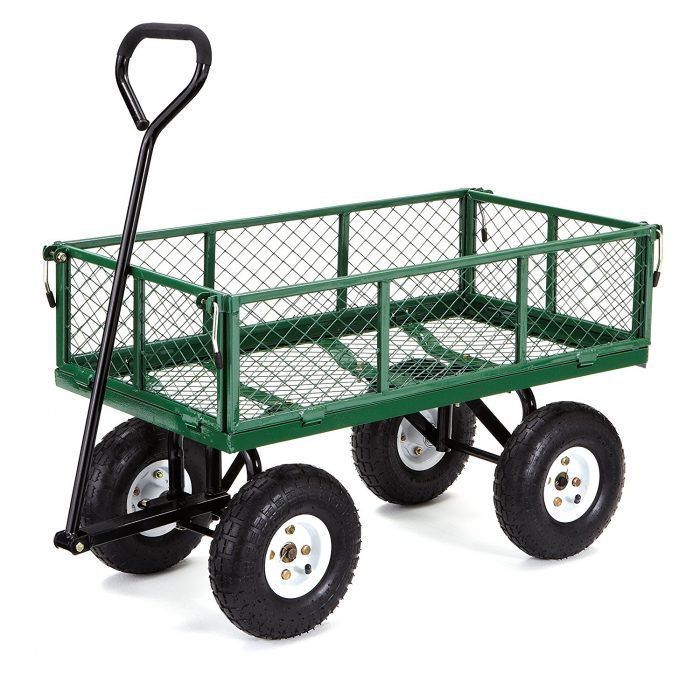 34-inch x 18-inch steel mesh bed and 10-inch pneumatic tires

400-1000lb load limit

1-year limited warranty
Pros:
Versatile and strong
Sides can be dropped down to load or unload, or removed to accommodate oversized objects
The wire mesh is easy to clean by spraying down with a hose and leaving out to drip dry
Cons:
The sides can fall off accidentally when dropped down to load or unload
Very utilitarian looking. Not the cutest garden wagon on the market
---
9 Sandusky Lee Muscle Carts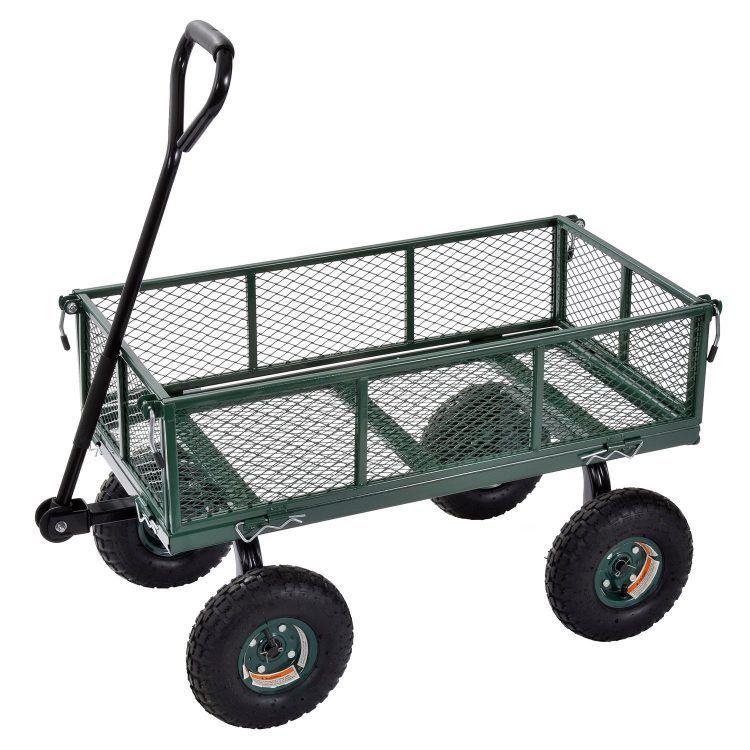 400 lbs Load Capacity, 21-3/4″ Height, 34″ Length x 18″ Width
Better price than the very similar Gorilla cart at the 400 lbs load limit
Pros:
Durable steel mesh with powder coating to resist corrosion.
Sides fold down for awkward sized loads.
---
8 Sandusky Flat Wagon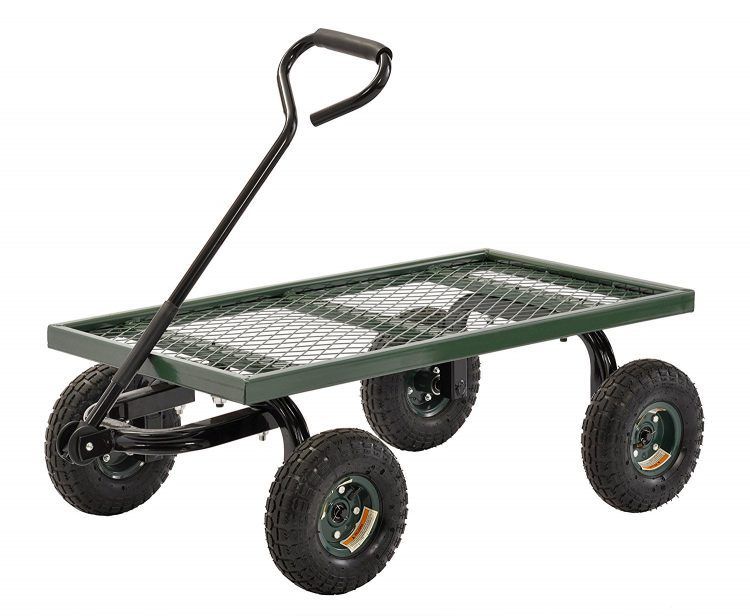 1000 lbs Load Capacity, 14-1/4″ Height, 38″ Length x 20″ Width
Pros
Very strong wagon for heavyweight carrying
2″ sides to prevent anything from rolling off
Cons:
Lack of sides limits capacity of what cart can do
---
7 Tekrite Heavy Duty Lawn/Garden Utility Wagon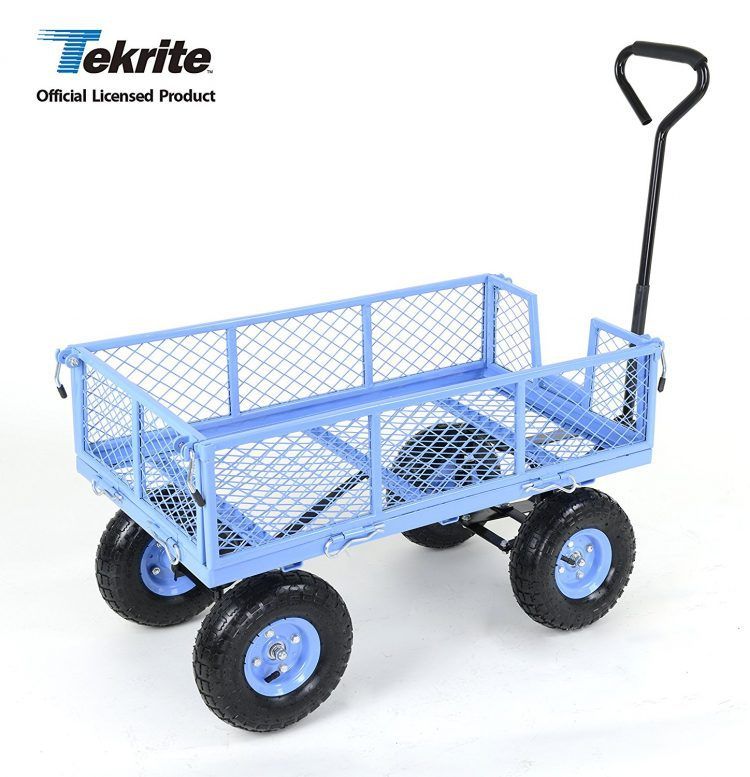 Pros
Cons:
Somewhat flimsy build compared to other models, especially the mesh seems weak
---
6 Gorilla Carts Poly Garden Dump Cart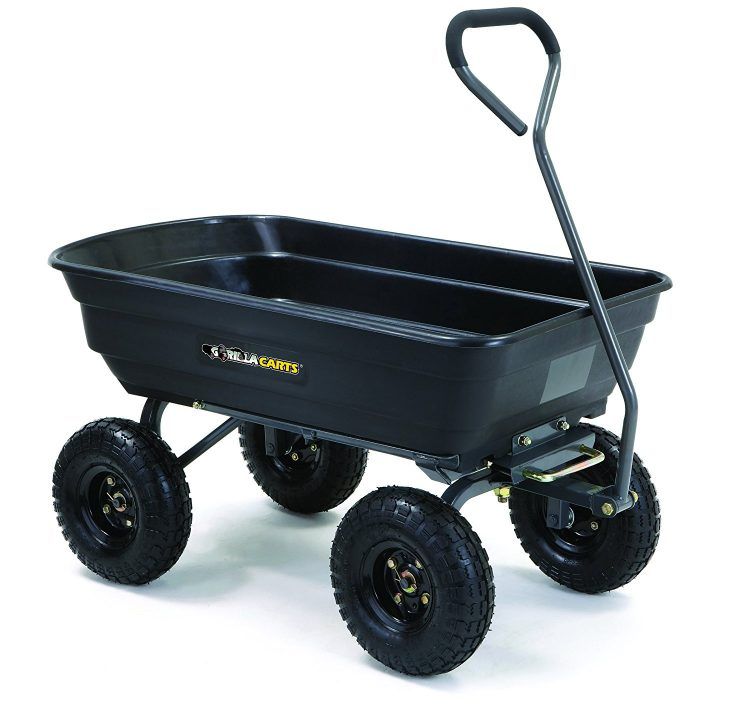 38.7-inch x 20-inch rust-proof poly bed and 10-inch pneumatic tires
Pros:
Quick release dump feature
Pulls up to 600 pounds
No drop through wagon for moving dirt or liquids
Cons:
Must empty and store away from weather to prevent filling with water and rusting
---
5 Sandusky Steel/Poly Wagon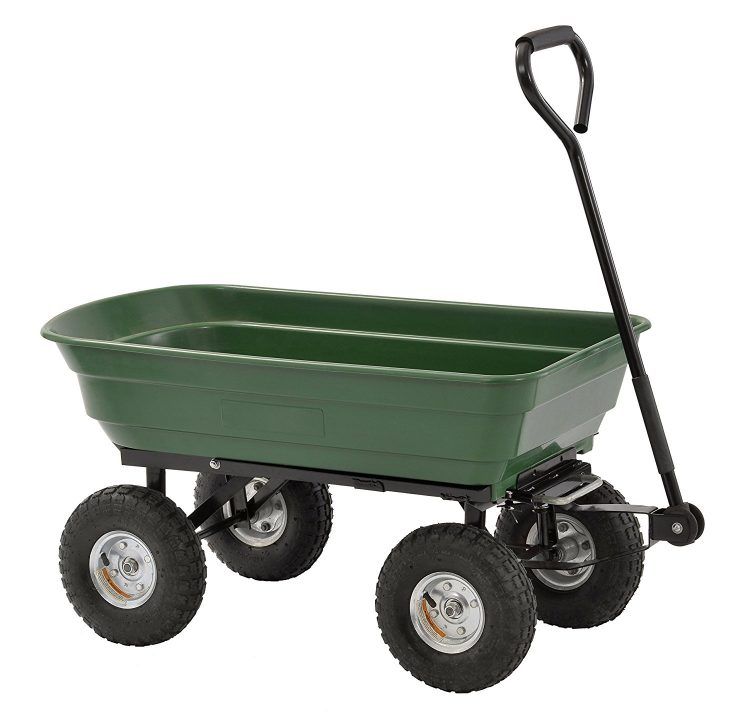 Dimensions Approx: 20″ x 39″ x 37″

550 lb limit
Pros:
Strong cart for moving dirt or other things that you don't want falling through mesh
Steel frame and plastic tub for strength and ease of cleaning
Cons:
Many units come without instruction according to reviews
---
4 Mac Sports Collapsible Utility Wagon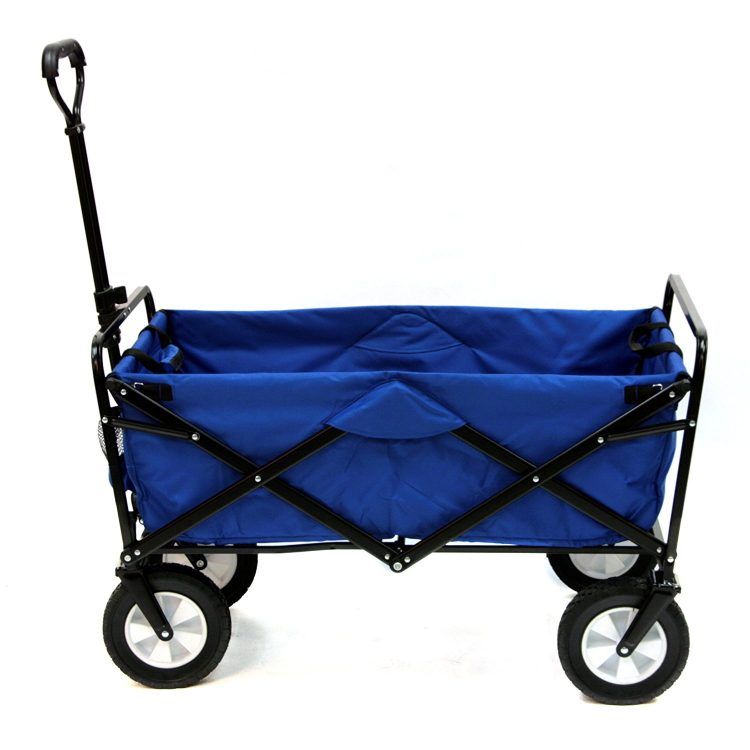 Outside Dimensions Approx: 35″ x 20″ x 23″ Inside Dimensions Approx: 32.5" x 17.5" x 10.5"

Folds to 8in. Folded size approx 29.5″ x 20″ x 8″ and includes a carry case

150 lb load limit

Adjustable handles, cup holders, and fold out tables depending on model
Pros:
Fully collapsible and can be carried in case
Durable fabric is easy to clean
Comes in multiple colors
Adjustable handle and cup holders
Cons:
Low load limit compared to other wagons
Fabric does not let liquid or dirt fall through
---
3 Amish Wagon Decorative Indoor/ Outdoor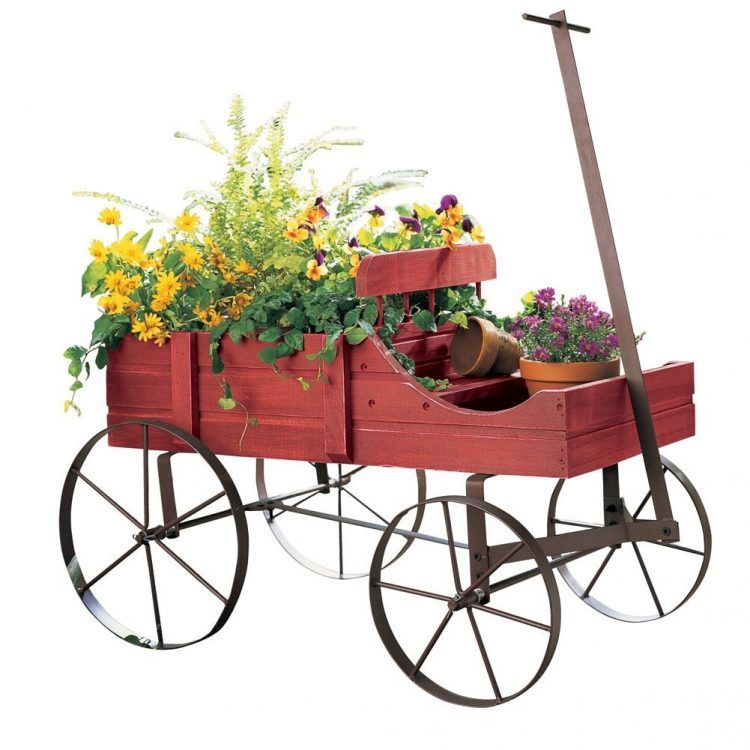 Attractive natural looking wood and iron construction in several color options

Use indoors or outdoors

Measures 44 1/4″L (includes handle) x 14 1/2″W x 15 1/2″H. Length of the wagon is 21.75″ without the handle

60 day, easy return policy and 100% satisfaction guarantee
Pros:
Gives you that little red wagon feels for ultimate charm indoors or outdoors. Sweet way to display your annuals or bring houseplants out on nice days
Sturdy construction and multiple levels to highlight your plants
Cons:
Low load limit, only for potted plants
More decorative than a functional wagon
---
2 Suncast Garden Scooter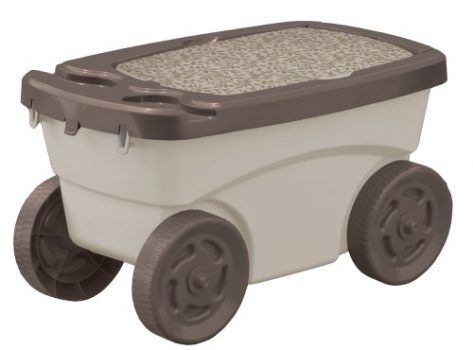 Foam cushion for sitting or can be removed for use as a kneeling pad

Includes 2 drink holders

Small bin inside
Pros:
Useful for sitting and kneeling as well as for moving items
Easy to drag behind you through the garden for easy access to all of your tools
Cute little basket fits inside and can be removed
Cons:
Too small for many items or plants
Foam cushion should not be left out in weather
---
1 Suncast 15.5 Gallon Rolling Lawn Cart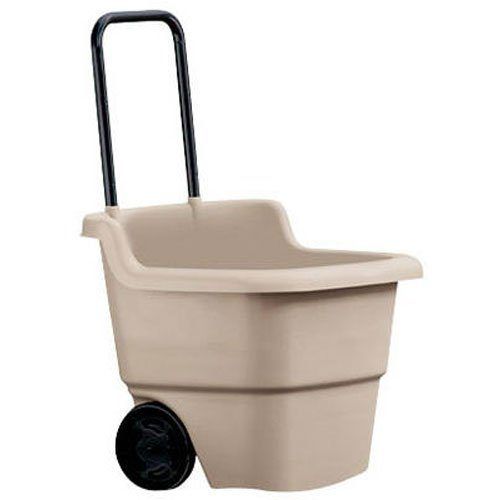 Pros:
Sturdy, useful little cart for small items or dirt
Convenient handle to pull cart along
Cons:
Too small for many uses
Handle is a little short for some people
How To Choose The Right Garden Wagon
There are lots of options out there for garden wagons. If you are in the market for a new one, you might be unsure which one is best for you. Here are a few options for picking the right garden wagon:
The type of garden Wagon
The kind of garden cart that you get has a lot to do with what you need it for. There are four different kinds of wagons to choose from, and they all serve a different purpose. There's the standard utility wagon which has a long handle for pulling, and it's best for hauling fertilizer, dirt, and wood. You can also opt for a dump cart which is good for transporting grass, soil, or manure. This type of wagon comes in handy because it minimizes strain on your back.
Next, there's the flatbed wagon which does not have four sides, you just lay your objects on top. This might not be a good option if you plan to transport a lot of items back and forth. You don't want soil and flowers falling over as you go from one destination to the next. Lastly, there's the foldable garden cart option which has a frame that collapses, and it makes for easy storage . It's great for people who don't have a lot of space in their backyard or shade.
The Tires
When you think of a garden wagon, you might not take into consideration what the tires are made of. However, it's important to pick a cart with the right tires, so that there isn't too much wear and tear on them. Most wagons have plastic wheels, and that's fine if you only plan to use the wagon on grass or smooth concrete. However, on the other hand, if you'll be pulling it across gravel or rocky surfaces, it's best to use pneumatic tires. They are made from reinforced rubber and hold up well against harsh surfaces.
Load capacity
Another important aspect to factor in when searching for a new wagon is its hold capacity. If you are only hauling lightweight flowers or gardening tools, you might not need anything that's heavy-duty. However, pulling things like heavy bags of mulch or rocks requires a cart that can withstand against dense items. Therefore, if you need a wagon for big projects, it is best to purchase one that's wide and spacious.
Bed Construction
One last thing to consider is the durability of the wagon. Again, depending on the types of things you will be hauling in the cart, you might need something that can withstand tough items like bags of sand. If you get a steel wagon, it's great for pulling, it's durable, and lasts you for quite some time. You can also look into buying polyethylene carts because they are both because it is dent and scratch-resistant. Plus, it holds up against harsh weather.
Which Garden Wagon is Right for You?
No matter your need, there is a wagon that is perfect for you. To choose a wagon that will be safe for your needs, consider what weight you will want to transport. Remember that potted plants and dirt are much heavier wet than dry. Do you want a cart for everyday use around the house and when going to events, that can be easily stored? A Macsports collapsible is probably your best bet.
Are you planning on frequently moving heavy and oddly shaped things around the garden? Invest in the right size Gorilla cart for your needs. Are you really just wanting a sweet old-fashioned accessory to hold a few spoiled plants? The Amish Wagon is just what you are looking for.