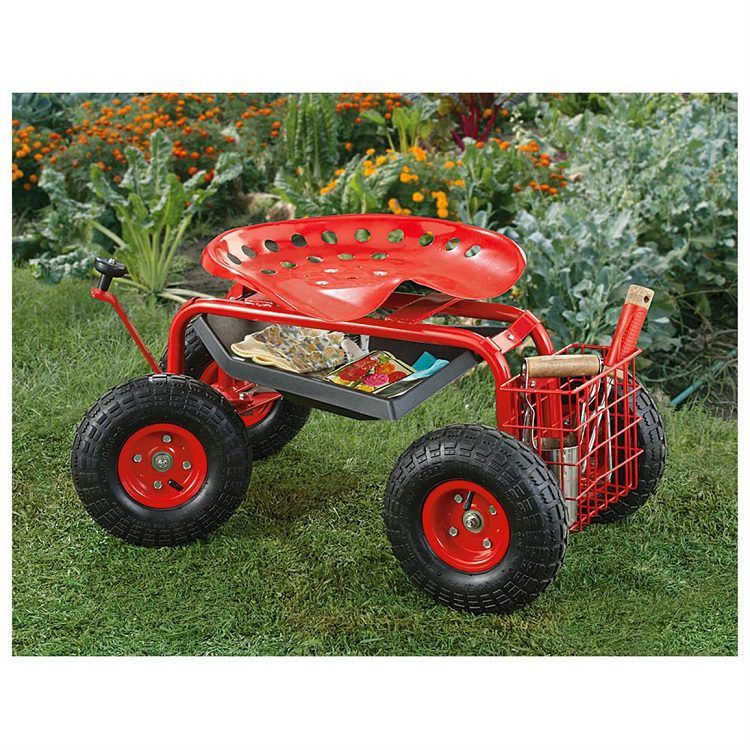 What makes the top garden seat? Gardening is relaxing and rewarding. Working on our gardens gives us an excuse to get outside and lose ourselves in the moment. There is no better time than while gardening to slow down and enjoy simple pleasures. Something about getting our hands dirty just seems to make us feel good.
Unfortunately too often gardening means bending down for long periods, which can be hard on the back and knees and take the pleasure out of planting. If you are looking for a way to enjoy gardening without putting a strain on your body, a garden seat can be a wonderful tool for you.
Garden seats often come with handy places to keep your tools. Some can be rolled along while others are stationary. Some are collapsible while others act like patio furniture. To decide which garden seat is best for you, read on for options to consider.

10 Ohuhu Garden Kneeler and Seat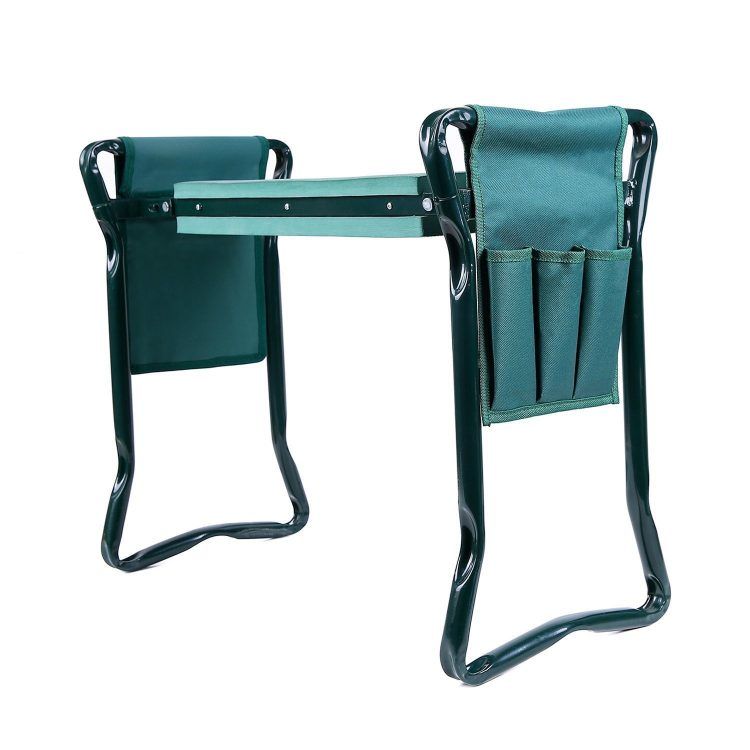 Weight capacity: 330.69lbs/150kg

Comes assembled and collapses fully

Constructed with a steel frame and EVA and plastic for easy lifting

Velcro attached tool pouches

Garden seat or kneeler
Pros
Useful for kneeling or for sitting. If kneeling, bars on either side help you bend down and stand up.
Handy detachable tool pouches
Cons
No back support
Can't be wheeled along, so you must get out and readjust as needed
Not weatherproof must be collapsed and stored after use
---
9 Garden Kneeler by Gyman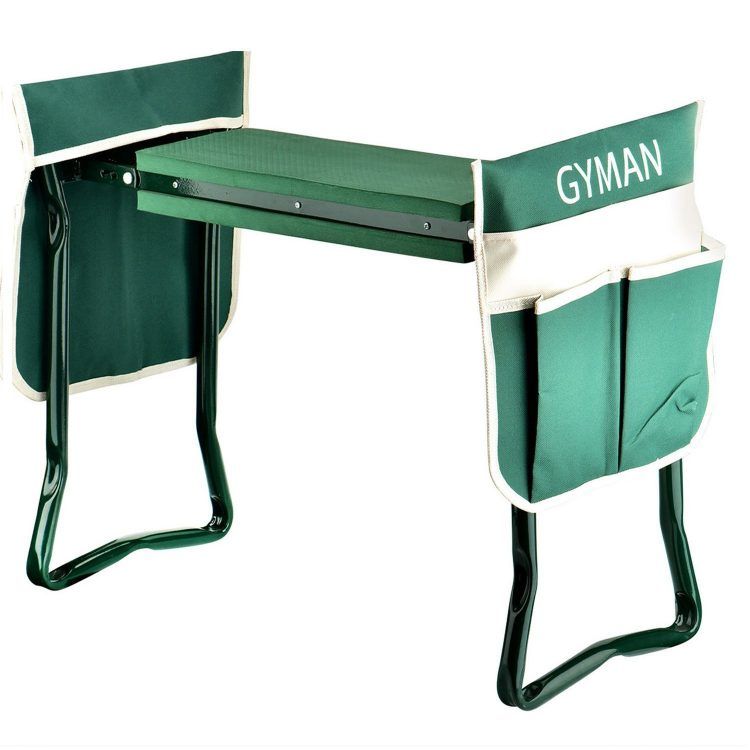 Pros
Folds flat for easy carrying
Pockets for drink or accessories
Great for sitting or kneeling
Light and easy to carry
Cons
No back support
Can't be wheeled
Not as sturdy as higher priced seats, tends to shake when weight is put on the rails for kneeling
---
8 Lanbozita Garden Seat Bench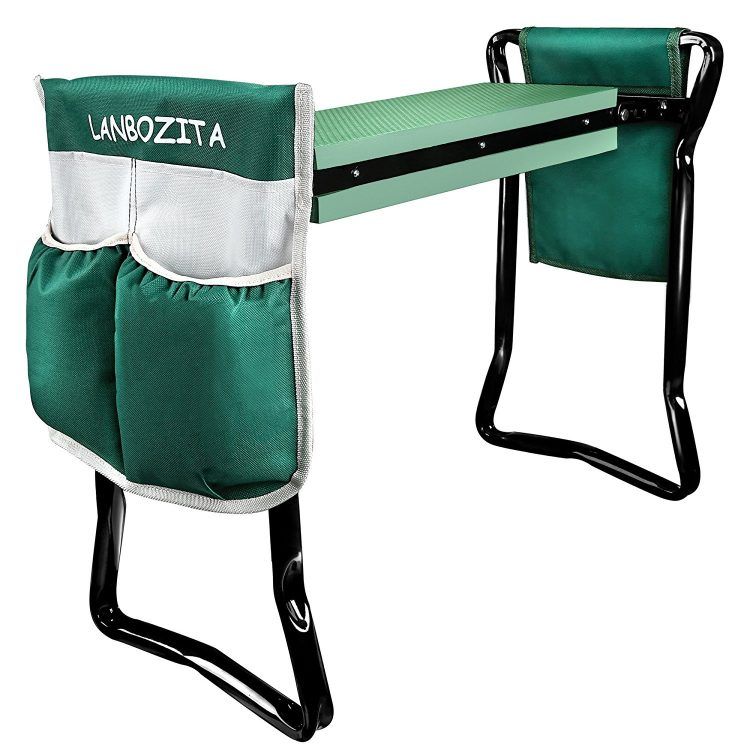 23.2″ x 10.6″ x 19.5″(Unfolded), 23.2″ x 10.6″ x 4.7″(Folded)
Pros
Comfortably kneel or sit
Store things in convenient pouches
Light for easy carrying
Cons
Can be a little bit wobbly
Pouches are not well made
---
7 Giantex Rolling Work Seat Garden Cart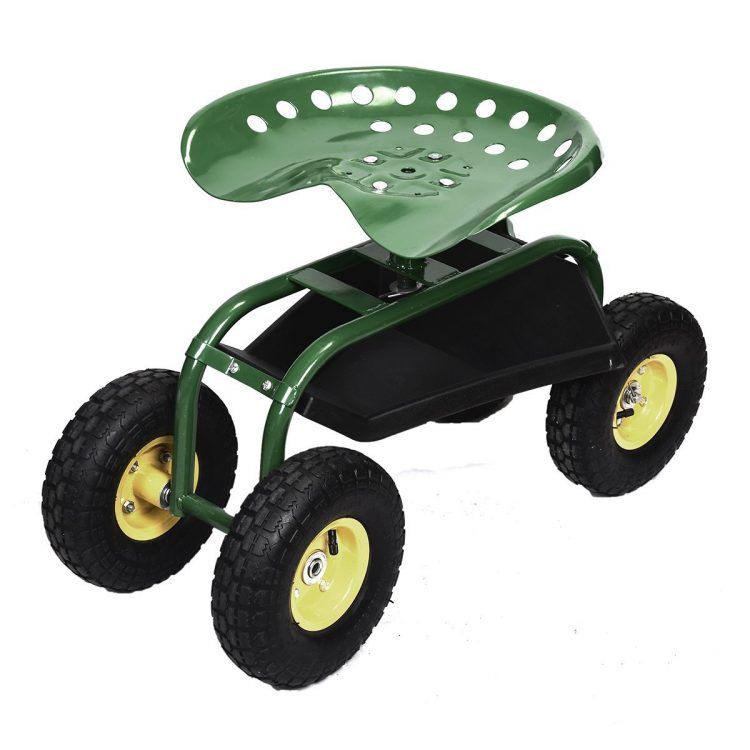 Weather-resistant steel frame

360-degree swivel seat, 10"pneumatic tires

330 lb. weight capacity

Below seat shelf

Seat dimensions;17 " W x 13-1/4″ D x 7-1/2″ H(Adjustable for 2 2/5″) ,Tray dimensions; 17″ 1 x 15-1/2″ W x 3″ D,Overall dimensions; 32″ L x 17″ W x 22″ H
Pros
Roll along while sitting for easy, comfortable access without having to stand up
Convenient shelf under seat for tools
Sturdy, all-terrain wheels to go anywhere in your garden
Comes in red or green
Cons
No back support
Heavy and not weather-proof, so must be wheeled into storage between uses
Can be ungainly and fall over if user is not careful and well-balanced
---
6 Garden Rocker Rolling Comfort Seat By Vertex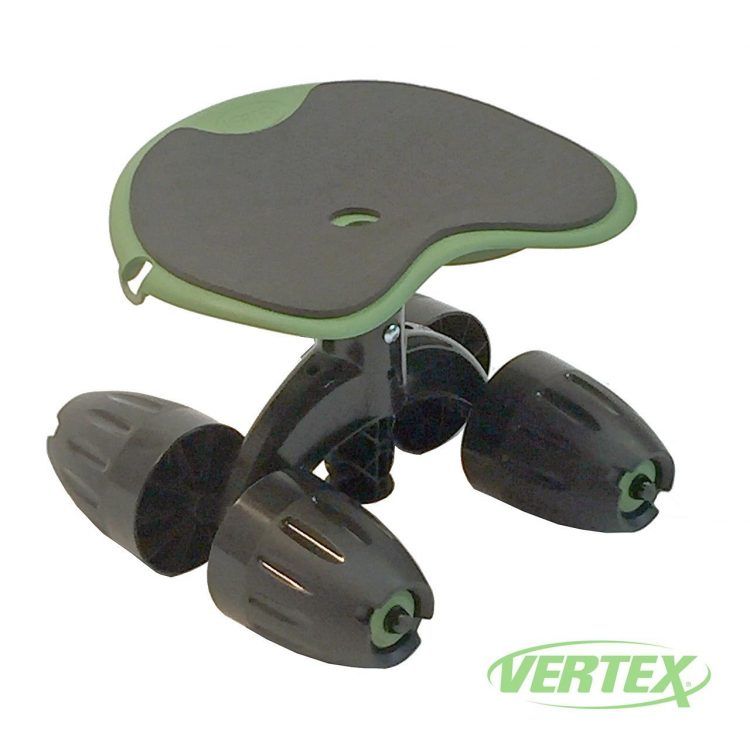 Contoured wheels for full range of motion while reducing how much you need to reach

Seat swivels and adjusts from 11″ to 14″ 

Optional cushion for increased comfort
Pros
Roll while sitting, unique wheels and tilt of seat allows you to get close to plants without straining
Optional additional seat cushion for ultimate comfort
Small and easily stored
Cons
No back support
No storage
Can tilt too much so be careful not to fall over
---
5 Garden Cart Rolling Scooter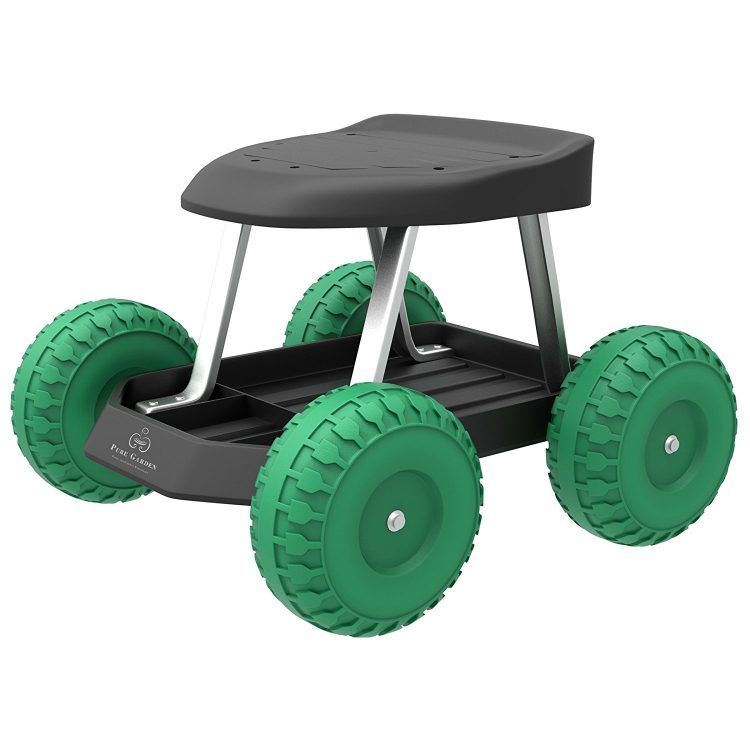 Seat Dimensions: 11" x 11.5". Full Dimensions: 13" (H) x 18.5" (L) x 17.5" (W). Tool tray dimensions: 16" x 12". Weight limit: 200 lbs
Pros
Light and easy to carry
Durable construction. Plastic wheels won't pop, and stainless steel won't rust if left out in weather
Cons
---
4 Step2 Garden Hopper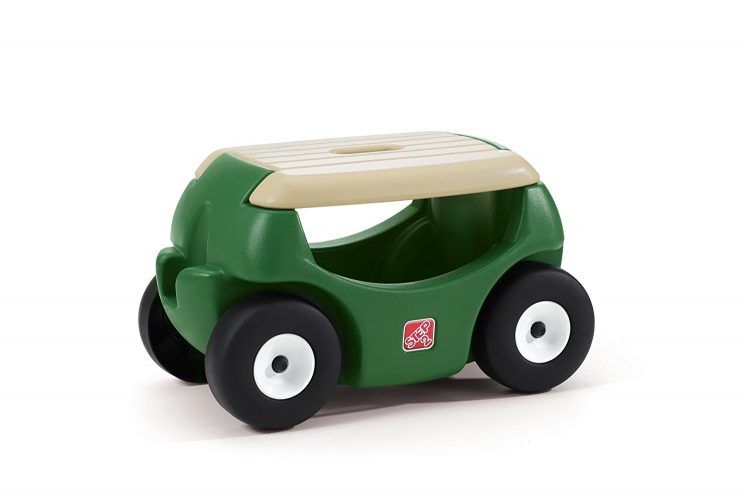 12.50 H 23.00 W 13.00 D – Inches; Item Weight: 9 lbs
250 lb weight limit
Pros
Large storage bin
Narrow enough to fit the average garden path
Cup holder
Cons
Doesn't roll easily over all surfaces
Storage bin will fill with rain if left out
Not strong enough to support the 250lb weight limit it advertises
---
3 Gardien Scoot-N-Steer Rolling Garden Seat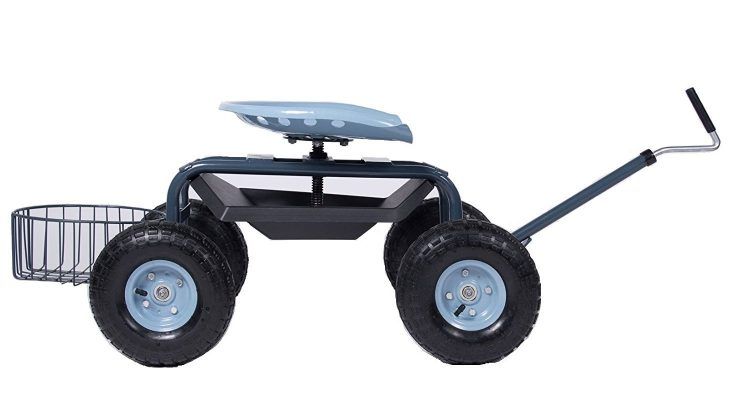 300 lb capacity
Removable rear basket
Pros
Pneumatic wheels for easy moving
Rotating seat allows you to access garden from all angles
Sturdy and lots of storage
Cons
Handle is a little awkward
Some reviews report difficult to assemble
Click here to buy on Amazon
---
2 Easy Up Deluxe XTV Rolling Garden Seat and Scoot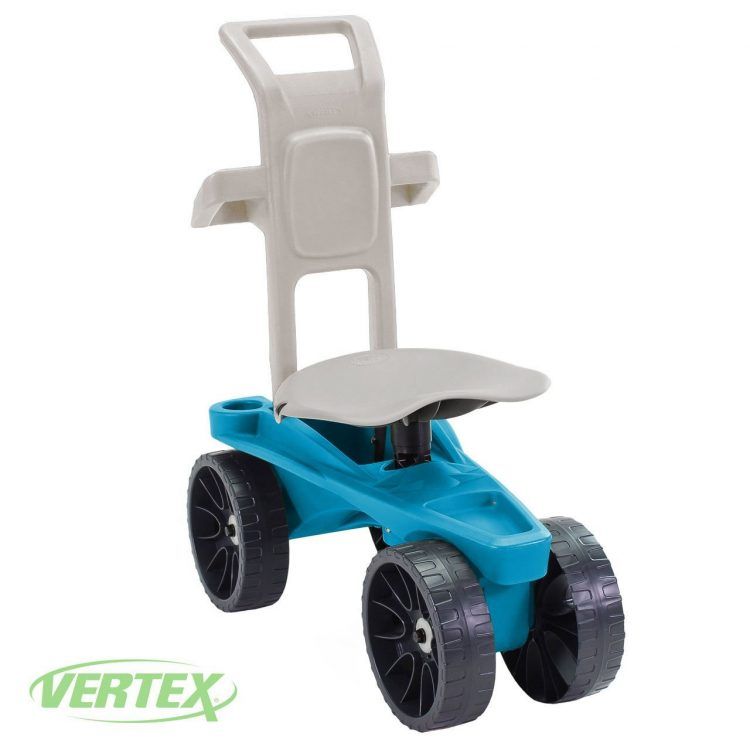 Durable, rust-free and easy to clean

Height adjustable Swivel Seat (15″-19″) & 10 x 3 Never Flat Tires

Push handle doubles as  a backrest
Pros
Roll while sitting. Big plastic wheels can handle all terrain and won't go flat
Backrest for ultimate comfort while gardening
Plastic, no-rust construction makes it more weather-resistant than other models
Cons
Minimal storage
Backrest can get in the way of swivel seat
---
1 Finnhomy  All-In-One Garden Tool Set and Garden Seat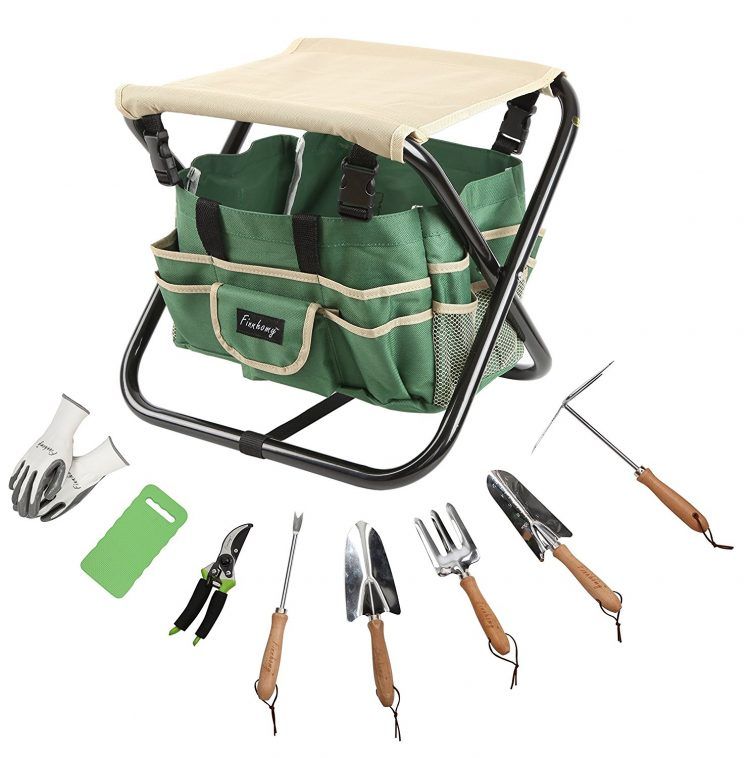 Includes heavy-duty steel foldable stool, tote bag, pair of nitrile coated working gloves (latex free), pruning shears, kneeling pad and set of five-piece tool set with beech wood handles

Metal frame and canvas seat pad. A safety strap ensures that the seat won't collapse while you're sitting in it

Washable, portable, detachable tool bag with multiple compartments.

Opened size: 13 x 15.35 x 13 inch, closing size: 15.5x 18.5×3.5 inch. Foam Kneeling Pad: 11.4"*5.51"*0.71".
Pros
Everything you need to get gardening in one package
Collapsible seat is easy to carry and store
Convenient access and organization of tools while sitting
Cons
Can't roll so you have to get out of the seat to move it
No back support
No swivel
---
Several Ways To Stay Safe While You're In The Garden
For a lot of people, gardening is a hobby, and they enjoy doing it for hours at a time. Luckily, garden seats allow you to stay in your garden without straining your back, hips, and knees. However, there are several other precautions you should take while you're outside for a long period of time.
Stay Hydrated
If you're in your backyard in the hot sun, it's imperative to drink water. Dehydration can lead to serious issues, so you must make sure you don't forget the H2O. If you get caught up on gardening duties, it's easy to lose track of time. Unfortunately, the sun doesn't take any breaks throughout the day. So, make it a priority to stop and rehydrate every 30 minutes to an hour.
Be Careful While Lifting Heavy Objects
Depending on the project you're working on, you might have lots of heavy objects to lug around. If you can, try to have someone to help you move items from one place to the other. However, if you're working by yourself, try to use a wagon or cart to transport your things. Make sure you are using the correct form when you're lifting and don't strain yourself.
Wear Back And Knee Braces
Bending over in your flower bed can put a lot of strain on your body. By putting back and knees braces on, you can give yourself support as you work. Also, some knee pads come with extra padding for gardeners. If you have problems with your knees, these are a good option.
Wear Sunscreen
Most people only think of wearing sunscreen when they're going to places like the beach, pool, or lake. However, even if you're only going to your backyard, you need to wear sunscreen—especially, if you'll be outside for several hours. It'll protect your skin and keep you from getting sunburn.
Protect Your Nose And Mouth
If you have allergies, wearing a mask over your nose and mouth can protect you against a pollen-infested environment. Breathing in outside elements can wreak havoc on your respiratory system. Not protecting yourself can cause asthma attacks and other breathing problems.
Watch Out For Pests
A garden is a playground for insects. It's essential that you wear clothing that can protect you from bee stings and other bites. You also want to be on the lookout for fleas and ticks. It's best to wear long-sleeved shirts, pants, and gloves.
Wear Gloves
Gloves not only shield your hands for insects, but you also need to protect them from getting dirty. Without gloves, you expose your hands to blisters, bacteria, and fungi. Not to mention, fertilizers contain chemicals that could be harmful or cause an allergic reaction.
Stretch
Working in your garden can feel like a workout, and it takes a strain on your body. Before you plant your new flowers, take some time to stretch. By doing this, it loosens your muscles and reduces the risk of injury.
Which Garden Seat is Right for You?
Consider your needs when choosing a garden seat. Are you worried about falling over and looking for something very stable? If so choose a stationary and non-tilt seat like the Finnhomy to stay organized and safe. If you are most concerned about your back and knees in getting up and down and in sitting, then invest in an Easy-Up.
If ease of access is your primary objective, the Garden Rocker is probably your best bet, since you can roll and tilt to get as close as necessary to plants.