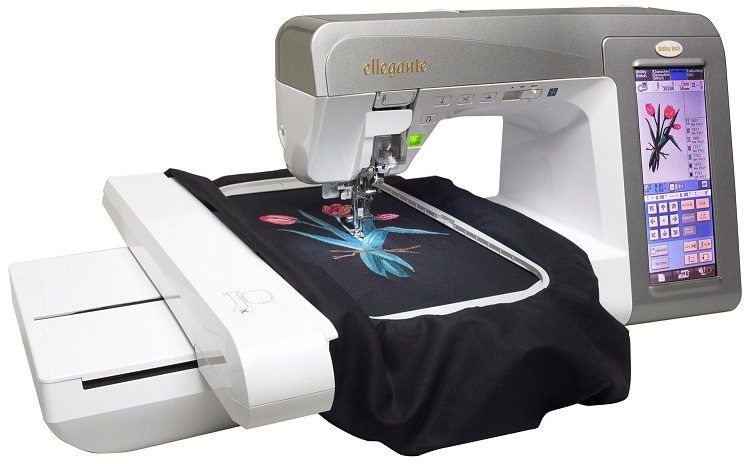 Embroider machines have made every crafty person's life so much easier. Computerized machines offer an array of customizer options like preset and custom designs, stitches, borders, and fonts.
Choosing the right to embroider machine can be a challenge since many of these features have become almost standard. The characteristics of a machine that is cheaper and a machine is more expensive may not seem apparent at first. So, what should you look for when you want quality without the commercial price tag?
You may notice the quantity of preset designs since this is simple to identify, but the real component is quality and versatility. Are the preset designs high quality, can you edit them, and can you design or upload patterns if the preset ones are not favorable? Many machines now come with USB ports or a computer cable, but many offer free software programs to design your own patterns.
Sometimes your ambitions do not match your skill, so be sure to assess the machine's simplicity without losing quality. Automatic functions like threaders, cutters, and drop in bobbins as well as clear instructions are essential for beginners. Remember that the more work you put into your initial research the better your purchase will seem.
10. NEX Sewing Machine Free-Arm
This portable, light-weight sewing machine comes with 16 pre-set stitch settings and a 60-piece sewing kit conveniently attached to the arm of the machine. It has a sturdy metal frame and plastic coating.
Easily control your sewing with an adjustable speed setting, LED work light, built-in thread cutter, and a detachable foot pedal. Easily load bobbins and winding thread.
Pros:
Compact and comfortable to use
Threads are very easy to load and come with a wide variety of colors
Easy to operate for beginners.=
Cons:
Thread size on each bobbin is too small
In some cases, the machine stopped working
9.Bernina Bernette Chicago 7  Sewing & Embroidery
With its own embroidery module, this digital sewing machine makes customization easy. It has a USB to upload designs along with 100 built-in designs and an embroidered alphabet as well as over 180 regular stitch settings.
Get all your sewing done quickly and efficiently with an 800-stitches per minute speed, a drop feed-dogs for optimal motion, and an automatic bobbin thread. The LED light, semi-automatic threader, and feet attachments make the workstation convenient and adjustable.
Pros:
10-year warranty on machine pieces
Easily programmable for any design
Monitors spool volume and automatically shuts off when low or thread breaks
Cons:
No foot pedal
Has a manual thread cutter
---
8. EverSewn Hero Sewing/ Embroidery Machine
Combining a light-weight, compact design with an LCD screen, this sewing machine has over 400 stitch patterns and 40 embroidery settings. Plus, it comes with a downloadable conversion software and a USB connection to upload your own designs.
The 6.5-inch workspace comes with 8 presser feet accessories, an automatic needle threader, and an 800-stitch per minute speed setting. Plus, a thread monitoring automatic shutoff.
Pros:
Easy to download and use conversion software
Instructions are clear and easy to operate
Automatic threader is convenient and keeps the thread from tearing
Cons:
No automatic thread cutter
Font selection and size are minimal
---
7. Brother LB6800PRW Project Runway Embrodiery Machine
Easily upload or edit the 70 programmed designs on this combination sewing machine. Use the LCD touchscreen and choose from 120 different frame settings and 5 fonts. It also includes a 4-x-4-inch embroidery hoop, 7 adjustable feet, a dust cover, and a Project Runway rolling case.
For sewing, it has 67 various stitches and 98 specific functions to choose from, an automatic threader and cutter for both the top and bottom threads, and bobbin dropper.
Pros:
On-screen sewing tutorials
Import designs and update your machine from your computer
25-year limited warranty and phone support
Cons:
Memory is limited
Parts including the needle and bobbin break easily
---
6. Brother Sewing SE600 Sewing and Embroidery
Get custom designs and setting abilities with this sewing machine's color-LCD touch screen where you can adjust and preview 80 preset embroidery designs or add your own with a USB port. Adjust and view your thread color and 6 preset fonts with arch designs.
Easily set up your machine with a fully automatic threading system. Then use 103 different stitches and 7 feet accessories to fully customize your project.
Pros:
Extensive accessory kit including a dust cover
Large 3.2-inch color screen
Easy jam-resistant bobbin drop
Cons:
No automatic thread cutter
No warranty
---
5. Brother PE540D 4×4 Embroidery Machine
This Disney-themed embroidery machine gives you a complete gallery of 100 designs including 35 iconic Disney images viewed on the LCD screen. It has a 4-x-4 -inch embroidery hoop and stitches 400 stitches per minute.
Customize your art with a USB outlet to upload your own design or choose from 1,000's of designs from iBroidery.com. It also includes 5 fonts, 120 frame patterns, a sewing kit, an automatic threader, and a USB cable.
Pros:
25-year warranty and call support
Has a thread-tension adjustment
Light-weight and compact
Cons:
Directions are difficult to follow
Thread and needle sometimes break easily when cheap thread is used
---
4. SINGER EM200 Superb Embroidery Sewing Machine
Use this embroidery machine for all size projects with its large (10 ¼ x 6 inches) and small (4 x 4 inches) embroider frames. The LCD screen, 700 stitches-per-minute needles, automated thread tension adjustment, needle threader, and trimmer allows you to easily and quickly make personalized projects.
The free software allows you to create and download designs or choose from 200 preset designs and 6 fonts. The machine comes with free online classes and a social media site. Also included are sewing kit essentials, a lint brush, and a USB stick.
Pros:
25-year warranty
Option to add bobbin winding thread while it embroiders
Works well for jump stitching and cutting thread
Cons:
Larger embroider frame can be unstable
Needle threader and needle easily break
---
3. Brother PE770 5×7 inch Embroidery machine
This embroidery machine expands your work area using a large 5×7 frame and extendable arm. It comes with 136 built-in designs, 6 fonts, 10 frames, and 12 border selections. Edit these options on the LCD screen by adjusting their size, rotating them, or flipping them to their mirror image.
The 600 stitches per minute, automatic threader and trimmer, and jam resistant drop-in bobbin will ensure quick and easy use. Add more designs from iBroidery.com and save them on the internal memory. It also includes a dust cover, sewing kit, power cord, protective carry case, and 11 embroidery feet.
Pros:
Includes a SD card slot as well as USB port
Design your own stitch pattern
25-year warranty and call support
Cons:
There are issues of breaking needles and thread
The tension function does not seem to work in some cases
---
2. SINGER XL-580 Futura Embroidery and Sewing Machine
Use the large (6.75 x 4 inches) endless embroider hoop to continuously feed fabric; it is perfect for borders and larger fabrics. The stippling embroider feature, extendable arm, and the knee lift helps create free-motion and raised designs for quilts.
It also includes 250 preset embroidery designs, 215 stitches, and 50 endless border designs. Use the software to download clip art and images as well as create your own fonts. The automatic threader, thread trimmer, and preset buttonholes add to the versatile design.
Pros:
Includes USB stick for wireless connection
Add-while-you-sew automatic bobbin drop is convenient
Easily sews over needles and thick fabric
Cons:
Free designs do not look exactly like the image when embroidered
No separate switch to turn the light on and off
---
1. Brother SE1800 (SE 1800) Sewing and Embroidery
Customize your embroidery and sewing project with its adaptable, large 5-x-7-inch and 5-x-12-inch dual-positioning embroider hoops. Choose from 136 preset embroidery designs, 6 fonts, 184 stitches, and 10 buttonhole settings. Designs can be resized and rotated on the LCD screen. Or upload your own designs using the USB port.
Sewing is easy with its automatic threader, top and bottom thread cutter, and extendable free arm. Also included are a sewing kit, knee lifter, 12 feet attachments, foot pedal, and a hard-cover carrying case.
Pros:
Sew horizontally and vertically
Create own savable stitches
Includes high-quality thread
Cons:
Heavier than most machines
No custom software
Several Items You Can Use Create Embroidery Designs
If you love the idea of creating your own designs, an embroidery machine is your best bet. Sometimes you can't find the designs you like in the stores, or you want to personalize your items. Thankfully, an embroidery machine can make as many creative patterns as you'd like. 
Shirt
Shirts are great for using an embroidery machine on. If you want to put a particular logo on a shirt, this is a great way to do it quickly and inexpensively. Some of the best shirts to use are polo shirts because they are made of thick material and look good with embroidery designs.
Socks
Believe it or not, socks are another item that you can add embroidery designs onto. If your kids play on a sports team, adding their initials to their socks is the perfect way to personalize their items and make sure they don't get mixed up with the other teammate's belongings.
Table Cloths
Table cloths look good on your table for special occasions like holidays. If you're spending quality time with your loved ones, you most like want to decorate your home nicely. You can add your family's last name on the cloth so that it can display boldly for everyone to see. Or perhaps you can get decorative and add on Santa Claus images and other fun decorations.
Table Napkins
Table napkins also look amazing with embroidery designs. You can put floral images or a pumpkin to give it pizzazz. Fold the napkin nicely and add it on top of a plate and saucer display to make your dining room table look beautiful.
Towels
A towel display always makes bathrooms look exceptional. This area of a person's home is usually where the owners want to make it more decorative. Unfortunately, most towels from the store are dull and don't have much to offer. Luckily, that can be changed with an embroidery machine. You can put your personal spin on it and make your bathroom stand out.
Dresses
If you want to make your outfit stand out, add designs around the collar of your dress or on the arms. The bad thing about buying clothes from the store is that your style has to match others. If you want to create a distinctive look for yourself, an embroidery machine is the way to go.
Pillow Covers
Who doesn't want unique bed linen? One of the things that people like the most about a decorative bedroom is lots of pillows. You can make your own throw pillows by adding on your name, flowers, and other designs. 
Robes
Robes are nice and comfy, and also perfect for adding a personalized touch. It looks spectacular with your name or initials added. Furthermore, you can put a cool design around the collar.
Purses
One of the most popular items to design is a purse. They are one of the things that really help you make a fashion statement, and there's no better way to do it than with a pretty purse.
Which Embroidery Machine Should You Buy?
This comprehensive list shows you the quality of the cost. High-end machines may include customized functions, but they may not be for beginners. The best way to choose from this list is to first know your price range and your creative ambitions. If you plan to design your own embroiders then a software program is essential.
The Embroidery Machine that I would recommend is the Brother PE540D.  This machine is very easy to set up and adding you own designs is a breeze. This is a fun starter machine tha that you and your family can grow into. Holdiay and birthday gifts will never be the same with cutstomizable creations.
With these things in mind, the Brother PE770 with its access to premade online designs is the right price for a beginner not ready to design. For a little more money, the SINGER EM200 with Online Owner's Class is perfect for experienced designers who would like to create designs and sew too. Choose the one that fits your needs and experience.
Last update on 2023-12-01 at 18:49 / Affiliate links / Images from Amazon Product Advertising API