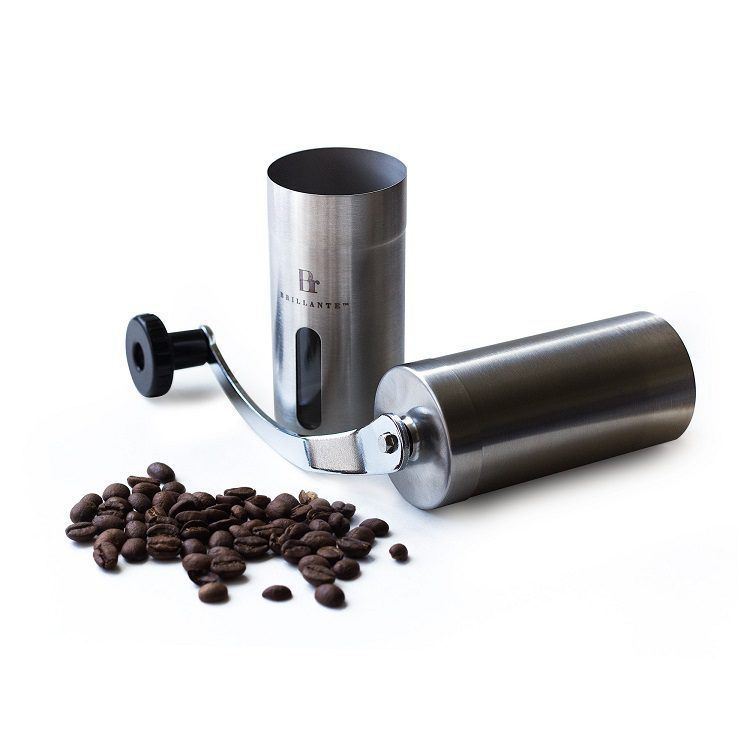 What the top coffee grinder? If you are a coffee lover, chances are you have discovered the joys of grinding your own coffee. Fresh ground coffee has a fresh taste that you can't get from pre-ground coffee, and you can store coffee beans far longer while still getting a fresh taste than ground coffee. Furthermore, there are coffees that are only available as beans, so you have a greater variety of coffee beans than in only ground coffee.
The smell of fresh ground coffee in the morning will wake you more than you knew was possible, but you can also store your own freshly ground coffee for a couple of days while not sacrificing too much on taste, for those mornings when you are too busy to grind or when you don't want to make too much noise in the kitchen.
Your coffee grinder will work with your drip coffee system or other coffee making system in order to produce your perfect cup. The finer the grind of the coffee that you grind yourself, the faster taste can be extracted from the ground beans. You can choose how finely you grind your coffee beans with your own grinder. This is one of the huge advantages of grinding your own coffee. On the other hand, coffee that is ground too finely may slip through your extraction device and end up as debris in your cup. Experiment with grinding different grits of coffee to choose the exact taste that works best for you.
Some coffee grinders work by using a motor and a blade to whack the coffee beans into pieces. This simple process means that coffee grinders that work this way are less expensive and are less likely to break down, but you don't have much control in how the pieces of coffee beans are broken up, so you will end up with large pieces all the way down to powder in one grind.
Other kinds of coffee grinders use a conical burr to determine grind size and crush into the exact size you require so that you have a consistent grind.

10. 

Mr. Coffee 12 Cup Electric Coffee Grinder 
This affordable little grinder by Mr. Coffee offers a removable grinding chamber that is dishwasher safe and has built-in cord storage for your convenience. This grinder can easily make from 4 to 12 cups of coffee, depending on your needs. Because the grinding chamber is removable and the opening lid is wide, this grinder is easy to pour into and pour out of and create less mess than other grinders.
Mr. Coffee's exclusive Chamber Maid cleaning system makes the sticky residue left after grinding coffee a thing of the past. This system cleans grounds from chamber walls with every grind so that you will have to clean less often and waste less coffee.
Pros
Removable grinding chamber

Built-in cord storage

Makes from 4 to 12 cups of coffee depending on need
Cons
Coarse grind setting leaves too many large pieces

Shakes and makes a very loud grinding sound while it works
---
9. 

Hamilton Beach 80335R Fresh-Grind Coffee Grinder
This fun little grinder by Hamilton Beach is quieter than other grinders that are similarly priced, which can be important if you are grinding coffee early in the morning. The removable grinding chamber allows you to easily pour in and out your coffee.
This versatile grinder can grind either coffee or spices so that you will have freshly ground coffee in the morning and the freshest spices and herbs to use in your meals as well. Cord storage is included in this grinder for easy and good-looking storage and the stainless steel blades will last and last. This grinder also offers the hand free operation to make it easy to use.
Pros
Removable grinding chamber

One-hand operation with a convenient on-off button

Durable steel blades
Cons
Doesn't hold as many coffee beans as competitive models

Only one setting creates an inconsistent grind
---
8. 

Quiseen One-Touch Electric Coffee Grinder
This stylish grinder by Quiseen offers convenient one-touch operation and is fast and efficient. The compact modern design will look good in any kitchen and a safety lock means that this device will not accidentally be activated by children. The durable stainless steel blades will last for a long time of efficient coffee grinding and the 2.5 oz capacity can yield up to seven cups of coffee with one grind.
This stylish grinder offers a grippable surface so that you will not lose hold of it while you are grinding with one hand, and the transparent lid allows you to see how your grinding is progressing. This versatile grinder can be used for coffee beans, herbs, nuts, grains or spices.
Pros
Convenient one-touch operation  

Compact design makes gripping easy

Safety Lock so children will not accidentally turn on the grinder
Cons
Grinds unevenly

Coffee gets into crevices of interior
---
7. 

KitchenAid BCG111OB Blade Coffee Grinder 
KitchenAid Blade Coffee Grinder - Onyx Black
Clear Top Cover and One-Touch Control allows for operation at the touch of a button—simply push down on the cover to...
Stainless Steel Blade offers durability and powerful performance, quickly grinding enough whole coffee beans to make up...
Removable 4-Oz. Stainless Steel Bowl features measurement markings on the inside, so you know at a glace the quantity of...
This modern looking grinder by KitchenAid comes at an affordable price and has three colors to choose from to match your kitchen. The clear top cover allows you to see how your grinding is progressing and you can operate this grinder at the touch of a button. Push the cover down to begin grinding and release it to stop.
The stainless steel blade is durable and offers powerful performance to quickly grind coffee for up to 12 cups. The removable 4 oz stainless steel bowl has measurement markings on the inside so you will know easily how much coffee to make and the bowl can lift out to make grinds easy to put into the coffee maker. The heavy-duty motor housing of this grinder means that it will last for years to come.
Pros
Easy operation by pushing the cover down and releasing  

Durable stainless  steel blade

Removable stainless steel bowl with measurement markings
Cons
Plastic holding bottom together will come apart within a year or so

Cannot grind coffee very fine
---
6. 

Mr. Coffee Automatic Burr Mill Grinder
If you are willing to spend a little bit more on your coffee grinder, Mr. Coffee's automatic burr mill grinder may be the choice for you. 18 custom grind settings allow you to find the perfect consistency for your cup of coffee. The bean Hopper is removable and can hold up to half a pound of coffee beans so you can grind as much coffee as you'll need.
The removable grinding chamber runs at 160 Watts so you know that it will powerfully grind whatever grit you are looking for. This grinder includes cord storage and has dual safety locking switches so it will never be accidentally activated. This grinder comes with a convenient coffee scoop / mini brush to help you easily clean the removable chamber.
Pros
18 custom grind settings

Removable Bean Hopper can hold up to half a pound of coffee beans

The 160-watt grinding chamber will power through beans
Cons
Becomes dirty and needs to be disassembled to clean

Does not achieve the very fine grounds needed for espresso

Very noisy
---
5. 

Cuisinart DBM-8 Supreme Grind Automatic Burr Mill
This professional looking coffee grinder by Cuisine Art is for the serious coffee lover. The removable grind chamber can hold enough coffee for 32 cups, so you can serve your entire party plenty of coffee without refilling the chamber.
The removable 8oz Bean Hopper comes with a scoop and cleaning brush so that you can easily measure your coffee beans and clean your grinder after each use. The electric timer on this grinder automatically turns off as soon as the grind cycle is complete. You can choose between 18 positions on the sliding dial of this grinder so that you can choose the exact grit that you desire.
Pros
Removable grind chamber

Holds enough coffee for 32 cups without refilling

Comes with scoop and cleaning brush
Cons
The motor will not last through the years

Does not grind a consistent amount of coffee with every use
---
4. 

KRUPS F203 Electric Spice and Coffee Grinder
The Krupps versatile electric spice and coffee grinder comes with a 200 watt motor for fast grinding and a large grinding capacity that can yield up to 12 cups of coffee with a single grind. This grinder can grind up to 3 oz of coffee beans in seconds, and the oval design and stainless steel blades allow for uniform grinding for the long term.
This grinder can grind not only coffee beans but also spices, nuts, herbs, grains, and more. The lid has a safety switch to prevent accidental activation. This unit comes with a two-year warranty so you can feel confident about your purchase decision.
Pros
200 watt motor for fast grinding

Up to 12 cups of ground with a single grind

Oval design steel blades allow uniform grinding
Cons
Does not create a consistent grind

Small capacity compared to competing grinders
---
3. J

avaPresse Manual Coffee Grinder, Conical Burr Mill
This professional-looking grinder by Java press offers a conical Burr Mill at a reasonable price. The grind selector is built in and offers over 18 click settings so that you will have complete control over the coarseness of your coffee. You can also grind spices and herbs using this grinder. This grinder operates using an old-fashioned hand crank, so you will not rely on batteries, power, or chords to operate your coffee grinder.
This makes this the perfect coffee grinder to bring with you on an adventure or to a party where fresh coffee would be desirable but power may not be an option. Another advantage of this handheld crank is that over 90% of the noise of electric grinders is eliminated.
Pros
Very good price for professional conical burr mill

Hand crank does not rely on a power source and is much quieter than an electric or battery-powered grinder

18 settings for your ideal coarseness level
Cons
Not enough grip on the body to hold while you crank

Body and housing will eventually come apart

Tents to grind coarsely
---
2. 

Capresso 560.01 Infinity Conical Burr
Capresso Infinity Conical Burr Grinder, Black 8.8 oz
PRECISION GRINDING: Commercial-grade, solid steel conical burrs with advanced cutting design
WIDE GRINDING RANGE: From ultrafine Turkish to French Press coarse and everything in between
PRESERVES AROMA: Gear reduction motor grinds slow with reduced noise and little static build-up
This practical grinder by Cpresso offers an Infinity conical burr that can produce an efficient grind every time. The hundred watt conical burr can power through your coffee beans with 16 grind settings to choose your exact coarseness level.
The commercial grade burrs ensure maximum flavor by grinding consistently. The bean container can hold eight and a half ounces, while the ground container holds 4 oz. The housing is heavy duty zinc and this unit has a built-in timer. This grinder is easy to clean and comes with a one-year warranty so you can feel confident about your purchase.
Pros
Professional-grade conical burrs

16 grind settings to choose your exact coarseness level

Heavy duty zinc housing
Cons
Coarsest grind is too fine for some coffee preferences

Grinds left inside where the burrs are located are difficult to clean out
---
1. 

Bodum BISTRO Burr Grinder, Electronic Coffee Grinder 
Bodum Bistro Burr Coffee Grinder, 1 EA, Black
The Bistro Burr Grinder consistently crushes beans between stainless steel conical burrs. This process also preserves...
Push button, pre-set timer allows users to grind the exact amount of coffee needed, keeping beans fresh and preventing...
12 Adjustable grind settings allow users to go from Espresso to French Press with ease.
This snazzy grinder by Bodum comes in a range of fun colors to customize your choice. The conical burrs are made of durable stainless steel and are designed to preserve the bean's flavor and aroma and produce a consistent grind. Over 14 settings from coarse to fine allow you to choose your exact coarseness level. The borosilicate glass container can reduce the static cling of coffee grounds to keep the container cleaner for longer between cleanings.
This grinder comes with a preset timer so that you can set the exact amount of time you need to grind the amount of coffee required to keep beans fresh and prevent any waste. The colorful and compact design of this grinder comes with a friction clutch that will prevent any slipping so that you can be sure that your coffee grinder will stay in place.
Pros
Comes in wide range of fun colors

Durable stainless steel conical burrs

14 settings from coarse to fine
Cons
Plastic drive gears may break after only a year of use

The grinding ring may become dislodged
Fresh Coffee Versus Coffee Grinds
If you're a coffee enthusiast, there's nothing better than a fresh cup of joe. If you love the smooth taste of cafe' drinks, you can experience it at home with fresh ground coffee. Here are some benefits to using a coffee grinder:
The Amazing Smell
The aroma of fresh coffee is an absolutely wonderful smell. Grinding your coffee beans allows you to experience your morning brew, not just make it. When coffee beans are roasted and ground, they give off an indulgent aroma that fills your home—pre-ground coffee can't do that. Plus, one of the primary reasons why the smells are different is because store-bought grinds aren't usually made from fresh beans.
Quality Beans
Grinding your own beans allows you to get quality coffee, not just drinkable coffee. Luckily, there are appliances available to help you crush your coffee simply and quickly. Going through the process of roasting and grinding coffee beans allows you to understand how strenuous it is to produce this drink. Going the extra mile enables you to focus on the quality of your beverage rather than the quantity. Not to mention, many beans are made from specialty coffee, which makes the taste exceptional.
Flavor
Speaking of taste, the compounds that provide coffee it's wonderful flavor begin to break down once it's roasted. The more you roast the coffee, the bolder the flavor. You can't beat it!
Coffee Recipes
Now that you know more about fresh coffee, here are some delicious drink recipes:
Irish Cream Coffee
Ingredients:
Brewed Coffee

Irish Cream

Whipped cream for topping
This tasty drink can be served hot or cold. Add the cream into the coffee and mix well. Garnish and serve.
Hazelnut Iced Coffee
Brewed Coffee

Milk Or Heavy Cream

Top with whipped cream and nuts
This beverage is perfect for the summer. Mix the ingredients together and pour it over ice and shake it together. Garnish and serve.
Final Thoughts On Using A Coffee Grinder
Coffee is one of those drinks that you can't get enough of, and there's a reason why it's such a popular beverage. For many people, it's a source of energy that they lean on to help them through the day. For others, it's the warm soothing taste of coffee that calms them and helps them focus. Not only is coffee a drink, but it's also an activity. People love to connect over coffee, which is why cafes are so popular. You'll see people in there working, having meetings, or even on dates. That alone should explain why coffee is such a special beverage.
If you have the opportunity to prepare fresh ground coffee in the morning, it's a must. By grinding your own beans, you're taking your coffee drinking experience to the next level. It's like have a cafe' in your own home.
Which should you buy?
For the best coffee grinder for your money in a color customized to look great in your kitchen, the grinder offered by Bodum is the best choice. The durable stainless steel conical burrs will grind your coffee to your specifications with ease, and the borosilicate glass container can reduce the annoying need to clean between each use.
The preset timer will save you time and will keep you from wasting coffee beans, while the friction clutch can ensure that your coffee grinder will stay on the counter where it belongs. This grinder has a compact and attractive design that will both look good and function in your kitchen.
Last update on 2023-12-01 at 18:42 / Affiliate links / Images from Amazon Product Advertising API