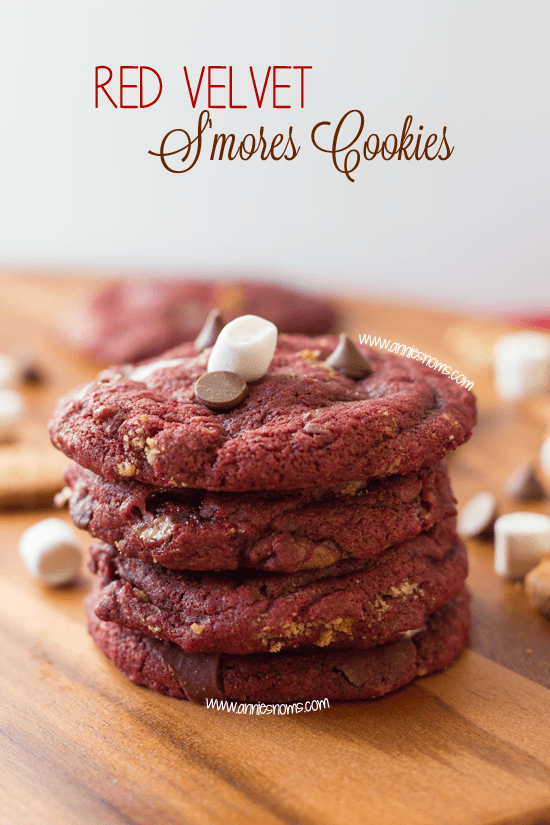 Happy February everyone, Annie here!
Well, I don't know if it's just me, but January seemed to absolutely fly by!!??
It's a scary time for me, I'm in my final semester at Uni – 14 weeks and I'm finished with education forever!!! At the moment, I'm feeling so lost and like I'm going round in circles, but I'm hoping things become clearer in the next few weeks and I can just get on with stuff! Oddly, I don't feel stressed though, I think I'm just trying to look forward to getting out of there and getting a job!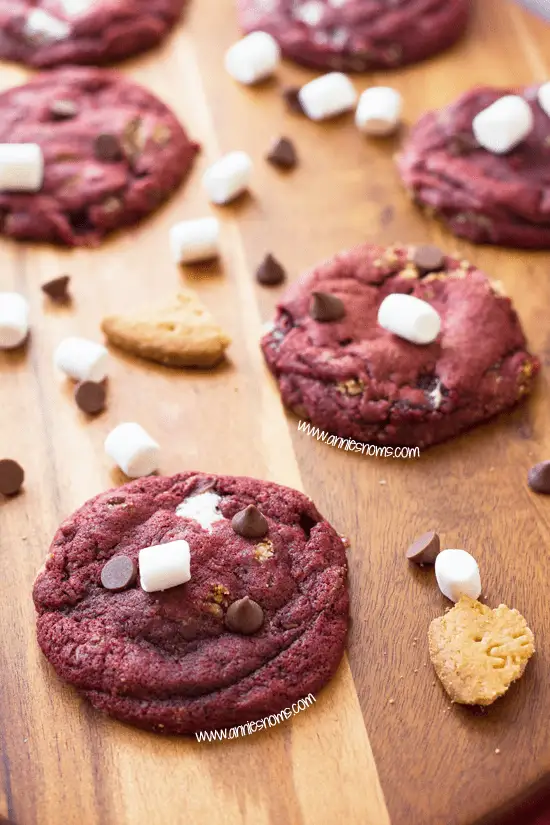 Anyways, Valentine's day is just a couple of weeks away, so I thought I'd combine Red Velvet with S'mores…. Yeah, they're pretty awesome. I used my Perfect Cookie dough and then changed it up to make them Red Velvet, then I added tonnes of chocolate, marshmallows and biscuits! I want you to get a bit of filling in every bite!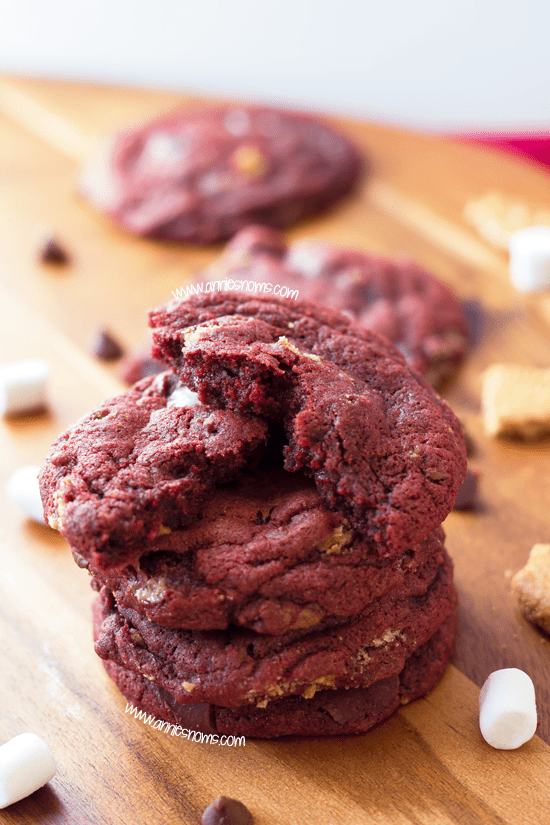 You get chunks of chocolate and gooey marshmallow all finished off with graham crackers in one bite! And they're pretty 🙂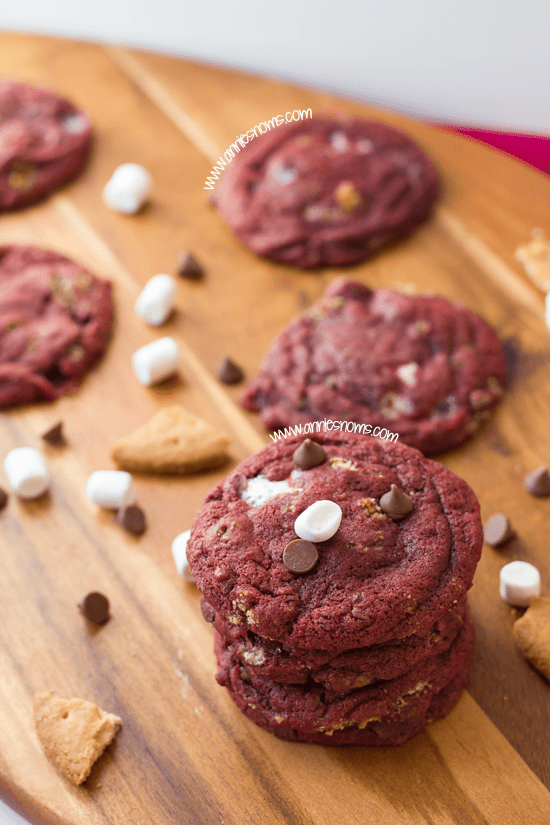 I have to admit, until last year I'd never had Red Velvet and really didn't "get it" – then I made some cupcakes. And I was converted. I just love how it's not quite chocolate and not quite vanilla…. delicious!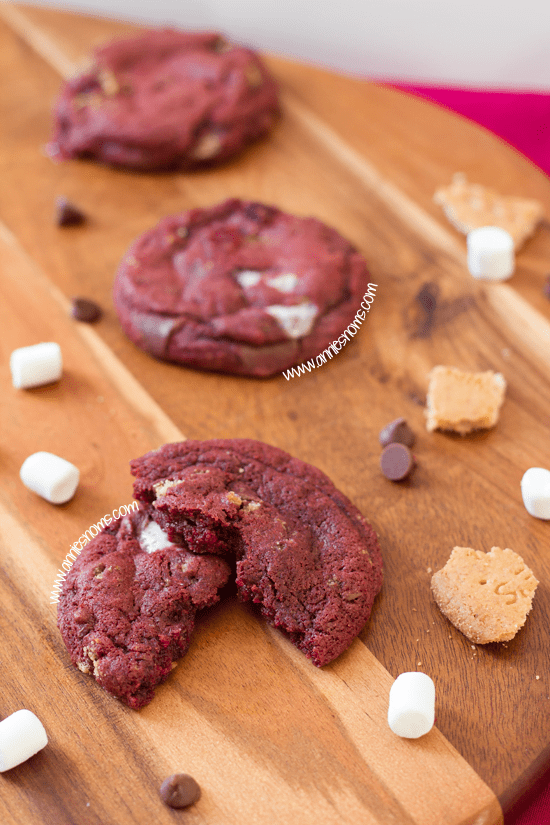 So, have one (or ten) of these and think of my poor boyfriend, sat in front of the TV whilst I run around the house like a headless chicken trying to compile some sort of coherent project on Valentine's night. No romantic meals for us this year 🙁
Red Velvet S'mores Cookies
Soft and chewy red velvet cookies packed with biscuits, marshmallows and chocolate – a perfect combination of the much loved S'more and a cookie!
Ingredients
1 and 3/4 cups all purpose flour
1/2 cup bread flour
1/4 cup good quality cocoa powder
1tbsp cornstarch
1 and 1/2tsp baking soda
1 and 1/2 cups milk chocolate chunks
1 cup mini marshmallows
3/4 cup broken up graham crackers/digestives (into 1/2″ chunks)
1 and 3/4 sticks (200g) unsalted butter, at room temperature
1/2 cup white sugar
3/4 cup light brown sugar
2 eggs
2tsp vanilla extract
1tsp white vinegar
Red food colouring, amount you need will depend on what type you use, you may need up to 1oz of liquid, but I used 2 blobs of gel colouring on the end of a skewer!
Instructions
No need to preheat the oven yet, this dough needs to chill!
Place the graham crackers/digestives into a large bowl and break up with the end of a rolling pin. You want some bigger pieces, around 1/2″, but smaller pieces are fine too!
Add the chocolate chunks and mini marshmallows into the bowl and toss together briefly.
Add in the all purpose flour, bread flour, cocoa powder, cornstarch and baking soda. Stir until just combined and the chocolate and biscuits are tossed in flour.
Place the sugars and butter into another large bowl or the bowl of your stand mixer and beat until light and fluffy, around 2 minutes on med-high speed.
Add in the eggs, vanilla extract and white vinegar. Mix until smooth and combined.
Add in the red food colouring and mix until well combined – you can add a bit more later on if you're not happy with the shade of red.
Add in the flour mix and mix on low until a dough forms. This is where you can add slightly more food colouring if desired.
Tip the dough into a bowl (the one you measured the flour in is fine) and cover in cling film. Place in the fridge for at least 6 hours, overnight if possible.
Once chilled, preheat the oven to 350F/180C and grease and line 3 baking trays.
Using a 1.5tbsp cookie scoop, place dough balls 2 inches apart on the trays. Flatten the dough balls ever so slightly to help them bake evenly.
Place in the oven for 8-9 minutes until the edges are set and the middles are still soft and slightly under baked.
Leave to cool on the trays for at least 10 minutes, before transferring to a wire rack to cool completely.
Once cool, store in an airtight container, at room temperature, for 5 days.
Recipe by Annie of Annie's Noms
[amd-zlrecipe-recipe:14]