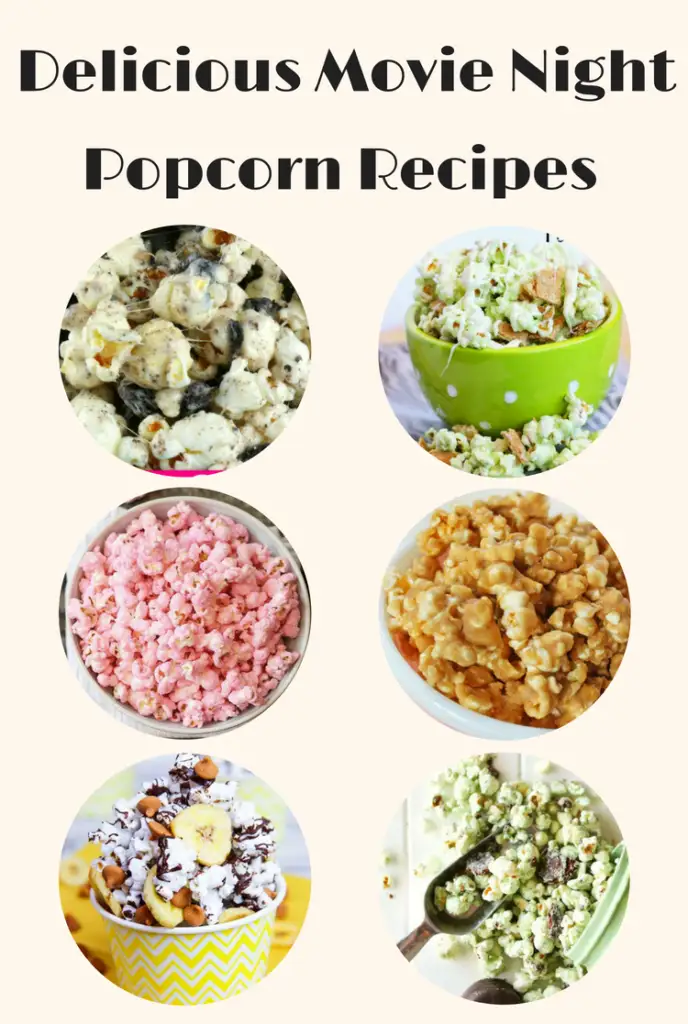 Are you still eating those boring, prepackaged flavored microwave popcorn packets at movie night? Why not change things up and try some of these awesome popcorn recipes instead? They're guaranteed to bring tons of flavor and fun to your life! Here are some Popcorn Recipes that will make your movie night memorable.
Popcorn Recipes – Oven Roasted Pizza
Pizza popcorn is an awesome snack, especially for folks who can't eat pizza at the moment because they are paleo, gluten-free, or vegan (sub nutritional yeast for parmesan cheese!)
To make this you'll need quality popcorn, butter (or vegan/specialty diet oil of choice), paprika, garlic powder, sea salt, oregano, basil, hot sauce, parmesan cheese, and fresh parsley.
Once prepared, you can serve this warm (yummy!) or let cool and package it for a tasty edible gift.
Popcorn Recipes – Oreo Cookie Popcorn
This ooey-gooey, sweet and salty popcorn covered in marshmallow and mixed with yummy Oreo Cookies is such a tasty dessert, you might end up making this for year and years and even pass it down to the kids!
This isn't a super complicated recipe, you just need to melt butter in a sauce pan. Once the butter melts, you add 3 cups of mini marshmallows and slowly melt it into a marshmallow sauce. You'll mix that with fresh popped popcorn and broken up mini Oreo pieces. Then you'll spread it out on a cookie sheet covered with foil or a silpat liner. And because you can never have too many Oreos, toss some whole mini Oreos on the top pressing them in to the sticky mixture. Let everything cool and then break it apart into pieces. This definitely won't last long in your house, so you might want to make a double batch!
Popcorn Recipes – Infamous Spicy Citrus
This "infamous" popcorn is served as at a restaurant called "The Lark" in Santa Barbara, California. While patrons are making up their minds about what to order, they are devouring this tangy and spicy appetizer by the handful. That spicy part comes from Calabrian chile oil. It's also got fresh cilantro, lemon and lime zest, and salt.
Thanks to the restaurant owner, who published a cookbook featuring the recipe, everyone can make this and enjoy it any time they want. No need to go all the way to California, you can make this for your next movie night at home!
Popcorn Recipes – White Chocolate Thin Mint
Girl Scout cookies and popcorn don't normally go together, but here they really do! The salty popcorn and the sweet chocolate and mint are an amazing flavor combination.
Plus this recipe is super easy, once you've chased down a girl scout and bought way too many cookies! You simply crush the Thin Mint cookies, mix them in with green-dyed white chocolate-coated popcorn and a few white chocolate chips. Ta Da! Time to dive in!
Mexican "Chili, Garlic, Lime" Popcorn
Who doesn't enjoy Mexican food with lots of spices and great flavor? This Mexican chile, garlic, and lime popcorn has an intense, tangy, authentic Latin flavor. It can easily satisfy your Mexican food craving on movie night or any night of the week! It is the perfect snack and best of all, it only takes 10 minutes to make.
Here are the ingredients:
1 teaspoon cumin
1/2 teaspoon chili powder
1/2 teaspoon cayenne
1/2 teaspoon oregano
1/4 teaspoon garlic powder
1/4 teaspoon onion powder
1/4 teaspoon kosher salt
1 lime, juiced and zested
3 Tablespoons coconut oil, divided (2 for the spice mixture & 1 for the popcorn)
1/2 cup popcorn kernels
Follow the recipe, then sit down with your favorite people and have a fun movie night at home!
Popcorn Recipes – Old-Fashioned Pink
Who remembers buying sweet, crunchy pink popcorn as a child from the store? It was sold mostly in Canada, so you might not have been lucky enough to try it. Well, even if you didn't, you'll enjoy this popcorn with a sweet, thin candy-coating, vanilla flavor, and a cheerful pink color.
This one is another easy recipe! You just need popcorn, milk, white corn syrup, salt, granulated sugar, vanilla, and red or pink food coloring.
There is just one trick to it at the end. It's super important to make sure you have the popcorn completely popped and sitting in a big bowl before the syrup mixture is ready. The syrup hardens pretty quickly, so it's important the popcorn is ready and waiting before the syrup gets done. This would be perfect for a romantic Valentine's movie night with your sweetheart!
Popcorn Recipes – Cheesy Dill (Vegan)
This popcorn is packed with flavor. If you are a fan of dill pickle potato chips, this will satisfy your craving for something crunchy. It's full of dill flavor and it's much healthier too!
So where does the cheese come from if this is vegan? Nutritional yeast, which is a flakey powder packed with B Vitamins, protein and other amazing health-benefits (Just Google "nutritional yeast health benefits"). Nutritional yeast has a nutty, cheesy flavor, so it's a perfect substitute for cheese in dishes just like this.
With this recipe, you can satisfy your junk food cravings and eat something healthy. It's perfect for movie night. Just don't tell anyone how healthy it is!
Popcorn Recipes Salted Caramel Coconut
Salty and caramel go together like strawberries and shortcake! This delicious sweet, salty combination will definitely satisfy your salt craving and your sweet tooth.
Would you believe that it is actually healthy too? It is, but it certainly doesn't taste like it! The ingredients are simple: popcorn, coconut oil, maple syrup, vanilla extract, salt and shredded unsweetened coconut. Using maple syrup instead of sugar definitely raises the health bar too!
This is an ideal treat to put out for guests, bring to picnics (bring extra!) and to enjoy with your favorite movie. Just click "play" on the movie, put your feet up and enjoy!

Popcorn Recipes – Lemon Coconut Rosemary
This unique flavor combination may seem unusual at first. So, for a moment, just imagine lemon and rosemary in some of your other favorite dishes. Now add coconut. The results are delicious!
Did you know that rosemary actually helps improve your digestion, enhances memory and concentration? This delicious popcorn is easy to make and good for you. Plus, if you make it before your next movie night, it might actually help you concentrate more on the movie.
Popcorn Recipes – Chunky Monkey
This popcorn is just as yummy as Chunky Monkey ice cream. It has banana chips, dark chocolate drizzled on top and for added yumminess, there are peanut butter chips!

To get that perfect chocolate dripping effect, just spread the popcorn out on a cookiesheet, melt the chocolate and drizzle away! Here's a handy tip: the quicker you move your hand, the thinner the chocolate stripes are.
Then once the chocolate has hardened, just mix it with the dried banana and peanut butter chips. Yummy!
Doritos Flavored (Vegan)
Did you know that Doritos were actually invented at Disneyland, at a restaurant named Casa de Fritos? They were simply trying to repurpose stale tortillas they had bought from a local vendor. They were so popular, that Frito-Lay started distributing them in 1966.

This popcorn has an addictive nacho cheese flavor and it tastes and smells just like Doritos! It's also pretty good for you and it's vegan. So it's perfect if you want a wholesome snack for the whole family during a movie night. You don't even have to worry about them spoiling dinner with junk food!
Girl Scout Cookie Samoas
If Thin Mints are not your favorite girl scout cookie, try this crunchy, sweet, indulgent popcorn recipe that is a little healthier than the real thing!
With sweet caramel popcorn, healthy toasted coconut, crunchy cookie chunks and rich drizzled chocolate this Samoas Popcorn will definitely be a favorite on movie night!
Sour Cream Onion
Sour cream and onion chips are sooo good! Sour cream and onion popcorn? Better! These are so tasty, you might eat the whole bowl yourself. They would be perfect for a movie night alone, because let's face it, you are probably not going to want to share!
The ingredients for this are popcorn (duh!), coconut oil, extra virgin olive oil, chopped fresh dill, freshly grated Parmesan cheese, powdered buttermilk, onion and garlic powder, and salt and pepper.
These are pretty easy to make. Just pop your popcorn, put it in a big bowl, drizzle it with olive oil and mix it up really well. Then mix together the dill, cheese, buttermilk, onion powder, garlic powder, salt and pepper. Pour this mixture over the popcorn and toss it evenly to coat it completely. Taste and add salt, as needed.
Just remember, if you plan to make this for a movie night with friends and don't want a fight over who gets the popcorn, you might want to portion it out into smaller bowls so everyone gets their own serving. Enjoy!
Key Lime Pie Popcorn
This recipe has all of the the mouth-watering flavors of Key Lime Pie…in a gooey, delicous, popcorn form! It has a tangy lime flavor which is balanced by sweet condensed milk, melted marshmallows, graham cracker pieces, and a white chocolate drizzle.
The fresh citrus will make you feel like you are in the Florida keys. Pop in your favorite summertime movie, sit back with a bowl of this mouth-watering concoction and go on a little vacation in your very own living room.
Peanut Butter Popcorn
There are two types of people, those who eat peanut butter out of the jar with a spoon and those who do not. This peanut butter popcorn recipe will satisfy anyone's craving for that sweet, nutty flavor.
It doesn't contain corn syrup to achieve that gooey delicious texture, but uses marshmellows instead. Plus, you can make it in your microwave, so it's definitely an easy recipe.
Here are the ingredients:
2

3.5 ounce bags of microwave popcorn, already popped

1/2

cup

1 stick margarine or butter

3/4

cup

brown sugar

1/2- 3/4

cup

smooth peanut butter

depending on how strong you want the peanut butter flavor to be

roughly 20 large marshmallows
You can eat it while it's all warm and gooey from the oven or wait until it cools. Either way, it will definitely satisfy your peanut butter craving and be a tasty treat for movie night!
Wow, who knew there were so many fun and creative ways to make popcorn! Don't cheat yourself on your next movie night…give these a try tonight.