As you prep your menu for your Super Bowl party, more than likely, you'll find yourself needing a few salsa recipes!  
Here's a unique salsa that will get the party goers talking!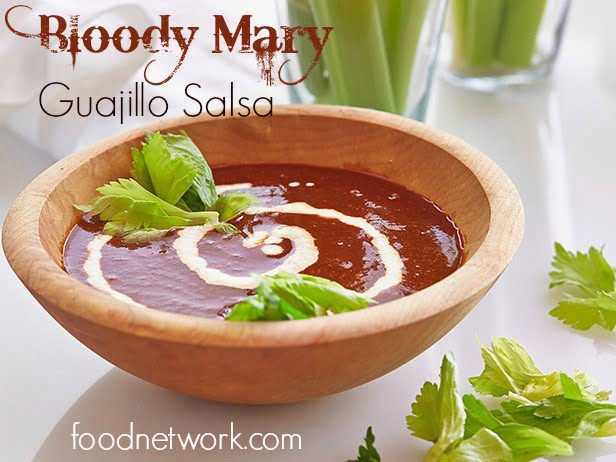 Bloody Mary Guajillo Salsa ::  traditional "fried" chile salsa meets a favorite brunch-time cocktail.
This saucy salsa is slightly sweet and spicy with the punch of a bloody Mary, backed up by flavorful guajillo chiles.
A perfect pairing with your favorite Mexican lager beer.
Bloody Mary Guajillo Salsa – Courtesy of FoodNetwork.com
Ingredients
15 guajillo chiles, stemmed and seeded
1/4 medium white onion, roughly chopped (about 1 cup)
1 medium tomato, stemmed and halved
1 tablespoon apple cider vinegar
1 teaspoon sugar
2 cloves garlic
Kosher salt
2 tablespoons vegetable oil
2 tablespoons prepared horseradish
2 tablespoons vodka
1 tablespoon plus 1 teaspoon Worcestershire sauce
Celery leaves for garnish
Celery sticks, tortilla or vegetables chips for serving
Instructions
Combine the chiles and onions in a medium saucepan and cover with water. Bring to a simmer and cook until the chiles are tender, about 20 minutes. Drop the tomato in about 5 minutes before the chiles are done. Strain, reserving 1 cup of the cooking liquid. Put the cooked vegetables, the reserved 1 cup of cooking liquid, the vinegar, sugar, garlic and 1 teaspoon salt in a blender, and then puree until very smooth.
Pour the chili-tomato mixture into a mesh strainer set over a medium bowl. Use a rubber spatula to help push the mixture through until only the chili and tomato skins remain in the strainer. Discard them.
Heat the oil in a large skillet over medium heat. Add the strained chili-tomato mixture and cook, stirring and scraping up the bottom frequently, until thick, about 15 minutes. Remove from the heat and stir in the horseradish, vodka, Worcestershire and some salt. Refrigerate until chilled, at least 1 hour or overnight. Garnish with celery leaves and a swirl of horseradish. Serve with celery sticks or chips.
Copyright 2013 Television Food Network, G.P. All rights reserved Courtesy of FoodNetwork.com
[amd-zlrecipe-recipe:13]
Food Network has plenty of Spiked Salsa recipes for you to whip up for your party as well!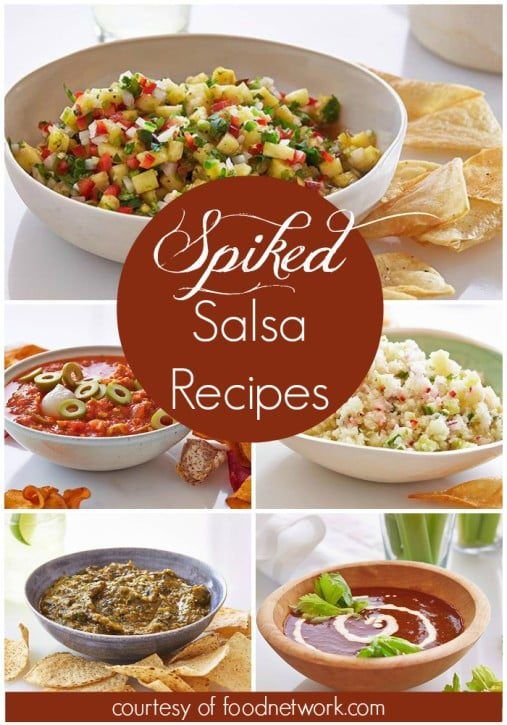 Is your family big salsa eaters?  Living in Arizona, we eat salsa day and night!  It's a staple in our home!