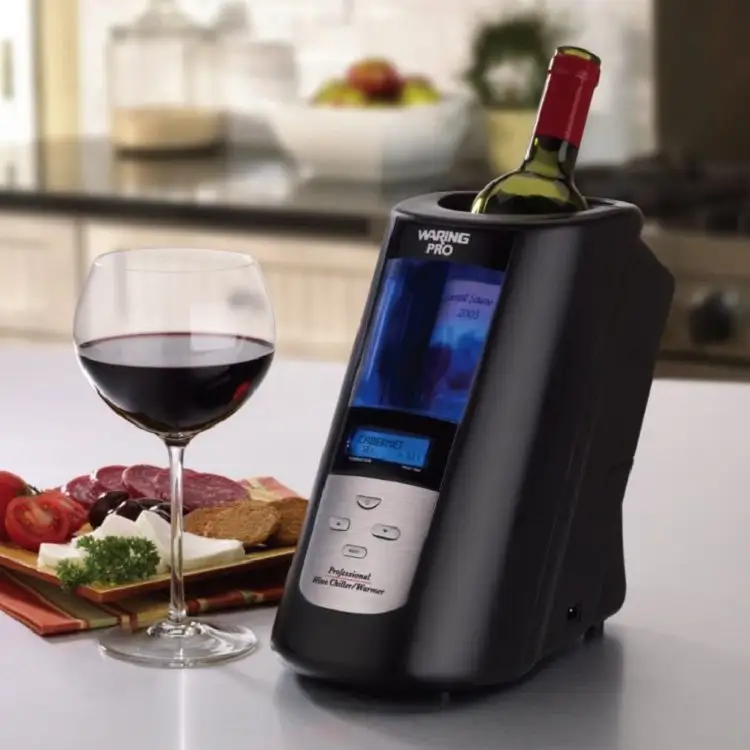 What is better than that first glass of wine after a long, hard day? If you like white wines then you want a cool, refreshing sip. Find the best wine chiller with this review. Temperature matters in how you experience the taste of the wine. A white wine that is too warm will not be refreshing and will not taste the way it should. A white wine that is kept too cold could have its taste damaged by freezing and will be too chilly for you to experience the nuances of flavor.
Even if your bottle of white wine is at a temperature that you are happy with, it is difficult to keep it that temperature once you begin to drink. It may be difficult to find a place in your fridge for the tall upright bottle, and it can be aggravating to have to go to the fridge between glasses, especially if you are sharing.
A wine chiller can give you the freedom to chill your bottle wherever you are drinking and look classy doing it. An elegant wine chiller can elevate your drinking experience and make each glass just the right temperature, even if you want to stretch your bottle through the evening.
Popping champagne with friends? A wine chiller lets you keep each bottle perfectly cool as you refill flute after flute, without ever having to leave the group to go get the bottle of champagne. Something about pulling the champagne out of the chiller makes everything feel classier.
Whether you like the sleek modern look of stainless steel wine chillers or you prefer the heavy classic marble receptacles, you can find a wine chiller that is perfect for your tastes. You can even move up to a wine chiller that acts as a tiny wine fridge, storing several bottles of wine at a time so you can chill and enjoy bottles for your party all night long.

10. 

Oggi Wine Cooler with Freezer Inserts
This classy wine chiller from Oggi is sleek stainless steel that will likely match your kitchen decor. The two-tone satin and mirrored finish are lovely and easy to clean with a quick hand wash with mild soap. Simply keep the freezer pieces frozen and insert them when you are ready to chill your wine. The black centerpiece keeps your bottle dry as well as cool, so you won't experience unpleasant dripping when you remove your wine from the chiller.
Pros
Keeps bottle dry in the chiller

Convenient, easy to freezer inserts
Sleek stainless steel design
Cons
Metal dents easily

Black plastic centerpiece insulates too well, keeping wine from getting cold
Freezer packs bulge, making it impossible to put centerpiece back in
---
9. 

RSVP Marble Wine Cooler
This classic marble wine cooler looks lovely in any setting. The durable marble is tough enough to take outside for drinking wine on a picnic or on the porch. You can chill this piece in the refrigerator until you are ready to use it, or you can fill it with ice.
This piece is so simple and versatile, you can even use it as a vase for flowers between uses. This chiller is made of one marble piece, so each chiller is as unique as the marble block it was carved from. This is a beautiful as well as functional tool to have at your disposal.
Pros
Beautiful, unique design made of a single chunk of marble

Diverse uses. Fill with ice, chill in the fridge, or put flowers in it
Easy to clean with a damp cloth
Cons
Too small for many wine bottles

Some individual marble pieces are less attractive than others
---
8. 

Insulated Wine Cooler Bucket
This striking insulated wine chiller from Enoluxe has double walled insulation to keep your wine at the ideal temperature. Your wine will stay 10 degrees cooler than if it were left on the table. The elegant finish of this stainless steel chiller is highly polished, evoking a sense of timeless beauty that makes each bottle of wine seem like it is on display. This chiller, though compact, fits both large champagne bottles and standard sized bottles of wine, without taking up too much room in your cabinet between uses.
Pros
Sleek, highly polished design

Durable, high-quality stainless steel
Double walled insulated to keep bottles cool
Cons
Does not keep wine as cool as some other chillers

Highly polished finish smudges easily
---
7. 

Vacu Vin Prestige Stainless-Steel Tabletop Wine Cooler
This stable and good-looking wine chiller from Vacu Vin chills your wine for you, it doesn't just keep it cool. It uses a rapid ice cooling element to chill your wine in only five minutes and keep it cold for up to four hours. No ice touches your bottle, so you won't have to worry about drips or mess. The sturdy wide base and rubber platform of this chiller will keep it from tipping over, while the rugged stainless steel construction will hold up to outside use.
Pros
Rugged stainless steel construction

Wider base and rubber platform to prevent tipping
No ice or water touches your bottle for drip-free drinking for hours
Cons
Only works for narrow bottles

Doesn't work as well to chill as it says
---
6. 

Modern Innovations Elegant Grey Marble Wine Cooler
This elegant marble chiller from Modern Innovations is made of a solid piece of shimmering grey marble. Marble is a natural insulator which looks beautiful in any space. The polish of this durable chiller is fine for easy cleaning and a lovely shine. This beautiful wine chiller is rugged enough to take anywhere and gorgeous enough to fit into any space. Chill it in the fridge or add ice for multi-functional use. If you aren't using it to chill wine, you can also use it as a vase for flowers or storage for kitchen utensils.
Pros
Gorgeous marble colors

Rugged natural design
Multifunctional use
Cons
Individual products may not show shimmering flecking
Doesn't keep wine as cool as some other products
---
5. 

Cooper Cooler HC01-A Rapid Beverage & Wine Chiller
If you don't have time to waste while your wine chills, this rapid wine chiller by Cooper Cooler may be perfect for you. While not as sleek or attractive as some other wine chillers, this chiller is designed to rapidly cool a room temperature bottle to your exact specifications.
It works by spraying the wine bottle with cold water while rotating it. You add ice and water and this chiller makes your wine as cold as you want it. You can add more chill by adjusting the touchpad settings. This useful contraption can also cool other beverages or warm baby bottles to just the right temperature.
Pros
Rapid chilling 

One year warranty
Easy to use
Cons
Uses a lot of ice

Needs to be reset from time to time
Bottle gets wet
---
4. 

IGLOO FRW041 4-Bottle Wine Cooler
If you are sick of messing around with individual wine chillers that get your bottle wet or have variable temperatures, this four bottle chiller from Igloo may be perfect for you. The temperature control is adjustable to your exact preferences for red or white wines. The two-layer glass door insulates well, while the white interior light lets you see labels clearly and shows off your bottles.
You can adjust the height of this convenient cooler to fit your space exactly. While you can't take this cooler with you, you can locate it in your favorite wine drinking space for easy access to perfectly chilled wines when you want them.
Pros
Holds four bottles of wine

Keeps wine at exactly your temperature specifications
Sleek, narrow design and adjustable height
Cons
Not transportable

Can't put bottles back in once opened
Dents easily
---
3. 

VonShef Copper Wine Bottle Cooler Chiller
This elegant wine chiller from VonShef looks like the height of sophistication. The double walled design is constructed to keep your bottle cool, while the graceful shape looks good and provides stability. This stylish copper or silver finish will look warm and be inviting or sleek and elegant to fit any decor. This convenient wine chiller can go with you to protect surfaces from wine condensation and keep wine cool.
Pros
Sleek curved design assists with stability

Copper or silver finish meeting your needs
Double walled for insulation
Cons
The bottle doesn't make enough contact with a chiller to really keep cool

Copper color on some products is more of a bronze
---
2. 

NutriChef Thermoelectric Wine Cellar
If you want absolute control of the temperature of each and every bottle of wine that you or your party may consume, the NutriChef thermoelectric wine cellar may be just what you are looking for. This chiller can hold 18 bottles in two zones, one warmer for red wine and one cooler for whites.
You can adjust the temperature in each zone to your specifications.  A vertical shelf means that you can set your opened bottle of wine in this fridge to keep it cool between glasses or even to keep it fresh for several days of drinking.
Pros
Storage for 18 bottles of wine

Dual temperature control for red or white wines
Upright storage for opened bottle
Cons
You can hear the motor run
---
1. 

Wine Enthusiast Double Walled Iceless Wine Bottle Chiller
Wine Enthusiast Double Walled Iceless Wine Bottle Chiller
NO ICE REQUIRED - Looking for a way to keep your wine bottle chilled without having to worry about melting ice? The...
CHILL FOR 3 HOURS - Simply place your pre-chilled wine in the bucket and enjoy 3 hours of cold wine or champagne....
CLEAR ACRYLIC - A modern twist on the classic wine bottle bucket cooler, the transparent BPA-free acrylic construction...
This cool and modern wine chiller by Wine Enthusiast allows you to chill your wine without ice, in a cool clear design. The double walled thermal insulated acrylic will keep your wine cool for up to three hours, without having to freeze the device beforehand. This chiller will protect your surfaces from condensation while keeping wine cool. The clear walls allow your guests to admire your bottle and read the label without having to remove the bottle from the chiller.
Pros
Cool, modern acrylic and stainless steel design looks good in any decor

Insulates without freezing, ice, or sweating
Clear walls allow you to read label without removing
Cons
The bottle must be very cold to stay cold

Won't fit large bottles
Best Occasions For A Wine Chiller
Wine chillers are a game-changer because they are so easy and convenient. Luckily, a lot of them are also portable and electric, so you don't have to worry about having ice or wiping off water from the bottle when you're ready to use it. If you're a wine enthusiast, bottle chillers are a must. Here are a few occasions when coolers are needed the most:
Girls Night
Sometimes you just need a good girls night in. You and your friends can sit around, catch up, and enjoy each other's company. After a long week of work, wine makes everything better. Thankfully, wine chillers make it easier to enjoy a couple of bottles without the hassle of going in and out of the freezer. You can set it on a table in the living room or outside on a patio wherever you are—it's amazing.
A Nice Dinner
Dinner and wine go hand-in-hand, and there is something about a tasty one that makes the food more flavorful. Wine chillers make it easier to sit and enjoy your meal without having to get up and grab more to drink or worry about the wine getting warm.
Before Heading Out
When your friends are having a get-together, and you're assigned to bring the wine, using a chiller can make things a lot easier. Sticking it in the fridge might not be enough time to get it to a cold temperature. However, if you place it in a wine cooler while getting dressed, it should be at a chilly temperature by the time you need to leave the house.
Pampering
Sometimes you need to relax and pamper yourself. If you are stressed or just need to feel calm, a glass of wine can do the trick. So, if you decide to sit outside and read a book while sipping on your favorite wine or take a bath, a chiller comes in handy. For instance, if you want to bring a wine chiller in the bathroom while you have a bubble bath, you don't have to worry about going into the kitchen when you want to pour another glass. It's perfect!
A Full Fridge
If you're having a get-together or a big dinner party, chances are your fridge will be full of food for the evening. And you might not have enough space to fit several bottles of wine. The good thing about wine chillers is that house multiple bottles is that it provides a space for you to frost your wine without invading the refrigerator. It's also a good way to separate the wine firm everyone else who has access to the fridge. So, if you have children or other guests that you do not want to open your wine, it's best to put it in the chiller instead of the fridge.
Anytime You'd like
Actually, there's never a wrong time to utilize a wine chiller. Wine is a drink that some people enjoy regularly. So anytime you need to have a nice smooth glass of wine, your chiller will come in handy.
Which should you buy?
The Vacu Vin Prestige Wine Cooler offers superior insulation in your wine chiller, without costing too much. The stable, rugged design of this chiller will last and look good for many years without tipping over, while the excellent insulation will keep your wines cool year after year. If you want an easily transportable tabletop wine chiller that will stand the test of time and keep your wines chilled for hours, this is the wine chiller for you. 
Last update on 2023-11-29 at 23:29 / Affiliate links / Images from Amazon Product Advertising API