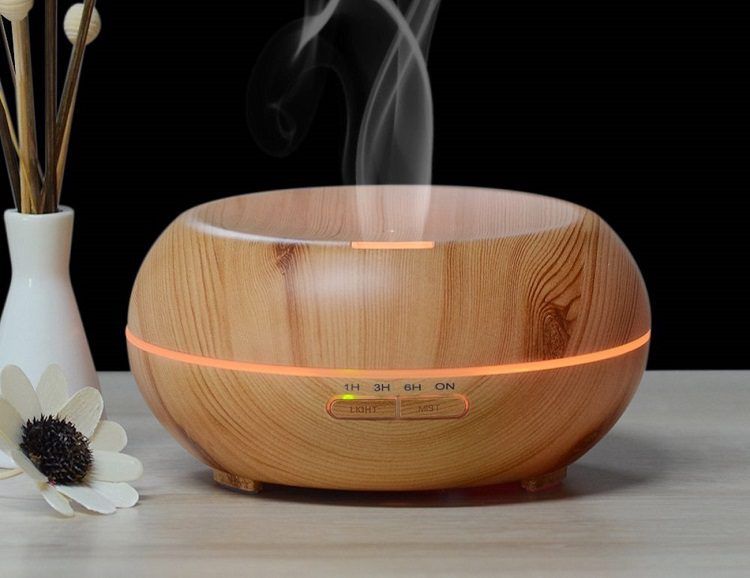 Over the past few decades, a renewed interest in holistic health has brought various products onto the market, one notably being essential oils. I wanted to share some of the best essential oil diffusers currently available.  Essential oils are derived from the distillation of plant material, creating a highly concentrated version of a substance, such as rose.
Used in holistic treatment, naturopathy, and for general purposes, essential oils are believed by some to have healing properties. While essential oils can be applied topically or even used internally (with precaution), another way that oils can be enjoyed is through an oil diffuser.
A diffuser is an electronic device filled with water, into which essential oils can be added. The diffuser then emits a cool mist, smelling of the essential oil used—many are used for different purposes. Lavender, for example, is relaxing and calming. Lemon oil is believed to be energizing and clears the mind. Other aromas might contain a blend of different oils.
When selecting an oil diffuser, there are different factors to keep in mind—how much space will your diffuser take up? If there are lights on the diffuser, will they bother you while you sleep? If you want to use your diffuser while you sleep, you'll likely want a model that stays charged for a lengthier period of time. Some people prefer a classier make of diffuser, such as a wooden model.
10. Miserwe Adjustable Aromatherapy Diffuser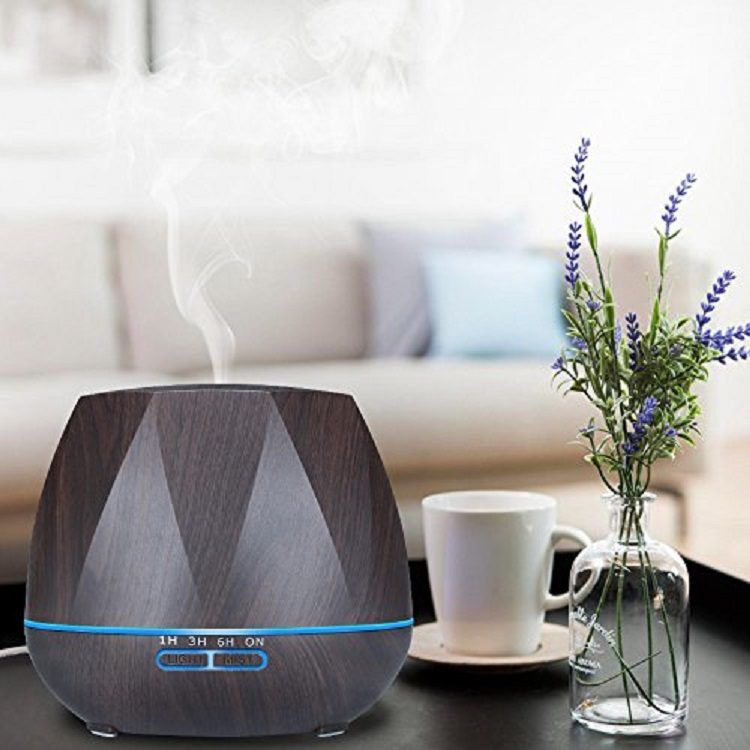 The Miserwe Adjustable Aromatherapy Diffuser is an essential oil diffuser, which emits a cool mist when oil and water are added to it. Just use the measuring cup to add water, and 2-4 drops of essential oil will create a scent that you can smell your entire home. Stylish and sleek, this diffuser has a faux-wooden finish. Not too small, and not too large, it blends in with any room. LED lights to give off a relaxing glow, and timers can be set to turn your diffuser off—feel free to use the diffuser while you sleep, as it can be set to turn off on its own.
Pros:
Lasts up to fourteen hours
Runs on various timer settings
Automatic turn off
Cons:
Not as powerful as other diffusers
Can get moldy with excess water
---
9. Yongton Humidifier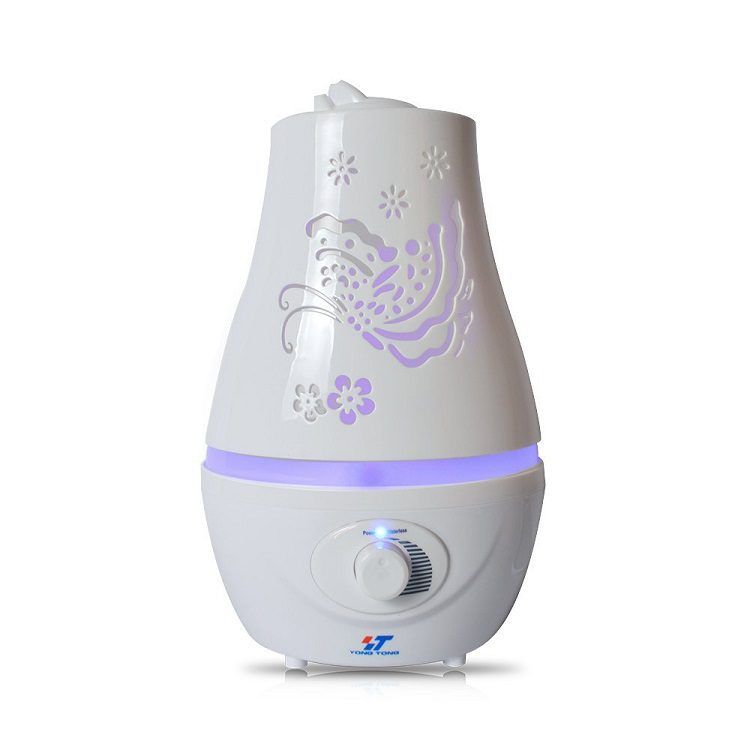 The Yongton Humidifier Essential is a white model with a flowered design at the front, which boasts 360 degrees of mist. The diffuser can be turned to two different lighting settings, for around the house use, and softer night light for nighttime use. The diffuser is available in three different sizes, in 1.5L, 2.2L, and 5L. Easy to clean.
The diffuser is very quiet and won't wake you up while you're sleeping. This diffuser also has an automatic shut-off system, so you don't have to worry about it using power throughout the whole night. It helps with allergies and congestion and can promote a positive mood, depending on which oil you're using.
Pros:
Lasts up to nine hours
Automatic safety turn-off
360 direction
Cons:
Aromatherapy oils do not come with diffuser
Manual is too simple
---
8. Clementine Aromatherapy Jewelry Diffuser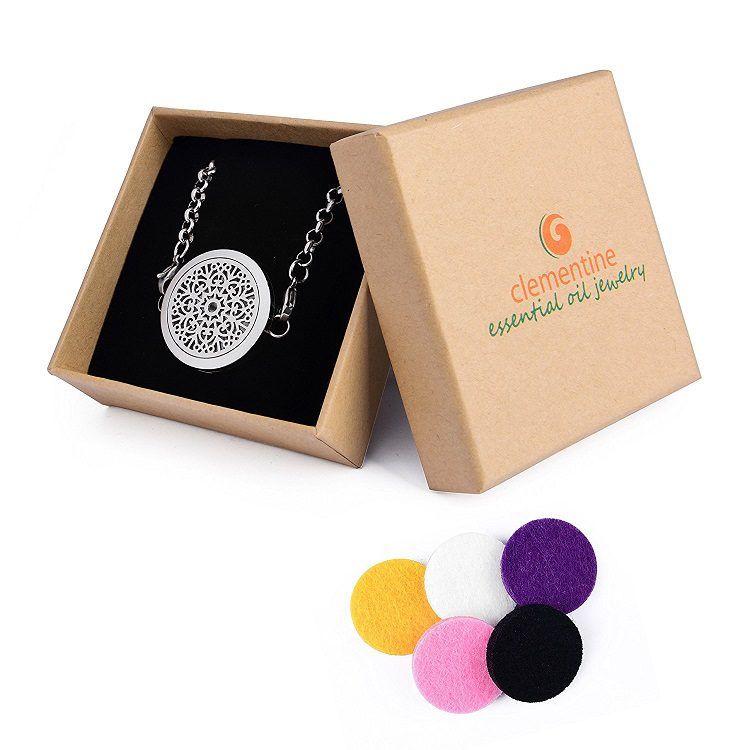 The Clementine Aromatherapy Jewelry Diffuser is a necklace with a diffuser on the inside. Take your essential oils with you, anywhere you want. There are five different colored pads, which can be used on the inside of the locket to personalize it to your taste.
Drop the essential oils you want on the felt pads, place them inside of the locket, and enjoy the essential oils to your taste. If you want, a selection of essential oils can be bought with this diffuser. Packaged in a gift jewelry box, the diffuser is made of stainless steel. The chain is also 24 inches long.
Pros:
Take your essential oils with you, anywhere you want
You can choose which design you want
Long-lasting stainless steel
Cons:
Only five color options for felt pads inside of diffuser
Does not last as long as other diffusers
---
7. Ultrasonic Essential Resistance Humidifier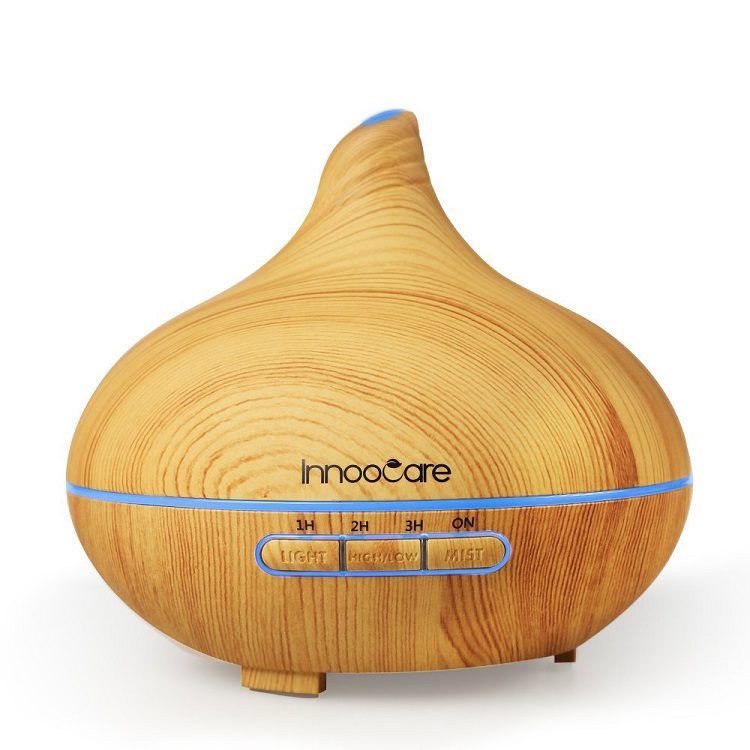 The design of this essential oil diffuser is taken from the motions of Yoga. It is designed with the concepts of ethics, absorbed motion, desireless statue, meditation, and the creation of the universe. A natural, wood grain design, this diffuser will look extra classy in your home.
Take apart this model easily, and put it back together again. Revolving colored lights can be turned off at night so you are not disturbed while sleeping. Can help with congestion. Make any room smell like your favorite spa. The diffuser has a light or strong setting, so you can set the speed to your liking.
Pros:
Beautiful wood grain design
Runs for 12 hours
Soothing LED mood light can be turned off
Cons:
Moisture can damage the inside of the diffuser
Only comes in one size
---
6. Housemile Essential Diffuser Ultrasonic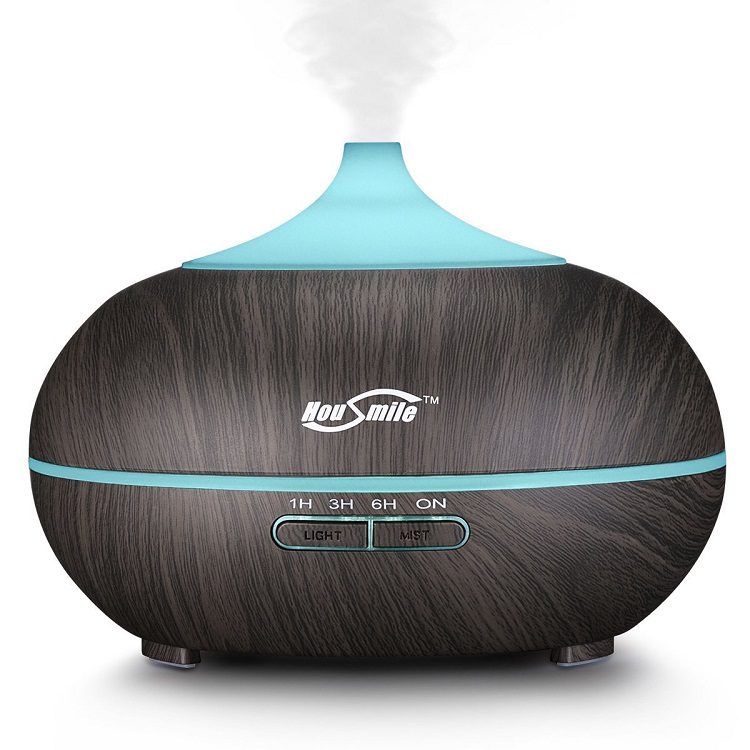 This diffuser is perfect for your bedroom, office, living room, bathroom, yoga, spa—just about anywhere! Designed for large rooms, the diffuser will fill up any room with your favorite scent.
Four different timer settings (one hour, three hours, six hours, or simply ON) combined with the automatic turn-off setting mean that you can use your diffuser as long as you want, without worrying about damaging the model when it runs out of water. Seven colors of LED lights can be set to cycle to different colors, or can be adjusted to brighter or dimmer settings. Can work with tap water, whereas other diffusers recommend distilled water only.
Pros:
Intelligent four settings
Seven colors of LED light
Turns off when waterless
Cons:
Some reviews state that the diffuser only runs for 6 hours
Not as strong a scent as other diffusers
---
5. Rose Gold Essential Diffuser Necklace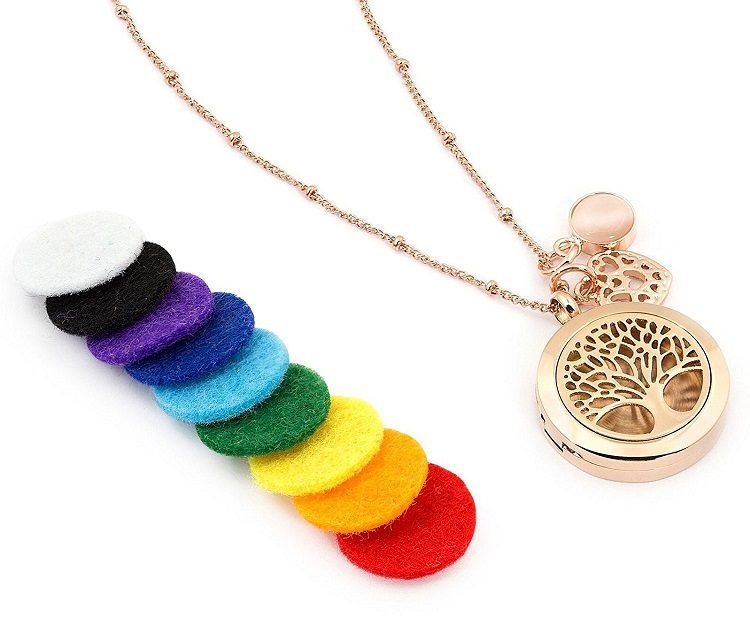 This stainless steel necklace is a great way to bring aromatherapy with you throughout your day. This diffuser is great for adults, as well as children. The magnetic closure system will assure that your diffuser won't leak onto your clothing or other surfaces. In addition, a magnetic system means that this diffuser isn't made with glue, like many models—glue can dissolve your essential oils.
The black velvet packaging makes a classy gift for anyone. The stainless steel and secure closure prevent potential allergies, to the material of the necklace or the essential oils inside. A total of 48 replacement pads can be bought with this diffuser.
Pros:
Made from hypoallergenic surgical steel
Comes with nine refill pads
Magnetic closing system
Cons:
Does not last as long as traditional diffusers
Some complain that the chain breaks easily
---
4. ESEOE Essential Adjustable Diffuser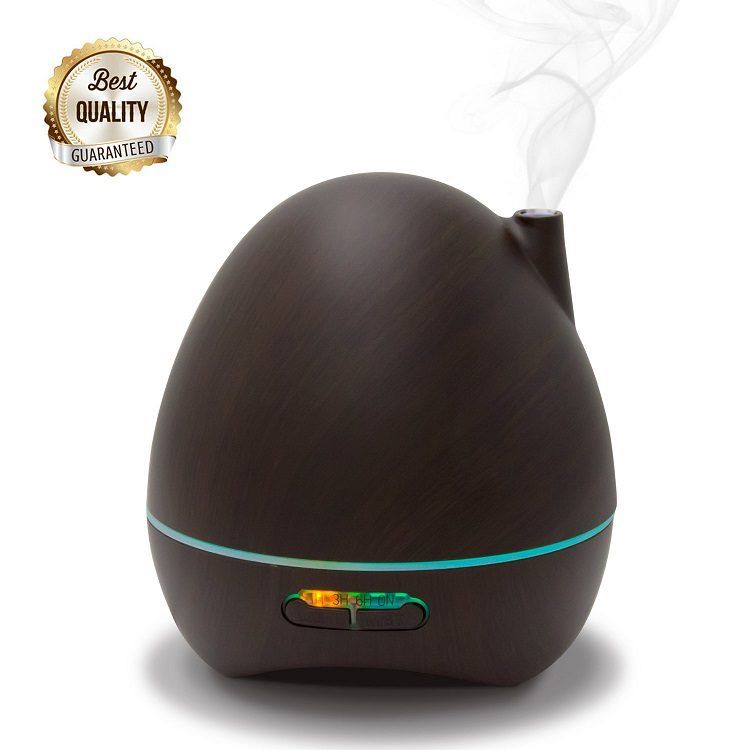 The ESEOE Essential Adjustable diffuser has a small volume, but boasts a large capacity for water, at 300ml. The diffuser has a time indicator screen, which will allow you to adjust settings to one hour, three hours, six hours, or continuous mist. The diffuser will also shut off automatically when the water level is too low.
Made out of high-quality wood grain. Seven adjustable LED lights make for a pleasant atmosphere. Each color has an adjustable tone, so you can choose from up to fourteen different colors. Ultrasonic technology makes for a quieter experience, so this diffuser won't wake you up while you're sleeping.
Pros:
Sleek model and large capacity for water
Turns off automatically when water is too low
Multiple tones allow you to choose from fourteen different colors
Cons:
No battery, this must be plugged into wall
Does not adjust to quieter mist settings
---
3. Square Essential Oil Diffuser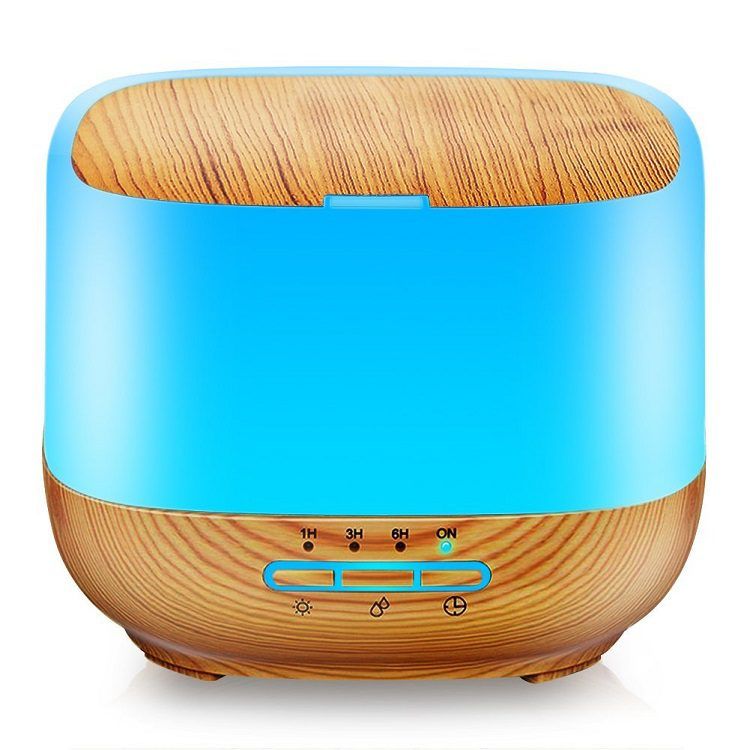 The Square Essential Oil Diffuser is a sleek, wooden model with a large LED light. Large, 500ml capacity means that you can use this diffuser for long periods of time. Add the appropriate amount of essential oils per 100ml of water. Fits into your environment like a natural decoration.
The LED light can be turned to seven different settings, or turned off entirely. Four settings on the timer allow you to run the diffuser for one hour, three hours, six hours, or a continuous setting. Noise-free, the model will remain quiet while you're sleeping. Use this diffuser for restful sleeping.
Pros:
Large, 500ml capacity
Different timer selections
Two different mist settings
Cons:
The size of the light is a little too bright for some—can't be used as a nightlight
Some complain the mist is not strong enough
---
2. URPOWER Aromatherapy Essential Humidifer

Use this waterless diffuser to help with cold, cough, dry skin, lift the mood, ease stress, and boost the immune system. This diffuser vibrates at a frequency of 2.4 million times per second, breaking the essential oils into fine micro-particles.
Does not use heat. The diffusing feature of this product ensures that the beneficial structure of your essential oils remains intact. Can be adjusted to high or low settings. Seven different colored LED lights allow you to adjust the model to the lighting setting you wish. With a powerful output, the essential oils diffused can be smelled in every room.
Pros:
Diffuses on low setting for 9-10 hours
Different adjustable LED light settings
Cons:
Some claim there isn't a difference between high and low settings
Must be cleaned at least once a week
---
1. URPOWER Aromatherapy Ultrasonic Humidifier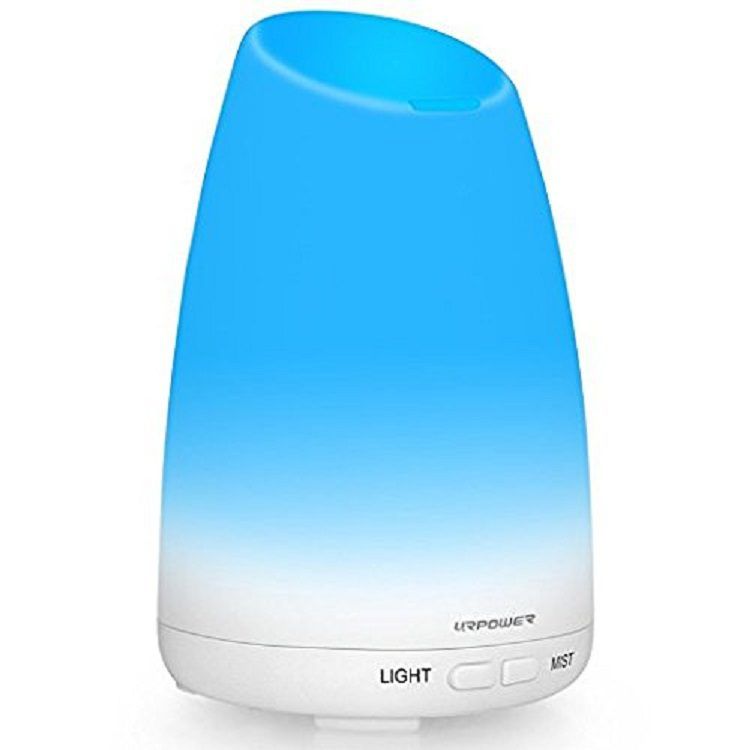 The URPOWER Aromatherapy Ultrasonic Humidifier can humidify the air, make your breathing easier, and ease colds and congestion, and much more. The small, sleek model fits nicely into just about any room. Just add a few drops of your favorite essential oil and enjoy. The diffuser will power off if it runs out of the water.
This model emits a very strong mist and will fill the rooms of your home. A green setting emits intermittent mist, while the red setting emits a continuous mist. Seven different LED light settings allow you to adjust the diffuser to your mood. Each light setting is adjustable between low and bright modes.
Pros:
Holds 150ml of water
Automatic power-off without water
Works as a pleasant night light
Cons:
Doesn't hold as much water as other diffusers
Can only use distilled water
Are There  Advantages To Owning An Oil Diffuser?
Who doesn't like a nice, sweet-smelling environment? I doubt there's anyone. Which is why aromatherapy is such a popular form of stress relief and relaxation. There's something about pleasant smells that helps to ease the mind. Here are a few benefits of oil diffusers:
Better Sleep
If you're struggling to get good sleep at night, it might be a good idea to get an oil diffuser. Essential oils have relaxing properties that can help you rest easier. They also provide a sense of calm that induces sleep and helps you rest longer. Try doing a night routine that includes turning on your oil diffuser and playing relaxing sounds like a rainstorm or ocean waves. The best oils for a good night sleep are lavender and Bergamot. 
Stress Reliever 
Believe it or not, essential oils are also stress relievers. Think about it. Don't you feel better when you smell something good? Maybe it's cookies baking in the oven or the smell of citrus. Whatever it is, it probably brings a smile to your face. That's why all diffusers are great for regulating bad moods and minimizing anxiety. They help to relax you and create a calm environment within your home. You can breathe in the wonderful smells and breathe out stress. Try using chamomile, frankincense, or lavender to help relieve stress.
Helps To Reduce Appetite
Oil diffusers help to trigger the sensors within your body that curb your appetite. Breathing in certain oils detoxifies your body and helps to reduce stress levels, which minimizes emotional eating and overeating in general. Grapefruit, orange, patchouli, and lavender are great for curving a hunger strike.
Enhances Immune Health
Many essential oils have antibacterial and antiviral viral properties then help to boost your immune system when you breathe it in. Using a diffuser helps to combat against airborne germs and keep common illnesses like cold and flu at bay. Some of the best essential oils for your immune health are peppermint, lemon, close, tea tree, and oregano. 
Acts As An Insect Repellant
You've most likely seen the outside torch lighters that are designed to ward off insects. Well, all diffusers can do the same thing. Plus, it's a more natural and safe way to repel mosquitoes instead of using harmful chemicals. You can burn oils such as lavender, cinnamon, rosemary, lemongrass, and close to help keep pests away.
Improves Respiratory Health
Breathing in essential oils helps to strengthen your respiratory system because it opens bronchial passages, and helps with conditions like a stuffy nose. Not to mention, it comebacks against bacteria that might be in your lungs and throat. Furthermore, it enhances breathing by minimizing congestion and inflammation in your airway. Try using tea tree, eucalyptus, lavender, and lemon for more natural breathing. 
Minimizes Pain
Putting oil on directly onto your body helps to relieve pain, and so does Inhaling it. When you breathe in essential oils, the fumes go into your bloodstream, which helps to penetrate aching body parts and soothes headache and joint and muscle pain.
Which Diffuser is fit for you?
Ultimately, the Ultrasonic Essential Resistance Humidifier is recommended to buy. The sleek design fits nicely into any room in your home, and the soft LED lights are not too bright and can be easily turned off. Running for 12 hours, the diffuser runs longer than most others.
When you purchase this diffuser, you'll be bringing into your home a highly therapeutic experience that lasts for a long time without your having to worry about continually filling the diffuser or turning it off. Try out the Ultrasonic Essential Resistance Humidifier today, and you'll be treating stress, anxiety, congestion, and other negative symptoms.