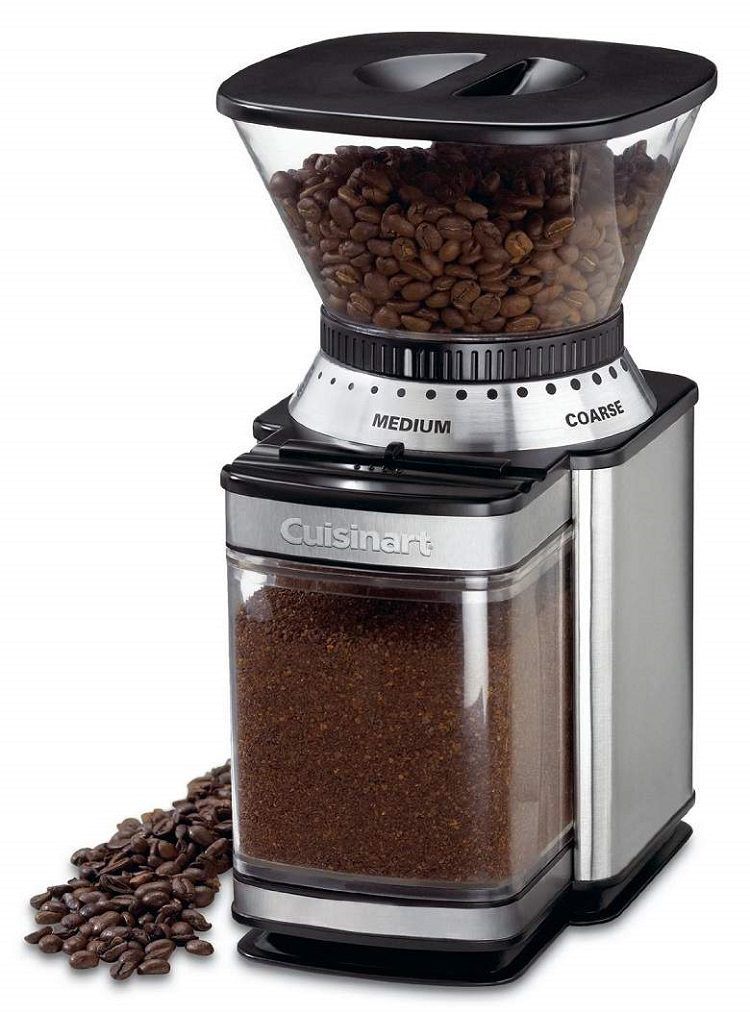 If you're a coffee drinker, you're probably aware of the difference between freshly ground coffee beans and pre-ground coffee. But it takes time, and that's why we usually reach for the bag of ground coffee in the store. I was in search of the best coffee grinder and thus created a list of my findings. If you're looking to improve the quality of your coffee, you want a coffee grinder that will get the job done quickly, so you can enjoy your cup of morning joe as soon as possible. I wanted to share some of the best coffee grinders on the market today.
There are many factors to consider in choosing a coffee grinder. What amount of coffee beans are you looking to grind? While some people choose to grind a large amount and save it, others like for the beans to be freshly ground on a daily basis. Does it matter how loud the grinder is?
Do you want an electric, or manual grinder? Some coffee grinders have other capabilities, such as grinding nuts, herbs, spices, and more. Other coffee grinders can be easily taken apart and cleaned, whereas others tend to gather residue. Read on to find out more about some of the best coffee grinders on the market today.
10. KRUPS Electric Grinder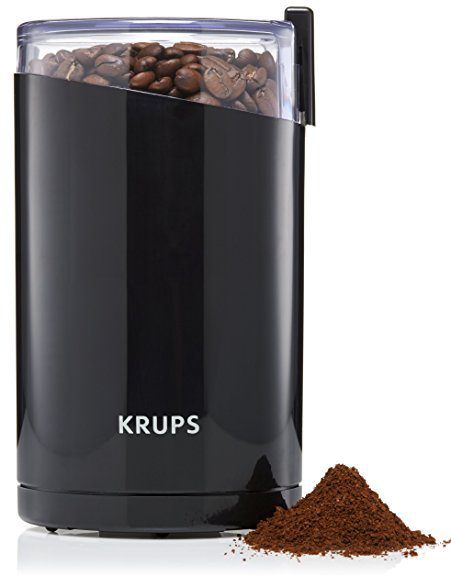 This is a versatile grinder that can be used not only for grinding coffee, but also for grinding up seeds, nuts, herbs, and spices. With a small and sleek model, this grinder is capable of grinding up to 3 ounces of coffee beans, which is equal to about 12 cups of coffee.
The oval design contributes to a finer grind, and stainless steel blades help to chop up the beans consistently. The grinder also includes a safety switch, for safer use. The 200-watt motor also helps to grind up the beans quickly—within seconds. This glossy model is certain to fit in nicely with your kitchen.
Pros:
Grinds coffee beans within seconds
Can grind up other material other than coffee beans
Blades help to finely chop the beans
Cons:
Only grinds up to 3 ounces of coffee beans
Noisier than a manual grinder
---
9. JavaPresse Manual Coffee Grinder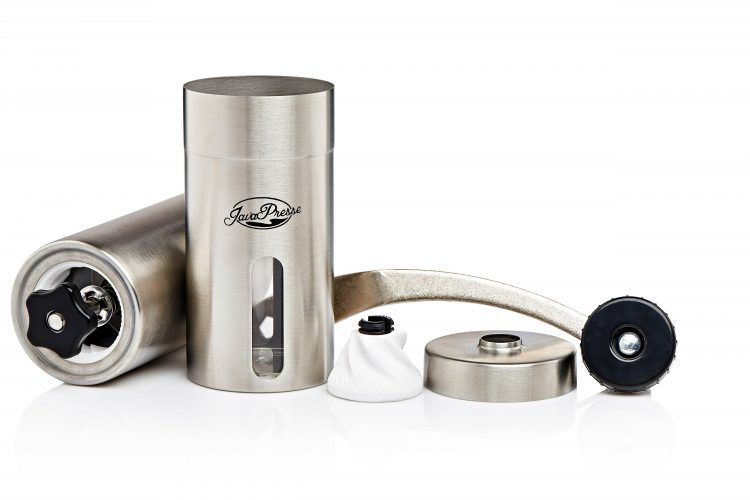 Though this is a manual grinder, 18 different settings mean that you can control the coarseness of your grind, in order to brew different types of coffee—for example, pour over, drip, cold brew, Keurig k cups, and more.
Since you don't need to use electricity to power this coffee grinder, it can be taken just about anywhere, such as hiking, camping, the office, and more. The grinder is also very quiet, meaning you won't disturb your housemates in the morning. The professional grade blades are said to last up to five times longer than regular stainless steel blades.
Pros:
Has up to 18 different settings

No loud electric noise

Does not require batteries, cords or power
Cons:
Requires manual work rather than electric

Some complain that it is difficult to adjust the settings
---
8. Mr Coffee 12 Cup Electric Grinder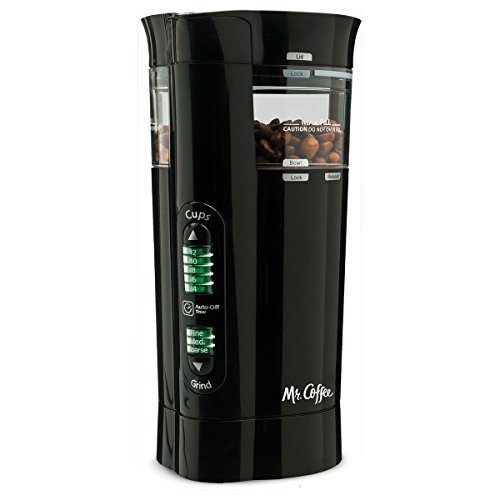 With three grinding settings and a flip top lid, this coffee grinder is easy to clean and comes with a bowl scraper to remove stuck grounds. It measures 4.5" by 8". For a precisely brewed pot of coffee, this coffee grinder is capable of grinding up the equivalent of twelve cups.
The grinding chamber is also dishwasher safe, and the cord can be stored in the storage area. A wider opening means that you'll be able to easily pour your coffee grounds into a storage container. The Chamber Maid Cleaning System eliminates coffee residue from the inside of the chamber.
Pros:
Comes with a scraper to clean stuck grounds

Grinds up to twelve cups of coffee

Wider lid allows for easier pouring
Cons
Only three settings

Some complain that the grinding isn't consistent
---
7. KRUPS GX5000 Professional Coffee Burr Grinder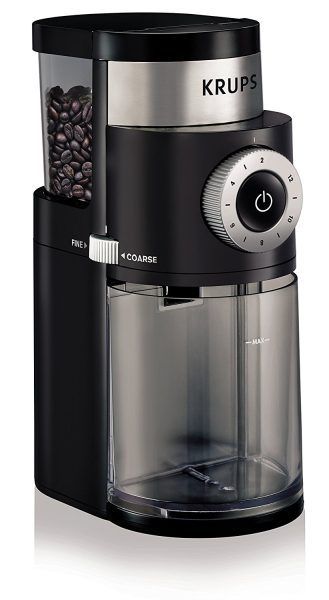 This professional coffee grinder is capable of grinding up to seven ounces of coffee beans. The model has temperature-protected capabilities, so you won't burn your coffee beans, and you'll preserve the aroma.
With 200-watts of power, nine grind levels with five different functionalities apiece mean that you can make just about any type of coffee brew, from espresso to French press. 2-12 cups of coffee can be made with this coffee grinder. The top burr can be removed for easy cleaning. Nuts, seeds, herbs, and spices can be ground with this model as well. The removable fifteen-ounce container can be easily cleaned as well.
Pros:
Grinds up to seven ounces

Nine different grinder settings

Can grind nuts, seeds, herbs, and spices
Cons:
Lid must be exactly in place, or grinder won't operate

Some complain that the grind is not consistent
---
6. Cuisinart DBM-8 Supreme Grind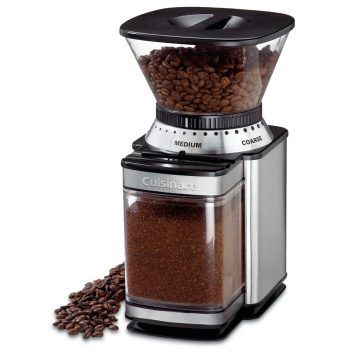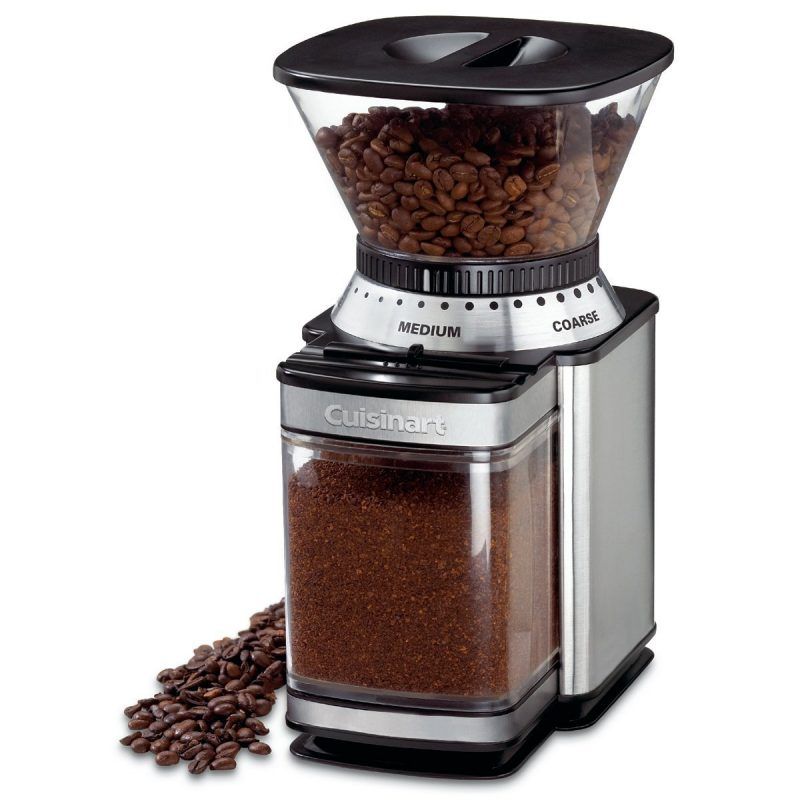 This large coffee grinder includes a "mill" at the top, so that large amounts of coffee beans can be ground, making up to 32 cups of brewed coffee. With a heavy-duty motor, up to 18 different positions can be selected, for the variation of uniform grind that you want—from extra fine to extra coarse, for any drip, filter, or pour-over method. It includes a scoop, cleaning brush, and an eight-ounce bean hopper. When the grind cycle has completed, the electric timer will shut itself off. Comes with a scoop and cleaning brush as well.
Pros:
Can grind up to 32 cups of coffee

18 position grind selector

Electric timer shuts the grinder off when complete
Cons:
More difficult to make smaller amounts of coffee

Difficult to set grind sizes
---
5. KitchenAid BCG111OB Blade Coffee Grinder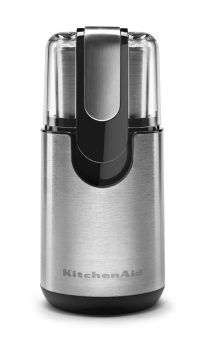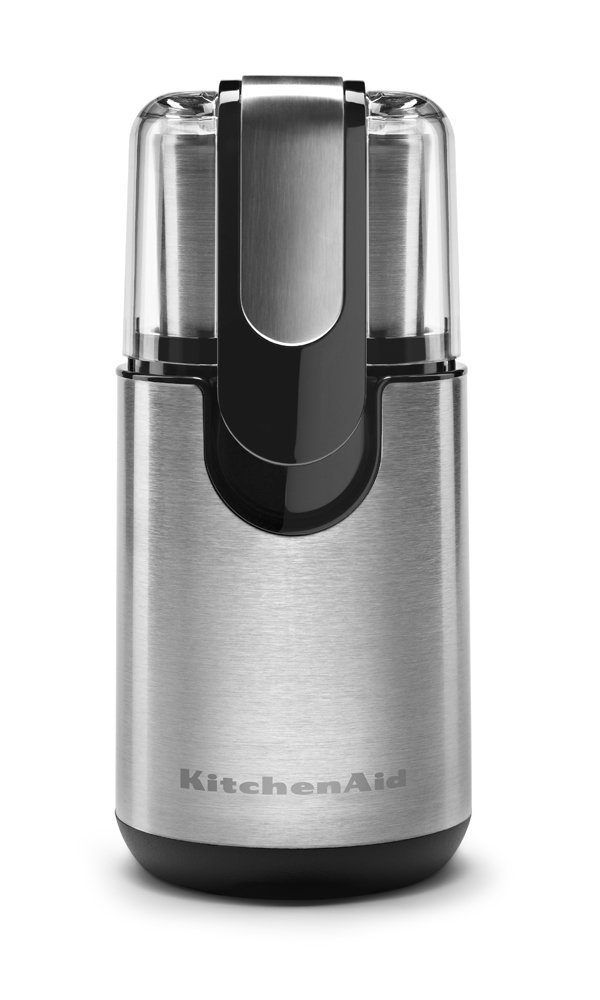 This clear top coffee grinder can be operated by pushing down on the grinder and loosening grip to stop the blades. This model makes 4, 8, 10, or up to 12 cups of coffee. The four-ounce stainless steel capacity bowl can be easily removed from the model. The stainless steel grinder blades are heavy duty, and can quickly and consistently grind your coffee beans.
Comes with stainless steel grinding bowls that can be used for spices. The clear top cover allows you to gauge whether your grounds are coarse or fine. The model offers durable, powerful performance, allowing you to drink coffee in whichever brew style you choose.
Pros:
Stainless steel blades quickly grind up coffee

Stainless steel capacity bowl

Comes with grinders for spices
Cons:
Only makes up to 12 cups of coffee

The push down feature takes some force to operate
---
4. Chefman Electric Grinder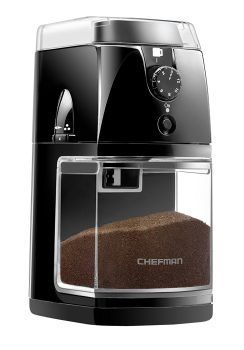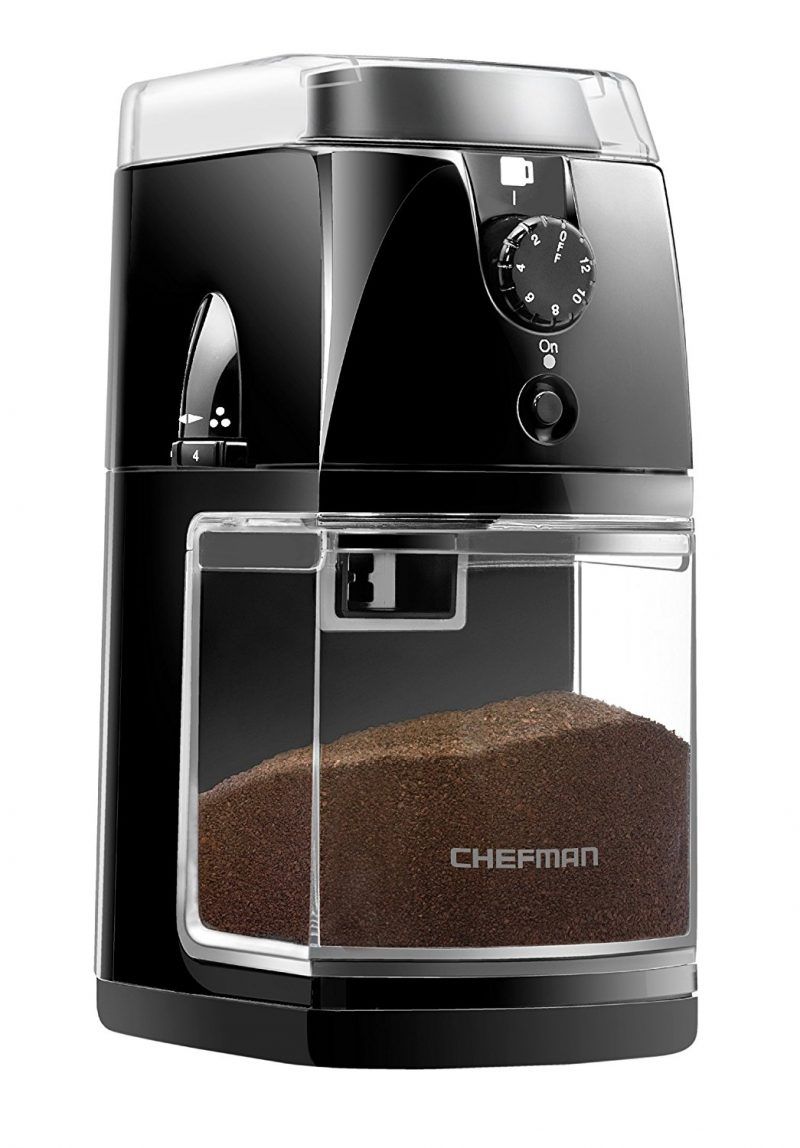 The powerful Chefman Electric includes 17 different grinding options, from your finer grind for espresso, up to coarse grounds for a French press. The 110-watt motor will grind uniformly and smoothly, allowing you to choose the strength of coffee you prefer. Easy to clean, this model is dishwasher-safe, as you can remove the container and blades for washing.
Makes anywhere from 2-12 cups of coffee. The container snaps in tightly, preventing against debris. The mill system prevents your beans from overheating and burning. This model is very quiet and doesn't sound as harsh as other coffee grinders.
Pros:
17 grinding options

Mill system protects beans from overheating

Dishwasher safe
Cons:
Only makes up to 12 cups of coffee

Only has a 110-watt motor
---
3. Khaw Fee Grinder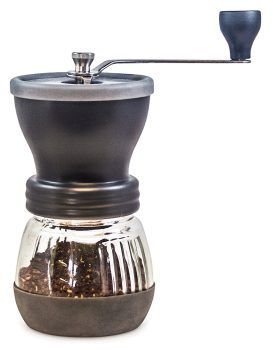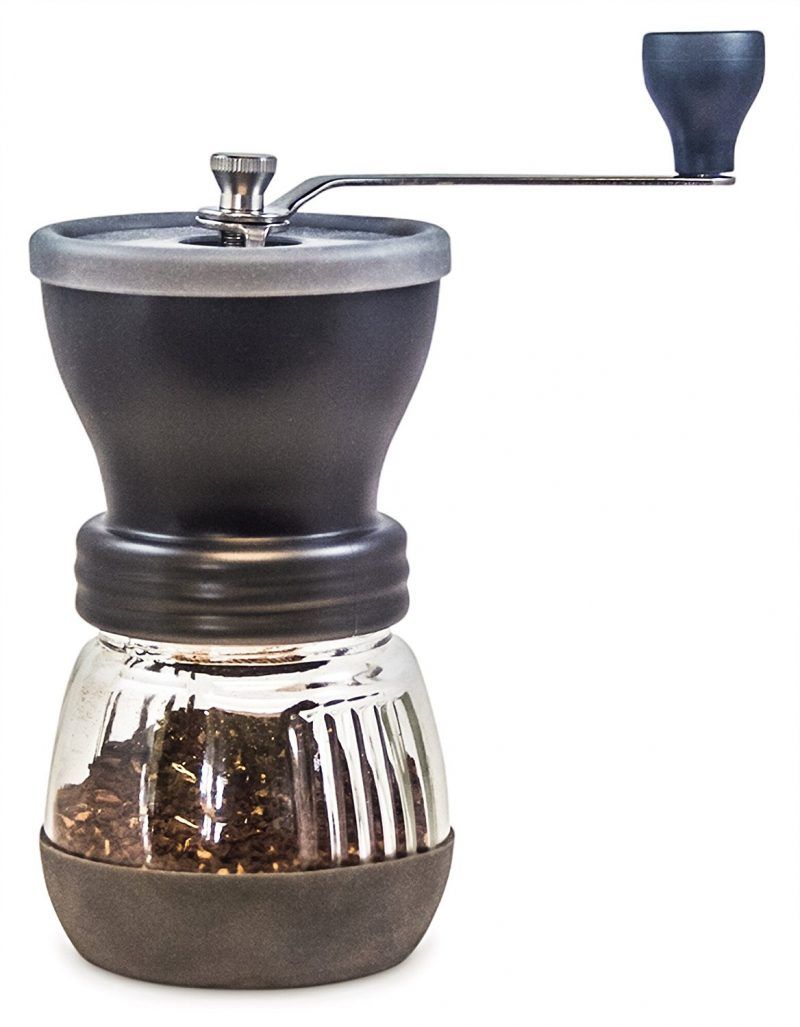 Made out of ceramic and stainless steel, this coffee grinder is intended to last a long time. With a hand-crank mill, this model isn't loud like other electric grinders—it won't disturb people that or sleeping, or your coworkers in the office.
Without an electric cord, this can be used while hiking or camping, or just about anywhere. Precision grinding means that you can make espresso, French press, drip, or just about any kind of coffee style. The removable silicone base allows you to easily clean the model, and a rubber top prevents any grinds from spilling.
Pros:
Hand crank mill is quieter than an electric coffee grinder
Can be used anywhere
Cons:
Hand crank mill requires labor

Doesn't grind as quickly as an electric coffee grinder
---
2. Ninja Electric Coffee Grinder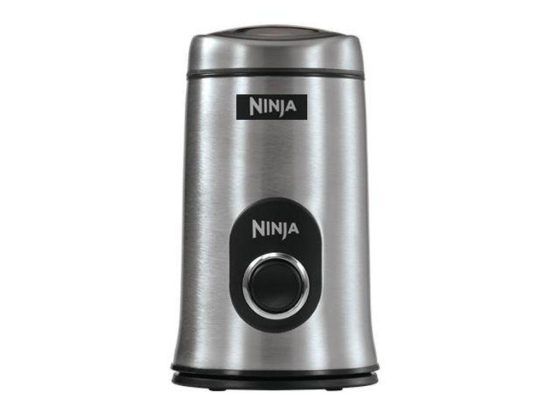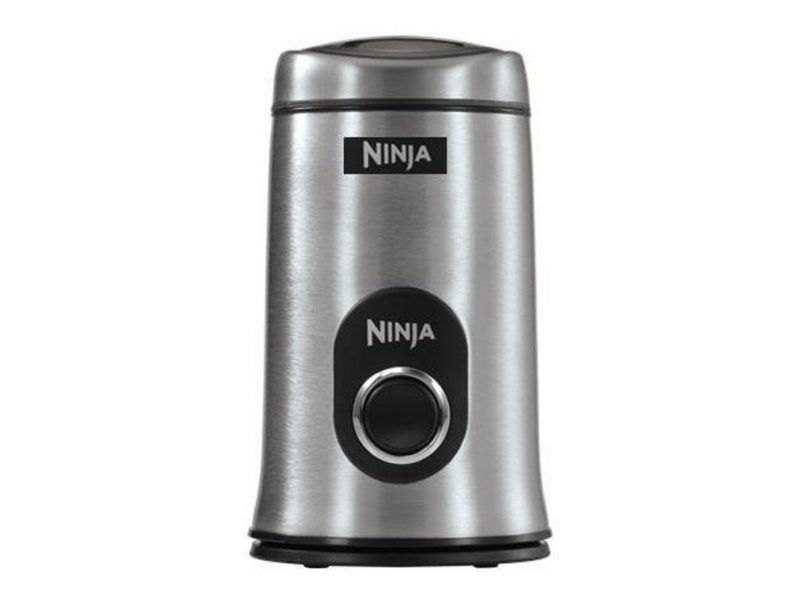 This speedy little grinder is not only used for coffee but can be used to grind up herbs and spices as well. This 150-watt model can quickly grind up coffee to the consistency you desire, from very fine to coarse. The clear top allows you to easily view the texture of the grind. The automatic grinding system can be activated at the touch of a button, and the fast grinding blades work quickly. Made out of brushed stainless steel and plastic, the model boasts a quiet sound and is small enough to be tucked away in a cupboard.
Pros:
Can be used to grind up herbs and spices

Can be easily cleaned

Can be used for herbs and spices
Cons:
Made out of plastic

Button must be held down—not automated
---
1. Quiseen One-Touch Electric Coffee Grinder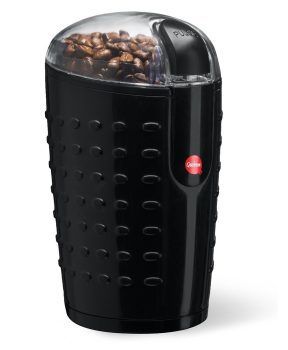 This electric one-touch coffee maker has efficient, stainless steel blades. The body allows you to easily hold onto the coffee grinder as you let the blades do the work. Works at the touch of a button.
The transparent lid also allows you to easily see the grind. The 2.5-ounce capacity will make up to seven cups of coffee. The built-in power cord can be easily stored inside of the container. This grinder typically makes a coarser grind and should be used for smaller portions. This model won't take up much room on your countertop, either.
Pros:
Efficient, stainless steel blades

Can also be used for nuts, herbs, and spices

Doesn't take up much space
Cons:
Only makes up to seven cups of coffee

Blades only allow for a coarse grind
The Various Types Of Coffee Beans
Now that you've decided to venture into the world of grinding fresh coffee, it's time to get educated about the different kinds of coffee beans out there. Here are the four primary coffee categories:
Arabica Beans
Arabica beans are one of the most popular types of coffee beans. However, roasts from Arabica coffee beans generally have higher quality and are more expensive. Also, these beans are more acidic in comparison to others, and most cafes serve coffee from Arabica beans. Furthermore, Arabica coffee beans are grown in Latin American, but the taste can vary depending on the region.
Robusta Beans
Next on the list is the second most used coffee bean, which is Robusta. It consists of more caffeine than Arabica beans, and it's usually sold in grocery stores. Plus, many coffee companies create blends of Robusta and Arabica. These are primarily grown in Africa and Indonesia, and they are easier to grow than Arabica beans because they flourish in various altitudes. Furthermore, Robusta has a more bitter taste, which makes it perfect for making expresso, and it blends well when mixed with cream and sugar.
Liberica
You won't get Liberica beans in the United States, but if you happen to take a trip to the Philippines, you can find them. They have a smooth, fruity aroma and create coffee that has an earthy, smoky flavor. 
Excelsa
Excelsa beans are the rarest form of beans, and they are grown in Southeast Asia. They are similar to Liberica beans but produce a sweet and sour flavor.
How To Roast Your Coffee
The range of roasting coffee ranges from light to medium to dark and the color of the coffee varies from light brown hue to a deep black color. The depth of the coffee flavor depends on how long the beans are roasted. 
Light Roast
Light roast has the mildest flavor, and it provides more flavor of the beans. Since there isn't much of a roasted taste, it allows more of the original taste to come through.
Medium Roast
Medium roast beans have a deep brown color and contain less acidity than light roast. It has a sweet, toasty flavor that's a favorite amongst coffee drinkers.
Dark Roast
To get dark coffee, you roast the beans until they caramelize and the oils come out of the bean. You'll know when it's dark roasted because the bean will have a glossy look. Also, dark roast coffee beans have a thick, smoky flavor with low acidity. However, because of the intensity of the roasted flavor, you won't get the flavor of the bean.
Final Thoughts On Coffee Beans
Coffee is more than a drink; it's an experience. Once you start grinding your own coffee, you open a whole new world of caffeine. There are so many options and flavors; you'll never get bored. Hopefully, this article provided you with the information needed to help you brew the best cups of coffee. Your mornings will never be the same!
Which Coffee Grinder Will Fit Your Needs
Out of these ten coffee grinders, the KRUPS GX5000 Professional Coffee Burr Grinder is recommended. Since it's able to grind up herbs, nuts, spices and other foods, this makes for a highly versatile kitchen product. With 200 watts of power, this coffee grinder is a stronger model than others, and will easily grind your coffee beans to the consistency you desire.
As it also prevents against overheating of coffee beans, you'll never have to drink a less than desirable cup of burned coffee. Since the top burr is removable for cleaning, there's less a chance of sticky residue staying on the blades. It would seem that 12 cups is a happy medium for coffee drinkers—it's not always necessary to make 32 cups of coffee. For the price and the model, the amount of coffee is a good trade-off.
When you purchase a coffee grinder, you want it to be efficient enough to grind the beans smoothly, but flexible enough to have different types of coffee. A plus is being able to use the grinder for different means, such as herbs, nuts, spices, and so on. A good coffee grinder shouldn't just be a coffee appliance; it should work for the rest of the kitchen as well. With the KRUPS Coffee Burr Grinder, you have all the versatility you need.