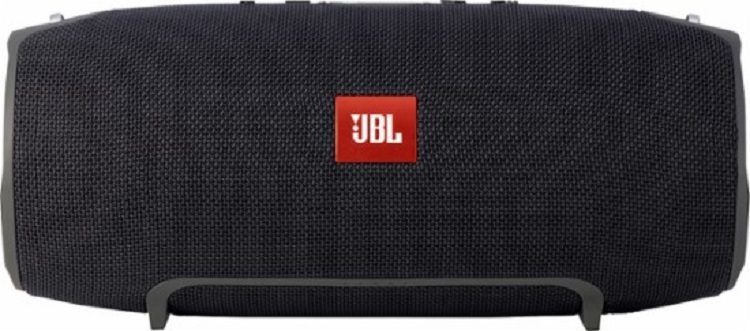 In the past, Bluetooth speakers were often of debatable quality. Most people would tend to spring for the traditional USB speakers — they'd offer a more consistent, higher-quality sound. With the advancements in Bluetooth technology, many businesses have sprung to jump on the market — nothing is more convenient than being able to carry around your speakers in your pocket, as opposed to finding somewhere to place bulky USB speakers.
Since so many major businesses are jumping on the trend, there are countless Bluetooth speakers to choose from. Most of them have the same basic features — the ability to connect to most Bluetooth-compatible devices, the ability to control volume — while some others have more higher-end features, such as the ability to charge other devices!
In order to help you decide what Bluetooth device is best for you — we've compiled ten of the best Bluetooth speakers as well as a list of their pros and cons.
10. OontZ Angle 3 Portable Bluetooth Speaker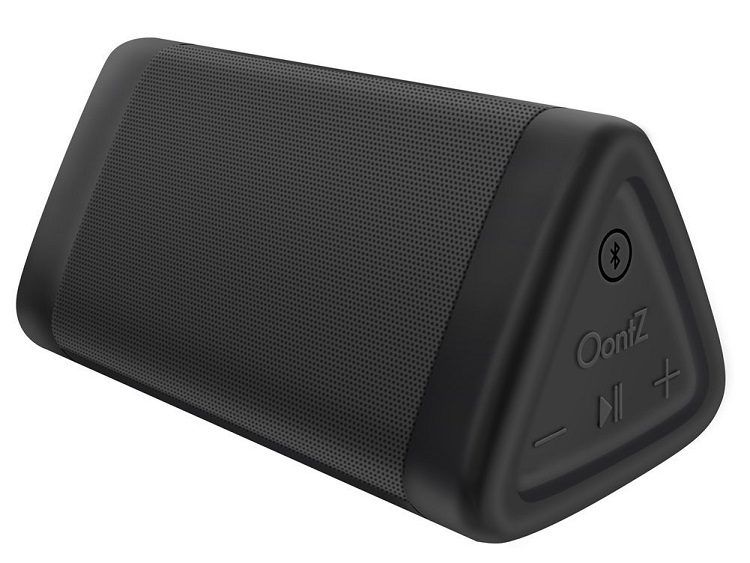 To start off, the Oontz Angle 3 Portable Bluetooth Speaker offers a lot of features for its low price. This particular Bluetooth speaker is waterproof — making it perfect for those that want to listen to music or podcasts in the shower, or, of course, for pool parties. Not every Bluetooth speaker is waterproof, meaning that this is the best option for you if you need a waterproof option.
Pros:
• Impeccable Sound
This speaker has impeccable sound for its size. While many people might think that the size might result in lower sound quality, the engineers behind the OontZ speaker made sure it has the best sound for its size.
• Waterproof
As aforementioned, one of the main selling points of this speaker is that it is waterproof. It is absolutely perfect for anyone that lives their life by the water — you don't have to worry about splashing or dropping it in the water.
• Portability
Given its size, this Bluetooth speaker is perfect for anyone on the go. You can bring it just about anywhere with ease — and not have to worry about lugging a huge speaker around.
Cons:
• Occasional skipping
Some people have reported that the speaker has occasional skipping when their phone is too far away — this complaint, however, doesn't appear to be too frequent.
---
9. AmazonBasics Wireless Bluetooth Dual 3W Speaker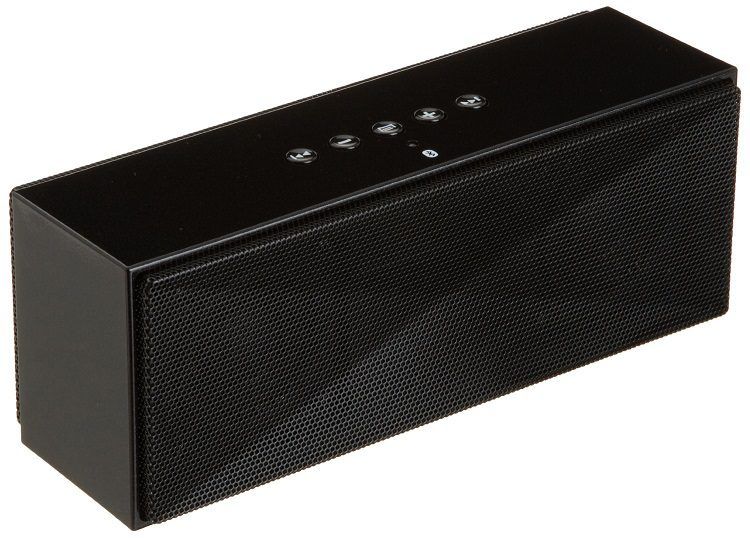 If you're looking for a slightly more basic speaker, the AmazonBasics Wireless Bluetooth speaker is perfect for you! While this particular speaker does not have the same waterproof features of the aforementioned speaker, it does have its own amazing features — for example, if you have this speaker connected to your phone, you can very easily take calls with this speaker!
While some might worry that the microphone isn't of the best quality, there are many reviews that state otherwise. Many people have stated that they've used this Bluetooth speaker in conference calls, and have had impeccable results — with everyone being heard clearly in the call.
Pros:
• Make & Take Phone Calls
One amazing feature of this speaker is the ability to take and make phone calls with ease. You can easily make phone calls while cooking, or doing anything else — making keeping in touch a breeze!
• Usable Anywhere
As is the case with most portable speakers, you can easily use this speaker anywhere — and, due to its relatively simple design, you can put it anywhere without worrying about knocking it over!
• Extended Range
This particular device allows you to play audio from your Bluetooth devices up to 30 feet away — whereas some other speakers may have a smaller range.
Cons:
• Not Waterproof
If you're looking for a waterproof speaker, you are, unfortunately, going to need to go for another speaker. This particular speaker is not waterproof.
• Extended Charging Times
Many people have stated the speakers have longer charging times than other Bluetooth chargers. This might not be an issue for some, however, it might turn some away to other speakers.
---
8. Antimi Bluetooth Speaker, FM Radio Player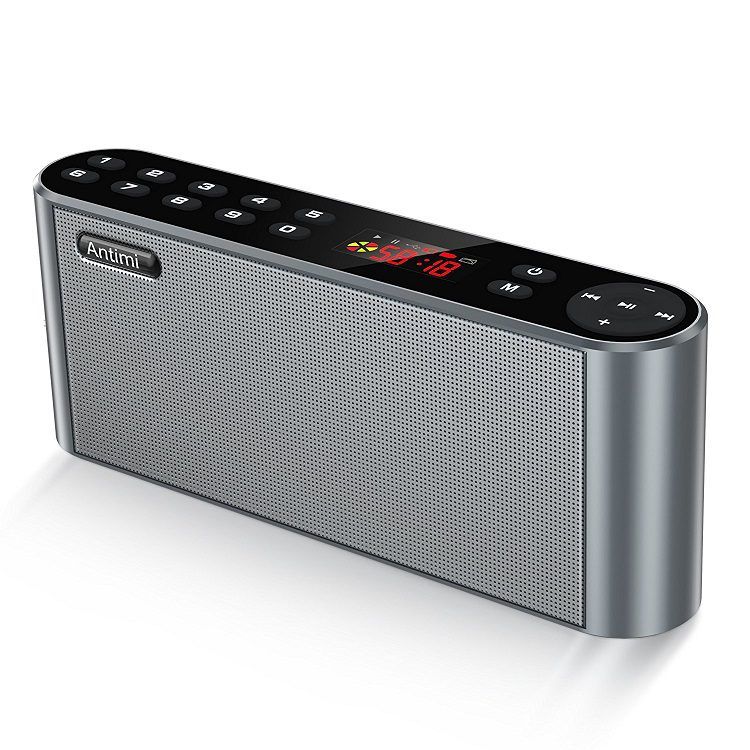 The Antimi Bluetooth speaker is truly a unique product — it has all of the features of a Bluetooth speaker, of course, while also having the features of an FM radio. If you're looking to have both a Bluetooth speaker and an FM radio, this speaker is perfect for you!
This speaker also has some other unique features. While it does also include the same ability to take phone calls featured in the AmazonBasics speaker, this speaker will allow you to view its remaining battery life directly from the Bluetooth device it's connected to — meaning you'll never have to worry about losing charge!
Pros:
• FM Capability
This speaker has FM radio capabilities — if you ever have the urge to listen to the radio, you can with ease.
• Making & Taking Calls
If you liked the feature of the AmazonBasics speaker listed before to make and take phone calls, this speaker offers the same feature – and then some!
• Charge Display
As aforementioned, the charge level of the speaker is actively displayed when connected to a Bluetooth device – so you'll always know how much charge is remaining.
Cons:
• Not everyone will have a use for the FM speaker capability — if you're not overly crazy about that feature, there are likely other speakers that have the features you'll actually use.
• Many people have stated they've had issues finding a station they want with the FM radio player — stating they have issues getting it to stay at one station.
---
7. Sony XB20 Portable Wireless Speaker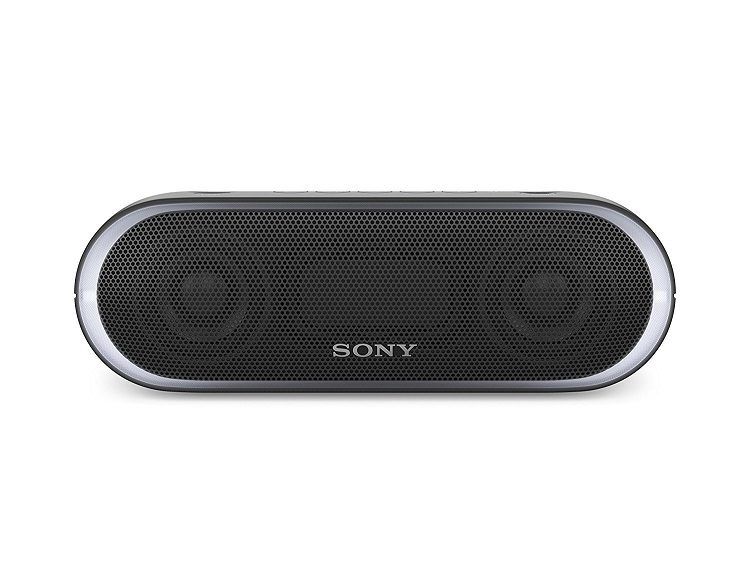 The Sony XB20 Portable Wireless Speaker is one of the best speakers on the list for those looking for a truly immersive experience. This particular speaker has improved bass — adding much higher volume and making the sound more immersive.
Additionally, you can connect this particular speaker to other speakers of the same type — meaning you can use two or more speakers for even better sound.
Pros:
• Improved Bass
As aforementioned, this speaker has improved bass — meaning your listening experience will be all the better when using this speaker.
• "Chain Listening"
When you have more than one of these speakers, you can very easily link them together in order to increase your volume and quality.
• You can add a splash of color to your speaker with a built-in line light — allowing you to choose from a variety of colors.
Cons:
• Other makes of this particular speaker have the ability to charge your phone — unfortunately, however, this make does not.
---
6. JLab Audio House Party Wireless Multi-room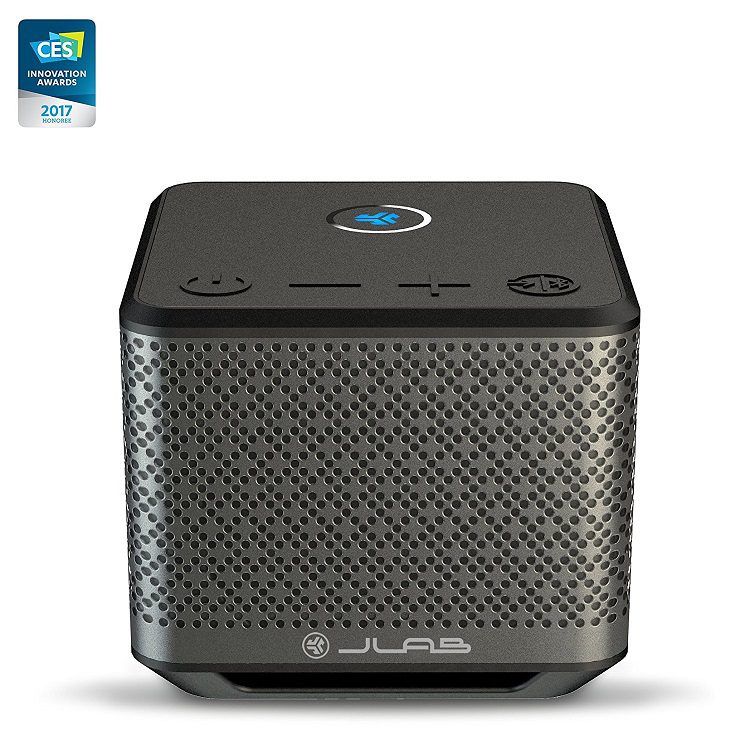 This speaker can be connected with up to 10 other speakers of the same make, in order to give an amazingly immersive experience throughout your entire house — regardless of where someone is in your home.
Pros:
• Immersive Listening
This speaker can be connected with up to 10 other speakers of the same type, allowing for a very immersive experience.
• Simple Design
The simple design of this speaker makes it easy for anyone to use — regardless of how experienced you have with Bluetooth speakers.
Cons:
• This speaker is one of the priciest listed thus far — meaning it might not be as good of a fit for everyone.
• Some people have had issues with volume — reporting it is lower than most other Bluetooth speakers.
---
5. JBL Charge 2+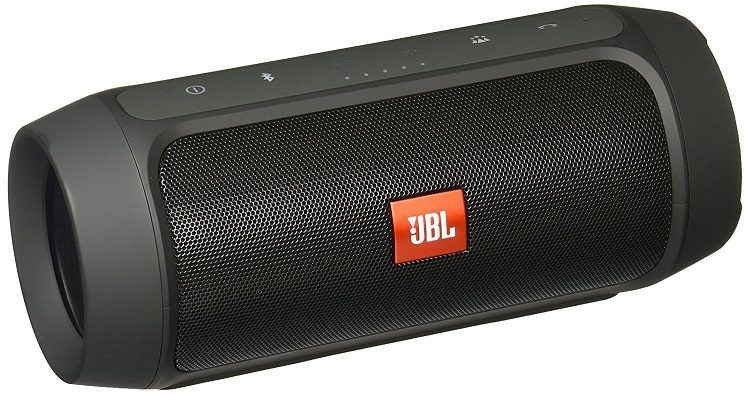 The JBL Charge Bluetooth speaker is what is commonly referred to as a "pill speaker." Its small size makes it easy to bring it wherever you go — while still boasting superior sound. Similarly to other speakers listed, the JBL Bluetooth speaker is waterproof – giving anyone looking for a waterproof speaker even more options.
Pros:
• Waterproof
Similarly to other listed speakers, this product is waterproof — a big pro for many people.
• Sleek Design
This speaker has a very sleek, simple design — the simple design of this speaker makes it easy to place it anywhere without any worry about clashing.
• Variety of Color Options
If you're the type of person that wants a variety of color options for your speaker, this is a perfect choice — depending on where you buy it, there are a variety of color options, from standard black to teal and pink.
Cons:
• Some reviewers have reported issues with build quality — noting easy wear and tear.
---
4. Sony XB10 Portable Wireless Speaker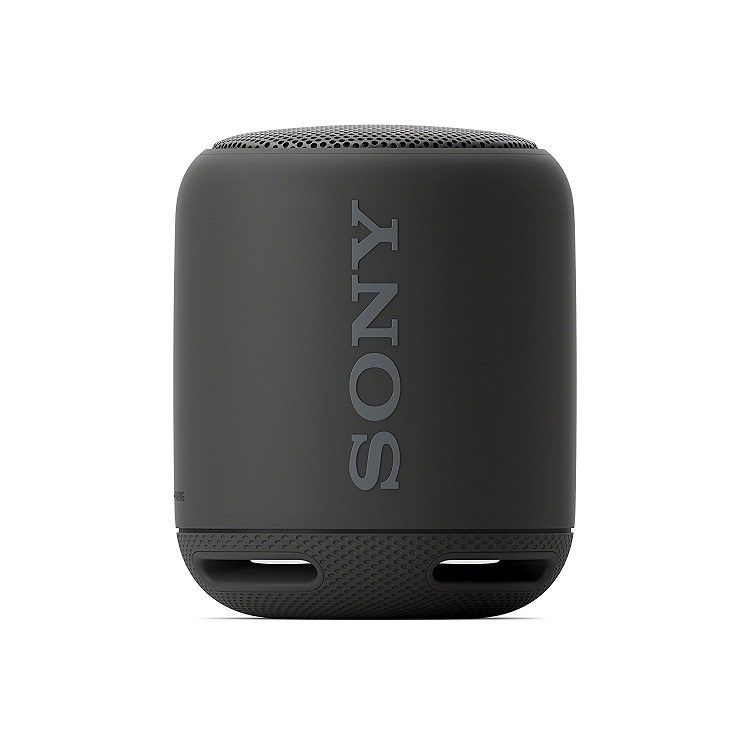 The Sony XB10 is a different model of a previous speaker, the Sony XB20 – as a result, it does have most of the same features — such as being able to link up with other speakers, and, of course, improved bass.
Pros:
• Cheaper Option of the Sony XB20
The Sony XB10 is a similar model with most of the features in the XB20 at a lower cost.
• Improved Bass
As aforementioned, this speaker has improved bass — meaning that your music will be of higher quality for audiophiles.
Cons:
• Similarly to the XB20, this speaker cannot charge your phone, whereas other, more pricey models of the same speaker have this feature.
---
3. Beats Pill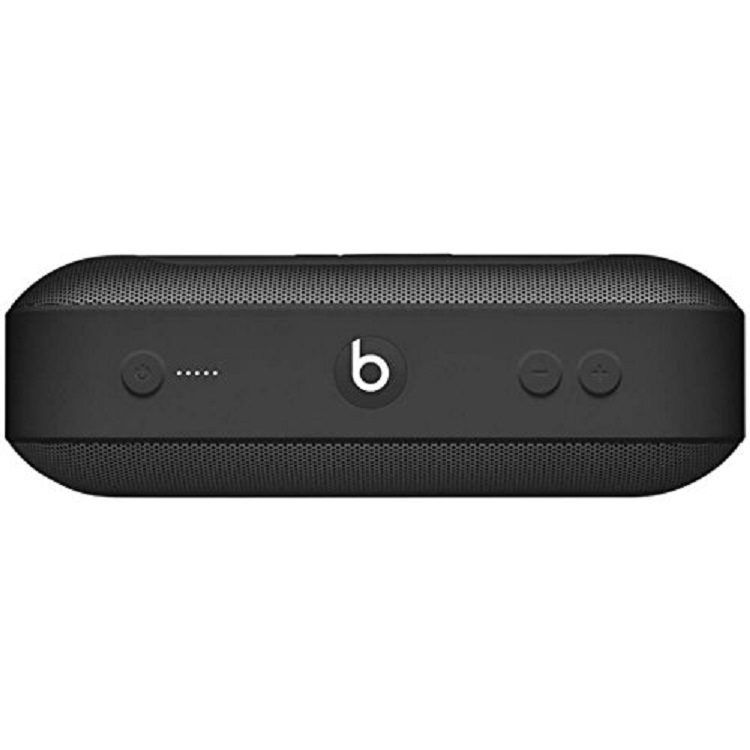 Beats is one of the biggest names in the speaker industry as of late — and for good reason. The Beats Pill speaker is one of the most renowned speakers on the market due to the reputation the brand has built for themselves — so, how does it stack up compared to the rest?
Pros:
• Great Sound
As with most of these speakers, the Beat Pill speaker has amazing sound for its size.
• Color Options
Similarly to other speakers on this list, the Beats Pill speaker comes with numerous color options — such as black, white, red, and green.
Cons:
• Many people reported the bass is not as good as it should be – however, some argue you just need to find the "right spot" to put it.
---
2. Bose SoundLink Micro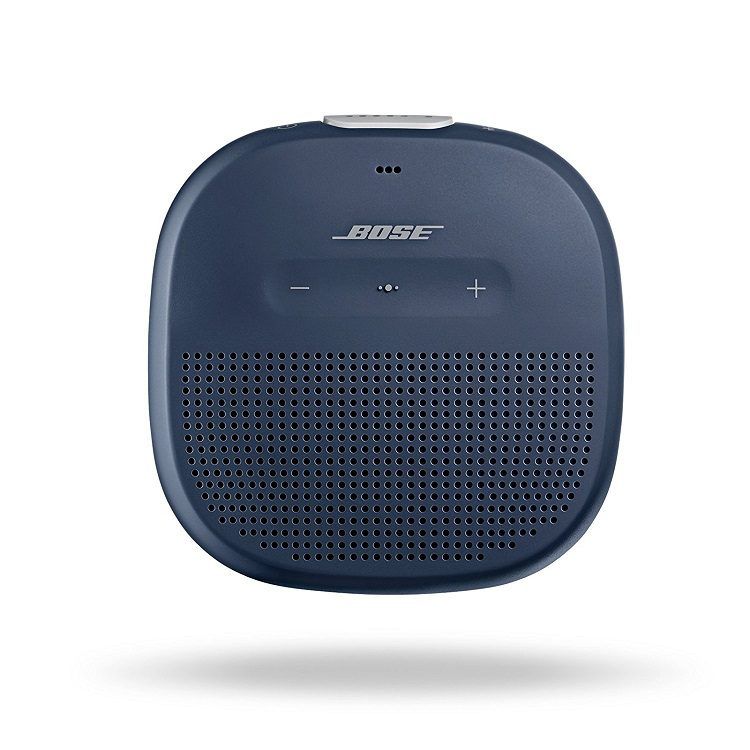 The speaker offers amazing versatility for its price, however — offering a clip for you to clip it on to your backpack, and, of course, being waterproof.
Pros:
• This speaker is the most portable of all speakers listed thus far — hikers can easily clip this speaker onto their backpack should they want to listen to music while on a hike.
• Like other speakers, this speaker allows you to make and receive calls with ease.
• This speaker boasts amazing, crisp audio for its size — despite being the smallest, most portable speaker listed.
Cons:
• This speaker has the lowest battery life — only lasting 6 hours on average.
---
1. JBL Flip 3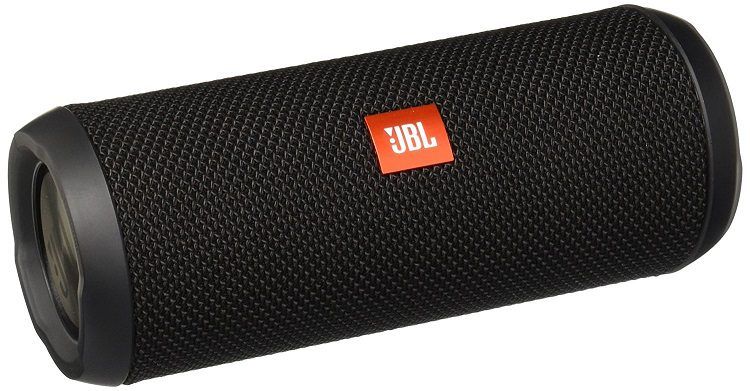 Last but not least is the JBL Flip 3 – another splashproof, durable speaker boasting great sound for its size. While this speaker is also on the pricey side, the features it has — such as being able to connect up to three devices at once as opposed to just one, and the ability to take phone calls — more than makeup for the price.
Pros:
• Since this speaker is splashproof, you can rinse it off without any worry.
• Connecting up to three devices is a breeze — making it easy to switch from device to device when you need to.
Cons:
• This device is splashproof — not fully waterproof, meaning it cannot be fully submerged in water.
• This speaker does have a slightly lower battery life than the average speaker on this list — most speakers last about 12 hours, however, this speaker lasts 10.
The Best Places To Use A Bluetooth Speaker
With so many gadgets available for portable listening, you might not see the use for a Bluetooth speaker. However, it's one of the only speakers you can use that play music at a high volume without disturbing your neighbors. Here are a few places that you can carry a Bluetooth speaker:
Cookouts
A cookout isn't complete without music. The good thing is, you can take a Bluetooth speaker anywhere, and no matter if you're in the backyard or the park, you can have a good time. It isn't quite like a boombox, so it won't irk other people who aren't apart of the party. Just put on an awesome playlist and have a ball.
Around The House
Let's face it; sometimes you need a few tunes to help to pump you up. Maybe you like to hear music while you're cleaning or cooking, or you need a pick-me-up in the morning. No matter what your reason is for blasting your favorite songs, a Bluetooth speaker can help get the party started.
The Pool
How many times have you been hanging out by the pool and felt the urge to hear some sweet beats? Well, a Bluetooth speaker makes doing that a lot easier. You can easily transport it in your bag and set it up on the side of the pool or a pool chair. It's a fun way to turn a basic swim into a pool party!
At The Beach
The beach is another place where music makes the day better. While your friends and family are running in and out of the water or building sandcastles, you can play some good tunes to pump things up a bit. 
In Your Garage
If you're working on a project in your garage, things can get kind of boring. Taking a Bluetooth with you to spice things up can keep the environment from being so quiet. If you're someone who likes to have music playing to help you think, this is the perfect option for you.
Girl's Night In 
When you want to hang out with friends and have a good time while spending time indoors, a Bluetooth speaker is an excellent way to make the party more lively. You and your friends can laugh, sing along, and have the time of your lives. Plus, it doesn't have to only be a girl's night in. This option is suitable for anyone who wants to have a blast while spending time with friends and family.
Anytime Anywhere
The best thing about Bluetooth devices is that you can take them wherever you want. They are small and lightweight, so you don't have to worry about them taking up lots of room. Things have changed a lot since the '80s and '90s, and Bluetooth's are the new and improved boom box. Anytime you want to get a party started, just go for it!
Which Bluetooth Speaker Should You Buy?
There is definitely no shortage of bluetooth speakers to choose from. The increasing number of bluetooth speakers is favoring the consumer especially with brands such and Sony and Bose having to drop prices to remain competitive. After reviewing what I feel to be the top 10 speakers for the money and personal use I believe one stood out.
I chose the JBL Flip 3 as my top pick. This speaker offers functionality, battery duration and awesome sound. This combination makes this speaker great for outdoors, indoors, as a gift or just for someone wanting to casually listen to music.
Do yourself a favor and read all of the reviews to find which one will be best for use. Determine what you will be using it for, what your willing to spend, and places you want to use it.