Cheesy Sausage Potatoes are the perfect one dish meal for any last minute dinner!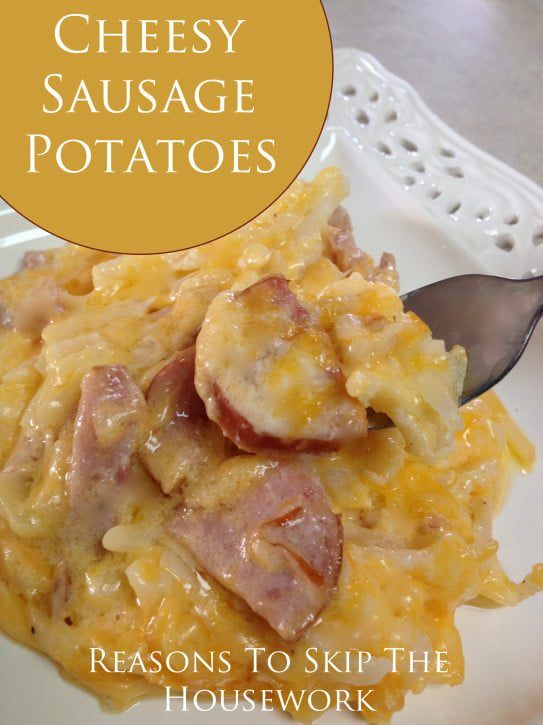 Call it breakfast for dinner, or a redneck casserole….whatever you want.  I call this freaking delicious!  I love that it's super easy to toss together, and I love that the ingredients are all things that I can buy when I see them on sale and freeze.
It's the kind of recipe you can decide upon at 3 pm because you forgot to thaw the meat out for the pot roast, or because you completely forgot that you actually have to cook dinner and not just get Taco Bell for dinner every night!
It's an easy, yummy, one pot dish that makes for super delicious breakfast leftovers the next day too!
Cheesy Sausage and Potatoes
Author:
Prep time: 10 mins
Cook time: 45 mins
Total time: 55 mins
Ingredients
1 pkg. Smoked Sausage
1 bag (20 oz.) refrigerated shredded hash browns
2 cups ( 8oz.) shredded cheddar cheese
1 cup sour cream
1 medium onion, chopped
1/4 cup butter or margarine, melted
1/4 tsp. black pepper
Instructions
Preheat oven to 350 degrees.
Spray 13 x 9″ baking pan with non-stick cooking spray.
Cut sausage into 1/2″ cubes.
Combine all ingredients in a large bowl.
Spread mixture evenly in a prepared pan.
Sprinkle added shredded cheese on top as desired.
Bake 40-45 minutes or until bubbling.
Let stand 5 minutes before serving.
3.2.1199
3.2.1199