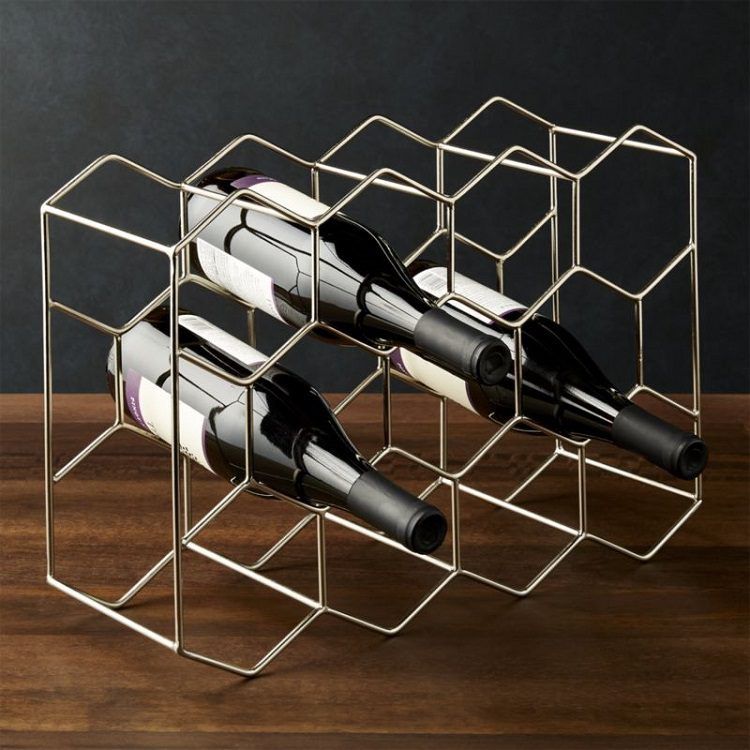 You've invested good money into your wine collection, and you want to show off those fabulous wines while keeping them safe. Are you currently searching for the top wine rack? Stacking wine in your cabinets takes up valuable space and only a few wines are visible at a time. Countertop wine racks save space in your cabinets and clearly display wines, but they take up room on your counter.
Stand-alone wine racks can look sharp and save room in your kitchen, especially if you have a lot of wine to store, but a stand-alone rack will be a new piece of furniture in your space, which you may or may not have room for.
Wine racks come in a variety of materials and designs to match your sense of style. Choose a lightweight, sturdy bamboo wine rack with a golden color that looks airy and sharp in any kitchen, or a metal rack that will display your wines with timeless elegance. Wine racks can be shaped into fun shapes to hold a bottle or a two at a time or be straightforward racks holding twenty bottles or more.
Some wine racks also hold wine glasses, for all in one wine drinking safe storage. Wine glasses are awkward to store with other glasses and take up room on shelves. Storing wine glasses upside down by the stems will keep them safely out-of-the-way and prevent them from collecting dust.

10. 

Freestanding Scrollwork Bronze Metal 2 Wine Rack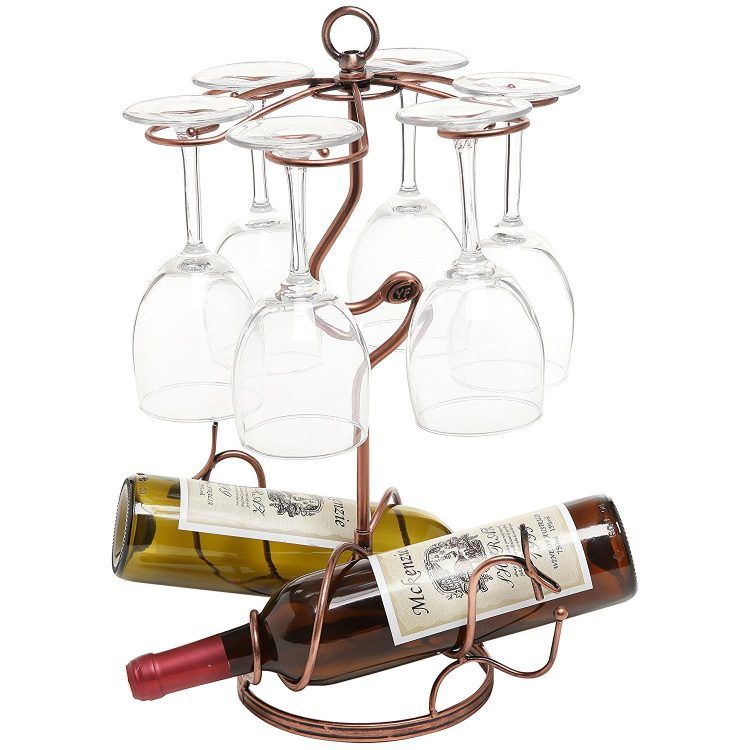 This playful and functional wine rack by My Gift offers storage for two wine bottles and up to six glasses. This tabletop wine rack will save room in your cabinets and look sharp doing it. The scrollwork design and bronze-tone finish look classic in any kitchen, while the six metal hooks at the top allow six glasses to hung by their stems, for dust-free storage and easy drying.
The angle at which the wine bottles are stored will prevent oxidation. If you want to store only a couple of bottles of wine and your wine glasses and don't mind sacrificing counter space to wine storage, this fun tabletop wine rack might be for you.
Pros
Store up to six wine glasses and two bottles

Angled bottle storage to prevent oxidation
A classic look with bronze and scrollwork design
Cons
Only holds two bottles of wine

Takes up room on your counter
---
9. 

Wine Barrel Wood Wine Rack & Long Stem Glass Holder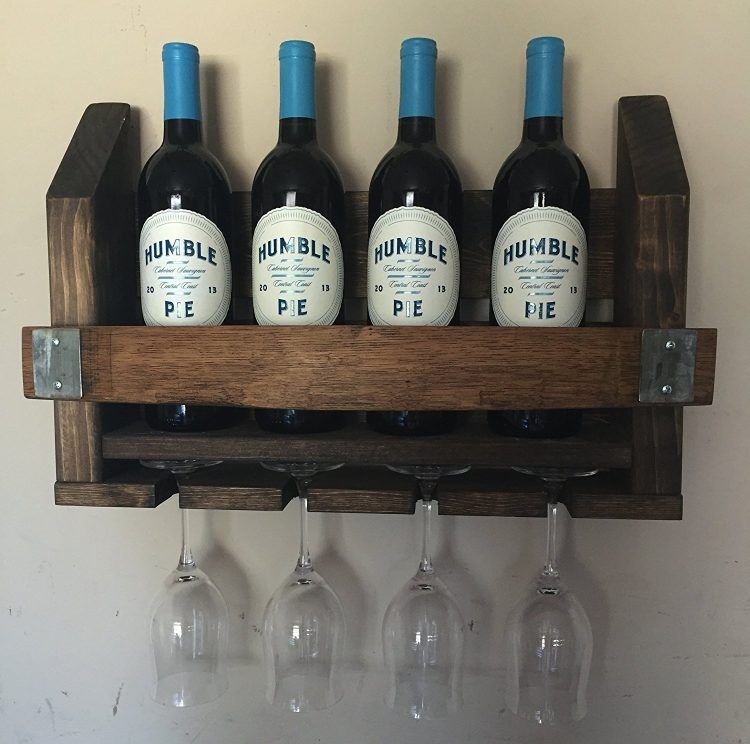 This convenient wall-mounted wine rack and wine glass holder from Napa can hold up to five bottles of wine and four wine glasses. This wine rack was handmade in the USA, using stave from original wine barrels and quality reclaimed wood.
This wine rack really came from Napa Valley wine barrel wood. How much more legitimate can you get? This wine rack will look rustic but classic, giving charm to any wall on which it is mounted. This rack will save you lots of room and won't take up any space on your countertop or on your floor.
Pros
Wall-mounted for ultimate space-saving

Holds up to five bottles of wine and four glasses
Made of real wine barrels from Napa Valley
Cons
Doesn't hold as many bottles as other racks

Bottles aren't angled
Click here to buy on Amazon
---
8. 

Oenophilia Bottle Bouquet Wine Rack, Black – 6 Bottle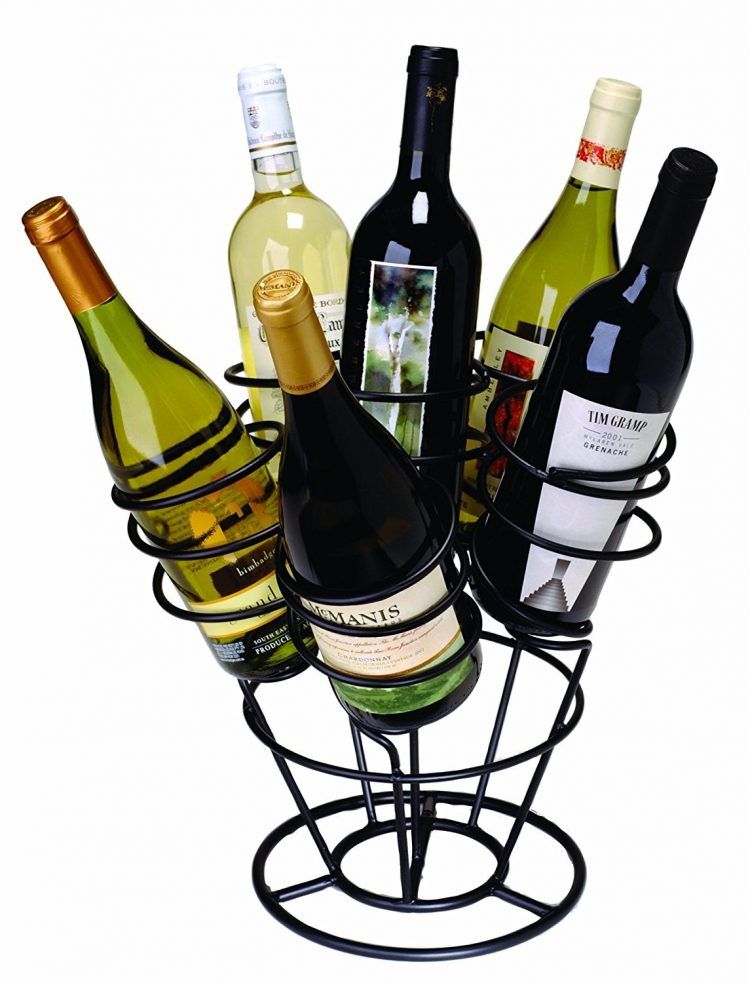 If you want to display your favorite wines like a beautiful bouquet of flowers, this innovative wine rack from Oenophilia might be perfect for you. This countertop rack saves space, taking up only a small space on your counter.
Each wine is clearly visible so you can let your friends have fun choosing which they want. Wine is angled for longterm storage. This sturdy metal wine rack makes a dramatic, attractive statement that all your friends will be talking about.
Pros
Beautiful, vase-like design

Saves space on your counters
Angles wine for long storage
Cons
Could be knocked over if knocked from the top

No wine glass storage
Awkward to place in the kitchen
---
7.

Elephant Decorative Wine Bottle Holder Rack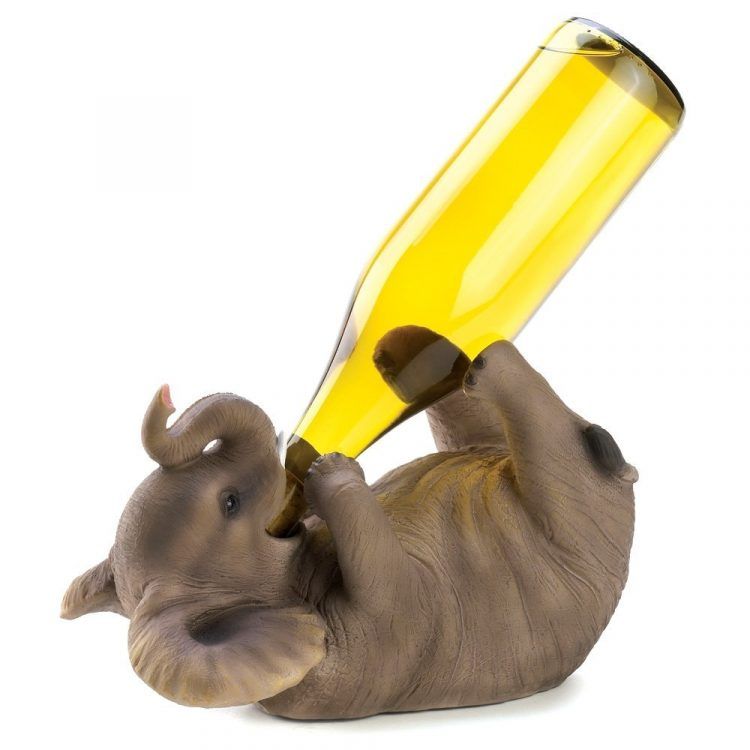 If you only need to store a bottle at a time and want to make a playful statement with your wine rack, this adorable drinking elephant from Gifts & Decor may be perfect for you. Your wine will be held securely and adorable in the loving grasp of this sweet polyresin elephant. Trust that this little elephant will hold many bottles in its life, as it is ruggedly constructed of polyresin. Your wine bottle is held at an angle so it won't oxidize during long-term storage.
Pros
Holds your bottle at an angle for great taste in long-term storage
Cons
Only holds one bottle

Takes up room on your counter
The wine bottle can be knocked if hit from above
---
6. 

Natural Bamboo 12 Bottle Wine Rack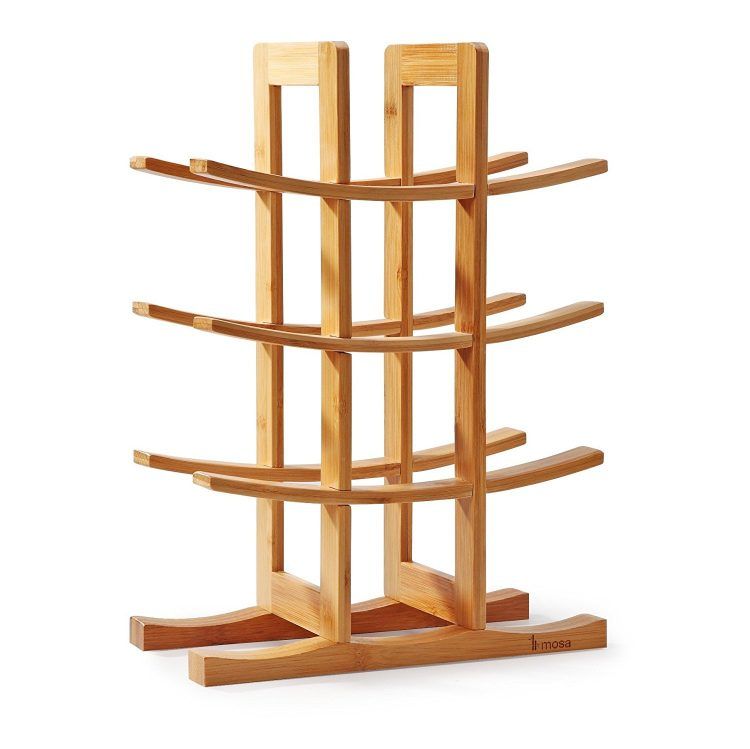 This beautiful natural bamboo wine rack looks like an Eastern work of art rather than a wine rack. The simple, clever design will display your wine attractively, allow easy access and identification, and save space.
Curved shelves with sturdy supports hold each bottle securely, without the awkward ridges that other racks use to hold bottles in place. Bamboo is light and easy to move and clean. Wine bottles are held at an angle so your wine will stay fresher longer.
Pros
Graceful bamboo construction

Strong and lightweight for convenient wine storage
Clever, graceful design holds each bottle securely
Cons
Too high for the countertop but inconvenient to get bottles from so near floor if on ground
Bottles can be knocked off outer shelves
---
5. 

Sorbus Wine Rack Stand Bordeaux Chateau Style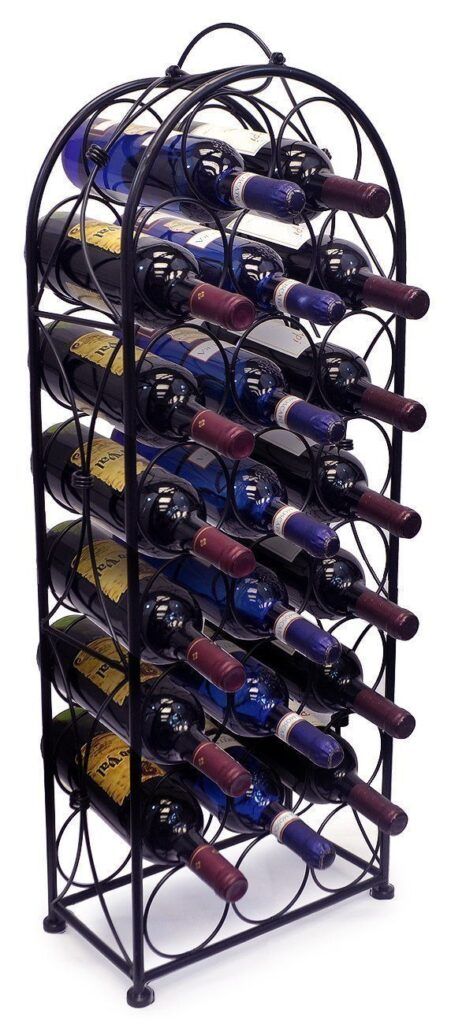 This elegant, free-standing wine rack by Sorbus can hold all the wine you need it to–up to 23 bottles. This lovely arched wine rack will look timeless in any space, while you can trust that the sturdy metal construction will hold your precious bottles safely.
Wine bottles are held horizontally for long-term excellent taste. This sturdy wine rack will take up minimum space on your floor while providing plenty of storage. It has a handle for easy transportation and positioning.
Pros
Beautiful arched design

Sturdy metal construction
Hold up to 23 bottles of wine
Cons
Only holds skinnier wine bottles

Short so you have to bend to retrieve bottles
Maybe wobbly
---
4.

Winsome Wood 28-Bottle Wine Rack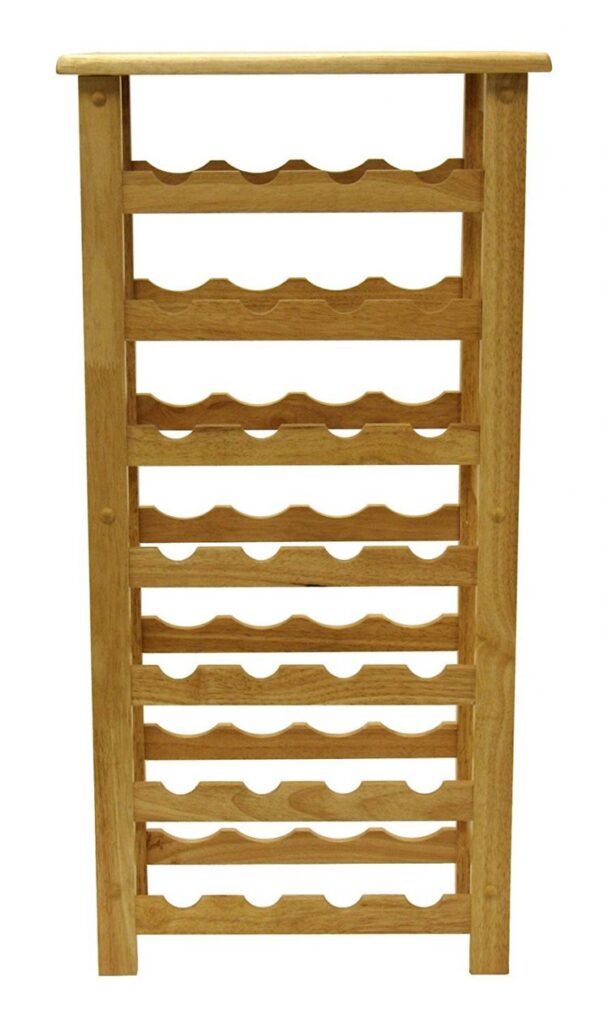 This attractive wooden stand by Winsome holds up to 28 bottles of wine for ultimate wine storage. The solid beechwood construction is beautiful and will last a long time. The finish on this rack is to a light golden that will match most decor. This wine rack is composed of seven shelves that each holds four bottles. Bottles are separated so you can read each label with ease. This rack is stable and sturdy, but you will need to assemble it yourself and expect it to take up a good amount of room on your floor.
Pros
Gorgeous golden color and lovely design

Solid beechwood construction for long-lasting performance
Holds 28 bottles of wine at an angle for long-term storage
Cons
Assembly required
Takes up room on your floor
Must bend to access lowest bottles
---
3.

Tooarts Cat Shaped Wine Holder Wine Rack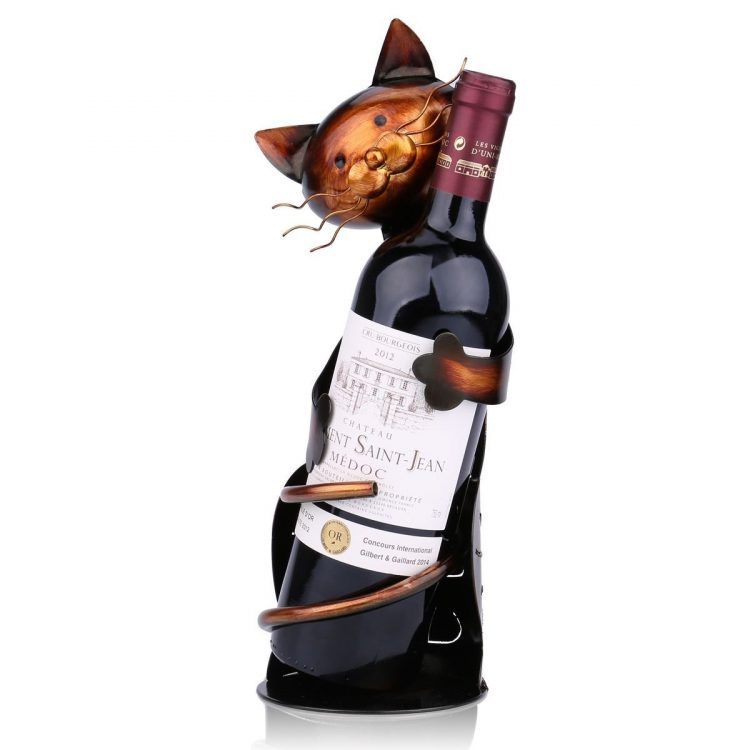 If you want a wine rack that will display a single bottle attractively for the short-term, this cute kitty wine rack is for you. This is a lovely little holder to set on the table to display and hold the bottle between pouring. The kitty wraps sweetly around your wine bottle, smiling cutely with crooked whiskers. The metal is hand carved and looks classy as well as fun. Painting on this metal kitty is environmentally conscious.
Pros
Adorable one bottle storage

Great as a table centerpiece to hold wine between pouring
Sturdy and easy to access
Cons
Not tilted to prevent oxidation, so only for short-term holding

Only holds one bottle
---
2. 

Mango Steam 6 Bottle Wine Rack (6 Bottle Wine Rack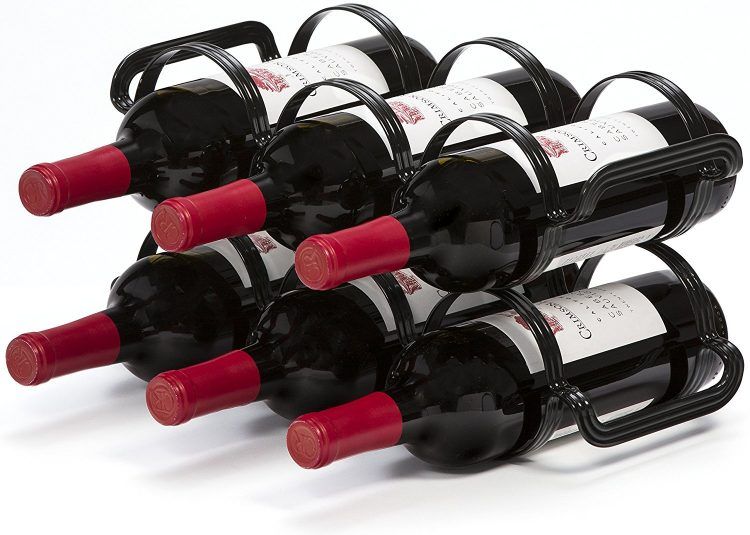 This elegant and secure wine rack by Mango holds six bottles securely and horizontally for long-term storage without oxidation. This wine rack offers ultimate customization, as you can position it vertically or horizontally, and on the counter or in a cabinet.
This wine rack is constructed of steel, with a durable powder coating. While it isn't as cute or playful as some other wine racks, this little wine rack will hold your wine securely, safely, and in precisely the position that works for you.
Pros
Use vertically or horizontally
Place under or on the counter for ultimate flexibility
Rugged all steel design
Cons
Not as pretty as some wine holders

Can get tipped over in a vertical position
---
1. 

Sorbus Bamboo Foldable Countertop Wine Rack 6-bottles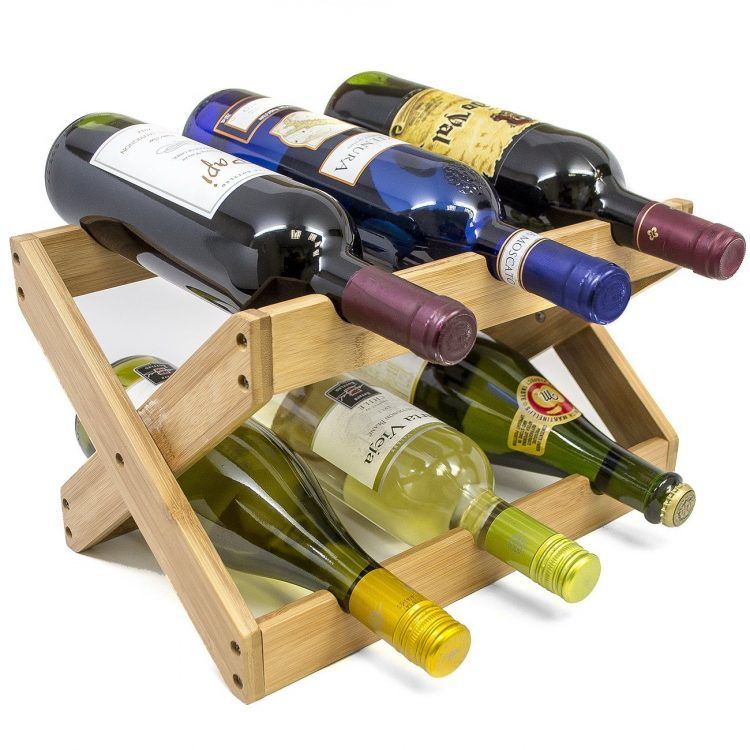 Sturdy bamboo construction looks sleek and timeless in any kitchen and is easy to clean. Store up to six bottles of wine in an easy to use, attractive wine rack. This rack makes it easy to see each bottle so you can easily choose the wine you want. For storing more bottles, you can easily line two racks up side by side.
The two horizontal shelves are sturdy for storing wine on countertops or in or on cabinets. This wine rack is foldable so you can store it when you don't have wine to display. By having several racks available you can create your own mini wine cellar when you receive wine bottles as gifts or buy in bulk, and store away extra racks as the bottles are drunk.
Pros
Attractive, sturdy bamboo design

A flat horizontal base for knock-free storage
Easy to extend to multiple units
Foldable for easy storage
Cons
Racks cannot be stacked up, so you will need to put them on something if you don't want to have to bend over for your wine
Not as elegant as some other designs
Wine Rack Decorating Ideas
If you love wine, owning a wine rack is a no-brainer. It's a great way to house all of your bottles in a decorative way. However, if you're looking for a wine rack and you don't know how to blend it in with your decor, here are a few ideas:
Fruit Assortment
Many people have faux fruit in their kitchens and dining rooms to give it pizzazz. With that said, if you have a cluster of grapes in your home as decoration, it makes the perfect accessory to a wine rack. You can prop it on the side, or if you have a large rack, you can hang it from the side.
String Lights
String lights look amazing no matter where you put them, but wrapping them around your wine racks provides a nice ambiance for your home. It gives you the vibe of being out at a fancy restaurant in a big city. You can turn them on while you sit, drink a glass of wine, and have a relaxing night.
Empty Bottles
The typical idea of a wine rack is for it to house bottles with wine actually in them. However, if you want to get creative, you can fill the bottles with other items to give them a cool look. Maybe you can put marbles inside or fill with other decorative items. You can even hand-paint or spray paint the bottles to give them a completely new look.
Sit It Outdoors
Who says that wine racks have to be on the inside of your home? Lots of people like to drink wine while on the patio or as they relax in the pool. There are plenty of ways to creatively blend your rack into your hard without it being an eyesore. It's perfect for those times when you want to sit outside and enjoy a glass of wine without having to go inside to get it.
Make It Alcohol Free
A wine rack doesn't have to exclusively be for wine drinkers. If you want to skip the alcohol, that's okay. There are plenty of non-alcoholic beverages that you can have stored away for a special occasion. Apple cider and Welches sparkling grape juice are both delicious alternatives.
Start A Collection
Buying a wine rack is a great way to build a collection of tasty wine. Even if you don't drink very often, it's a good idea to pick up a bottle when you see a new brand or when a loved one gift's you with champagne. You can slowly start to build a collection so that you have a variety of flavors to suit your mood.
Final Thoughts On Owning A Wine Rack
Owning a wine rack is never a bad idea. Not only are they an excellent way to store your beverages, but they give your decor a regal look. Plus, there are so many ways you can fix them up and make them your own. After looking at this list, which rack is your favorite?
Which should you buy?
The Sorbus bamboo wine rack is the most flexible, functional wine rack for your money. These racks can be stacked side by side to increase storage when you need it, or folded and put away when they're not needed. Wine bottles are easy to see and identify and are held at a tilt so the cork will not dry out.
The classic bamboo design will look good in any space, and the sturdy bars at the base won't allow for this rack to be knocked over. You can feel confident of long-term wine storage safely with this wine rack.