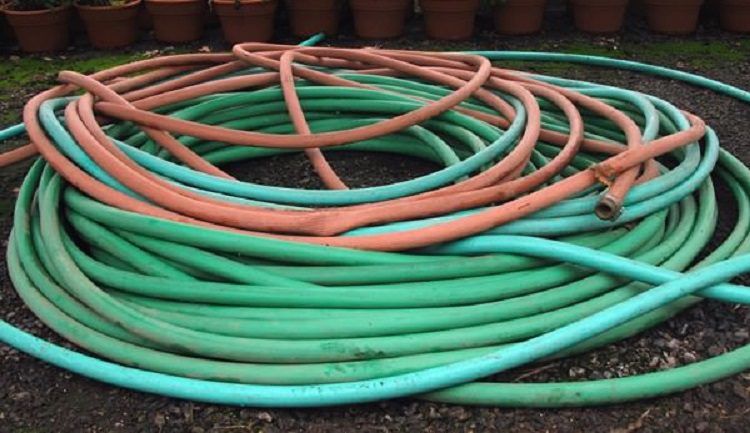 Many people wonder what is the top garden hose I should buy? If you expect your garden and lawn to survive the driest months, you will need a hose to deliver water to your plants. Depending on your needs, you can get a hose that is expandable and so easily stored, hoses that are kink free no matter what you do to them, hoses that are brightly colored so you can leave them out without anyone tripping over them, or hoses that are basic and simple for an affordable price.
If you would like to continuously water without getting leaves wet or having to hold the hose, you can use a soaker hose. Soaker hoses are porous and leach water constantly into the soil while they are on. It is better not to bother with a soaker hose that is much more than fifty feet, as the pressure will decrease towards the end of the hose, rendering the soaking ineffective. Instead, use a splitter and two hoses for even pressure.
9 Melnor Flat Soaker Garden Hose 50 ft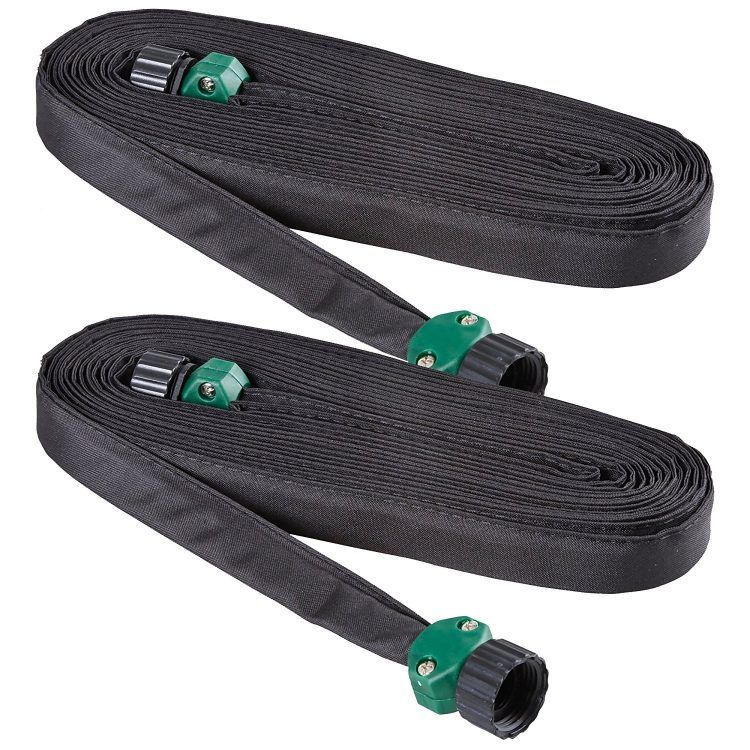 Pros
2-Year Limited Warranty

Flattens for easy storage. This soaker is unique in that it flattens for easy storage between uses.

Use above ground or under mulch

 3/4 in. Fits standard garden hose thread
Cons
Not as durable as the more expensive models
Can't be cut to length
---
8 Miracle Gro Premium Soaker Hose 50 ft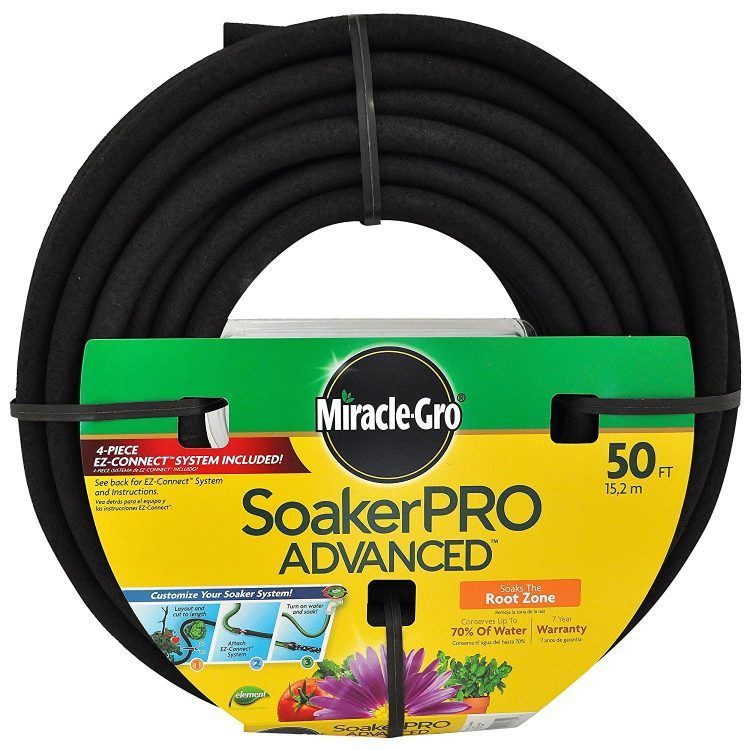 Pros
Cut and connect the hose to customize watering. Each system includes 2 male connectors with caps and 2 female connectors

Comes in sizes from 50ft to 100ft. Just cut to shorter lengths and connect for ideal watering

Bury under mulch or topsoil or lay on ground

Made of 65% recycled materials and designed to save up to 70% of water used by a standard hose
Cons
Remains relatively stiff and raised, so harder to store than soaker hoses that can go flat
---
7 Expandable Water Hose with Double Latex Core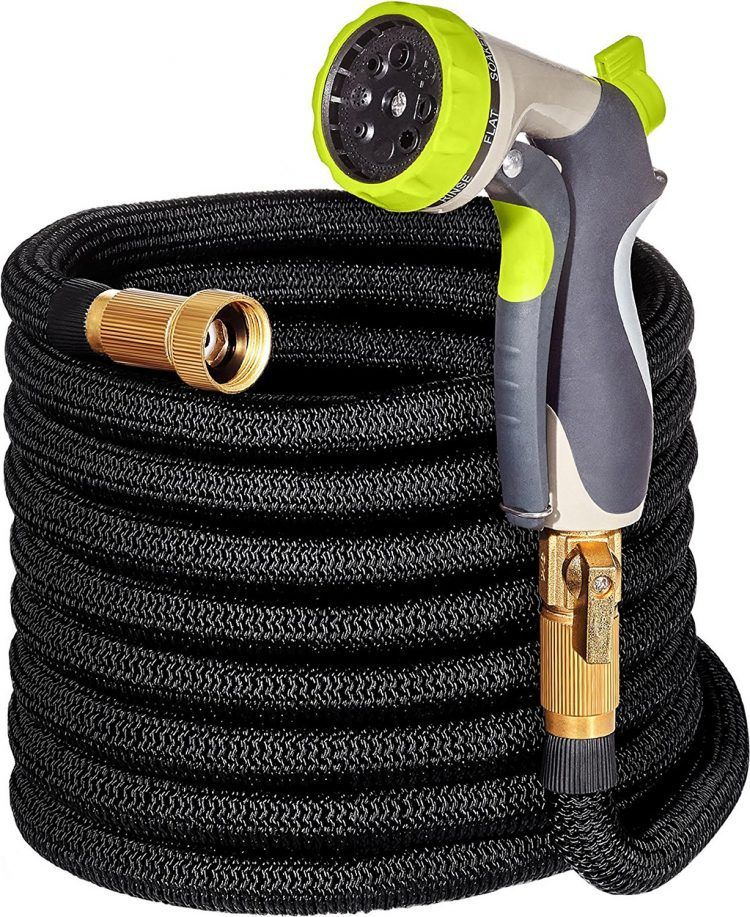 Pros
Lightweight and flexible even when full of water

Solid 3/4 Inches brass connectors, rubber washer, double latex pipe, sturdy on/off valve, zinc alloy spray nozzle, extra-flexible 3750D polyester fabric cover

75 feet when full of water and expanded. Makes for convenient storage

9 way sprayer
Cons
Comes with a nozzle. If it's not the nozzle you would have chosen, it would be better to be able to pay less for the hose and buy the nozzle separately
---
6 Crimp Free Garden Hose – By Utopia Home
Pros
Kink resistant hose 5/8 in

Lead-free aluminum makes this garden hose leak and crushproof

Micro shield protects against mold, mildew or rusting

Lightweight
Cons
Not as kink proof as the more expensive hoses
Does not come with nozzle
---
5 Ohuhu  Expanding Garden Hose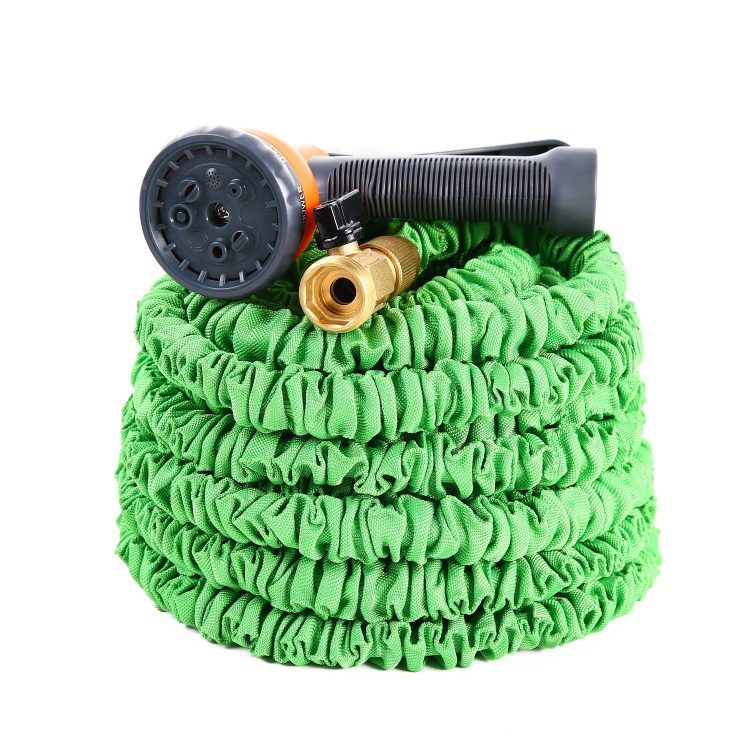 Pros
75 ft when full of water. Retracts to 25ft for easy storage

Comes with free nozzle with eight spray modes

Brass connector prevents leaks

Performs under strong amounts of water pressure

Flexible and anti-kink
Cons
Nozzle is not as high of quality as you may want
---
4 Heavy Duty 304 Stainless Steel Garden Hose by Titan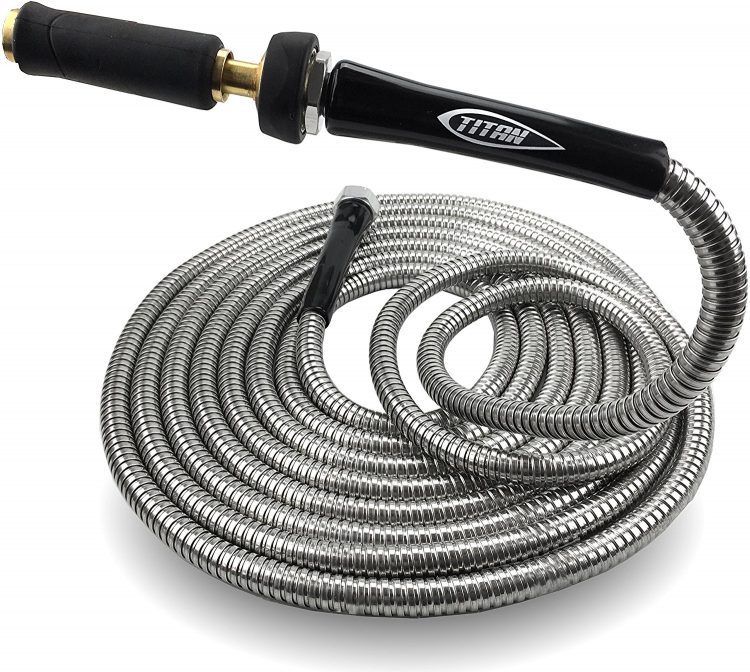 Pros
Durable stainless steel for high performance even over long-term use

Lightweight and flexible

Metal guaranteed to never kink or tangle

Crush-proof and leak-resistant 

30-day no questions asked money back guarantee and a 180-day replacement for manufacturing defects
---
3 Instapark GHN-06 Heavy-duty EVA Recoil Garden Hose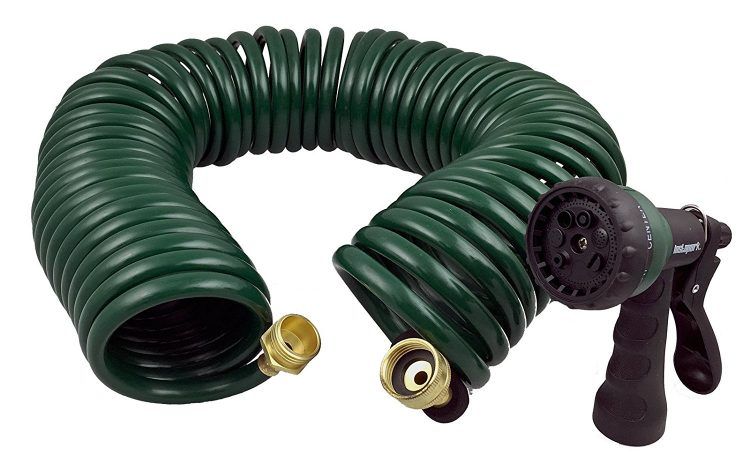 Pros
Coiled hose is pulled out for use and retracts to compact form for storage

Coiled design for kink-free handling

7-pattern pressure-adjustable spray nozzle included

Anti-corrosion brass fitting

1-year manufacturer's warranty
Cons
Don't expect it to expand it to the full fifty feet, it is too tight and uncomfortable to use when fully extended
Can't be stored like traditional hoses
---
2 Teknor Apex NeverKink 50ft Garden Hose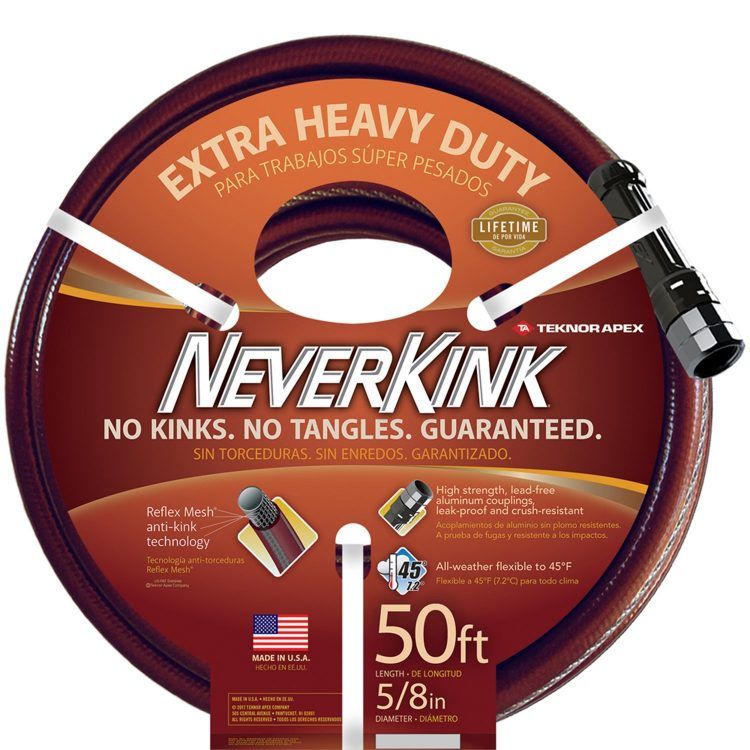 Pros
Patented anti-kink technology guaranteed to prevent kinks

Flexible down to 45°F for ease of use in colder temperatures

Rigid sleeve prevents kinking at the faucet

MicroShield® anti-microbial protection guards hose against mold and mildew

Made in the USA with lifetime guarantee
Cons
No retractable features
Not as indestructible as a metal hose
---
1 Watergreene Premium 100′ Expandable Garden Hose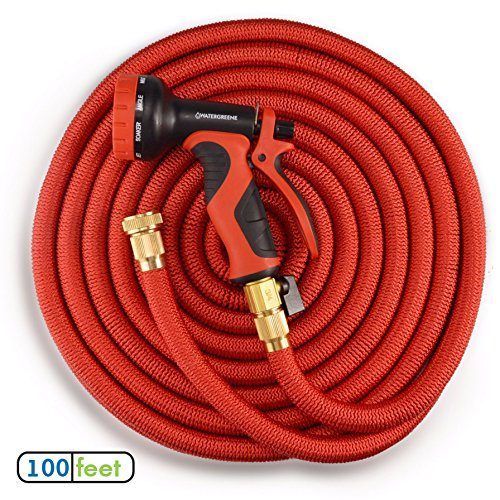 Pros
Retracts for easy storage

Durable fabric outer, multi-layer inner, solid metal fittings

9 function spray nozzle with easy-pull trigger 

Covered by a full manufacturer guarantee

Brightly colored so you won't trip over it
This is a good deal for a hose that will reach all over your garden but retract small enough to store easily
Cons
It not as tough as higher priced hoses but for light duty
Treat gently and store out of direct sun to extend this hose's life as long as possible
How To Choose The Best Hose For Your Garden
If you like maintaining a garden and keeping your grass watered, you're going to need a water hose quite often. However, picking the right water hose isn't as simple as you might think. Depending on your needs, you might need a hose that functions differently from others. It takes more than the ability to spray out water if you plan to do lots of gardening. Here are some tips on choosing the best garden hose:
Length
Length is super important when it comes to finding the right garden hose. The last thing you want is to have one that's short and doesn't wrap around your house. If you have a long flower bed or gardens in different areas of your yard, you need a hose that can reach everything. Not to mention, most homes only have one water pipe available, so the hose has to be able to reach many feet from the pipe. So when you're shopping, makes sure you check the length of the product. It might help to measure your yard beforehand.
Nozzle
The next thing to look for when shopping for a water hose if the nozzle. It determines how the water will spray out from the hose and there are several different types. One of the most common nozzles is a grip nozzle. You press down on the lever to increase the pressure of the water as you squeeze. There's also the fan nozzle, which sprays out a gentle sprinkle of water from a wide mouth. However, if you don't know which to choose, the best option is to get a pattern nozzle. It comes with various options and you can adjust it to spray the water out in different forms.
Durability
Your water hose sits outside all day, it's exposed to the sun, harsh weather and other conditions. Not to mention, if you plan to use your water hose often, you also need something that can handle lots of wear and tear. One of the best ways to pick a durable hose is to check the category. Most water hoses are labeled as light, medium, and heavy-duty, which will help you when you're shopping. Decide what you need the hose for and go from there. The duty level determines how much water pressure the hose can handle. For instance, heavy-duty hoses work better for pressure washing duties.
Flexibility
One of the major attributes to look for when choosing a hose is its flexibility. It's important that you wrap the hose back up after you're done with yard work, but hoses that are stiff are hard to curl. Not to mention, water hoses that aren't flexible are difficult to pull and bend when you're trying to spray in a certain area. Usually, rubber hoses are best for gardening and they're the most flexible.
Which Hose Should you Buy?
If your goal is to water a lot of plants as economically and efficiently as possible, and you are not looking for a hose for other uses like hand watering potted plants or washing your car, a soaker hose may best fit your needs.
It is probably best to go with the Miracle-Gro soaker so that you can cut and fit the hose to your needs and then leave it set up so that watering will be as easy as turning the faucet on and off.
If you are looking for a multi-purpose hose consider your budget and storage. Do you want a hose that you can leave in a clump behind the shrubs and grab as needed? If so a recoil hose like the Instapark may be good for you.