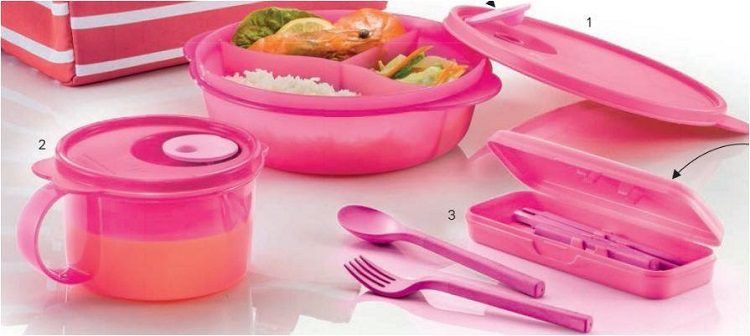 Tupperware is an essential part of any kitchen. Tupperware allows us to store any amount of food in just the right size container. What is the best Tupperware set for your family? Tupperware is stackable and prevents food from being squished or leaking like it might in a plastic bag. Tupperware is a pest-resistant way to store flour, sugar, and other baking goods, as well as crackers, chips, etc. in the pantry. Tupperware that can be microwaved allows for refrigerated or frozen leftovers to become a delicious meal without getting any dishes dirty.
Tupperware that doesn't work the way you want it to can be a nightmare. Tupperware that doesn't let you see the contents can be frustrating when you don't remember what you put in there and forgot to label. Tupperware that doesn't close properly can leak in your fridge, causing a big mess.
You may be frustrated with your Tupperware if it can't go in the microwave or freezer, and if your Tupperware is plastic and says it is microwaveable you may worry about harmful chemicals in the plastic.
Everybody hates searching through an endless Tupperware drawer in search of a matching lid. Tupperware comes in a variety of designs to make storage and finding lids easier. Some Tupperware collapses for easy storage, while another Tupperware is stackable so, lids can be kept neatly organized in size order.
Depending on features, Tupperware may be cheap and disposable or last you many years. Think carefully about what you need in a Tupperware container before making your decision

10. Greenco Mini Food Storage Containers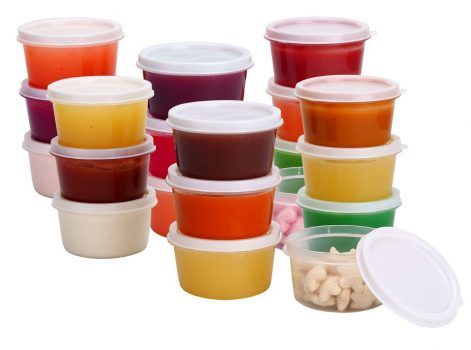 Greenco's mini storage containers are great if you are looking for affordable, plentiful storage for small portions. This set of 20 containers are good for the fridge, freezer, and dishwasher. The lids are easy to open so they are kid-friendly, but they are leak resistant enough to resist being tossed around in a lunchbox.
Pros
Slightly flexible for ease of pouring powders and liquids
Great for small portions
Fun colors
Cons
Not microwaveable

Not BPA free
May leak liquids
May soften in the dishwasher
Not clear so harder to see what's inside
---
9. Ziploc Containers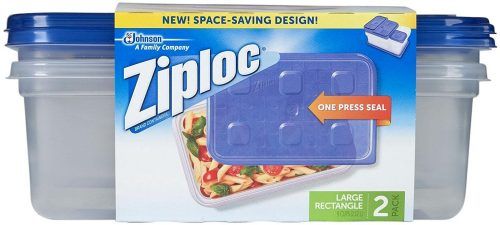 Ziploc's reusable plastic containers feature a Snap 'n Seal closure so you can hear the seal every time you close the lid. These lightweight plastic containers are perfect for storing leftover food, for bringing lunches and snacks to school or work and good for freezing food as well. Ziploc makes its easy snap and seal containers in a variety of sizes and shapes so you can get the perfect fit for your needs.
Pros
Snap 'n Seal closure for a confident seal every time

Comes in a variety of sizes
BPA free
Cons
Not microwaveable

Sometimes becomes soft in a dishwasher
Not as sturdy as some other Tupperware
---
8. Royal Glass Food Storage Containers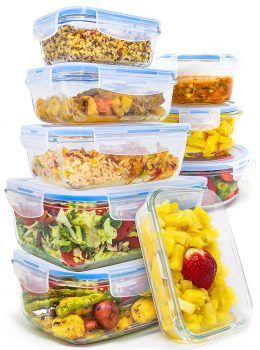 If you are looking for Tupperware that is completely safe in the microwave and dishwasher and will not leak, Royal Glass food storage may be right for you. The unique clip-lock lid has a silicone seal so not only will the lid not come off or leak, but food will stay fresher too. Go from the freezer or the fridge to the microwave without dirtying dishes or worrying about plastic safety hazards or melting.
Pros
Snap-lock lid with silicon seal for a secure and food-saving seal every time
A glass is durable and alleviates worries about plastic hazards or melting.
Variety of size options to meet every need
Cons
The glass is much heavier than plastic and can be more challenging to store
The lid cannot be microwaved
Click here to buy on Amazon
---
7. Tupperware One Touch Reminder Canisters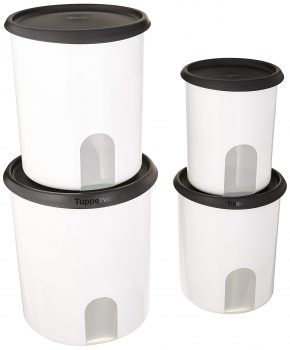 If you want to store kitchen essentials like flour and sugar as well as everyday snacks in sleek, secure containers, the Reminder Canisters might be for you. The secure seals will resist any kind of pest while the viewing window lets you seal when you're running low. The canisters are stackable for easy display and storage.
Pros
Secure seal for pest resistance
Dishwasher safe
Attractive sleek design with convenient viewing window
Cons
A tight seal can be difficult to open
---
6. Food Storage Container Set by Stacko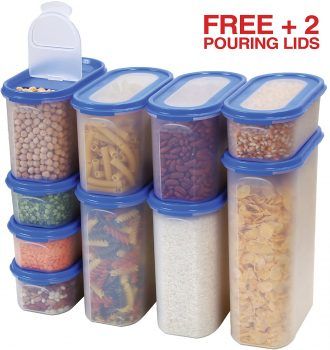 If you want to store everything in your pantry in convenient stackable containers for a reasonable price, the Stacko set might be for you. Since one size lid fits all containers, finding a lid is easy. Just decide if you want to pour or not! Stacko has an airtight seal to keep food fresh longer.
Pros
BPA free
Dishwasher safe
Easy pour lids
Stackable
Cons
Containers are small for storing most pantry items
Plastic is not as durable as more expensive products
---
5.  Rubbermaid Easy Find Lid Plastic Food Storage Containers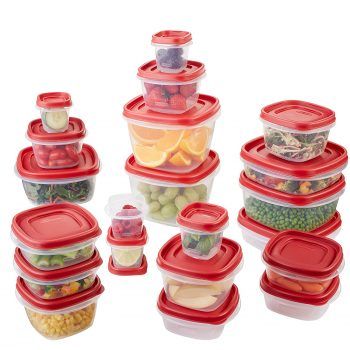 If you are looking for the best value in food storage, the Rubbermaid Easy Find Lid set may be for you. The lids snap not only to close the container but to one another so they can be easily organized and kept in size order. Since the three lid sizes fit all Tupperware sizes finding a lid for your Tupperware each time is no longer a chore.
Pros
Dishwasher, microwave, and freezer safe
Made without BPA and in the USA
A size for every portion
Cons
Plastic can get soft in microwave or dishwasher, and some foods leave a film on the plastic when microwaved
Lids fit tightly and can be difficult to open
---
4. Joseph Joseph Nest Food Storage Containers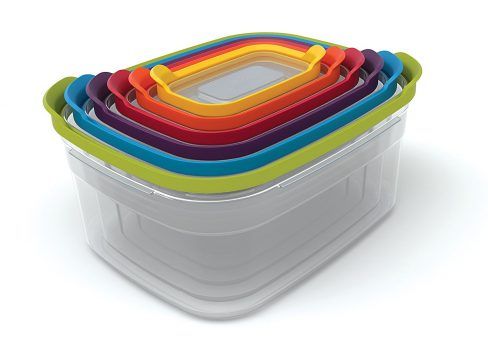 If you really hate looking for the right Tupperware lid and don't have much room for Tupperware storage, Joseph Joseph has made it easy for you with these nesting storage containers. Each size fits into the next, while color-coded lids also snap together in descending size order. Containers are safe in the freezer, microwave, and top shelf of the dishwasher. Containers are BPA free.
Pros
Easy to store
Easy to find lids
Clear sides for easy identification of contents and fun color lids
BPA free
Microwaveable, freezer, and top rack dishwasher safe
Cons
Not as secure a seal as some other storage containers
---
3. Popit Food Storage Containers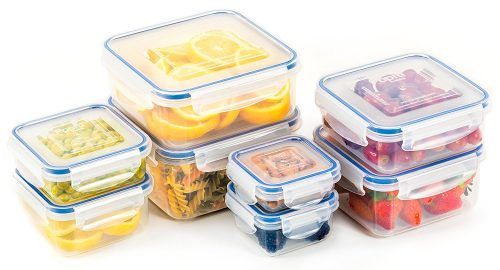 Popit's containers are made of high-quality plastic for sturdy storage. The easy snap lid is secure and easier to open than other containers. These containers are BPA free and microwave, freezer, and dishwasher safe.
Pros
Easy to open lids
Good price for quality containers
Microwave, freezer, and dishwasher safe
BPA free
Good seal
Cons
---
2. Zestkit Glass Food Storage Container Set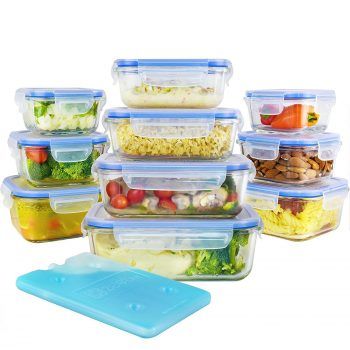 If you want Tupperware that does it all, the Zestkit storage set might be for you. The high-quality glass of the Zestkit can go from freezer to microwave or oven. The snap lids provide a leak free seal while still being easy to open. Unlike many snap lid Tupperware, the Zestkit containers are stackable. Zestkit even provides a free ice pack for keeping food in storage containers cool on trips, and storage containers from Zestkit are covered for a year under warranty.
Pros
High-quality glass so food can go from freezer to oven
Easy open, tight seal
Stackable by shape for easy storage
Cons
The container needs to sit out on the counter for at least fifteen minutes before going from freezer to microwave
Lids, while microwaveable, will not last as long if regularly microwaved
---
1 Snapware Tempered Glasslock Storage Containers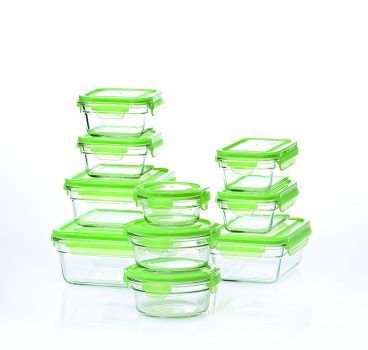 These superbly made containers go from freezer to oven and handle fridge, microwave, and dishwasher with ease. The glass is sturdy and withstands breaking, while the lids fit securely with no leaks while still being easy to put on and take off.  The containers fit into each other for easy stacking storage.
Pros
Stackable
No leak, easy seal, and open lids
Safe for oven, microwave, fridge, freezer, and dishwasher
Strong glass withstands breaking even with rough handling.
The Advantages Of Owning Tupperware
When you think of Tupperware, you might just think about a kitchen accessory that everyone uses. However, there are tons of practical advantages to having Tupperware in your home. Not only that, but having quality Tupperware is even better. Here are a few benefits to having  plastic ware:
Meal Prep
 Have you ever gotten home and hated the idea of cooking dinner? Well, prepping your meals for the week wouldn't be possible without Tupperware. Sure, you could cook your meals and put them in the pots and pans, but that would take up lots of room in your fridge. Luckily, meal prep allows you to grab your Tupperware, pop it in the microwave and eat—it's simple as that.
Leftovers
 Leftovers are sometimes better than the original meal itself. If you made a big pot of spaghetti or you had extra chicken leftover, it's so convenient just to put it in Tupperware. It seals the food tightly, and it doesn't take up too much room in your refrigerator. You can stack the plastic food trays on top of one another and have a neat section that hosts your remaining food. It's great because you don't have to worry about shuffling through balls of aluminum foil with mystery meals inside.
Dieting
 As you know, meal prepping has been a huge help for people who are trying to live a healthier lifestyle. One of the primary obstacles of making better food choices is not having meals at your disposal. Therefore, it's easy to stop at a fast-food restaurant and eat something that's not good for you. However, when you can prepare fresh meals and place them in Tupperware, you get home after a long day, you can just grab your dinner without spoiling your diet. Plus, lots of plasticware is sectioned off, which makes it easy to add in a meat, a starch, and a veggie. 
Saving Money
Another huge advantage of utilizing Tupperware is the ability to save money. You can easily take delicious meals on-the-go with you, or to work for lunch. If you have leftover food from home, you can save money by not going to a restaurant every day for your afternoon meal. Most work environments have microwaves available for employees to warm up their food, so you don't have to worry about not being able to eat your lunch. Not to mention, if you're going to be out for a few hours, and you think you'll get hungry, you can pack a snack. Put a sandwich and fruit inside of the Tupperware, and you'll have a tasty lunch without having to stop for a burger and fries. 
Freezing Food
Lastly, Tupperware is amazing for freezing food. It creates a thick barrier around your meals, and it makes it easy to put it in the microwave to defrost when you're ready to eat. Furthermore, you can see through Tupperware easily without having to guess what food item it is. Unlike using foil, you won't have to unwrap the item to see what it is—it's so convenient.
Which One Should You Buy?
The Snapware Tempered Glasslock is the way to go. If you are lucky enough to find them on sale, they are a great buy. You want Tupperware to save you time and effort in saving and reheating food, so why not go from long-term freezer storage to the home-cooked delicious taste of oven-baked food without dirtying extra dishes?
Snapware won't leak or shatter like other Tupperware might in the freezer or oven. Snapware makes cleaning a breeze, as well as saving you on dishes. The simple elegant glass dishes are attractive enough to set on the table for serving, but stackable for easy storage.