This is a list of my top solar garden lights. The reason I created this article is if you're anything like me I want to enjoy my garden from dusk until night. With so many options how do you ever know what will be right for you?
I like the fact that they now make lights that I can adjust the color any time I want. This is especially handy around holidays. I love the illumination hitting my garden as I stare at my work from the inside. This list will provide some of the top solar garden lights that are sure to have your garden highlighted at all hours of the day.
10 Best Solar Lights for Your Garden in 2022
10. AdorioVix 12-Pack Solar Garden Lights
Arrange the 12 light along a pathway or driveway, or add an elegant, decorative glow to your deck or patio, or add drama and flair to your flower beds. Outdoor solar lights help brighten outdoor spaces, making them safer and more comfortable.
PROS
No wiring necessary

Easy installation with no tools required

Economical

Weather-resistant
CONS
Made of plastic and may break easily

Not recommended if the ground is hard and dry

Lights are not overly bright
---
9. GardenBliss LED Solar Light Set
Light up your garden, yard, deck, or driveway in less than a minute by installing these solar-powered outdoor lights by GardenBliss. Simply drive the stake into the ground, and they light up automatically at night, and shut off automatically at sunrise! You really can't beat the convenience and savings, since they don't require batteries or electricity. These bright lamps will provide light for 8 hours or longer after a full charge, using the most advanced LED technology. This light set includes 10 solar-powered lamps.
PROS
Premium LEDs last up to 30,000 hours

Turn on automatically at sunset and turn off automatically at sunrise

Bright white LED lighting

100-percent waterproof
CONS
Batteries last about 6 hours, not all night

Plastic construction means they are vulnerable to cracking and breaking
---
8. LITOM UPGRADED SOLAR LIGHTS OUTDOOR 10 LED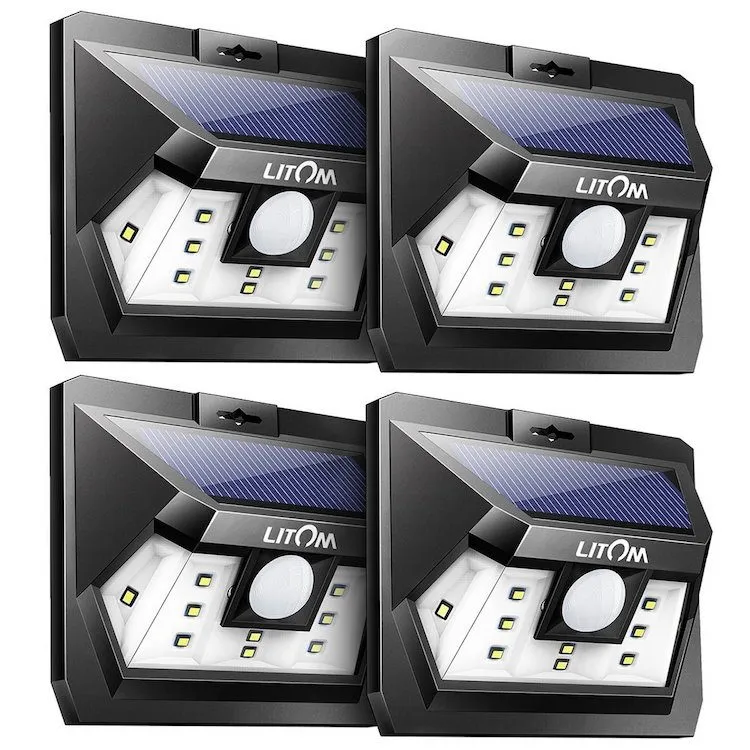 This pack of 10 ultra-bright Litom 3rd GEN LED Solar Lights to offer a wide-angle design, and provide a powerful 204 lumens beam and 120-degree lighting range, in comparison to most outdoor LEDs with a mere156 lumens and only a 90-degree lighting range. These heavy-duty Litom lamps also come with an efficient energy management system as well as a larger capacity battery than others and take only about 7 hours to charge in full sunlight. These lights turn on automatically at sunset and provide a soft glow at night, but when motion is detected, they automatically go into Strong Light Mode, so they double as security lights as well as decoration. These lights are versatile enough to be used in a garden, yard, driveway, patio, balcony, garage, front or back door, porch, or stairwell.
PROS
Superior brightness
Quick charge
Durable, sturdy, and weatherproof
Versatile use
Motion sensor
CONS
Bulky, boxy design
Costlier than others
---
7. BASEIN 2-in-1 Solar Garden Lights
Brighten up your yard, garden, driveway, patio, or deck with these sleek garden lights powered by natural solar energy. Save money and electricity with these simple and beautiful solar lamps that can be driven directly into the ground.
These lamps have a convenient on/off switch at the base, for times when you'd rather not have them on. These solar lamps are constructed of durable stainless steel and have a waterproof rating of IP65, which means they really are weather-resistant even in snow or rain and will charge even on cloudy days in about 4-6 hours.
PROS
Solid stainless steel construction

Quick charging in just 4 to 6 hours of sunlight

Automatic and manual on/off functions

Full two-year warranty

Corrosion-resistant
CONS
Less bright than some other brands

Heavier than plastic lights
---
6. InnoGear Upgraded Solar Lights
These versatile updated solar lamps by Innogear provide several unique features that we haven't seen in many others: The upgraded frosted solar panel means that no protective film is needed. These lamps have a waterproof rating of IP65, and are also heatproof, with a powerful brightness of 200 lumens, enhanced 4 x 50 lumen LED, and adjustable light angle as well as adjustable solar panel angle, which means you can position each lamp for optimal efficiency.
These lamps may be installed either by driving directly into the ground or mounting on the wall with screws, and are ideal for patio, deck, yard, driveway, balcony, or garden. Each lamp in this set of 4 also has an on/off switch. The spotlight feature allows you to direct this garden light wherever you would like the most light.
PROS
Automatically turns on at night and shuts off at sunrise

Built-in long-life 18650 lithium rechargeable battery (2200mAh)

Sturdy construction

Bright 200 lumen-enhanced LED

Heatproof and waterproof
CONS
May not light up in daylight without covering the solar panel

Only 4 to a pack
---
5. Voona 8-Pack Solar Lights
These durable Solar Outdoor Pathway Lights are made of stainless steel and feature a copper finish. The lens features a unique sun star pattern that creates a stunning glow pattern around the lights' perimeters.
These lamps run on natural solar panels that absorb sunlight throughout the day and provide 8 lumens of illumination for up to 10 hours after a full charge, casting a soft glow to brighten your yard, garden, patio, deck, or driveway. These lamps install quickly and easily by driving them directly into the ground, and automatically turn on at dusk and shut off at sunrise.
PROS
Durable stainless steel construction

Unique sun star design

Easy installation

30-day money-back warranty

Up to 10 hours of on-time
CONS
Only 8 lumens of illumination

Only 8 in the pack instead of 10 or 12
---
4. SUNWIND Solar Pathway Lights
These sleek and stylish stainless steel outdoor solar garden lamps are installed quickly and easily by inserting the light directly into the ground. If your garden's soil is on the harder side, SUNWIND recommends first digging small holes where you'd like to place your lights.
These lamps run on natural solar energy, and provide a glow. The bronze-finished stainless steel heads provide a contemporary design touch. They turn on automatically at night and turn off at dawn, and will provide light for about 8 hours after a full charge.
PROS
Sturdy stainless steel construction

Elegant design

Automatic on/off at sunset and sunrise
CONS
Smaller than others

Only 6 lights per pack

Only 5 lumens of light output
---
3. GIGALUMI Solar Pathway Lights
This pack of 6 LED solar path and garden lights by GIGALUMI can be installed to cast light. To install, simply unscrew the lamp cap, turn on the light switch, join the pieces together, and insert the lamp directly into the ground. Voilà! These bright little lamps add a delightful glow to your yard, garden, driveway, patio, or path.
Quick charging, these lamps last for up to 10 hours after a full charge. Made with superior quality solar panels that quickly and efficiently collect and absorb sunlight to ensure excellent brightness. Designed to weather the elements, including sun, rain, and snow, these decorative outdoor solar lights come with a one-year replacement or refund warranty.
PROS
Quick charge and up to 10 hours of on-time

Beautiful patterned design

Weather-resistant in heat, rain, and snow

Automatic and manual on/off options

One year warranty
CONS
Low light output

Only 6 lights per pack
---
2. Boomile 12Pack Outdoor Garden Lights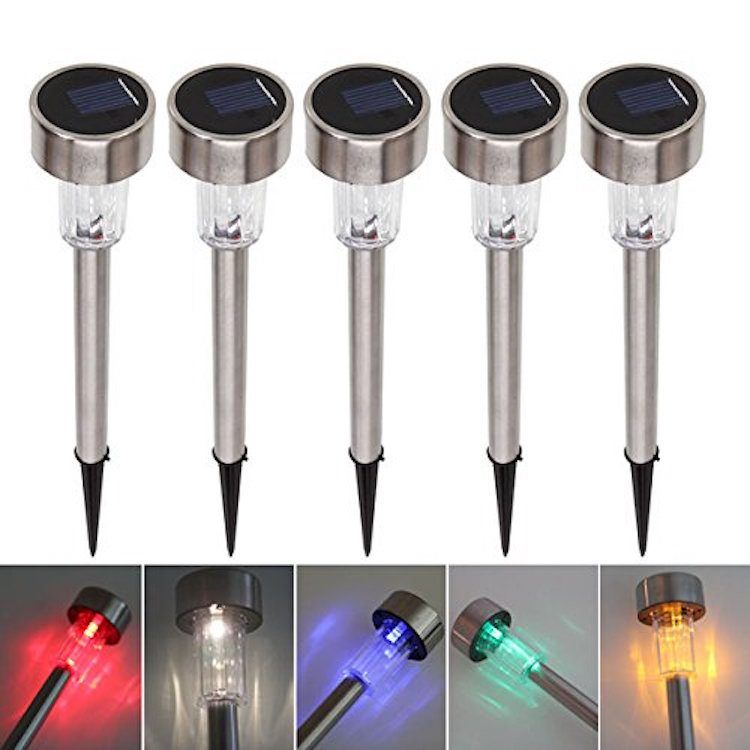 These elegant stainless steel solar powered outdoor garden lamps let you transform your yard or garden in just minutes! To brighten your garden patio, yard, driveway, or deck, remove the isolator tab from beneath the cap and drive the stake directly into the ground.
The solar lights will turn on automatically at night and turn off automatically at dawn! Durable stainless steel construction means you'll never have to worry about exposure to sun, rain, or snow. These lights are weatherproof and have a waterproof rating of IP44. The bright LED lights charge naturally by absorbing sunlight for 4 to 6 hours, and a full charge may yield about 6 to 8 hours of illumination, saving money on batteries and electricity.
PROS
High-quality stainless steel design
Beautiful clear plastic lens casts a glowing effect on the ground
12 to a pack
One year warranty
CONS
Less bright than some other brands
A smaller design may require more lamps to cover an area
---
1. Larkin 4-Pack Solar Torch Lights
These innovative, eco-friendly solar garden lights bring a splash of texture and warmth to your garden, walkway, patio, lawn, yard or deck. These unique solar lights charge naturally on their own by means of solar energy or with a USB adapter, and the light-sensitive sensor makes them switch on automatically when it gets dark, and switch off automatically once the sun rises.
And, while they're on, the "flame" LEDs produce soft, flickering light. After a full day's charge, they can last for up to 12 hours, to brighten your outdoor landscape throughout the whole night. Durable stainless steel construction means that the lamps will withstand inclement weather. To install in your garden, simply unscrew the bottom part of the lamp, and turn on the switch, then just drive the stake part into the ground.
PROS
Stainless steel construction

For use indoors and outdoors

Versatile design

Unique flame LED

Three working modes and two charging modes

Charges with solar power or USB
CONS
What Is the Best Solar Light for Your Garden?
We're going with the Boomile 12Pack Outdoor Garden Lights, LED Solar Powered Pathway Lights, Stainless Steel Landscape Lighting for Lawn/Patio/Walkway/Driveway (Warm White). Although they may be dimmer than some of the other brands we looked at, we liked the fact that they're made of stainless steel and will weather the elements.
However, please do not hesitate to share with us your opinion and feedback on every one of these products. Tell us what is the best solar light for your garden in the comment section below!