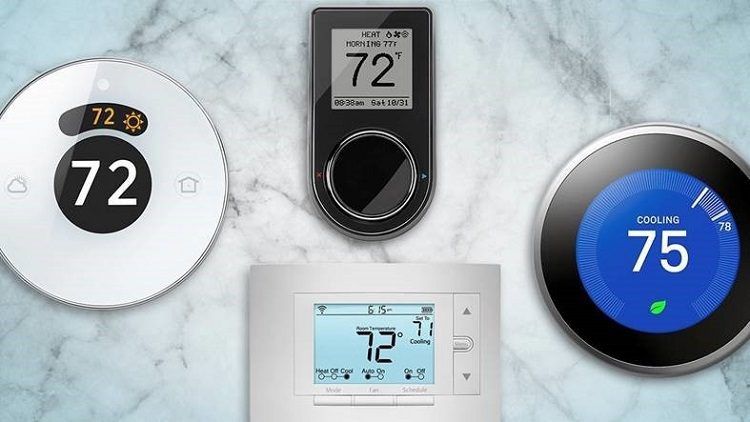 What is the top smart thermostat? Every home needs a thermostat. This is one of the most basic appliances that homeowners use. And, odds are, you'll be using it frequently (especially in winter.) This may sound surprising, but it's easy to get the wrong thermostat.
Are you buying it for your elderly mother, who can't move around so well anymore and needs a device that she doesn't have to get up to change? Do you like the direct interaction with the buttons? Do you want a touchscreen? What will fit in with your home's overall aesthetic? Even something like a thermostat can be an eyesore.
This might help you figure out what you want. Think carefully. A thermostat isn't something you buy regularly. Once you get it (and install it), you're going to be stuck with it, unless you're desperate enough to tear it back out of the wall and return it. We don't want that to happen.
10. Honeywell Wi-Fi Programmable Thermostat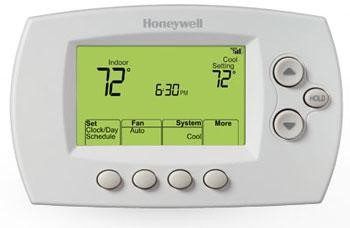 As the name states, Wi-Fi enabled, which means that you can control it from your computer or phone. You can view the local weather from it. It'll also give you a ding if the temperature seems to be too hot or too cold, or if there is a loss of Wi-Fi. It can also learn at what temperatures you seem to be most comfortable and pre-set itself. However, it is not the most pleasing thermostat to look at, and it does not have the most advanced technology.
Pros: controlled remotely, capable of learning, automatically updates itself
Cons: loss of Wi-Fi, not attractive
---
9. The Honeywell T5 7-Day Programmable Thermostat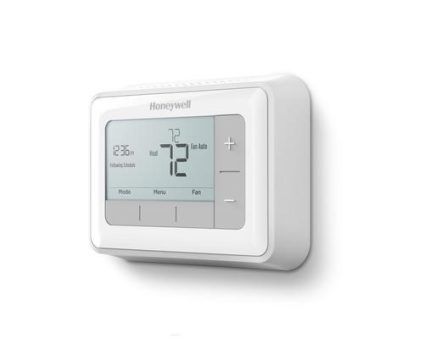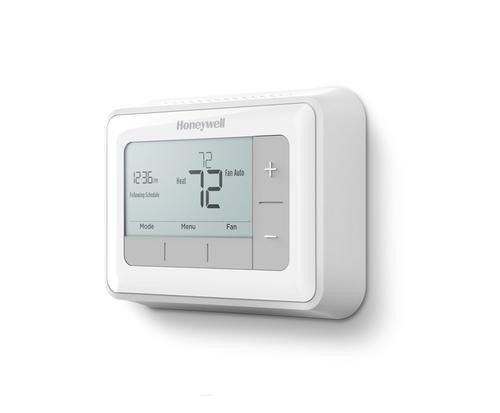 This thermostat lands at number 9, because it doesn't come with as many features. It can remind you when you should change your air filters and charge the battery. It learns what heating and cooling settings you like, and at which time, and automatically sets itself. You can also set your heating and cooling schedule for the entire week. This thermostat is backlit for easy viewing and contains most of the information that you'll need on one page.
Pros: no scrolling through menus, pre-sets itself
Cons: cannot control remotely, sticks out from the wall
---
8. Saswell 

7-days Programmable Touch Screen Thermostat

Like the others, this thermostat can learn what temperature you like and set itself. It has two power sources, batteries or a C-wire. You can also put it on vacation mode to reduce the energy used. It has reminders for the air filter and a backlit screen.
Pros: automatically sets itself, vacation mode
Cons: not attractive, not remote
---
7.Orbit 83521 Clear Comfort Programmable Thermostat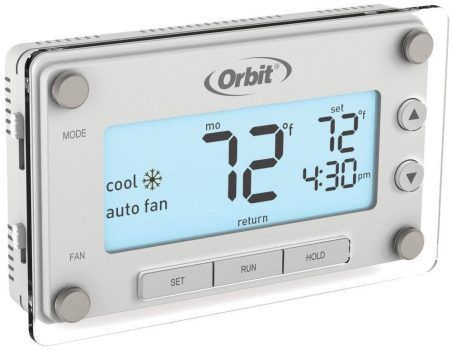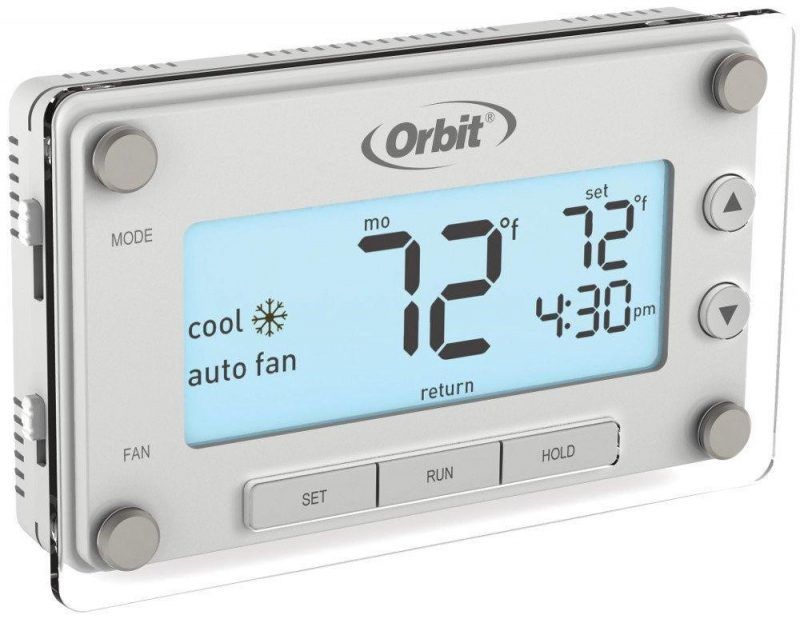 This thermostat can be programmed ahead of time and has a "copy" feature so that you don't have to waste time. It is also relatively aesthetically pleasing, with a contemporary design that you might think complements your home.
Pros: aesthetically pleasing, program ahead of time, "copy" feature
Cons: Not remote, sticks out from the wall
---
6. Nest Smart Thermostat 3rd Generation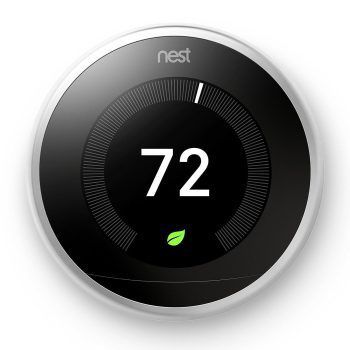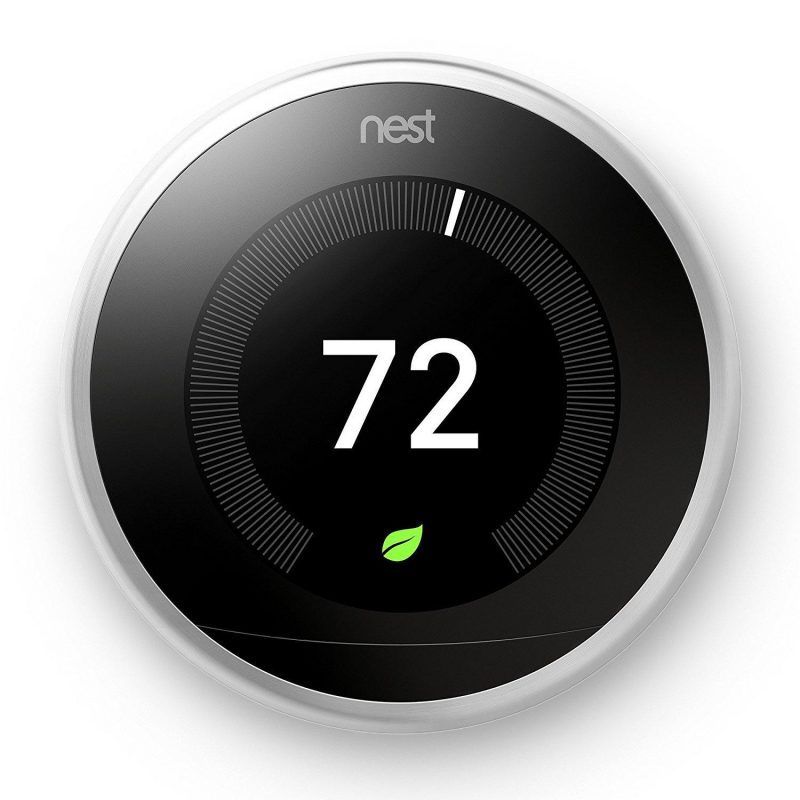 This thermostat learns the temperatures that you like and turns itself down when nobody is home, using the location on your phone. It is controlled by Wi-Fi from a smartphone or computer. It automatically lights up when you are near, using its sensors. You can also check your energy history in the app.
Pros: energy-efficient, automatically sets itself, can sense where you are
Cons: needs Wi-Fi to be controlled
---
5. Ecobee 4 Smart Wi-Fi Thermostat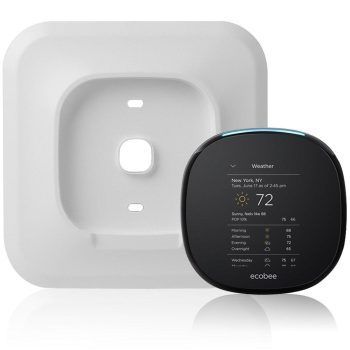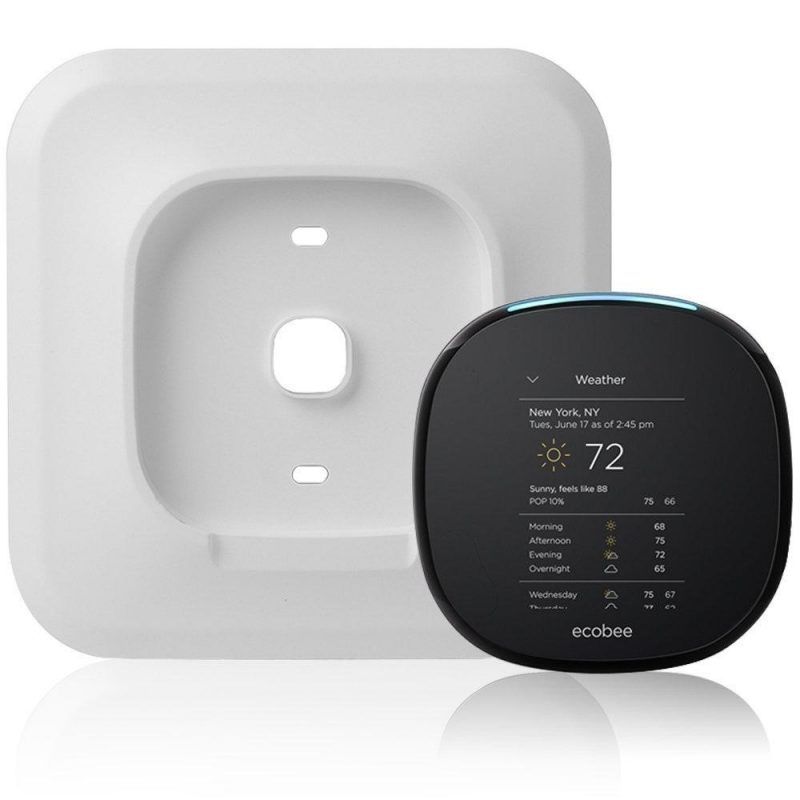 This thermostat mounts on the wall, but the interior thermostat can be removed so that you can hold it. Aside from being aesthetically pleasing, it can be controlled with Wi-Fi. It will also show the outside temperature.
Pros: sleek design, easy to hold, shows outside temperature, Alexa enabled
Cons: loss of Wi-Fi, no other features
---
4. Lyric Round 2.0 Wi-Fi Smart Programmable Thermostat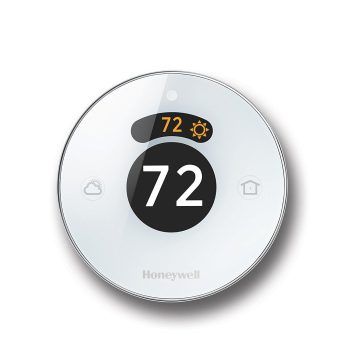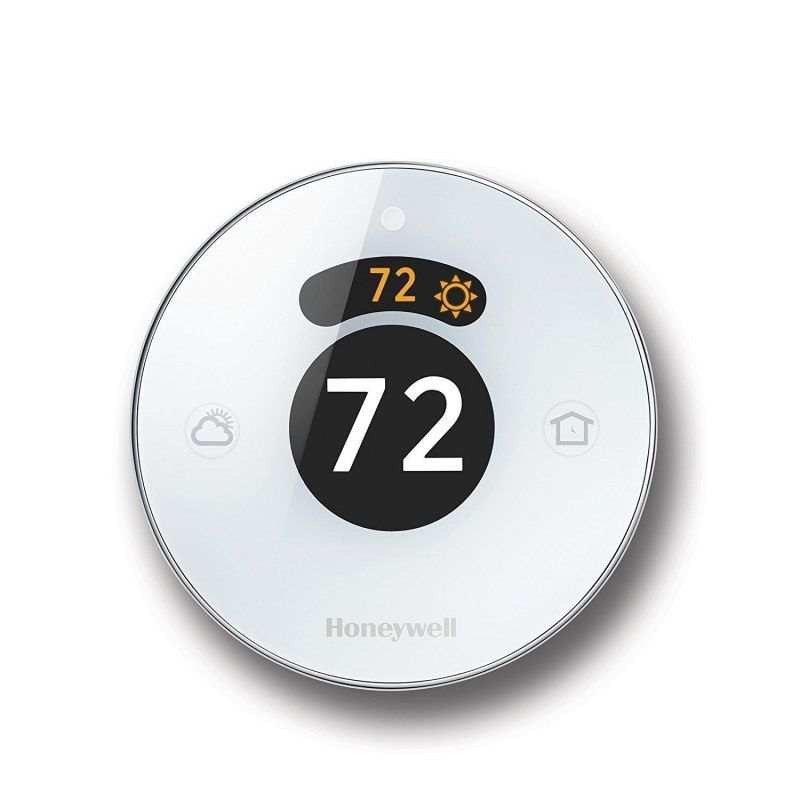 With Geofencing, IFTTT, this thermostat works with Amazon Alexa. This is the first of the more advanced smart thermostats. Its design works with Alexa or Siri. It will adjust itself for your comfort. It offers smart alerts and is Energy Star Certified. However, you need a certain level of technology in order to use it.
Pros: sleek design, good features, adjusts itself, works with voice control
Cons: needs a high level of technology to work
---
3. Honeywell RCHT8610WF2006 Lyric T5 Wi-Fi Smart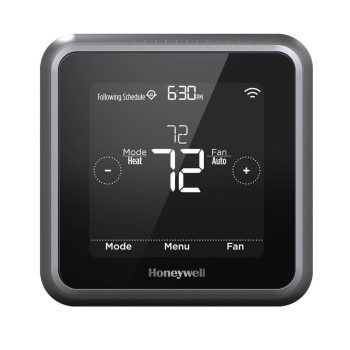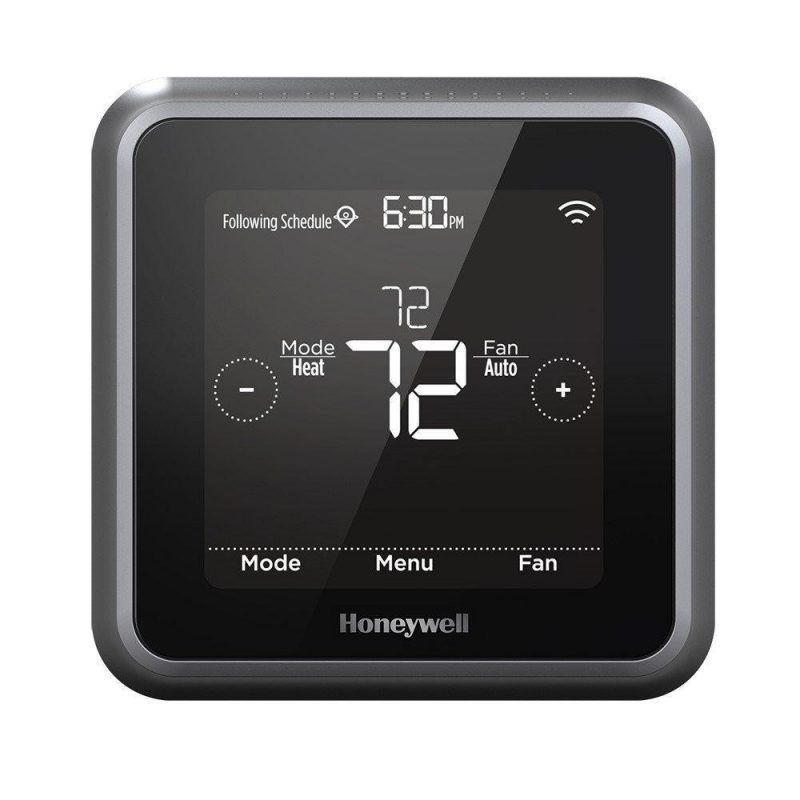 With Geofencing, this thermostat works with Amazon Alexa—Requires C-Wire. It works with Alexa or Siri. It has smart alerts and can be programmed ahead of time.
Pros: controlled remotely, voice-activated, pre-sets itself
Cons: needs a smartphone to work
---
2.  Emerson Sensi Touch Wi-Fi Thermostat with Touchscreen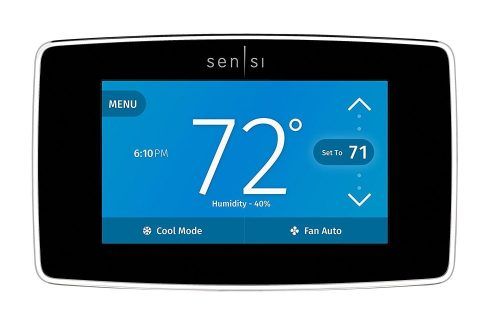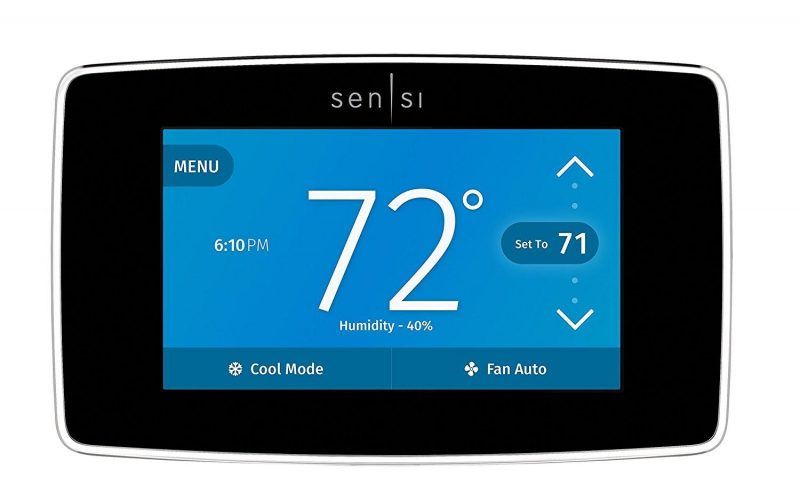 The ST75 thermostat was voted the best smart thermostat of 2017. With voice features this thermostat offers alerts and a hands-on experience with easy control.
Pros: sleek, voice features, touchscreen, backlit, Wi-Fi enabled
Cons: loss of Wi-Fi
---
1.Bosch Connected Control Wi-Fi Thermostat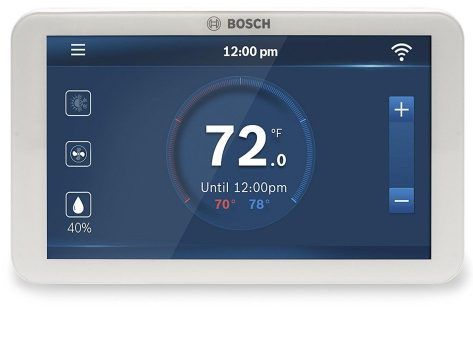 This thermostat is Alexa-Enabled. It has touchscreen and Wi-Fi availability. What's better, it works without Wi-Fi! You can program your schedule, and it'll adjust itself accordingly.
Pros: works with and without Wi-Fi, touchscreen, sleek design
Cons: does not sense where you are, no backlight
Which Thermostat Should you buy?
When I had to pick one for my home I chose the Bosche Connected Control Thermostat. My husband is a bit of a geek and likes all the bells and whistles. It has been a great addition to our home and allows us to leave the whole day using less energy and have the house at the perfect temperature when we return.
Perhaps this helped just a little on your quest for a thermostat. It's more involved than you thought, huh? Check out Amazon for other great thermostats if none of these caught your fancy.
The Advantage Of A Smart Thermostat
A smart thermostat is a gift that keeps on giving. You can't go wrong with having one in your home. Have you ever forgot to turn up the air when you left for work? Or maybe you want to turn off the heat while you're on a weekend getaway. No matter what your preference is, a smart thermostat can get the job done for you— even when you're away. Here are several advantages to having a smart thermostat:
Saves Energy
One of the primary benefits of having a smart thermostat is the ability to save money on your electricity. If you allow the thermostat to manage your home's climate control, it keeps some cash in your pocket. Plus, some smart thermostat providers provide ways you can practice energy-saving techniques to help you save even more.
Email Alerts
If you're away from your home, it's hard to know what's going on. However, when you have smart technology working for you, it could help you stay in touch while you're away. For instance, if there is a power outage or your thermostat becomes disconnected from its network, many smart thermostat companies will email you to notify you of the situation.
Change The Temperature From Anywhere
When it's a hot summer day, most people just want to come into a cool house. The good thing about smart thermostat is that you can lower the temperature to adjust it before you get home. It's as easy as a click of a button from your smartphone. 
Check On Your Home 
 Smart thermostats are great for people who have multiple homes. It allows you to check the temperature and other settings while you're away. That is an advantage for those who don't go to one of their residences on a regular basis.
Review Your Energy Usage
Smart thermostat providers are great at sending a detailed report of your energy usage. You can look at things such as how much air or heat you use the previous month, or compare your energy usage month to month. Not to mention, some providers might also reward you for using less energy.
Vacation Mode
If you're going to be away for a while, smart thermostats are perfect for keeping your home at your preferred temperature while you're on vacation. Also, if you want to increase or decrease the settings, you can do that remotely.
Final Thoughts On The Top 10 Smart Thermostats
There are more than enough reasons to install a smart thermostat into your home. They make life easier and help you stay on top of your electricity cost. Going are the days of worrying about high electricity bills or worrying about forgetting to change the temperature before you leave home. Luckily, smart thermostats are becoming the norm, so there are plenty of options to choose from. Plus, there are several providers available for you as well. Now that you know more about the best smart thermostat, which one do you think is best for you?