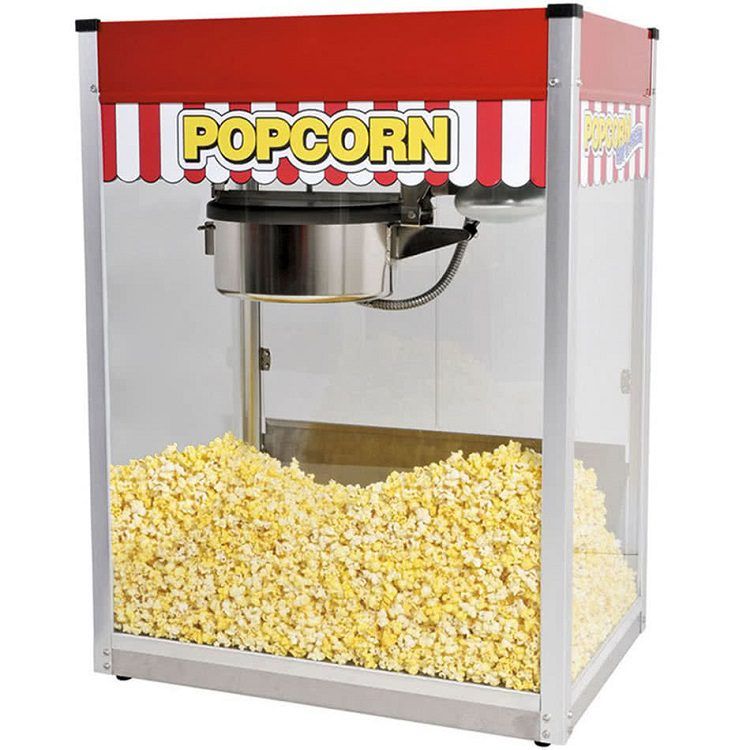 Popcorn oh how we love it that is why I wanted to make a list of the top popcorn makers. Did you know that Americans consume 17.3 billion quarts of popcorn a year! That sure is a lot of fun time there. From movies in the house to the local theater, we are crazy about popcorn.
The popcorn machine market is obviously a lucrative and a booming one, and as such, there are plenty of options to choose from when making a popcorn machine purchase. Having your own popcorn machine is a wonderful investment as well as being a wise choice for the environment, less waste makes for a happy planet earth.
There are many things to consider when buying a machine such as its durability and most importantly cost. Of the many choices, we have narrowed the list down to 11 that we think are all great options. Without further ado, here is the list of top popcorn makers.
11. Powerex Microwave Popcorn Popper
Can you say a healthy snack? With no oil needed and a BPA PVC free materials, this is a great option for the family. The product comes in different colors and pops 15 cups of popcorn in just 4 minutes. This is a great option for kids as it is safely made and easily cleaned
Pros
The machine has safety handles provide no burns to the hands of your loved ones
The popcorn maker is collapsable offering your kitchen a space saver
The product comes with a lid to keep that extra popcorn fresh
Cons
Not ideal for small microwaves such as those in RV's
The bowl has been reported to not hold up when placed in the dishwasher
10. TWOBIU Popcorn Machine
How about some fun in the kitchen with this FDA approved popcorn maker? The popper comes with an easy on-off switch for ease of use and is made from food grade aluminum alloy. This machine will pop 16 cups in 3 minutes and is also oil free so pile on that butter!
Pros
This product is FDA approved
The popper has an auto shut off feature
A butter melter is included
Cons
The machine gets very hot during use so little ones cannot be unattended
The unit is very loud during use
9. Original Silver Whirley Pop Stovetop Popcorn Popper
No products found.
Is the phrase "old school" in your vocabulary? The why not kick it old style with this stove top popper! For all purposes, it looks just like a pot but you cannot beat the experience that I know you will have when you crank this beauty up for the first time. With the stirrer, you will have fun and enjoy the taste of popcorn that is not burnt.
Pros
The unit works on the stove top ( a plus for all you greenies that don't like microwaves)
Clean up is only a paper towel away
The product is backed by a 25-year warranty
Cons
Being a product you use on a stove top, you cannot leave it unattended
The lid has been reported to come off during the cooking process
No products found.
8. West Bend 82505 Stir Crazy Popcorn Popper
No products found.
In the tradition of kicking it old school, our next popper looks like something out of that 70's show! With its see-through lid, this looks like a great option for your next home movie theatre. The popcorn maker has a 6-quart capacity and is vented so the popcorn doesn't come out soggy. What is more, clean up is a breeze with its nonstick features. This is a must-have for anyone who wants to keep staying alive with John Travolta and a healthy diet.
Pros
Motorized stir rod for consistent popping
The large lid doubles as a serving bowl
Can pop 27 cups of popcorn in roughly 4 minutes
Cons
Some reports of a metallic taste due to some of the materials used
The heating element is quite small so this may not be ideal for frequent use
No products found.
7. EverKing Popcorn Popper Air
The everking popper is economical in its size as well as the portions it produces. The unit does 50-80 grams of popcorn in 2-4 minutes depending on your portion size. It comes with the option of purchasing it with or without a popcorn shoot and has a 30-day money back guarantee. In the tradition of popcorn containers, it comes in red.
Pros
24-month warranty available
Safe enough for children to use
Only a damp cloth needed for clean up
Cons
As this is electric you should exercise caution when using it near liquids or during clean up
It is advised to wait for 10-12 minutes between use so this is not a popper that you want to buy if you have an army of hungry popcorn eaters waiting
6. Chefman Air-Pop Popcorn Maker
No products found.
Do you know a lighthouse keeper who likes to eat popcorn? Well, this may be the product for them. Its design looks just like a lighthouse and with popcorn having that yellow color it might be the perfect gag gift for their next birthday party. As popcorn makers go this one is not dissimilar to the rest on this list so far and it has an average size capacity for popcorn made.
Pros
Oil-free
Makes 12 cups of popcorn
Good for small spaces due to its size and design
Cons
The machine gets very hot
Kernels do not always pop
No products found.
5. Hamilton Beach Popcorn Popper
No products found.
Hamilton beach is probably one of the biggest names in kitchen appliances, so of course, they have a popcorn maker, that would be like Betty Crocker not having cake pans! This unit. this little beauty comes in red and almost looks like an electric frying pan. Its capacity is 24 cups per batch and I like the design as it has an air vent to help you keep that crisp popcorn until its time to shovel it down in front of your favorite film!
Pros
Nonstick popping plate included
Comes with a motorized stirring arm
Has a built-in butter well so the popcorn is all buttered up and ready to be devoured
Cons
Its design makes it difficult when serving the popcorn and could make a mess
You can only make a minimum of four cups so this may create waste due to uneaten popcorn
No products found.
4. Hamilton Beach 73310 Party Popper Popcorn Maker
No products found.
This next little baby had the wow factor for me, mostly because of its convenient design. With this unit, I only have to take the top off after popping and walla my popcorn is already in a bowl and ready to go. With its top and bottom storage and easy cleanup, this is a unit that you should take some time to look into buying.
Pros
The removable popping chamber is dishwasher safe
Doubles as a storage container
Comes with a unique measuring cup that allows you to infuse your popcorn with a variety of oils
Cons
Some kernels don't always pop
Some popcorn has burnt a little but that could be down to user error (overfilling)
No products found.
3. Great Northern Popcorn Machine
No products found.
Do you have a man cave that needs that little something to finish it off? Do you fill your house with classy things? Well then look no further than this stylish popper. With that 1940's style trim, this baby can pop up to 3 gallons of popcorn per batch! This would be a great idea for a pre-k or daycare center and I am sure the kids would have fun smelling and seeing their delicious treats being made before their eyes.
Pros
Great for large gatherings
Comes with a 3-year warranty
Has a built-in warming deck to keep the popcorn hot until you are ready to eat it.
Cons
This is bulky so it may not be easy to take on the road
Works on 110 V, potential to overheat
No products found.
2. Great Northern Popcorn 6210 POPHEAVEN
No products found.
This next great northern is also a commercial grade popper and comes in 2 different designs. The unit itself comes with a 12-ounce kettle and an all-metal gearbox. What is more, the unit is equipped with a built-in warmer and comes with a scoop to dish out the 5 gallons it can produce.
Pros
Comes with a kernel reject tray to save your teeth!
Has thick tempered glass to help keep the popcorn warm
Warmer tray offers hot fresh popcorn
Cons
The machine is slow to pop compared to others
Warranty only lasts 30 days ( should be longer in a unit of this size and capacity)
No products found.
1. Paragon Standard Pop Popcorn Machine
No products found.
And last but not least is the Paragon Standard Pop Popcorn Machine. Now, this is the most pricey one on the list but it works hard for the money by producing 147 one ounce servings per hour so this is a handy machine for any small business or carnival. It is made with materials safe for food and is easy to clean and contains stainless steel.
Pros
Limited lifetime warranty
Optional matching cart available
Scoop included
Cons
The machine is bulky so clean up may be an issue
Bulky and not easy to move at 56 pounds
No products found.
Why Should You Get A Popcorn Maker?
What's the use of a popcorn maker when you can just pop a bag in the microwave, right? Wrong! Using a popcorn machine makes eating the delicious snack more exciting. If you're not convinced that getting a machine is worth it, here are a few reasons to take it into consideration:
Birthdays
Birthday parties are a fantastic reason to break out the popcorn machine. There's no way to keep a  bunch of hungry mouths fed by sticking bags into the microwave. Using a machine is the best way to keep the corn flowing and make everyone happy. It's great for kids parties, circus-themed parties—you name it! It's the perfect addition to any party.
Movie Night
There's always a way to take movie night to the next level. Invite over a bunch of friends and make the night special. Instead of making two big bowls of popcorn for everyone to share, give each person an individual bag as if they're really at the theater. If you really want to make it realistic, you can serve nachos, soda, and candy to enhance the experience.
The Holidays
Speaking of movie night, the holidays are a time when everyone likes to snuggle on the couch and watch a nice Christmas movie. It's always fun to eat a quick snack and bake cookies while enjoying the evening. Using a popcorn maker on a cold, winter night makes everyone feel warm inside. Not to mention, popcorn is a popular decoration for the holidays. While you're stringing the kernels, the machine cranks them out with ease.
DIY Popcorn Flavors
Sometimes it's nice to put your own spin on your popcorn treat, and if you have a family who likes different flavors, a popcorn machine helps to keep everyone satisfied. You pop separate bowls for everyone and add cheese flavor, caramel, spicy seasoning, or whatever you'd enjoy. It's such a cool way to put a tasty spin on a traditional treat.
As A Gift
Who doesn't like snacks? If you have a popcorn maker, it's a great way to create cute little gifts for your family and friends. Pop some corn, put it in a cute little bag, wrap it with a ribbon, and pass them to your loved ones. Maybe, you can pass them out as gifts during special events. For instance, you can place it in the thank you bags for birthday party guests or as prizes for the winners of baby shower games.
Final Thoughts On Popcorn Makers
The bottom line is popcorn makers are fun. You never know when it might come in handy, but you'd be glad that you have it when you need it. There's something festive about popping kernels for everyone to enjoy, and it brings a nostalgic feeling all of those involved. Not to mention, it's a money-saver. You can stretch individual kernels and make a lot more popcorn than with the bagged version. You can't go wrong with it!
Which popcorn machine will meet your needs?
So with all these choices in mind, you are probably still pondering your choices. If it were down to me I would by the West Bend 82505 Stir Crazy Popcorn Popper. The reasons why I would buy this product and I think you should are the following.
The unit is moderately priced, it pops a more than sufficient amount of popcorn for the home movie night at 6 quarts, the lid is also a serving bowl so dishing out the popcorn is only a flip away. This is a fun unit and it would suit the decor of any house because you can put it away when not in use!
I think you guys should check this out and I hope you make the investment in this fun midrange unit that I am sure won't disappoint. Don't delay, head on over to Amazon and purchase the West Bend 82505 Stir Crazy Popcorn Popper today!
Last update on 2023-05-29 at 16:25 / Affiliate links / Images from Amazon Product Advertising API