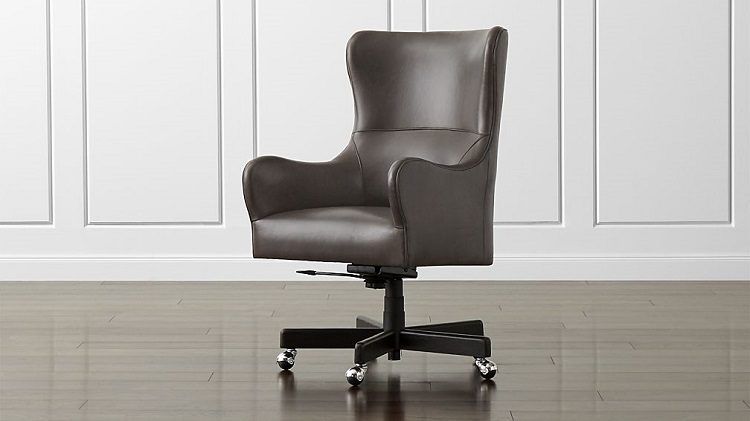 As more people work online both from the workplace and from home, more and more time every day is spent in office chairs. I work from home so I need the top office chair. Add to that the time that many people spend in their office chair checking social media or email at home, or playing computer or video games, and you may find that you spend a significant portion of your life in your office chair.
When you consider how much time you are likely to spend in your office chair, as well as all of the problems that can arise from using an office chair that doesn't support your back, arms, and wrists properly, it makes sense to carefully consider your decision when choosing an office chair.
A bad office chair can lead to back strain and leg problems as well as symptoms of the wrist and fingers like arthritis later in life as well as carpal tunnel.
A good office chair should have excellent lumbar support. This is one of the most important considerations in choosing an office chair since the lumbar support is essential for supporting the back and preventing problems with the spine. When you sit in an office chair, you should be able to feel plenty of support on your lower back that naturally pushes you into good posture.
People vary in height so a good office chair should offer adjustments to customize the seating experience. The lumbar support should be adjustable, as should the width of the arms and the overall height of the seat. You should also be able to control the angle of the seat and the back and possibly even the width and height of the back of the seat.
Most office chairs have wheels so that you can easily move between desk and workspace or from areas of your desk without getting up. Wheels also make it easier for you to tuck yourself as close to the desk as possible for ideal typing.  A good office chair should roll and swivel freely.

10.

Mid Back Mesh Ergonomic Computer Desk Office Chair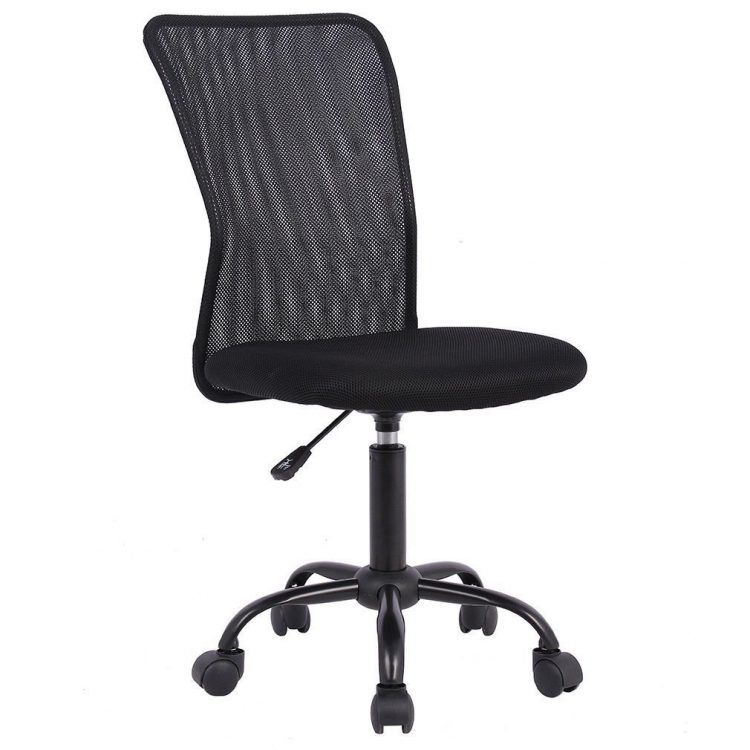 While most people prefer to have arms on their office chair, for those who prefer an armless chair so that they can comfortably rest their arms on their desk surface, this ergonomic computer chair by Best Office may be a good choice. This chair is adjustable from 35.6 to 40.4 in to meet the needs of most people. The 360-degree swivel and sturdy wheels of this chair allow you to move easily through your office space.
It's legs are sturdy and the heavy duty solid structure is high capacity. This chair does not recline, which is a nice feature that most people would like to have in an office chair. While the armless design may be desirable for some people, for the most comfortable typing and computer using experience it is usually better to have a chair with adjustable arms.
Pros
Adjustable from 35.6 to 40.4 in

Sturdy five-star design of legs

360° swivel
Cons
Armless design is not as good for typing

The chair does not recline
---
9.

Flash Furniture Mid-Back Black Mesh Swivel Task Chair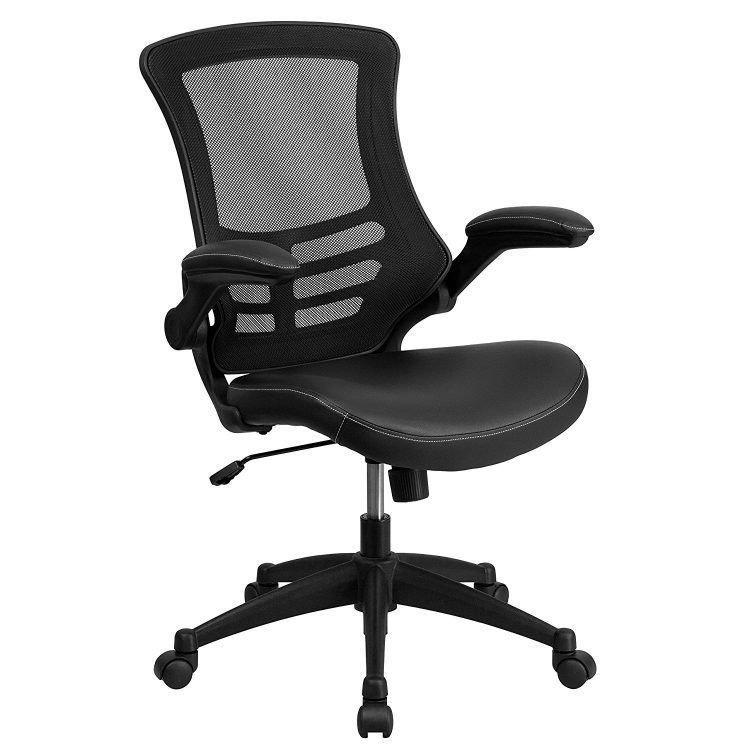 This contemporary and modern looking chair by Flash Furniture offers a mid back design that provides built-in lumbar support so that your back will stay comfortable through hours of typing. The curved mesh back offers additional support to the lumbar area and also provides a cool and pressure point free surface.
The seat is padded with a waterfall front edge that takes away any pressure from the lower legs and encourages circulation throughout the legs. This chair swivels easily 360° so you can access all of your workspaces with ease. The arms are flip up so you can have all of the benefits of an armless chair or an armchair at your discretion without the hassle of detaching.
Pros
Built-in lumbar support

Curved mesh back for additional support and to stay cool

Waterfall front edge to take pressure off of legs
Cons
Not as good for supporting heavier or taller people

Bottom padding gets pushed down through the years
---
8.

Ergonomic Mesh Office Chair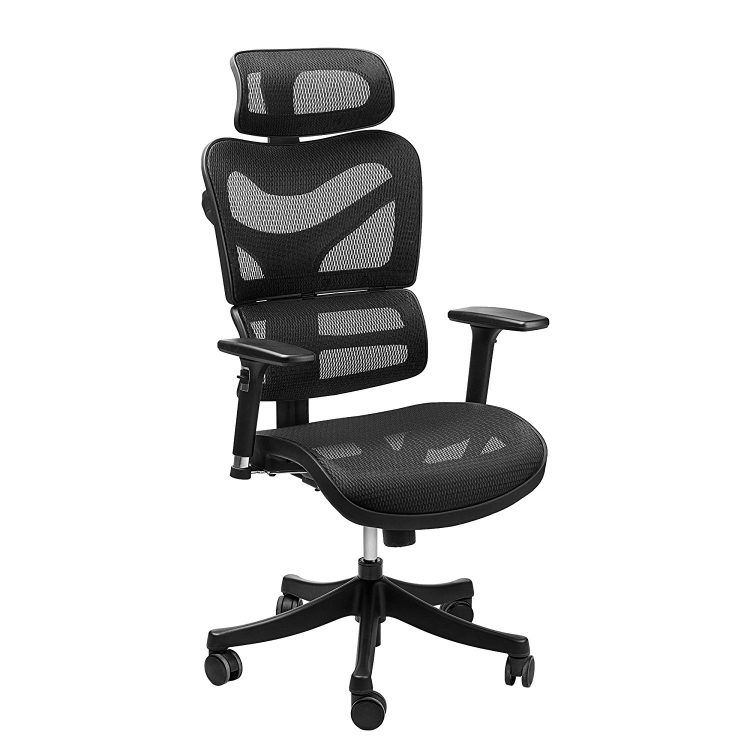 This futuristic looking desk chair from Sieges allows you to work in comfort. The modern profile looks professional, and this chair is fully adjustable for customized comfort. This chair features a 3D function armrest and a tilt lock mechanism and tilts tension knob so that you can recline to your comfort level.  The high-density cloth is breathable to allow for cool and comfortable seating throughout the day.
This chair is adjustable for reclining features, lumbar support, seat tilt, and even more so that this chair will feel like it is tailored to you. The floating infinite recline technology enables your body to remain in motion throughout the day so that you do not become sore or stiff from lack of movement.
Pros
Fully adjustable

Tilt lock mechanism and tilt tension knob to customize reclining

Highly breathable cloth for cool sitting
Cons
Looks too modern for some settings

Not as good for shorter people
Click here to buy on Amazon
---
7.

Modway Articulate Ergonomic Mesh Office Chair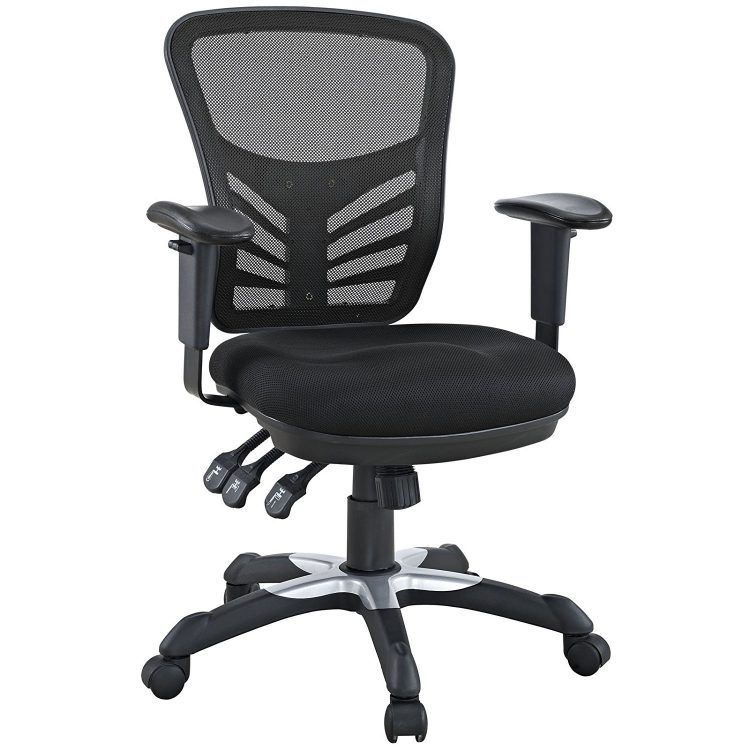 This office chair is stylish and good-looking without drawing too much attention to itself. The breathable mesh back allows for cool and comfortable sitting all day and the adjustable armrest allows you to find just the right comfort level for you.
This chair is height and tilts adjustable so that you can customize your sitting experience and the pneumatic gas cylinder allows for smooth adjustments every time. The two-tone base is sturdy so you will never have to worry about tipping over in this chair, and the wheels have hooded casters to prevent them from getting anything stuck in them.
Pros
Breathable mesh back

Height and tilt adjustable

Sturdy two-tone base
Cons
Mesh becomes loose after use

The lever on the back becomes dislodged so tilt will not stay locked
---
6.

Modway Jive Ribbed High Back Tall Executive Office Chair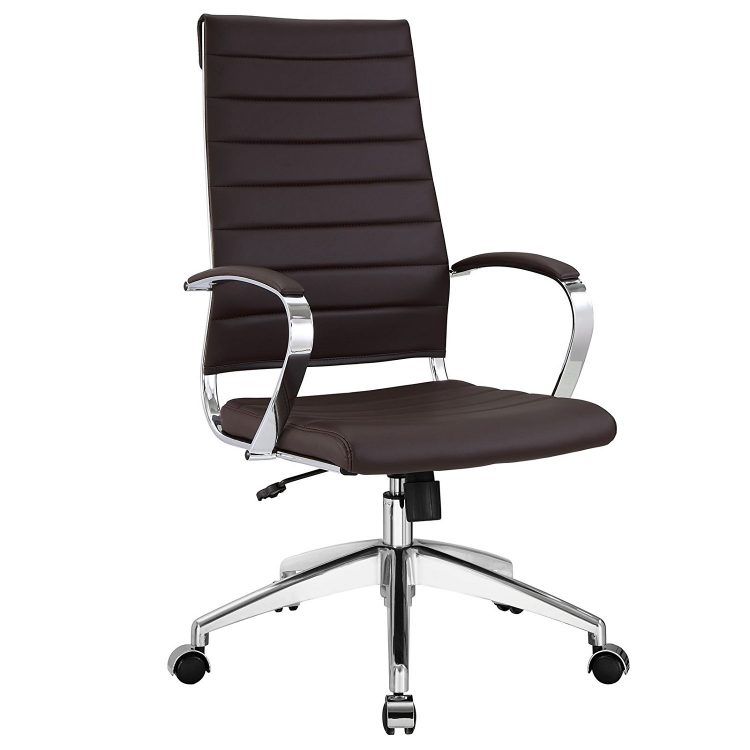 This sleek and stylish modern-looking office chair by Modway provides a stylish ribbed back that is a great alternative for people who dislike the mesh backs that are often offered by office chairs. Passive lumbar support provides comfortable seating even for the long term without having an obviously arched design that looks too modern for some settings.
The seat is comfortably padded and easy to adjust one-touch height adjustment. The five-star Chrome base will go with most office decor and is sturdy. The height and tilt of these chairs is adjustable and the padded armrests, while not adjustable, provide a comfortable experience for most people. This chair comes in a range of fun colors to customize your look.
Pros
Sleek and stylish, not as modernistic as many office chairs

Passive lumbar support

Comfortably padded and easy to adjust the seat
Cons
Non-adjustable arms

Arms tend to come loose

Some people find the padding to be hard
---
5.

Homall Executive Swivel Leather Gaming Chair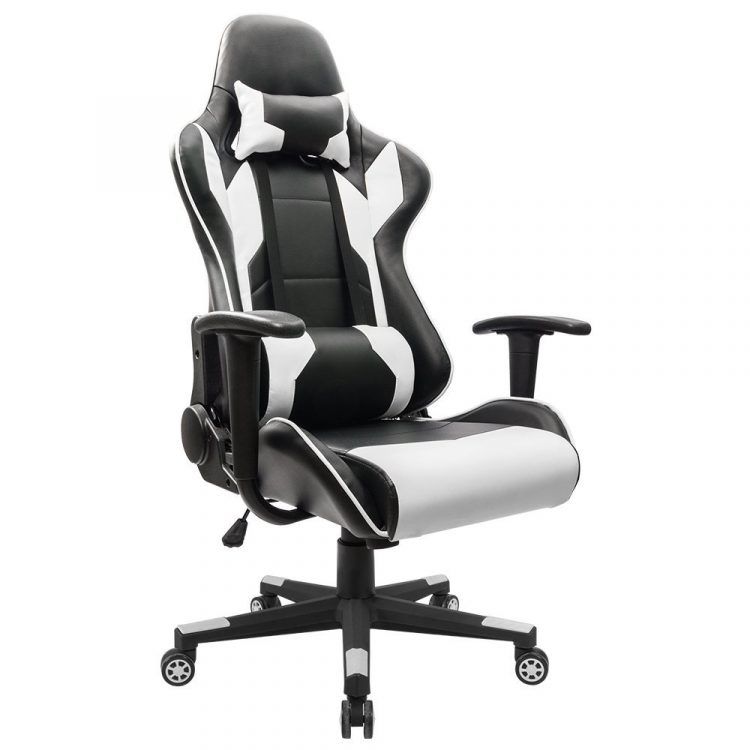 This futuristic Chair by Homall provides support all the way up the full length of the back with additional support for the shoulders, head, and neck. This chair is designed to follow the body's natural shape and it is upholstered in quality PU leather for ultimate comfort. This chair includes a foam headrest pillow and a lumbar support cushion so you can customize your seating experience even further.
The tilt locking mechanism allows you to choose from 90 to 180 degrees and the rocking function knob allows you to adjust the angle of the recline. This chair is tested to a capacity of 300 lb. The armrests are comfortably padded but are not adjustable.
Pros
Full support of the length of the back  

Upholstered in quality PU leather

Tilt locking mechanism from 90 to 180 degrees
Cons
Non-adjustable armrests

Not as good for bigger people
---
4.

Furmax Ribbed Office Chair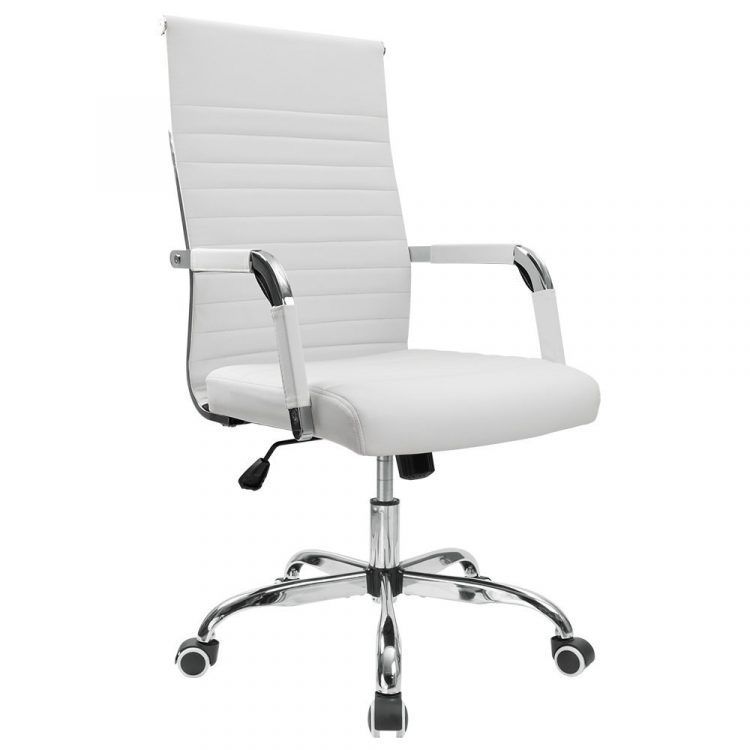 This classy office chair by Furmax offers excellent lumbar support and good comfort in a stylish modern chair. The high back design will look elegant in any setting. Lumbar support is built in so as to be subtle while strong. Other office chairs have evident contours to provide lumbar support, but this chair is able to provide lumbar support with a gentle curve that does not disrupt the elegant look of the chair.
Adjust this chair 360 degrees and from the height of 16.7 and 19.9 inches. The sturdy rubber wheels can roll easily over hardwood or carpet without leaving a mark or making a lot of noise. This chair can be rocked from 90° to 120 degrees to allow for motion during the day. The 3.15 thick padded cushion provide long-term comfort.
Pros
Subtle but strong lumbar support

The high back design looks elegant in any setting

Sturdy rubber wheels can roll over hardwood or carpet with ease
Cons
Sacrifices on comfort for looks

Difficult to  put together
---
3.

AmazonBasics Mid-Back Mesh Chair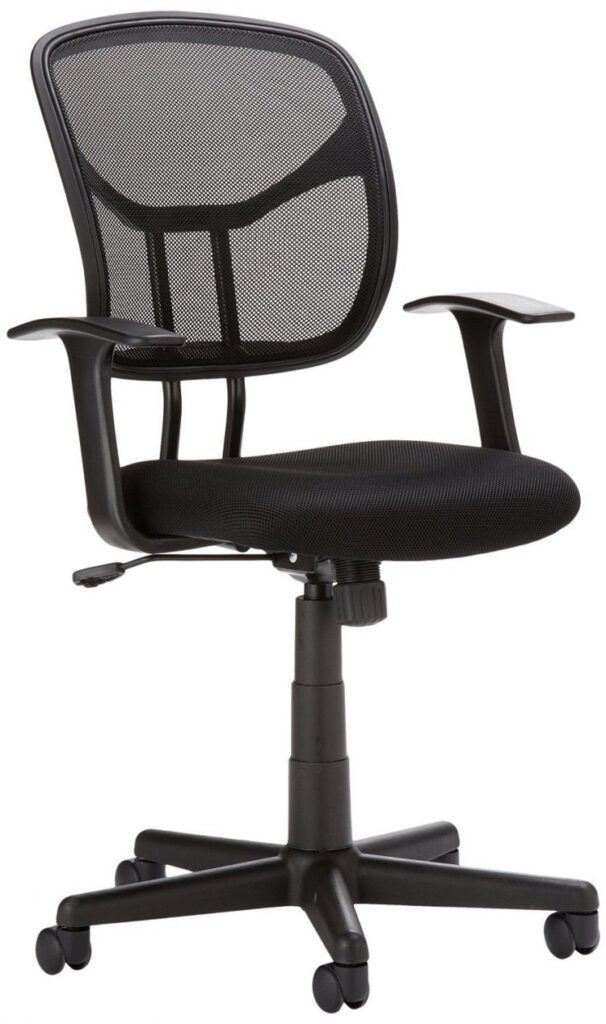 This straightforward office chair by Amazon has a modern profile and a sophisticated look to give any office a professional appearance. This chair is fully adjustable using simple pneumatic controls so that you can raise or lower your seat as well as a rock back in your chair. The chair is easy to raise by leaning forward and pulling on the control handle and easy to lower by pulling on the control handle while seated.
By pulling out the control handle your chair will tilt back and by pushing it in you can lock the tilt. A tilt tension knob allows you to choose how hard or easy it is to tilt. The mesh covered seat and chair back allow for cool comfortable seating and enhanced breathability.
Pros
Simple pneumatic controls are easy to adjust

Mesh seat and chair for enhanced coolness and comfortable seating
Cons
Very minimalistic and missing features that may be desirable

Cushioning is not thick
---
2.

Flash Furniture Mid-Back Black Leather Swivel Task Chair


This straightforward good-looking chair by Flash Furniture offers a comfortable cushy seating experience while still looking elegant and good in any environment. This chair offers good lumbar support while not looking to modernistic, and it is fully adjustable for a customized seating experience.
A tilt lock mechanism allows you to choose whether the chair will tilt or not and a tilt tension adjustment knob allows you to choose how easily the chair will tilt. The nylon arms of this chair are comfortable but are not padded or adjustable. The swivel seat has a pneumatic seat height adjustment so it is easy to adjust to your height requirements. The Leather Soft upholstery is made of leather and polyurethane for increased softness and durability.
Pros
Straightforward good-looking chair with comfortable upholstery

Subtle lumbar support

Fully customizable
Cons
Chair is narrow

Width between arms is narrow
---
1.

Modway Edge Mesh Back and Black Vinyl Seat Office Chair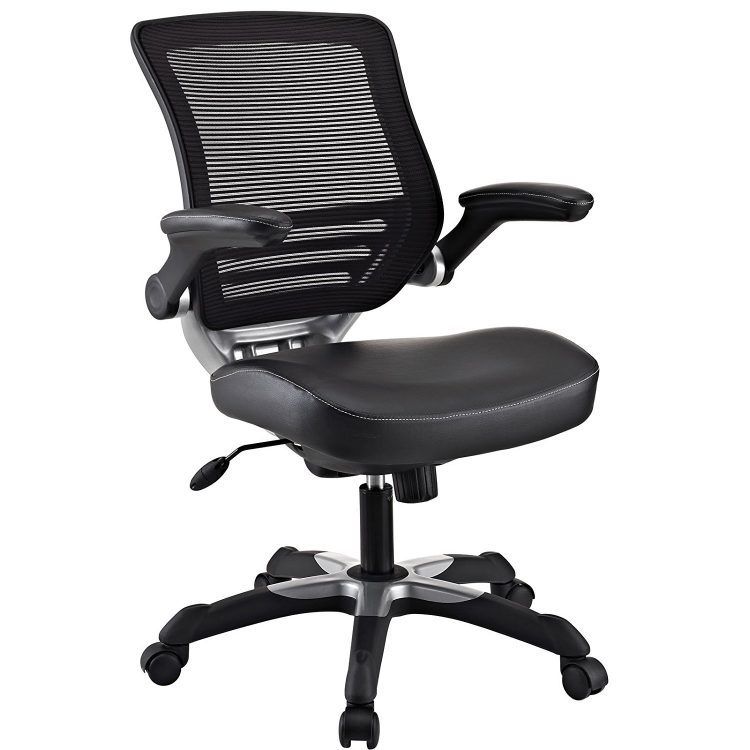 This durable and good-looking office chair by Modway offers the best in comfort and support. The armrests of this chair easily rotate up so you can choose to have an armless design if you would like, without having to detach the arms. This chair offers excellent ergonomic support and its breathable mesh back forms contours to support your lumbar area and the rest of your back.
The padded waterfall seat allows you to sit comfortably while taking pressure off of your legs. the wheel casters allow you to glide on any sort of flooring easily, while the Synchro-tilt and tension control allows your feet to stay on the ground while you tilt backward so that you can feel stable but still allow some motion during your workday.
Pros
Armrests rotate up

Breathable mesh contours to provide lumbar support

Padded waterfall seat to take pressure off your legs
Cons
Loses height with time

Cushion is thin
Which should you buy?
The Modway Edge Office Chair is an excellent office chair . This chair is durable and good-looking without being overly futuristic or old-fashioned.
The convenient ability to flip up the armrests of this chair raises it above many other chairs in its category, and the padded waterfall seat also provides an important element to make sure that you have good circulation through your legs. The use of breathable mesh contours to provide back support gives you a sturdy and cool support system while not looking overly technical.