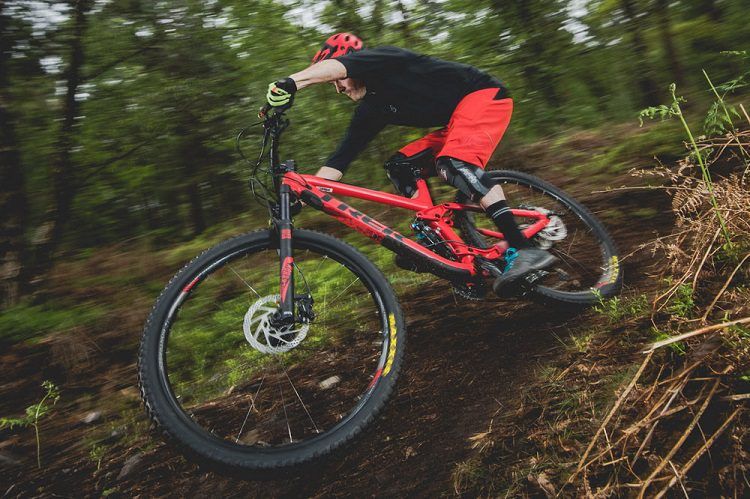 Mountain biking can be an exciting and invigorating experience. Mountain bikers get to enjoy the excitement of racing through natural settings while appreciating the beauty around them. The list will help you find the top mountain bike for your needs. Whether you already have a mountain bike and are looking to upgrade, or you are new to the hobby, there is a mountain bike that is perfect for you.
There are a variety of bikes to choose from, ranging in price from several hundred to several thousand dollars, and offering  specialized features to meet your needs.
Trail bikes allow you to comfortably ride down a trail with friends and also go down the road without difficulty. Trail bikes are a good balance of a bike that is fun and has a sensible overall weight.
Cross-country bikes can provide a faster and more exciting riding experience. They are wonderful if you are considering racing, but can be more tricky to ride and you may be more likely to fall off them than other types of mountain bikes.
Fat bikes offer excellent traction, especially if you want to ride in the snow or the sand. Because of their stability, these bikes are wonderful for beginners. The wide tires are reassuring and give a beginning biker confidence. The fat tires of these bikes range from 3.7 to 5 in, and while providing excellent traction, these bikes can also be much more difficult to pedal and slower.
While this isn't a bad thing if you are mountain biking for exercise, if you intend to travel a long distance on your bike, such fat tires may exhaust you in the long-term.
If you are into an exciting ride, all mountain bikes are designed for more intense climbs  and longer and scarier descents. These bikes are designed to perform well on steep downhill rides, while also being light enough to easily pedal uphill.
10.
Vilano Blackjack 3.0  Mountain Bike MTB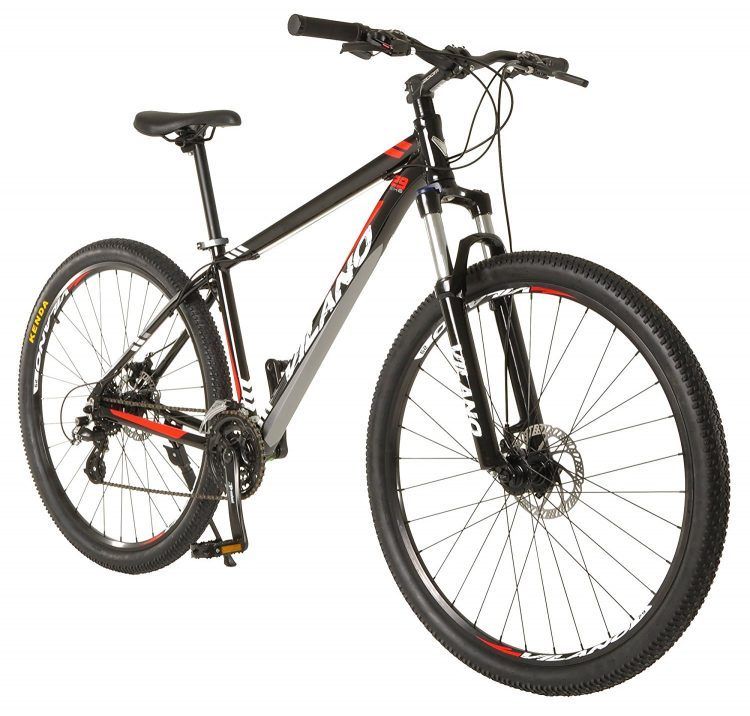 This versatile bike by Vilano is equally comfortable on paths through the mountains or on asphalt roads. The frame is hand-built and designed for withstanding hard rides, and the brakes are reliable mechanical discs.
Double wall Alloy rims will make you feel confident in your tire's performance. The Blackjack has 24 speeds so you can customize your ride and is easy to assemble with basic tools. This bike is not as good for very tall people and has a weight limit of 250 lb. The seat that comes with the Blackjack is not very comfortable, so you are likely to want an upgrade to a new seat.
Pros
Handmade alloy frame

Packs lots of features for a budget price

24 speeds
Cons
Not as good for taller people

Mechanical brakes are not as good as hydraulic brakes
---
9.
2018 Gravity FSX 1.0 Dual Full Suspension Mountain Bike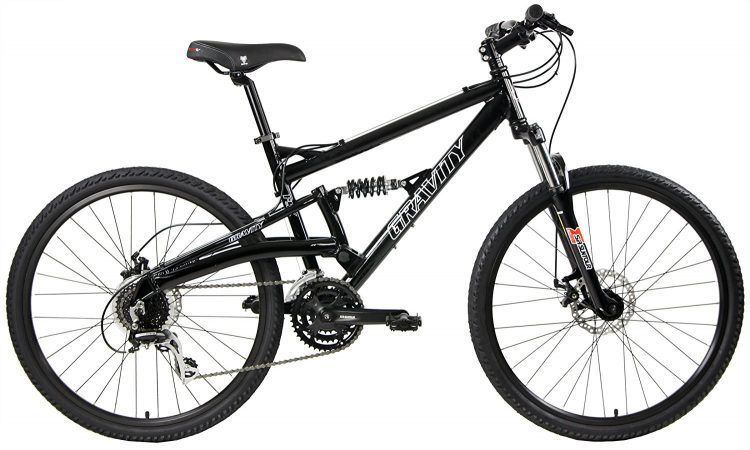 This bike offers 24-speed dual suspension so that you can ride smoothly on mountain trails or on roads. The front and rear disc brakes can make you feel confident about your ability to stop when you need to, while the advanced aluminum frame features single pivot technology and an adjustable rear coil as well as an adjustable front shock.
While the tires are not as high of a quality and not as well suited for mountain roads as some other tires, most of the equipment you get with this bike is quality.
Pros
24 speed and dual suspension

Front and rear disc brakes

Advanced aluminum frame with single pivot technology
Cons
Tires that come with it are not good enough for Mountain paths

Not as good for heavier people
Click here to buy on Amazon
---
8.
Mongoose Dolomite 26" Men's Fat Tire Bike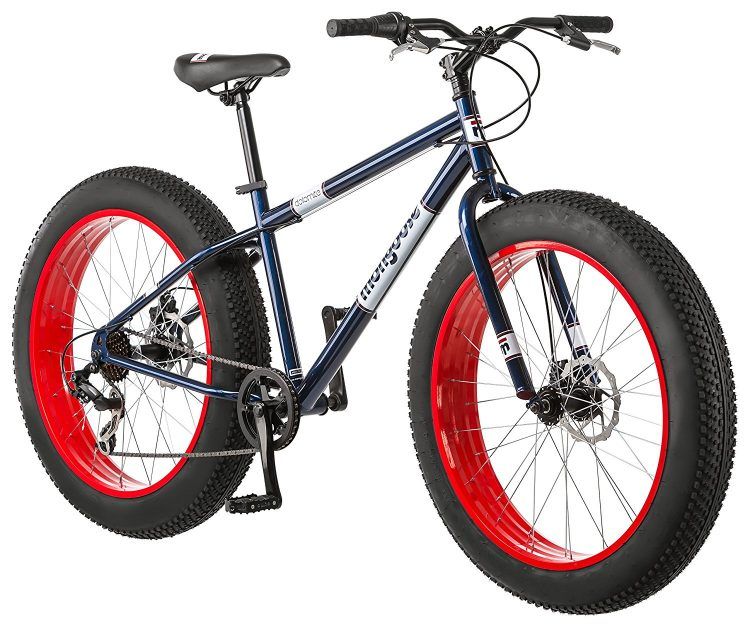 Mongoose is a well-known name in mountain bikes,  having developed a variety of mountain bikes since 1970. Their Dolomite Fat Tire Bike is an impressive sight on the trail. The huge tires of this bike glide over dirt or snow with ease and bounce across embankments and over rocks while maintaining a comfortable ride.
Four-inch tires make riding over virtually any terrain possible with this versatile bike. Fat tires make a comfortable ride over a variety of terrains and for long-distance writing. This bike is sturdy and is weighted to feel like it.
Pros
Fat tires can provide a comfortable ride over almost any terrain

Mongoose is a trusted name in mountain bikes

Lots of features for a reasonable price
Cons
Heavy compared to more expensive fat tire bikes

 Not as good for taller people

Chain is not as high quality as the rest of the bike
---
7.
New 2018 Diamondback Cobra 20 Complete Bike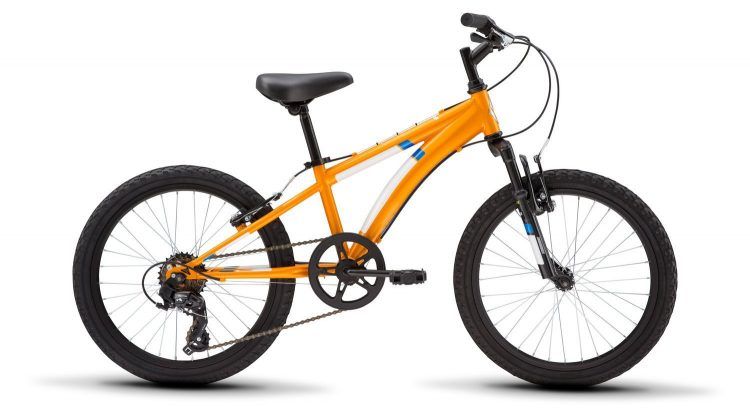 The durable steel frame can handle all of the rough treatment that kids throw at it, and can handle the bumps and scrapes that come with learning to ride a bike.
Features like the suspension and powerful brakes can make you feel confident that your child will ride safely, while the 6-speed drivetrain gives your child options in riding on the street or mountain roads.
Pros
Grows along with your child

Big tires are suitable for either pavement or dirt

 6-speed drivetrain for comfortable riding on road or dirt
Cons
Only good for children 4 to 9

Difficult to put together
---
6.
Huffy Men's Alpine Mountain Bike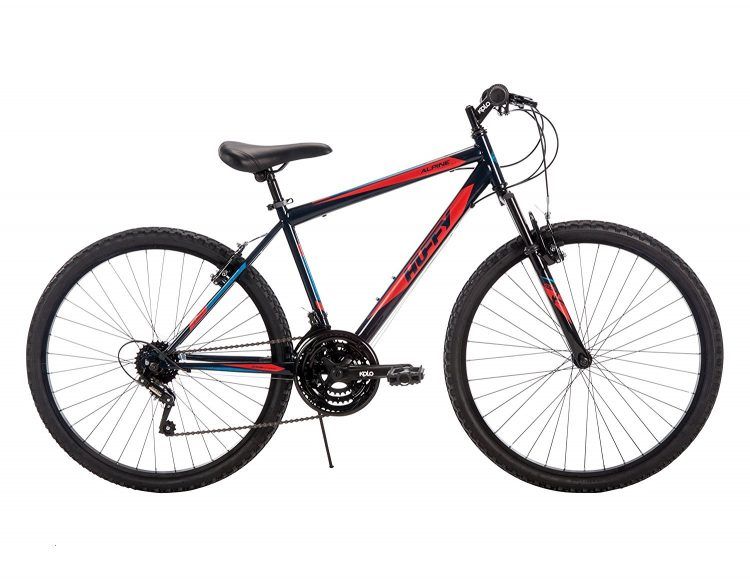 This precision-crafted bike has a steel hardtail frame and Kolo 1200 suspension for handling mountain paths. The brakes are steel linear pull so you can feel confident that you will stop when you need to, and the 18-speed twist shifting is easy to adjust and allows you a comfortable ride on city streets or on mountain paths.
The 26-inch wheels are almost two inches wide and are knobby with weather-resistant alloy rims so that they perform well no matter the weather conditions or the  riding surface.
Pros
Easy gear changes between 18-speed twisting  gear

12 Fork specially designed to absorb shock for the smoothest riding experience

Lightweight Alloy rims are both weather resistant and designed to perform well on roads or Mountain pads
Cons
Uncomfortable seat

Bikes frequently come with some bent parts
---
5.
Merax Falcon Full Suspension Mountain Bike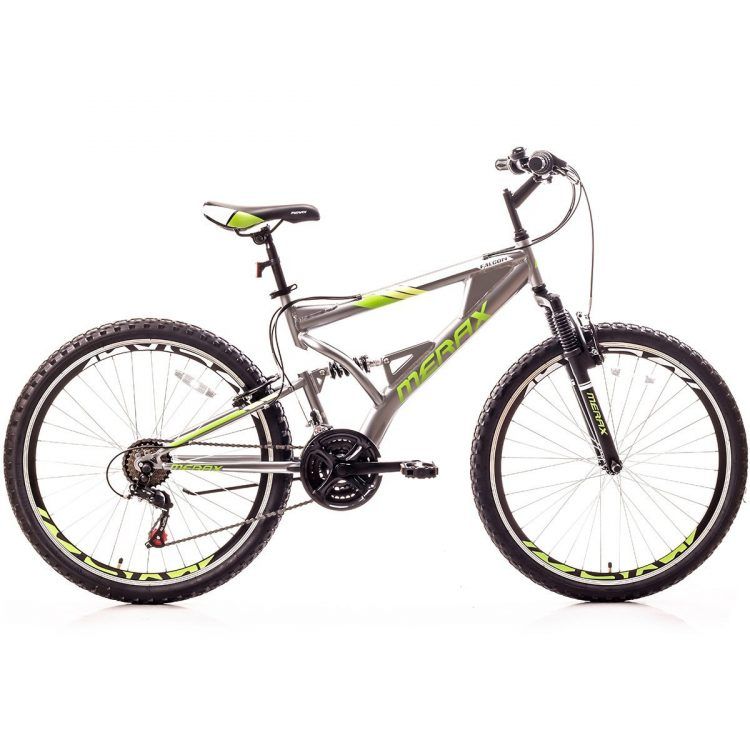 Merax is a reliable bicycle brand that has been making bike since 1995. The bikes that Merax makes are designed to encourage an active lifestyle by making exercise easy and fun. The Falcon features an aluminum frame with dual suspension design for a comfortable ride and good performance over time.
The 21 speeds are easy to shift through and reliable, and the linear pull brakes provide excellent stopping power without sending you over the front of your bike. 
Pros
Aluminum frame dual suspension design gives control and a comfortable ride

21 speeds are easy to shift for a reliable ride

Linear pull brakes provide excellent stopping power
Cons
Heavy compared to other  bikes in the same price range

Not as smooth a ride as some other bikes
---
4.
ORKAN Mountain Bike Hybrid Bike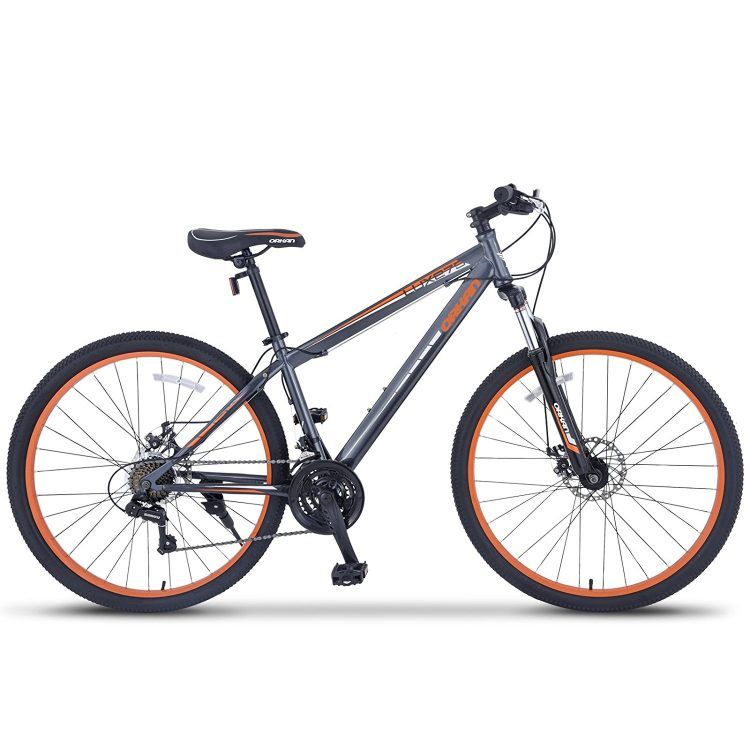 The steel frame of this bike offers a suspension fork for a smoother ride and weighs about 35 lb. The frame is designed to minimize vibration. This bike offers 21 speeds that can be easily and precisely shifted.
The seat is adjustable to fit people from heights of 5'1 to 5'9. While this bike is not as light, rugged, or smooth as more expensive bikes, for the price it offers a good entrance into mountain biking.
Pros
Steel frame design to minimize vibration

21 speeds are easy to shift through

Quality bike for a very affordable price
Cons
Only fits people from  5'1 to 5'9

Recommended for people weighing 200 lb or less
Click here to buy on Amazon
---
3.
Raleigh Bikes Tokul 1 Mountain Bike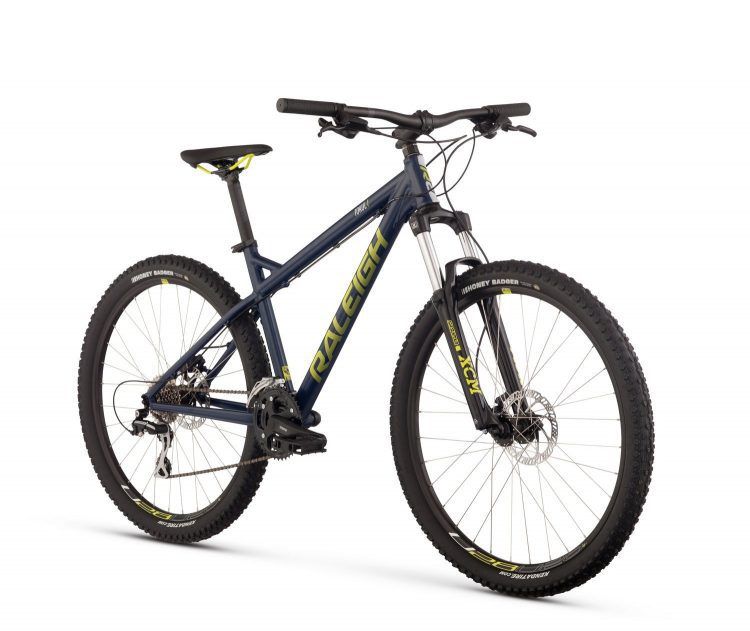 This high-quality bike from Raleigh offers a great experience over the dirt and bumps of mountain trails or a smooth ride along the road. If you are getting into mountain biking for the long term or looking for an upgrade this nice-looking bike from Raleigh maybe the right choice for you.
These bikes are efficient and easy to pedal uphill and designed to conquer the big bumps even when descending quickly down steep trails. The suspension fork smoothly shields you from the rough areas of the trail, while the lightweight frame is easy to pedal uphill but still stands up to heavy use.
Pros
Rugged hardtail for great efficiency

Designed to be easy to pedal uphill

Lightweight custom butted aluminum frame
Cons
Is not as well designed as some other bikes
---
2.
Kent KZ2600 Dual-Suspension Mountain Bike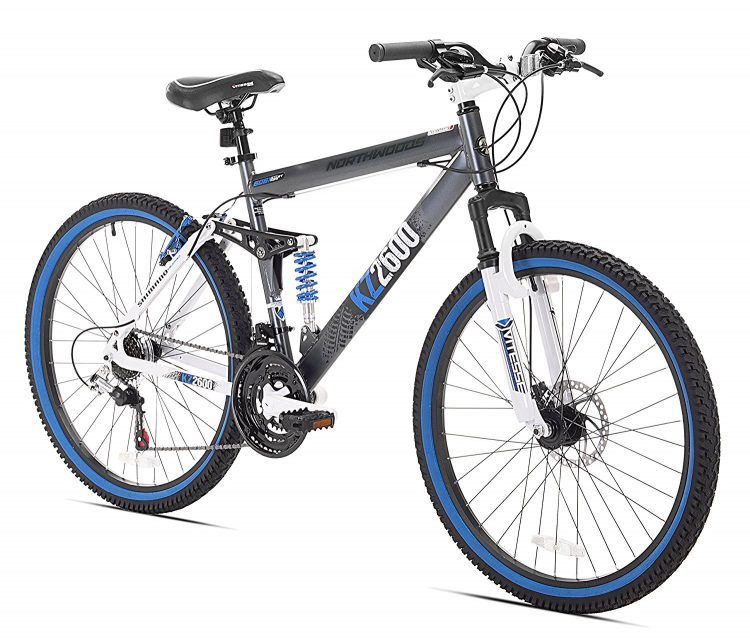 The 26 inch full suspension aluminum frame of this bike is rugged and good-looking. A 65 mm travel suspension fork buffers your ride from the bumps and stones in your path. A 21-speed shifter gives you versatility in your ride and provides easy transitioning between speeds, while the rear tourney derailleur helps keep you steady on the trail.
This bike features both a front disc brake and a rear linear pull brake, so you can feel confident of stopping power no matter the situation.  Alloy wheel rims are lightweight and rugged for long-term reliability. 
Pros
26 inch full suspension aluminum frame

21 speed shifters are easy to move through

Both a front disc brake and a rear linear pull brake can make you feel confident of your stopping power
Cons
Does not come with assembly instructions

Very hard seat
---
1. Diamondback Overdrive 29 Hardtail Mountain Bike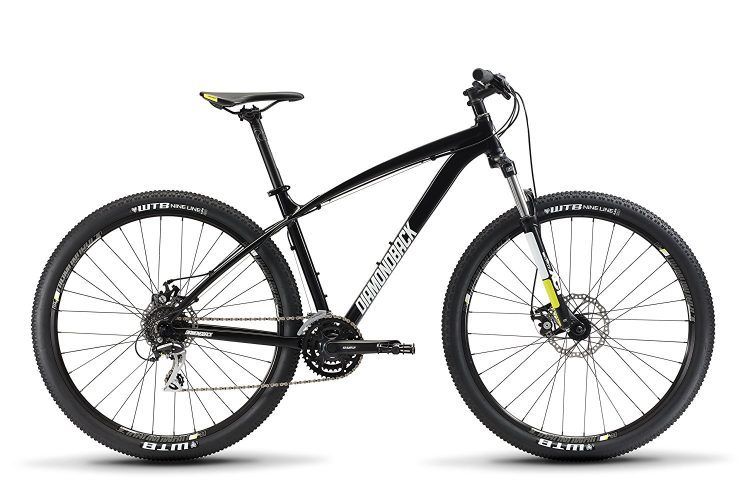 This dirt bike can handle any trail with ease. Whether you are new to mountain biking or looking for an upgrade, the Overdrive is an excellent bike. 29-inch wheels are smooth rolling and efficient and the classic hardtail makes it easy to climb to the top of the trail.
The strong, lightweight aluminum frame will withstand rugged use and is light for uphill travel. The front derailleur provide smooth, reliable shifting while the Suntour suspension fork works with the 29-inch wheels to make rolling over obstacles easy.
Pros
Suspension fork pairs with 29 inch wheels for a smooth ride

Lightweight, rugged aluminum frame

Wide gear range to get you up and downhill with ease
Cons
Hard, uncomfortable seat

Not as light as some other bikes
The Advantages Of Riding Mountain Bikes
If you enjoy riding mountain bikes, chances are you like being out in nature, gliding through earthy terrain and having a good time. But if you're new to the sport, you might not understand the benefits of going out for a ride on a mountain bike. Here are a few of the advantages:
Hobby
Many people have different hobbies. Some like to paint, while others enjoy cooking or making crafts. But, if you enjoy riding bikes, that's just as exciting. When some folks think of riding a bike, they automatically think of it as a child's activity, but it's not. People of all ages can enjoy it and benefit from it. If you're someone who likes jumping on a mountain bike, rather than behind the wheel of a car, you're in for tons of adventure.
Exercise
There's no better way to push your body than to ride a bike. You have to use so many muscles and skills just to operate it. Your legs are constantly in motion, which strengthens your quads and glutes, plus provides lots of cardio. It requires hand-eye coordination and balancing skills. Not to mention the endurance that it takes to ride up a hill. That will definitely get your body in shape. Plus, you know that bicycles must a good workout if gyms have stationary bikes available—you can't beat it,
Stress Relief 
Believe it or nor, riding a bike is a stress reliever. It's different from going to box or going for a run, but it gives the same calming effect. It gives you the opportunity to get out, ride around and explore a new area, exercise, and wind down. It's a time where you can be alone and think, while also feeling the adrenaline of moving your legs and getting your heart rate up. Plus, it allows you to move faster than taking a walk, which is also relieving for some people.
Fresh Air
Sometimes you just need to get out and get some fresh air, and riding a bike is the best way to do it. If you're pressed for time and can't spend an hour going for a walk, riding a bike can help you take a break in half the time. It's also good for your lungs and breathing because it takes big breaths of air to move and power through a bike ride. Taking in deep breaths is a good technique to practice will riding a bike to energize you and get oxygen flowing through your body.
Save Gas
You can take a mountain bike anywhere. Most of them are made to withstand against rocky terrain, but they work just as good on concrete. If you're looking for ways to save some cash, start by cutting your gas bill in half. You'd be surprised how you can turn running errands into a workout without thinking about it. It's so easy to hop in the car just to go up the street, but why not take that opportunity to ride your bike? That's less gas you have to use.
Which should you buy?
The Diamondback Overdrive offers the best bike you can get. Whether you are getting into mountain biking for the first time and want a versatile bike that can handle the city streets or the mountain pads with ease, or whether you are upgrading your current mountain bike and want a very high-quality device that can take you where you need to go, this bike is a great choice for you.