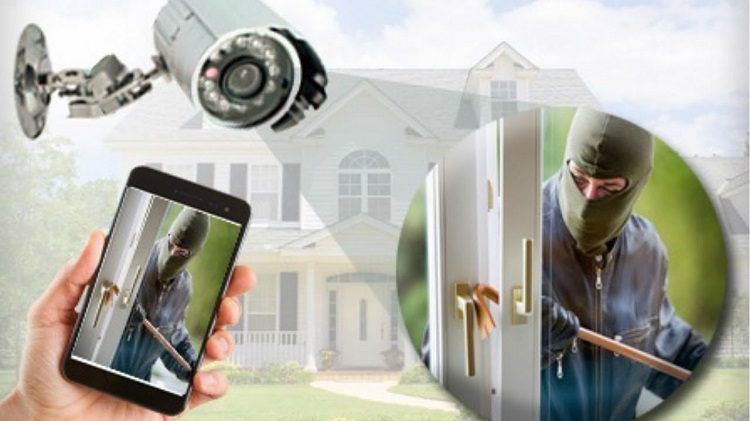 You want to protect your home and family. You need to find the top home security system to do this. Whether you are at home and want to see all areas of your property from one location or you want to monitor your home when you are away, a home surveillance system can allow you to have complete control over your home's protection no matter where you are.
There are a variety of important considerations when choosing a home security system. It is better to do the research ahead of time and choose the right system for your home then make a quick decision and find yourself wishing you had features you hadn't thought about before.
One of the most important things to decide right away is the primary purpose of your system. Do you want to make your cameras visible and have signed so that they will act as a deterrent to criminals? Or do you want discreet cameras to capture the actions of people who you do not want to know you are watching?
Box cameras are large and obvious, reminding people that they are being monitored and serving as a clear deterrent. Dome cameras, on the other hand, are very discreet due to their small half-spherical shape. There are even ultra-compact models that are so small they can be nestled where no one will ever notice them.
Another important consideration in choosing a home surveillance system is whether the cameras will be used outside or inside. Most cameras can be used either indoors or outside, but if your camera will have to withstand a harsh environment like very cold temperatures or direct exposure to the elements you will need to choose a more rugged camera with an in-built heater.If your camera will be used in a kitchen or anywhere there will be grease or the possibility of spilled drinks, you may need a special housing for your home surveillance system.

10. 

Funlux Wireless Two-Way Audio Home Security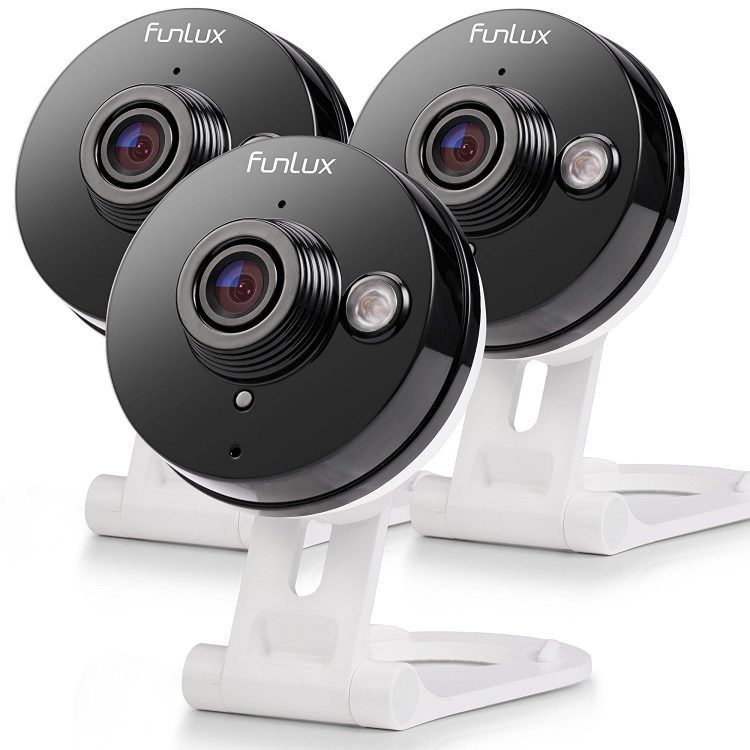 If you are looking for a convenient indoors monitoring system for a reasonable price, the Funlux mini Wi-Fi cameras might be for you. These sleek little cameras allow you to keep an eye on your spaces in high definition whether you are on your computer, tablet, or smartphone. Just connect to the Funlux app and see everything in real time. Furthermore, you can record 24/7 and watch the playback from anywhere. You can be alerted when motion is detected and you can talk through the device to your loved ones with simultaneous two-way audio.
Pros
Check your home from any location and on any device with cloud service

Built-in microphone to let you talk to your family through the camera

24/7 live view with wide high definition quality
Cons
The cloud used by Fun Lux  may not be secure

Requires app to view cameras and app can be glitchy
---
9. ZOSI 8-Channel 1080N HD Video Security System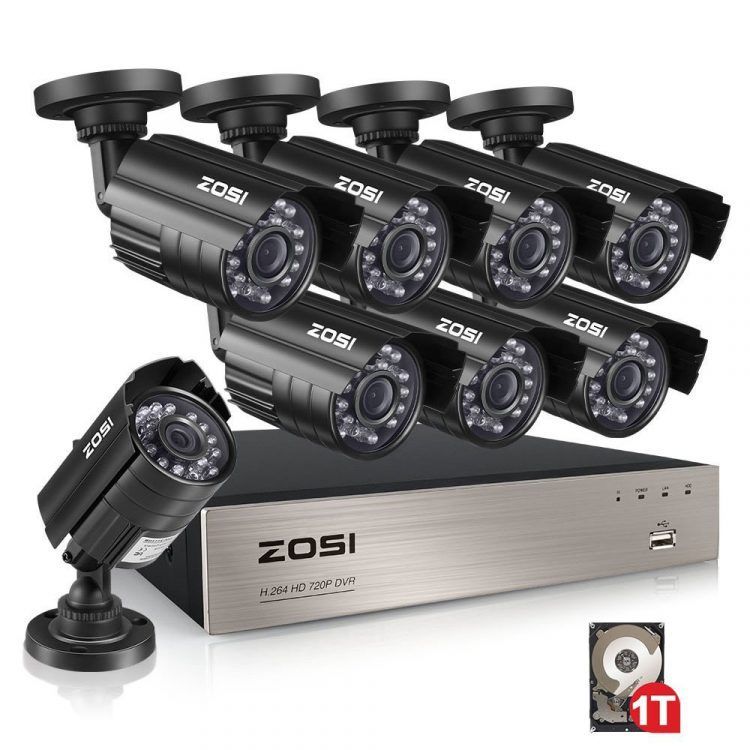 If you want a high-quality camera that is weather resistant to use both indoors and out, the ZOSI maybe the video surveillance system for you. The sturdy aluminum housing of this camera can withstand the harshest outdoor conditions no matter where you mount it. The three access mounting bracket is also made of aluminum and uses a Vandal Proof wire protection cable that can work better in outdoor conditions.
These cameras can view day or night with a 3.6 mm lens and a 75-degree wide viewing angle. The recording modes are customizable and provide an email alert so that you will know whenever motion is detected on your cameras.
Pros
 Sturdy aluminum housing is weatherproof

The mounting bracket is Vandal Proof and strong

View day and night with a 3.6 mm lens and a 75-degree wide viewing angle
Cons
The instructions are not well written and do not mention some features at all  

Motion detection does not work reliably

Cannot always connect with the mobile app
---
8. YI 4pc Home Camera, Wireless IP Security System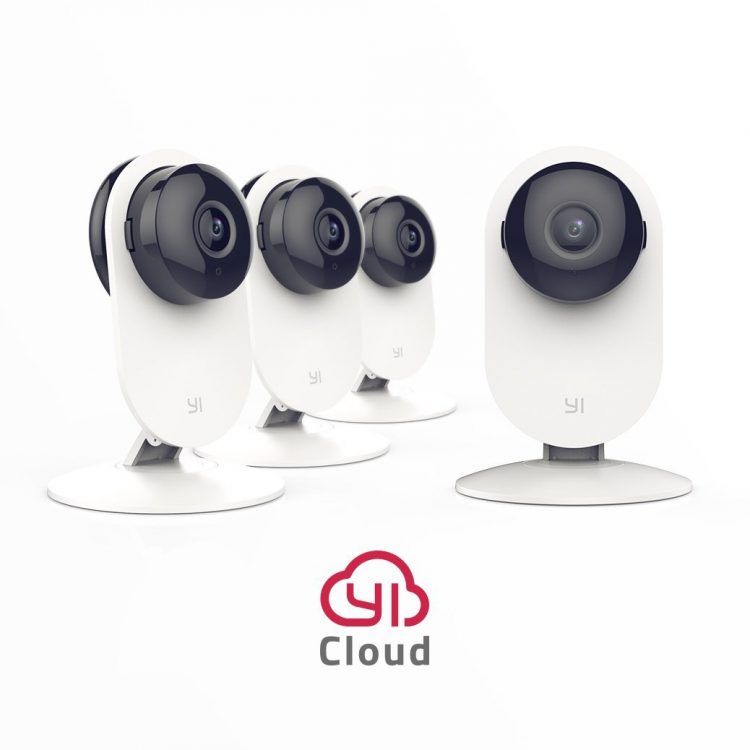 These good-looking little cameras by YI  allow you to view in 720p HD resolution. By double-tapping, you can zoom up to four times to focus on even the smallest details in the frame. An integrated euro scope support allows you get panoramic views simply by panning your smartphone left or right.
The YI Cloud offers loop recording with no storage limit, so even if your camera should be damaged or stolen, the footage will remain secure and accessible in the cloud. Users of the YI Cloud are guaranteed secure access with a kind of encryption that is used for financial industry. This camera offers four live feeds so that you can view your entire home on one screen no matter where you are.
Pros
Notifications can be sent to your phone when motion detection kicks in

Two-way audio allows you to communicate with the people on the other side of the camera

High definition day or light viewing with a wide-angle lens
Cons
Some cameras arrive malfunctioning
---
7. EZVIZ FULL HD 1080p Outdoor Surveillance System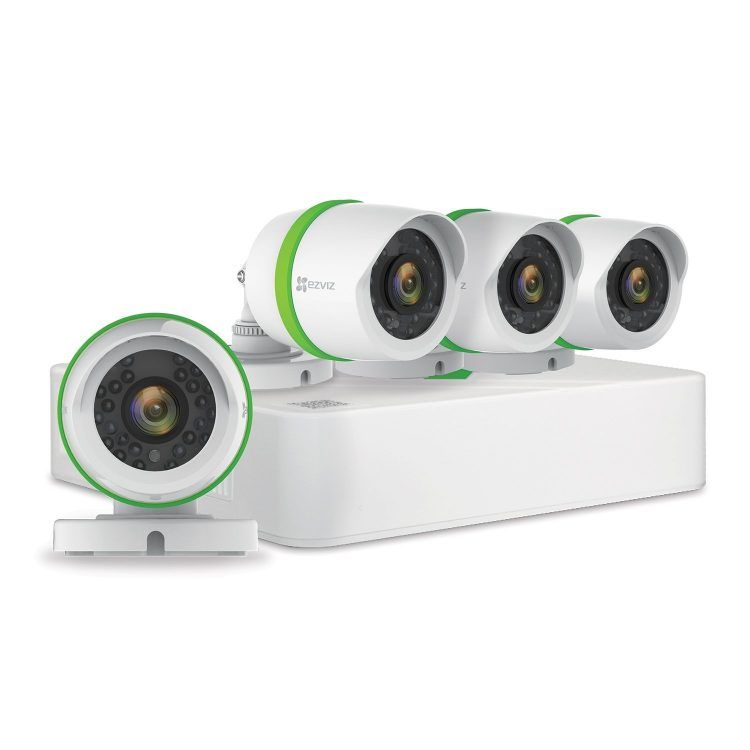 These futuristic-looking cameras by Ezviz can provide complete coverage inside and outside of your home. These four cameras are built on a 1tb security grade hard drive and will only use a maximum of 4 watts of power. The app allows you to view your footage from anywhere that you have an internet connection.
The high-definition video works in real time to deliver clear videos and sharp details of everything in the frame. The motion detection on these cameras is customizable so that any motion that is detected can be recorded and a notification will be sent to you on your smartphone. These cameras can operate in extreme temperatures from negative 40 degrees Fahrenheit to 140 degrees Fahrenheit
Pros
The maximum power  consumption of 4 Watts

Lifetime tech support and a free 12-month warranty

Operate in extreme temperatures reliably
Cons
The video is laggy through the app

Sometimes does not work at all out of the box

Technical support is not great
---
6. ZOSI 720p HD-TVI Home Surveillance Camera System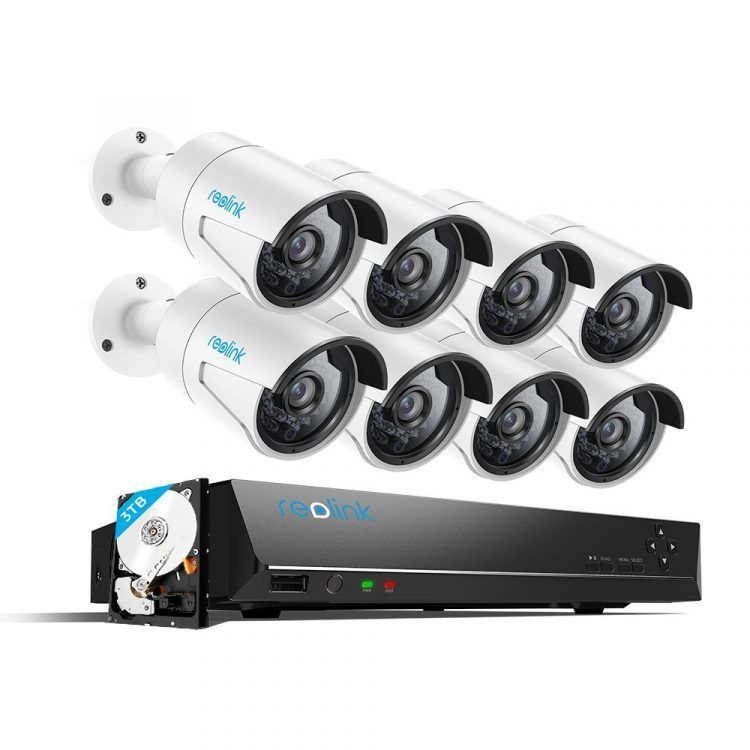 This sleek system by Zosi is easy to connect and can work indoors or outdoors for complete home coverage. Simply connect the DVR and power adapter to your monitor and internet cable, connect to the 8 cameras, and download the app so you can remotely control the system. These cameras are HD and equipped with one megapixel.
They come with 24 LED for night vision up to 65 ft so you can see with stunning clarity even at night time. Both the bullet and dome style cameras included in this package are made of a heavy-duty aluminum housing so that they are weatherproof indoors or out. The lens is 3.6 mm wide so that you can cover a 72° view depending on the environment. Customize your motion detection area and receive alarms when the area is entered
Pros
8 cameras for  a price you would expect to pay for 4

Sharp day and night video

Customizable motion detection area
Cons
Complicated to use

Technical support is not good

May freeze image
---
5. Zmodo HD WiFi Wireless Weatherproof Security System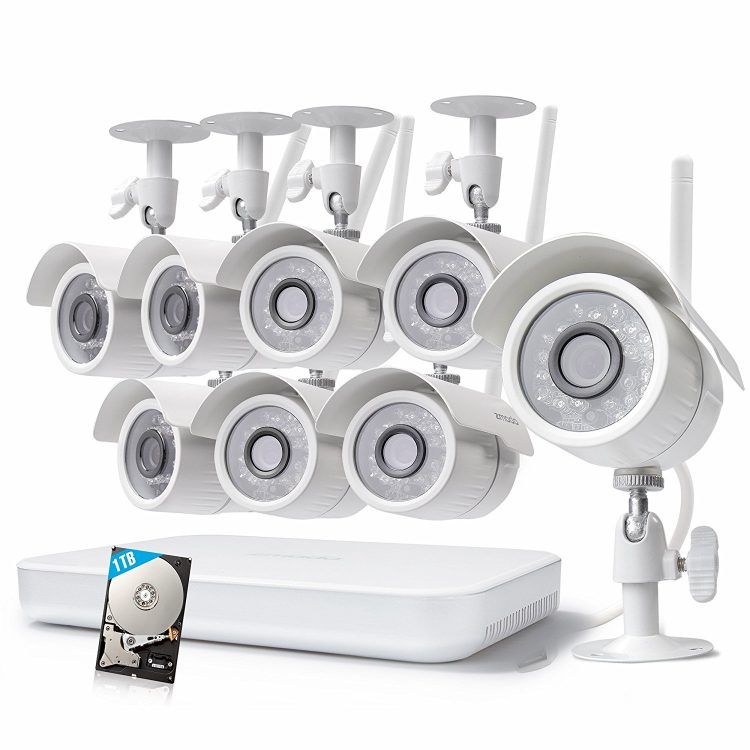 This nice set of cameras by Zmodo allows for wireless connection indoors and out. Simply connect this system to your router with the included network cable, plug the cameras into the power system, and you're ready to go. This system uses a digital signal instead of analog, so your signal loss is reduced and the image quality is 720p full HD. This camera has an adjustable motion detection area so that you can reduce false alarms by focusing on only areas that should not have motion.
Footage is saved to the cloud for 36 hours for free and can be downloaded using the app. These cameras are able to optimize storage by recording at fewer frames per second when there is no motion detected. A built-in 1tb HDD allows you to save 90 days of footage for four cameras.
Pros
Wireless connection

Digital signal instead of analog to reduce signal loss and increase image quality

Adjustable motion detection area
Cons
Must pay for cloud services in order to record video

Recordings are not in HD, only live video is an HD
---
4. YI  IP Indoor Security Surveillance System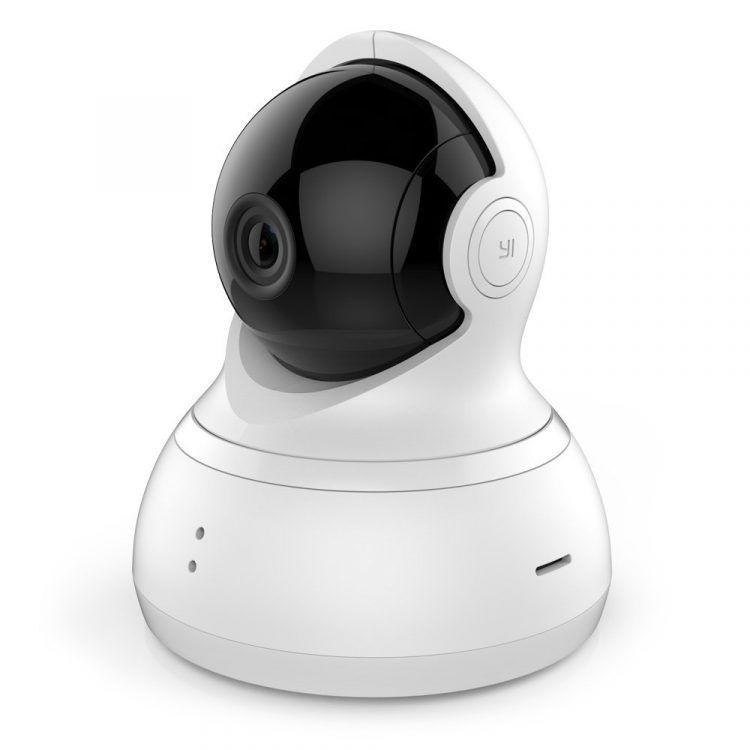 This camera offers a112 degree wide-angle professional-grade lens that can be rotated bi-directionally so that you can capture a complete panoramic scene in a 720p high definition. This camera allows you to eliminate blind spots within an area without using more than one camera.
This camera offers a useful feature in that it automatically turns to the auto mask mode in which the lens goes underneath a cover so you will have an extra sense of security when you don't want to be recording. This camera is supported by the Yi Cloud which offers loop recording with no storage limit.
Pros
Detect moving objects and automatically track to capture their movement

An auto-cruise mode allows you to conveniently survey an area

Focus on up to 8 locations with the tap of a button
Cons
The required app has many permissions that make privacy a concern

No way to contain video to just your network
---
3. YESKAMO Wireless Home Security Camera System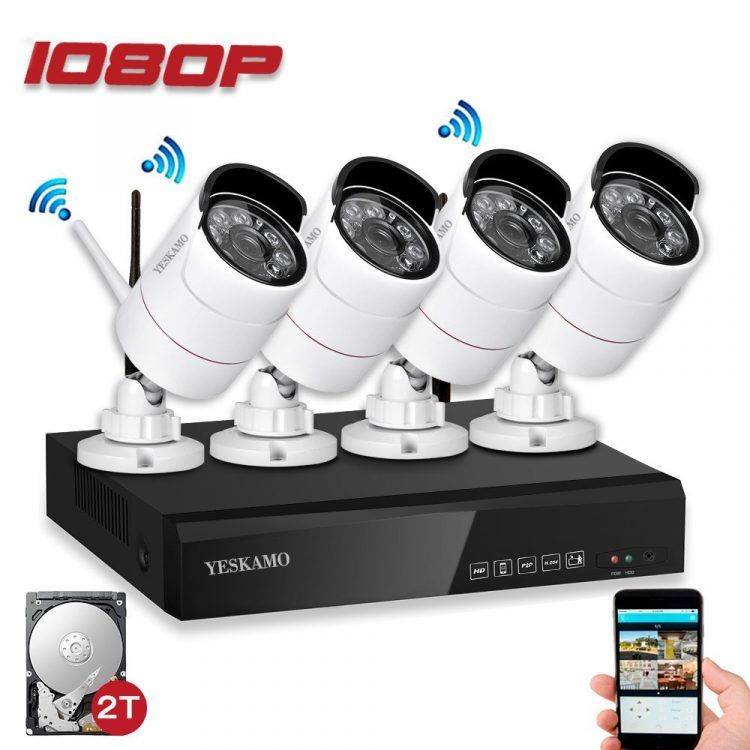 This high-grade security camera system by Yeskamo Supports 1080p HD video for extremely detailed footage. The full HD 2-megapixel surveillance offers excellent clarity. These cameras are housed in ip66 weatherproof metal so they can survive any kinds of harsh conditions. These cameras have a 3.6 mm fixed lens with 90 degrees wide-angle viewing so that you can view the entire area that your camera is surveying.
A 6-piece infrared advanced LED light system provides for night vision up to 100 ft. This camera uses h.264 compression technology to save your footage. These cameras can offer you an email alert or app notification when motion is detected and are viewable on your PC, iPhone, Android, or iPad.
Pros
Real-time 1080p high definition

Outdoor  weatherproofed housing

The mounting bracket that will work on the wall or ceiling
Cons
Does not come with a power adapter so you may need to purchase your own

Directions are unclear
---
2. SMONET 4CH 1080P Video Security System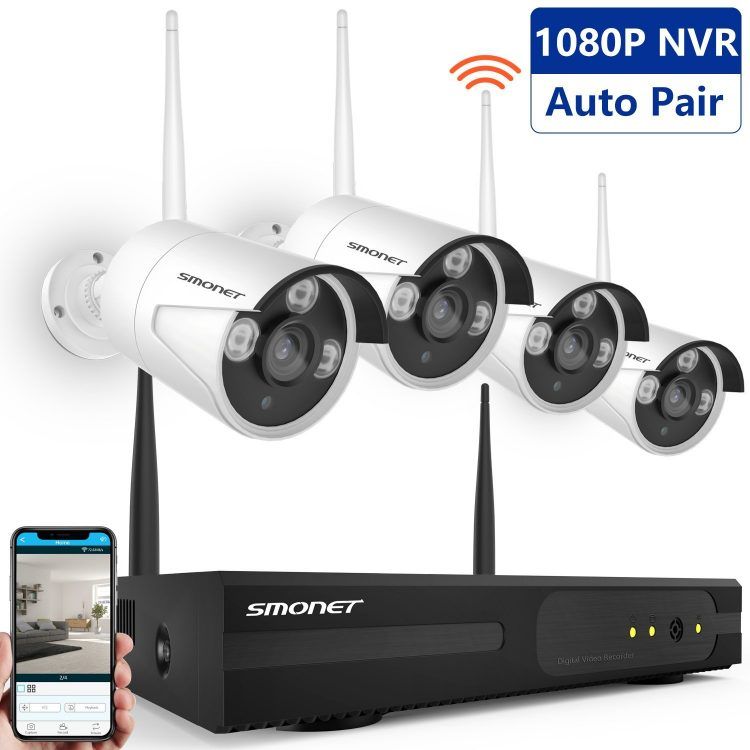 These versatile cameras by Smonet are weatherproof for indoor or outdoor use and transmit video via a 2.4 gigahertz wireless signal. The premium HD 720p video provides excellent clear transmission day or night.  The infrared night vision of these cameras is designed to catch clear footage up to 65 feet away even in pitch black darkness.
The wireless signal coverage of the system is very powerful, allowing quick and easy connection without disturbing your regular internet speed. This system is easy to set up. It will pair automatically and can even work without an internet connection. This system offers 24/7 live surveillance for up to a full year without a stop.
Pros
Weatherproof for use indoors or outside

Smart compression technology to store up to 30 days worth of video

Easy remote  access from any device anytime as long as you have internet
Cons
Connection issues

Customer service and tech support is not helpful
---
1. Reolink 16 Channel Video Surveillance System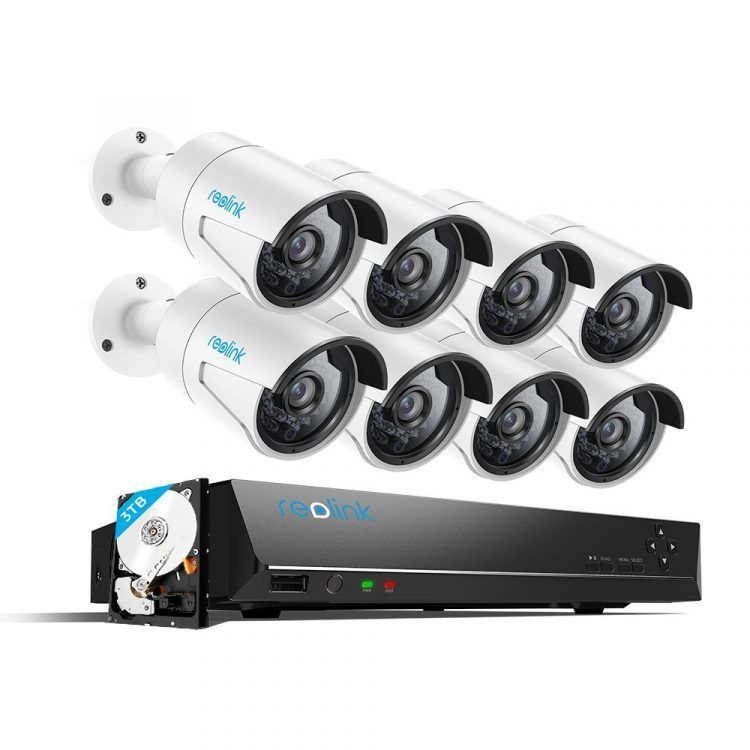 This extremely high-quality system by Reolink isn't cheap, but it can allow you to stay connected 24/7 in super HD quality. This system is easy to set up, just plug and play. Power is provided over an Ethernet and a single network cable connects each camera to the NVR for both power supply and video transmission.
The system comes with HDD pre-installed for 24/7 video recording that can support up to 16 cameras recording at the same time. If you want more storage you can install an external hard disk. Motion detection recording can be activated on this camera so that it will record only when motion is detected.
Pros
Easy remote access to live streaming or other control on any device

Night vision up to a hundred feet

Support up to 16 cameras at the same time
Cons
Not good tech support

The cooling fan is loud
Which should you buy?
For the best home surveillance system for your money, the Reolink system can give you powerful control and easy connectivity. Many security systems can be difficult to set up, but this system allows a plug-and-play design that is consistent by working over an Ethernet single network cable. Support up to 16 cameras for 24/7 recording and even install an external hard disk if you want storage for a longer period.
Since many concerns about other home surveillance systems are regarding security over a cloud network, this internal storage is extremely important for the privacy-minded. You can further save storage by allowing your camera to only activate when motion is detected.