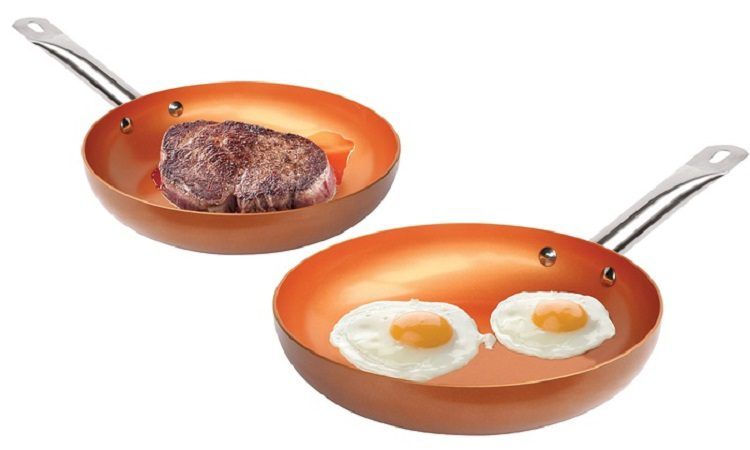 Using a copper pan can save you time and money if you choose the correct one. Historically, copper is a great heat conductor and pans made of this material heat more evenly and faster than the traditional frying pan.
When buying a copper pan, you have to take a few things into consideration.
If you plan on using your pan often, a lighter and non-stick pan may be right for you. But if you want a pan that will last, a more expensive and higher quality copper could be the right choice. Some have a ceramic or non-stick coating, but both have their advantages and disadvantages to what kind of foods and where you can cook on them. There are plenty of options when making a new copper addition to your kitchenware.
Get a head start by checking out the top 6 copper pans that I've reviewed for 2018!
6. Cooksmark Copper Pan 10-Inch 
This pan is great for any healthy chef; it has a premium non-stick coating perfect for fat-free cooking and is 100% PTFE/PFOA/Lead/Cadium free.  It also offers an ergonomic design, for both ease of use and storage, with its stainless steel handle with a hanging loop.
The aluminum core is optimal for even heat distribution on any cook-top surface and it is safe in the oven up to 450℉. The pan has a triple-layer interior that makes it extra durable and scratch resistant and it is dishwasher safe.
Pros
It is scratch proof and durable for long-term use.
100% safe and healthy cooking.
Cons
Not suitable for grill use.
The handle can get hot while cooking.
---
5. Gotham Steel Ceramic and Titanium Nonstick Fry Pan
This pan is a great lightweight option for your kitchen. It is also available as part of a cooking set, so if you really love copper cooking, this might be the one for you.
While this model is not safe for induction cook-top, its ceramic ultra non-stick coating makes it perfect for cooking acidic foods, like tomato, that other copper pans could alter the flavor of.
Pros
It is lightweight.
It has a ceramic surface good for acidic foods.
Cons
It is not safe for induction cook-tops.
There is no available lid.
Cooking sprays are not recommended on the pan.
---
4. Matfer Bourgeat Copper Frying Pan 11″
This pan is made of a heavy gauge copper and is the heaviest pan on the list; the interior lining is made of a stainless steel and the handle is cast iron, so keep a heat resistant cloth ready when cooking.
Made in France, the quality of this piece is top of the line and could even outlast you if cared for properly.  This pan will always be great for heating your food evenly and being easy to clean with just a soak, but is not dishwasher safe.
Pros
Thickest grade of copper available.
It is easy to clean, but not dishwasher safe.
Cons
The pan is very heavy.
There is no lid available.
Cast iron handle can get very hot.
---
3. Copper Chef 10″ Round Pan with Glass Lid
This pan is easy to use in kitchen because of its unique design. It's light and covered in a CeramiTech Non-Stick Coating which makes it a great option for cooking in a pinch.
The Stainless Steel Induction Plate on the bottom of the pan ensures that your pan heats and cooks evenly and fast, and it's even heat resistant up to 850°. Clean-up is quick because this pan is also dishwasher safe.
Pros
The non-stick coating makes cooking without fat a breeze.
It is heat resistant up to 850°.
It is dishwasher safe which makes for easy cleanup.
Cons
Some oils and butters are not recommended on the pan.
It does not work well on induction cook-top.
---
2. Kuprum 11-Inch Hand Hammered  Copper Fry Pan
This pan is hand-crafted by artisans in the Mediterranean and is 100% recyclable. It's ideal for someone looking for a beautiful, long lasting pan with a Lifetime Warranty.
It features high quality natural copper and a nonreactive tin-lining for even and immediate heat-responsiveness; it also has low, curved sides for easy turning and flipping and is perfect for pan frying and browning.
Pros
It has a natural copper and tin lining.
Its has an elegant design perfect for everyday use.
It comes with a limited Lifetime Warranty.
Cons
The handle can get very hot during cooking.
The inside of the pan can scratch and wear easily if not properly cared for.
---
1. Copper Frying Pan 10 Inch Ceramic Nonstick Saute Pan
DURABLE CERAMIC NONSTICK COPPER FRY PAN. Almond's ceramic nonstick coating is rigorously tested to make sure it is durable and reliable. The nonstick surface is also very slick, so food releases easily and doesn't stick while cooking. Great for eggs and omelets.
HEAVY-DUTY ALUMINUM PAN. This fry pan is a thick 3.0 mm gauge vessel that provides better heat control, even heat distribution and long-term durability. It is safe for gas, electric and induction cook-tops.
COMFORTABLE STAINLESS STEEL HANDLE. The handle is ergonomically shaped so it's comfortable in your hand. The stainless steel handle is riveted to the pan to reduce heat transfer while providing great durability and strength. The entire pan is oven safe to 420F.
TEMPERED GLASS LID. The beautiful glass lid allows for easy food monitoring while cooking, without losing heat. The lid provides faster cooking results by keeping foods hot. It is oven safe to 500 F.
HEALTHY CERAMIC NONSTICK COATING. The ceramic coating is healthier because it requires less oil while cooking. Almond's ceramic coating is PTFE and PFOA free, which means it doesn't contain any toxic chemicals It is also dishwasher safe.
Our copper frying pans have a durable, super slick, nonstick ceramic surface. The ceramic surface is scratch resistant and has excellent durability and reliability. The stainless steel handle is ergonomically shaped so it's comfortable while cooking. When cooking on the stovetop, it does not get hot like lower quality stainless steel handles you find on other pans. All our pans include a glass lid that will work with other pots and pans of similar size.
The Advantages Of Using A Copper Pans
You might have noticed that copper pans are becoming increasingly popular, but you may not know why. Unlike traditional pots and pans, the copper version has lots of benefits. Check out a few of them below:
Corrosion
Copper isn't as tough as some tough as other metals, but it offers a nice coating for the base of the pans. It keeps it free from scratches and reduces corrosion at the bottom of steel, tin, nickel, and aluminum cookware. Not to mention, it keeps the pots and pans form having a burnt surface.
Conductivity
One of the best benefits of copper cookware is thermal conduction. Therefore, professional cooks prefer using copper because it regulates temperature, making it easy to prepare certain foods. It gives even heat distribution on the cooking surface, which provides a steady heating temperature. Sometimes food cooks unevenly by charring the outside without heating the interior.
Adhesion
Copper is an excellent metal that provides adhesion, and it offers full coverage of ferrous and non-ferrous metals. Basically, when another metal is coated in copper, it assists in keeping the surfaces connected and prolongs the life of the product.
How To Take Care For Copper Cookware
Copper cookware can last you for a long time, and you can keep your pots and pans at their best. As you learned above, there are tons of benefits to using copper to cook your meals—but there is some additional maintenance required. If you want to maintain your cookware for many years, here are a few tips:
Polish Your Cookware With Vinegar
White vinegar prolonges your cookware and helps to keep it looking like new. All you have to do is soak a towel in the vinegar and rub it around your pots and pans. You don't have to do this very often but enough so that your cookware doesn't get neglected.
Tomatoes
When you think of tomatoes in regards to your copper cookware, you might only assume they're for putting into meals. However, the acid in tomatoes does a great job on copper. Coat the surface of your pots and pans with tomato paste and let it sit for a few moments. Then, wash it off with soap and water. Also, if you don't have tomato paste, rub the cookware with ketchup on a rag and rinse it off with water.
Baking soda
Another suitable method to keep your copper pots and pans looking like new is to use baking soda. Stir it in with lemon juice, and use a cloth to gently rub it on the cookware. Once you're done, rinse off the paste. 
Always dry the dishes
If washing dishes is your least favorite thing to do, you might be tempted to let them air dry. However, that's not the best thing to do for copper cookware. After you're done washing the pots and pans, be sure to dry them off because leftover water can cause them to tarnish faster.
Which Copper Pan Should You Buy?
After reviewing all 8 pans, it seems like there are plenty of quality, low budget options, but a pricier buy will always take the cake in durability and grade.
In the end, it comes down to what features are right for you. For me, the  Copper Frying Pan, 10 Inch Ceramic Nonstick Saute Pan with Glass Lid, Dishwasher and Oven Safe Skillet by Almond was the one for me.
Last update on 2023-12-01 at 18:42 / Affiliate links / Images from Amazon Product Advertising API