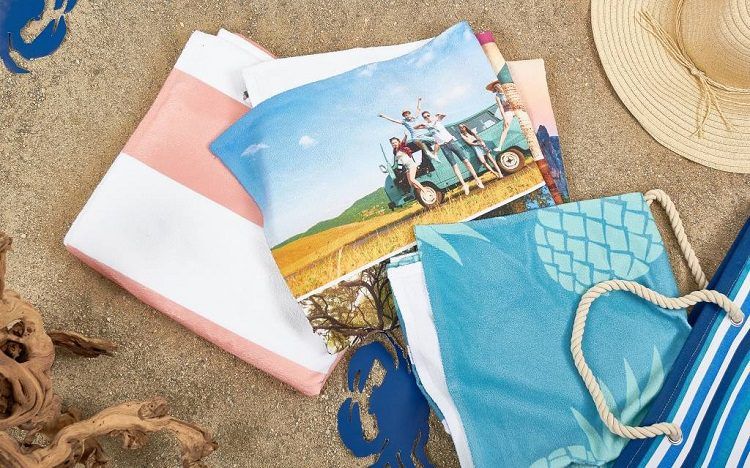 Nothing says relaxation like the beach. Just thinking about the beach makes you feel the sun on your skin and the sand between your toes. You want the top beach towel for your beach adventure. As you plan your next trip to the beach, you anticipate long leisurely hours soaking up the sun. As good as the sand feels on your feet, you don't necessarily want to lie in it. A beach towel gives you a soft, absorbent barrier between your skin and the sand.
Nothing beats a sun-warmed, soft, fuzzy beach towel to dry off after a swim in the ocean, but it is so frustrating to have fuzzies come off on you or find that color bleeds. You want a beach towel that you can depend on to get you dry and give you somewhere nice to sunbathe.
While a standard bath towel is fine for after showers, at the beach you want a big, thick towel that can hide you from the wind and sunbathe on with a friend. You can choose a round beach towel that will make you feel like island royalty, or a big rectangular towel to share with a friend or two.
Some beach towels feature different fabrics on either side to match your lying or drying needs, and others come with convenient carrying cases so you won't be stuffing your sandy towel in with the rest of your beach things. Read on to find the perfect beach towel for your beach needs.

10. 

Ricdecor Indian Mandala Microfiber  Beach Blanket
This breathtaking beach blanket from Ricdecor is super soft but durable enough to last through many beach trips. Choose from a gorgeous range of designs to find the towel that matches your personality. The tasseled edges of this round towel will make you feel like you are on a magic carpet, riding to relaxation. Microfiber absorbs five times more water than cotton, so you can feel confident that you will get a thorough dry from this towel. Even after absorbing all this water, the Ricdecor towel will dry quickly. It is big enough to share with a friend and will serve you well on beach trips for years to come. 
Pros
Microfiber makes for ultimate water absorption

Attractive round towel with playful tassels
Large enough to share with a friend
Cons
Could feel roomier for two people

Thinner material than some other towels
---
9.

Large Beach Towel by Amenity
This large towel by Amentity is made of high-quality microfiber that is soft and gentle on the skin. This towel is ultra absorbent and fast drying. It comes with a convenient carrying bag that will take up less room and keep any sand from getting on your things. This towel gives ultimate drying power in a light, sleek, modern towel that can be conveniently carried. Choose between grey and neon green or orange to find a towel that matches your personality.
Pros
Convenient carrying bag

Ultra absorbent and fast drying
Light and sleek without sacrificing drying power
Cons
Blank design, no pattern

Not big enough to share
---
8. 

King Size Loop Terry Bath Towel
This straightforward beach towel comes in a variety of fun solid colors. It is made of 100% cotton so it naturally soft and absorbent. No harmful chemicals were used to make this towel so you can feel confident that it is eco-friendly. Forget flimsy beach towels–this heavy beach towel weighs in at over a pound and a half, so you can feel confident that this towel will withstand the rigors of the beach year after year. This towel is big enough to wrap yourself completely or share cozily with a friend.
Pros
A fun range of bright colors

100% natural cotton
Soft and absorbent
Heavy so you know it will last for years
Cons
Not as soft as some other towels
Not as heavy as other heavy towels
Not big enough to comfortably share with a friend
---
7. 

Leana Collection Round 'Roundie' Beach Towel 
This round beach towel by Leana comes in a wide range of fun designs. The round, fringed design is playful and the soft terry cloth is absorbent and lightweight. This towel is light enough for you to carry it anywhere but thick enough to be absorbent. Two people can comfortably share this towel, which is five feet wide. This towel is machine washable for easy care and gets softer with use, so you will only love it more through the years.
Pros
Comes in a wide range of colorful designs

Playful tassels in fun round towel
Big enough for two people to share comfortably
Cons
Gets very wet and doesn't dry as quickly as other towels

Tassels can become damaged before towel would otherwise be worn out
---
6. 

Cabana Stripe Terry Velour Bath, Beach, Pool Towel
Turquoise Textile Cabana Stripe Terry Velour Bath, Beach, Pool Towel, 100% Natural Soft Cotton (1 Towel, Navy)
Made in TURKEY. No harmful chemicals, eco friendly for your best use
Inside loop terry cotton, outside terry velour finish
Extremely absorbent and great for bath, beach, pool, spa, sauna use
This attractive towel with a classic striped pattern is made of 100% cotton, so you know it is soft and absorbent naturally. No harmful chemicals were used to make this towel,  so you can feel good about making an eco-friendly purchase. The Cabana towel is extremely absorbent and feels heavy and substantial, weighing in at over a pound a half. This towel is big enough to wrap yourself completely for warmth after a dip in the ocean, or share with a friend to sit on the sand.
Pros
Classic striped design in a range of lovely colors
Eco-friendly, made without harmful chemicals
100% cotton
Cons
A cotton towel may not dry as well as other towels

Not large enough to sunbathe with another person
---
5. 

Beach Towel for Women Turkish Cabana Stripe
This beautiful towel is of European quality. It is made of 100% natural Turkish cotton, so it is naturally soft and made with care. These towels are eco-friendly, made without chemicals, and constructed from durable fibers that won't break down over time, even with heavy use. This towel is multilayered, with a high-quality loop terry cotton inside and a Turkish terry velour outside, so you will get the best of drying power and soft to the touch feel. These towels are heavy and absorbent, big enough to wrap yourself up cozily.
Pros
Heavy, high-quality towels

Eco-friendly so you can feel confident that you are making a good choice for yourself and the environment
Extremely absorbent for rapid, thorough drying
Cons
Not really big enough to share

Limited color and pattern choices
---
4.

Turkish Beach Towel by Laguna Beach
This cotton beach towel by Laguna Beach has a beautiful, timeless design. Sick of towels that just scream their colors and designs? Choose a mellow, attractive design by Laguna so you can fit in with the natural beauty of the beach instead of standing out. This timeless design is woven on one side and looped on the other, so you can get the best of drying and beach sitting in one attractive towel. This towel is oversized so you can wrap yourself fully, and thick enough to feel warm and cozy.
Pros
Attractive, timeless design that will make you look classy at the beach

Woven side and looped side for drying and sun-bathing ease
Thick and plush for maximum absorbance
Cons
Fringe may tatter

You may experience unraveling in the washing machine
---
3.

Bahari Bay Turkish Beach Kikoy Towel lined with terry cloth
This playful 100% cotton towel is extremely absorbent and offers more than the average beach towel. Bahari Bay creates a functional as well as a fun towel that can store your things. Ever worry about your phone or keys being stolen or lost at the beach? Hide them in this clever pocket in your beach towel and let the thief waste his time looking through your bags. This towel has extremely absorbent terry cloth on one side and a traditional turkish fouta on the other side. This towel is oversized enough to cuddle up in but rolls up compactly for carrying.
Pros
100% cotton

Convenient pouch for phone and keys
Double sided with absorbent terry cloth on one side and a traditional turkish fouta on the other
Gets softer with each washing
Cons
Not big enough to share

Not heavy enough to be very warm
---
2.

Tamengi Indian Mandala Beach Towel  Throw with Tassels
The Tamengi towel is super soft and big enough to comfortably fit two people, are a few kids and dogs! This towel is 100% microfiber. It won't fade and is easy to clean. This towel was naturally dyed so you can feel confident that your purchase is helping to protect the environment and won't expose you to chemicals. This towel is lightweight for easy transportation and rolls up tightly so it won't take up too much space. This lovely fringed design will look striking at any beach.
Pros
Super soft microfiber blanket

Strong and durable through wash after wash
Eye-catching, attractive pattern
Big enough for two people to sit comfortably
Cons
Not as thick as some other towels

Soft material may not be as absorbent as other towels
---
1. 

Bersuse 100% Cotton – Anatolia XL Blanket Turkish Towel
This beautiful Turkish towel by Bersuse is 100% cotton for natural absorbance. It comes in a wide range of attractive, subtle, natural-looking colors that will look good without being too bright. This towel is quality made of flat woven linen, so you will dry off quickly and sunbathe in comfort.
Towels are machine washable and get softer and more absorbent with each wash, so you will fall more and more in love with your towel as the years go on. These towels are naturally dyed and made of pure cotton, so you can feel confident that your towel is toxin-free and eco-friendly.
Pros
Large towels in a range of stylish colors

Flatly woven linen absorbs quickly while being soft on the skin
Machine washable gets softer with each wash
Eco-friendly
Cons
A thin towel isn't as warm and comforting as other towels

Tends to wrinkle
How To Get The Most Out Of Your Beach Towels
Believe it or not, even if you're not going out for a fun day at the beach, you can still use beach towels. You probably assumed that only people that live near the ocean need beach towels, but that's not true. There are so many ways you can utilize them without ever stepping foot on the beachfront. Here are a few ways to use beach towels:
Table Cloths
 The great thing about beach towels is that they are long and cover a lot of space. If you're having a cookout or any type of summer party, beach towels are great alternatives to a tablecloth—spread them across the table to see how they look.  Luckily, many of them are bright and decorative, so you don't have to worry about them putting a damper on the decor.
Seat Protection
Another wonderful thing about beach towels is that they are perfect or protecting seats. Let's say you take the kids to the park and they're a little messy you can put  a beach towel down to protect the car seats. The same goes for patio furniture. If everyone is outside having a ball and decide to have lunch on a patio, you can put the towels down to make sure there is no mess on the chairs. The good news is, the length of beach towels is long enough to potentially sit two or three kids on one towel.
Decor
 You may have never thought about using beach towels as decor, but they work well in beach houses and other tropical-themed environments. For instance, you can hang it up on the wall next to your surfboard or lay it the bed for a more creative look. Plus, if you're really good at sewing and DIY projects, you can cut the beach towels up and make pillows out of them—the options are endless. 
Picnic Blanket
Who doesn't love a nice picnic in the park? It's a great way to have a romantic date or spend time with family. But if you don't have a large cloth to spread out or you don't want to use a blanket, beach towels are a good option. They are big and usually large enough for two or more people to sit on and spread out the food. If you don't have one of the wider beach towels, you can use two or three, and they should be fine.
Shower Accessory
The thing to remember is that beach towels are just that…towels. You can use them the same way you would a regular one and not just for a day in the sun. If you want to use them to dry off after a shower or bath, go right ahead. Actually, some people prefer using beach towels after they bathe, because the length of the towels are long enough to wrap around them and they're great for drying up water.
Which should you buy?
If what you are looking for is a good beach towel that will get the job done and look good doing it for many years to come, the Bersuse 100% cotton Turkish towel may be the towel for you. This towel comes in a wide range of attractive colors to fit your style, and the classic design will make you look timeless as you lounge on the beach.
These towels are large enough to share but not so large or heavy that they are inconvenient to carry. These towels dry quickly so you can shake the sand off, roll it up tightly, and stash it in your bag. While not so heavy as to be very warm in the wind, these towels are big enough to wrap around you completely to keep warm as your dry off after your ocean dip.
Last update on 2023-12-01 at 18:42 / Affiliate links / Images from Amazon Product Advertising API