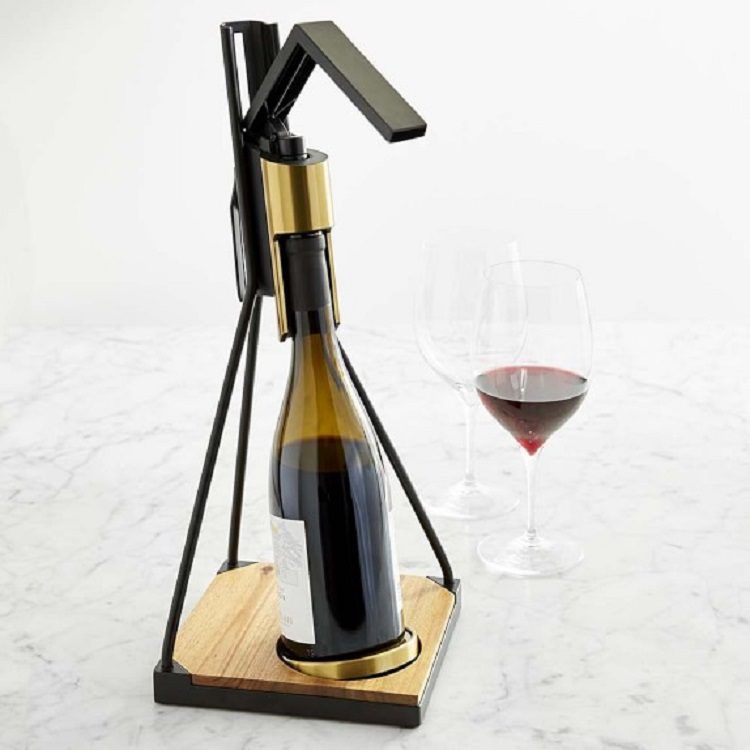 You can't drink a corked bottle of wine without one handy tool: a wine opener. Some wine drinkers would say that the opening of the bottle is the most crucial step in drinking a glass of wine. What makes the best wine opener?  That moment when air hits the wine is when flavors emerge, and you certainly don't want a broken cork to crumble in your drink.
There are various types of wine openers: there's the corkscrew, the wine key, electric and battery powered openers, special air pressure pumps, and more. And opening a bottle of wine can be tricky. Corks can break with too much pressure; too little pressure and you'll never open the bottle. Opening a bottle of wine is like an art—there's a reason why some restaurants will specially open a bottle of wine for you at a restaurant.
There's plenty of variety out there—and it all depends on your preference, too. Do you want a wine opener that you'll have to recharge, or use a cord for? Do you prefer the arms on a regular corkscrew, or would you want to try out one of the more newfangled pressure pumps? Not all bottles of wine are made equally, and you want an opener that's versatile enough to open the most stubborn bottles of wine. Let's explore some of the best wine openers on the market today.
10 Professional Wine Opener by HiCoup
[amazon box="B00MSXW15E"]
This is a durable, three-in-one, multi-function waiter's key. Made of stainless still with a firm, grippable rosewood handle, this is a functional tool that won't break your cork, because of the specially designed "worm"—or the twisted screw that breaks through the cork.
This worm is made out of heavy-duty steel and includes a precision-cut notch along the screw grips, which secures the cork firmly, preventing breakage. A double-hinged fulcrum allows for the cork to be pulled smoothly out of the bottle, unlike typical single-hinged fulcrums. A long, serrated foil cutter will smoothly remove any plastic or foil.
Pros:
Precision-cut notches on screw
Double-hinged fulcrum
Rosewood handle
Cons:
Some complain the handle is too short
Some complain the screw is not sharp enough
[amazon fields="B00MSXW15E" value="button"]
---
9 Oster Rechargeable and Cordless Wine Opener with Chiller
[amazon box="B006VFED2E"]
Open your wine effortlessly with this electric wine opener, cordless with a rechargeable base. Remove your corks effortlessly at the touch of a button. This wine opener can open up to 30 bottles of wine with one charge. The firmly grippable handle fits neatly into the palm of your hand.
Works with all traditional wine bottles. Includes a foil cutter, as well as a thermal stainless steel wine cooler with a durable double wall. A simple single operating switch means you'll be able to open your wines at the literal touch of a button. Place the opener on top of a wine bottle, press the button, and enjoy your wine.
Pros:
Includes thermal stainless steel wine cooler
Easily transportable
Cons:
Must be charged in order to use
Can't be used without using rechargeable base
[amazon fields="B006VFED2E" value="button"]
---
8 Wine Ziz Air Pressure Pump
[amazon box="B01DYX0U8Q"]
Want to open your bottles of wine in a new way? An air pressure wine opener functions with a needle that slides into the cork. Press the needle in, pump several times, and the cork will slide out.
There is no gas needed to work this pressure cork remover. There's no pulling or twisting, as typical of traditional wine openers. This wine opener works with all types of wine bottles. Comes with a foil cutter to quickly and effortlessly cut away any foil or plastic from your wine bottle. Easy to clean as well. With this wine opener, you won't have any broken cork pieces.
Pros:
Compatible with all types of wine bottles
No need for pulling or twisting
Easy to clean
Cons:
Takes some elbow grease to use
Some claim it doesn't work on all corks
[amazon fields="B01DYX0U8Q" value="button"]
---
7 OXO Steel Vertical Lever
[amazon box="B01DP8Q5BG"]
Remove your cork in two simple steps with this wine cork lever. Start by placing the handle in the up position, and place the corkscrew on the bottle. Push down on the handle, gliding the screw in. Lift the lever again, and pull up. Lift the corkscrew off of the bottle, pumping the lever once again to in order to release the cork.
Includes a die-cast zinc handle that is soft and grippable. Includes a removable foil cutter, which stores inside of the corkscrew. The cork remover removes the cork with one single motion. Includes a non-stick screw, which slides easily into the cork. Includes one extra non-stick screw for replacement, if necessary.
Pros:
Includes die-cast zinc handle
Includes removable foil cutter that stores inside of corkscrew
Comes with extra screw for long-term use
Cons:
Some claim the cork gets pushed back into bottle
Takes some elbow grease to work
[amazon fields="B01DP8Q5BG" value="button"]
---
6 Wing Corkscrew Wine Opener By HQY 
[amazon box="B018W2ALAQ"]
Use this sturdy wine opener to open all of your stubborn bottles of wine. This wine opener includes an ergonomically designed handle, making it comfortable to open even the most stubborn bottles of wine. Includes sturdy three-inch long broad wings, as well as a lengthy polished helix worm that'll slide through to any length of cork.
Made out of zinc alloy material, this wine opener includes a bottle opener at the top. In order to use the wine opener, place the wine opener auger into the cork, and twist the handle. The wings will then rise—press them down in order to extract the cork.
Pros:
Includes three inch long broad wings
Includes lengthy polished helix worm
Works as both a wine and beer opener
Cons:
Some claim the cork isn't weighted enough
Takes some elbow grease to use
[amazon fields="B018W2ALAQ" value="button"]
---
5 HiCoup Wing Corkscrew Wine Opener
[amazon box="B015P5XL8W"]
This substantial wine opener makes opening wine simple and easy. Insert the worm into the cork by placing the corkscrew over the bottle and twisting the handle. The polished helix worm, long enough for even the longest corks, will then twist into the cork as the opener's wings rise up. When you press the wings down, the cork will rise up out of the bottle. This wine opener doubles as both a beer and wine opener. Made out of fine quality metal and plastic, this wine opener is made to last. The handle is also made of a sturdy, durable material, so you won't struggle while attempting to open your wine.
Pros:
Can be used as both a wine and beer opener
Includes long polished helix worm
Includes hefty handle for easy opening
Cons:
Some claim that the worm breaks apart corks
Can be difficult to open
[amazon fields="B015P5XL8W" value="button"]
---
4 Foho Best Wing Corkscrew Wine Opener
[amazon box="B07T4G2ZCX"]
This corkscrew is constructed of zinc alloy and a stainless steel corkscrew. Comes with a chrome plated bottle stopper to store your wine and extend its taste. The designer wing style of the corkscrew allows for easy gripping of the unfolding wings and smoothly pulls the cork out for removal.
The soft-touch panels on the wings' ends allow you to comfortably and easily use the wings for cork removal. This solid, heavy-duty wine opener is a great gift for family and friends, or a good option for use in a restaurant.
Pros:
Includes chrome plated bottle stopper
Soft panels on wing ends
Constructed of zinc alloy and stainless steel
Cons:
Very thick corkscrew
Bottle stopper is very small
[amazon fields="B07T4G2ZCX" value="button"]
---
3 Secura Stainless Steel Wine Opener
[amazon box="B01261VEOG"]
This is a cordless electric wine bottle opener, which removes corks within seconds. This electric wine opener is housed in stainless steel, with a transparent shell, which surrounds the corkscrew mechanism. The transparent shell allows you to easily see when the corkscrew has been removed.
It includes a built-in rechargeable battery, which opens can open up to 30 bottles of wine on a single charge. Simply push the button, and your cork will automatically be removed. Includes a foil cutter for easy seal removal. The stainless steel handle easily fits into your hand, allowing for easy gripping.
Pros:
Cordless
Transparent shell allows for easy cork removal
Stainless steel handle
Cons:
Doesn't work without charging
Some claim the battery wears out quickly
[amazon fields="B01261VEOG" value="button"]
---
2 OxGord Electric Wine Opener with Automatic Corkscrew
[amazon box="B01GEVLI5O"]
Open any bottle of wine with one touch of a button. The battery-driven corkscrew easily extracts even the most stubborn corks. This ergonomic design fits perfectly into the palm of your hand. Using the foil cutter provided, cut away at the foil or plastic on your wine bottle.
Placing the opener over the bottle cork, press the clockwise rotation button. The cork will be easily removed from the bottle. Carefully turn the cork around the screw until it is removed. This is a great option for anyone with arthritis, tendonitis, sore hands, or anyone who has difficulty using a regular wine opener.
Pros:
Includes a foil cutter
No need for manual labor
Ergonomic design
Cons:
4 AA batteries not included
Cannot be used without batteries
[amazon fields="B01GEVLI5O" value="button"]
---
1 Oster Electric Wine Opener
[amazon box="B007JWJ8FA"]
This electric wine opener is cordless and includes a recharging base for your convenience. Open your wine bottles in seconds, and use the foil cutter to remove seals. In a metallic tuxedo black and brushed gunmetal finish, this wine opener is certain to fit in with your kitchen and appliances.
This wine opener is designed to fit all traditional wine bottles. Includes a thermal, double-walled stainless steel cooler to keep your wine bottles chilled. With the rechargeable base, this opener can open up to 30 wine bottles.
Pros:
Includes stainless steel cooler
Includes foil cutter to remove seals
Includes stainless steel cooler
Cons:
Cannot be used without charging
Can only be used for wine bottles
[amazon fields="B007JWJ8FA" value="button"]
Why You Need A Quality Wine Opener
If you ever had one of those days where you couldn't wait to crack open a bottle of wine, then you need a good wine opener. There's nothing more frustrating than having a long day, and then having to struggle to open your wine. With that said, here are a few reasons why you need a quality wine opener:
Simple To Use
 If you've ever used a tricky wine opener, then you know how frustrating it is. Luckily, there are lots of products out there that make popping open a bottle of wine a breeze. If you're a person who prefers an electronic device, those are available as well. Or if you prefer something a little different that's okay there are several options available. No matter what your style is, a nice wine opener will help you get into your bottle with no problem.
Longevity
No one should ever get a low-quality wine opener. The reason being is because you want your utensil to last you for quite a long time. Imagine craving a glass of red wine, getting it halfway open, only to have your opener break on you. Not to mention, owning a wine opener that is damaged or rusted because it is cheap quality. The only thing that you want to buy regularly is the wine, not the opener.
Good Wine Need A Good Opener
There is nothing like a smooth glass of wine made by a quality brand. If you spend a good amount of money on a bottle of wine—you want to enjoy it. The last thing you need is an opener that doesn't properly get the cork out. No one wants bits and pieces of the cork floating in their wine while they're trying to enjoy it. Therefore, just invest in a good opener, and you should be fine.
Better Options
 Traditional corkscrews are a bit dangerous, and if you're someone who has small children around, you might want a different option for your wine opener. Maybe choosing an opener like the Wine Ziz, you can have one that's safer and less hazardous for your home.
Automatic VS. Manual Wine Openers
 If you're unsure which wine opener style is best for you, consider your personality and your lifestyle. There are pros and cons to each type, and you should choose your style based on your preference. Automatic wine openers provide a quick and easy solution to pop in the cork. There is no fighting or struggling, and you can start pouring in no time. However, many of them require a battery, or they have to be plugged in to work.
 On the other hand, manual wine openers don't always cooperate. Sometimes they don't pull the cork out as efficiently, and they can be a headache. However, they do come in multiple styles, and you don't have to worry about charging them before you use it. 
Which Wine Opener is best?
Ultimately, the Oster Rechargeable and Cordless Wine Opener is the recommended buy. With a rechargeable base, this wine opener allows you to effortlessly remove your corks at the touch of the button, and completely eliminates the problem of wrestling with a traditional wine opener.
A thermal stainless steel cover allows you to chill your wine. When you purchase this wine opener, you'll be bringing an impressive appliance into your home that is excellent for dinner parties or enjoying a quiet evening with some wine. Try out the Oster Rechargeable Wine Opener today, and you'll soon be enjoying wine at the touch of a button.