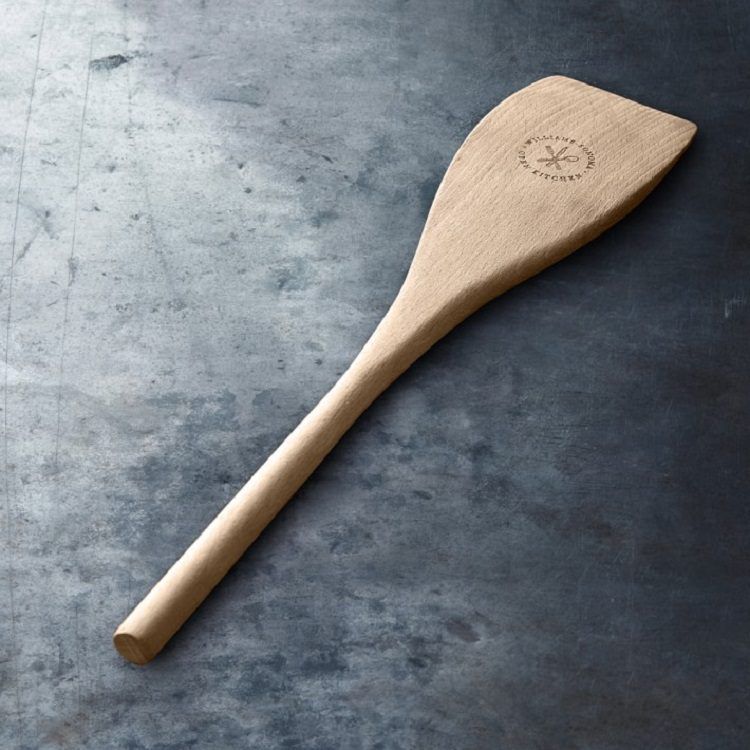 With the number of cheap spatulas on the market you may not think that quality matters, but if you've experienced some common kitchen mishaps, you know better. From melted handles to shredded edges, when it comes to spatulas, you get what you pay for just like any other product. Investing in quality cooking utensils can save you money, keep your food free of harmful chemicals, and simply make your cooking more enjoyable.
To get the best out of your spatula, get to know the advantages of various materials like stainless steel, nylon, and silicone. Choose what material to buy based on your needs. Stainless steel provides durability, but it can also scratch certain surfaces; nylon is also strong and long-lasting, but it may contain plastic chemicals and melts easily; silicone has become the most used material for its heat-resistant properties, but it can still be damaged when overused.
Shape and size may also play a factor in your choice of a spatula, so decide if you will use it indoors only or on the grill and if you plan on using it for specific cooking tasks like fish sautéing or pancake flipping.
Here are a few of the best spatulas on the market with helpful tips to make your decision.
11. Chef Craft Select Stainless Steel Turner
No products found.
Crafted for comfort and durability, this stainless-steel spatula tackles any cooking task. Its rust-free head is dishwasher safe for easy and reliable clean-up. The sleek, thin metal allows you to scoop, flip, and mix without a struggle. And the long 13-inch design keeps you free from splashing oil and extreme heat. For extra grip, the handle is coated with a thick plastic that conforms to your hand. Plus, hang your spatula for quick access to its metal hoop ring on the handle. This strong, reliable utensil will last years in your kitchen.
Pros:
Non-stick and easy to clean.
Plastic handle keeps your hand from burning.
Good value for the price.
Cons:
Length could be longer for grilling.
Steel handle piece is too thin and not polished.
No products found.
---
10. OXO Good Grips Brushed Stainless Steel Turner
No products found.
Easily sauté, grill, and flip with this polished stainless-steel spatula. Its complete with a rust-free, non-stick design along with a soft silicone handle. Plus, the bottom of the handle is coated in steel to ensure it will not melt when resting on a pot or pan. Get the perfect angle on this 13 ½-inch spatula for flipping with its curved handle and 3 ¼-inch head. After cooking, it can be placed safely in a dishwasher or wiped clean by hand. Use the handle's hole to store your favorite tool nearby the stove or own your grill.
Pros:
Made from one molded piece of steel making it sturdy.
Lightweight.
Works great for scooping.
Cons:
Silicone handle is too short.
Handle makes it top heavy.
No products found.
---
9. OXO Good Grips Nylon Square Turner
No products found.
This heat-resistant nylon spatula gives you a wide surface area for flipping and mixing from eggs to stir fry. It can withstand up to 400°F temperatures with its strong nylon coating. The non-stick design is safe for any cooking device as it will not scratch or remove the surface. It also provides a soft and secure grip and tilted head for easy handling. The metal accents make it suitable as a serving utensil. And its sturdy solid mold stands up to heavy tasks and multiple uses.
Pros:
Does not scratch pots and pans.
OXO quality brand name.
Lightweight.
Cons:
Edges tend to shred.
Cannot withstand high direct heat.
No products found.
---
8. StarPack Ultra Flexible Silicone Turner Spatula
No products found.
Get a robust core and external flexibility with this silicone spatula. The steel frame provides a strong structure. The head is coated with LFGB-grade silicone that is BPA free and approved by the FDA, which ensures your food never gets contaminated by chemicals. With a combination of flexible steel and 600°F heat-resistance silicone, you can effortlessly turn your food at any angle. The thumb impression and soft handle are both comfortable and efficient. Pop your non-stick spatula in the dishwasher for a stain resistance and odorless clean.
Pros:
Includes a 101 cooking-tips guidebook.
Does not melt.
Does not scratch surfaces.
Cons:
Heavier than other spatulas.
Handle is not heat resistant.
No products found.
---
7. Di oro Chef Series FLEX Standard Silicone Spatula
No products found.
This S-Core stainless steel spatula is finished with BPA-free, professional-grade LFGB silicone approved by the FDA. These high-quality materials provide a sleek and sturdy design while giving you flexibility and providing easy gliding. The 600°F heat-resistance head will not melt or shred under pressure even in the dishwasher. Get a secure and satisfying grip with the thumb-grooved, matted handle. This spatula is built to last with its rust-free steel structure and superior workmanship. Your satisfaction is guaranteed with a lifetime warranty on any manufacturing defects.
Pros:
Handle is also made of heat-resistant silicone.
Does not scratch surfaces.
Easy to clean.
Cons:
Maybe too flexible.
The silicone on the head is thin and may wear down to the steel.
No products found.
---
6. Fat Spatula 3-in-1 Kitchen Utensil
No products found.
Perfect for grilling, this 3-in-one spatula can be used as a tong and strainer to make your next BBQ a snap. It uses a non-stick, stainless-steel wire and an extra-wide nylon head to grab your food securely. The spring and lock action makes it easy to transport from cooking surface to plate. The ABS handle provides grooves and a hanging hole for convenient mobility and storage. Tackle your hottest meals with its 500°F heat-resistance coating. The entire product is BPA free and FDA approved. Plus, it is dishwasher safe and is resistant to odor and stains.
Pros:
Versatile design.
Polished steel finish.
Hygienic properties.
Cons:
Nylon can shred from direct heat.
Not for small cooking tasks.
No products found.
---
5. Tosnail Stainless Steel Turner Spatula Set
This set of three durable, professional-grade spatulas are perfect for flat-surface cooking, grill scrapping, and pancake flipping. It comes with one long solid spatula, along hole-punched spatula, and a shorter angled spatula. All three are made of stainless steel with a thick wooden handle. The sturdy design works for commercial use or recreational use like camping. Their sharp edges work well for light chopping and cutting while cooking. The long head can pick up entire meals for quick thorough cooking.
Pros:
Heavy duty and durable.
Great for chopping up meals while cooking.
Good value for a 3-piece set.
Cons:
Hand wash only due to wooden handle.
Edges can be rough.
---
4. di Oro Living – Silicone Spatulas
No products found.
Add versatility and elegance to your kitchen with this 3-piece spatula set. It includes an 11.2-inch curved spatula, an 11.2-inch spoonula (part spoon, part spatula for mixing and scraping), and an 8.8-inch mini curved spatula. Reinforced with a stainless-steel S-Core interior and a BPA-free, FDA-approved silicone exterior, each piece is flawlessly designed for strength and flexibility. With no seams, their one-piece mold reduces bacteria found in crevasses and allows for quick clean-up. The silicone finish is heat resistant up to 600°F and is rust-free. Cook with confidence and comfort with the cushy, non-slip handle complete with a hanging hole for storage. These products are backed by a lifetime guarantee for complete satisfaction.
Pros:
No loose parts with a one-piece design.
Flexible without being flimsy.
Great customer service and guarantee.
Cons:
Handles are slightly too short.
May need additional hand-washing to get clean.
No products found.
---
3. Dexter-Russell Pancake Turner
No products found.
For the ultimate perfect pancake, look no further than the Dexter Edge spatula. The company has been crafting high-quality cookware since 1818, so they are established in the field of culinary workmanship. They use only fine materials like solid stainless steel for the base and sanded, polished walnut for the handle secured by two metal rivets. The 4.5-inch by 2.5-inch head supplies the right amount of coverage for flipping and the precise edges can scrape and chop with ease. All spatulas are made in the USA to ensure superior standards.
Pros:
Heat resistance.
Thin and sleek head for easy scooping.
Durable and strong design.
Cons:
Hand wash only.
No hanging options.
No products found.
---
2. Pro Cookhouse Spatula set Fish Spatula turner and Burger S
No products found.
This set includes a flat, solid burger spatula and a slotted, thin fish turner. Both are made with a stainless-steel head and a high-quality wooden handle connected with 3 brass rivets. Use the flat spatula to flip burgers and other food on the grill or toss stir-fry and other whole meals on cast iron skillets and flattops.
The fish turner's delicate thin design allows you to scoop fragile foods like fish fillets, omelets, and even crepes without them falling apart. Also, use it as a light strainer for oil and grease or for steamed vegetables. These utensils are to be hand washed only with mild soap and should not be soaked in water or kept wet. If proper care is taken, their high-quality components will not corrode or rust.
Pros:
Thin yet durable.
Long handle for grilling.
Head size fits fillets and patties.
Cons:
Hand wash only.
Must be kept dry to avoid damage.
No products found.
---
1. Wusthof Gourmet Offset Slotted Spatula
No products found.
Cut from one piece of high-carbon stainless steel, this spatula is used by culinary professionals for its reliability and durability for everyday use. The Wusthof factory in Germany manufactures high-quality cutlery including knives and spatulas with a 40-step craft and inspection process. This angled, slotted spatula is no exception in standards with its ultra-thin bendable head and synthetic polypropylene riveted handle. At 6 ½ inches it is perfect for small, quick-cooking jobs, and its lightweight, the balanced design provides a satisfying cooking experience. The product should be hand washed for the finest cleaning. The company offers a lifetime warranty on all their utensils.
Pros:
Slanted edge allows for easy sliding under food.
Works for both right- and left-handed cooks.
The price matches the value.
Cons:
The handle is not heat resistant.
No hanging options.
No products found.
Several Ways To Keep Your Spatulas In Good Condition
Spatulas are one of those kitchen utensils that tend to get neglected. It's usually not very fancy looking, and you might not use it as much as knives and forks. However, nothing flips a burger, steak, or chicken breast, quite like a spatula. Here are a few ways to ensure you're taking care of this particular kitchen utensil:
Take It Off Of The Heat
You've probably had a couple of plastic spatulas with sear marks across the handle or big bubbles that formed due to heat exposure. While these imperfections won't keep you from using the spatula, it does cause wear and tear, and you'll have to replace it sooner than expected. Plus, sometimes you won't catch things in time, and the spatula will completely melt. So, make sure you remember to take it away from the heat and don't leave it sitting in the skillet.
Don't Use Hot Water
Generally, washing dishes will hot water helps to make sure they get extra clean. However, if you have a wooden spatula, it's best not to use hot water on them. It damages the wood, which in turn causes you to have to replace it sooner.
Be Careful With Copper
If you happen to have a copper spatula, it needs special care. Copper is easily tarnished, and washing them with rough scrubbing pads scratches the surface and causes tarnishing.
Wash It Properly
The way you clean your cooking utensils is vital to making it last for a long time. If you have food residue on your spatula, you must use a scrubbing pad that's nylon. Also, if you put it in the dishwasher, make sure you use dish detergent that's not too harsh. Otherwise, it can damage the spatula. Furthermore, you should dry your utensils off as soon as possible. Lingering water can cause stains that are difficult to get rid of—so it's best to prevent them entirely.
Get Rid Of Water Stains
If you notice water stains on your spatula, treat them right away. If they set, it will take lots of effort to get them out. Treat the problem when it first starts and it'll save you a lot of headache.
Final Thoughts On The Best Spatulas
Quality cooking utensils are essential for making great meals with ease. Although spatulas are primarily used for flipping meat and other basic tasks, you still don't want them to become tarnished and beat up. The list above provides lots of quality spatulas that you'll want to keep in pristine condition for years. In order to do so, just follow these care tips and your spatula should be fine.
Which Spatula is best for your cooking needs?
The quality of each spatula depends greatly on the design, materials, and overall craftsmanship. A stainless-steel core provides stability while a silicone or nylon coating offers comfort and protection. The best of both worlds includes an S-Core steel base with a layer of heat-resistant silicone as nylon can still melt. How many girls with big breasts do you meet in your everyday life? Wish to see more? Let us show you one lusty corner where every girl has large tits. Just visit this place and browse the biggest collection of well-sorted porn videos with crazy bosomy girls. You actually don't need any other website because we update ours daily. The di Oro Living – Silicone Spatulas offer both qualities while giving you a one-piece design free from bacteria traps. It also includes three types of spatulas for various tasks.
Although stainless steel works best for grilling if you primarily cook indoors than a silicone base will give you the easiest cleaning options. Make sure you know which spatula is best for each environment and the task then you will be cooking in no time.
Last update on 2023-06-07 at 14:54 / Affiliate links / Images from Amazon Product Advertising API