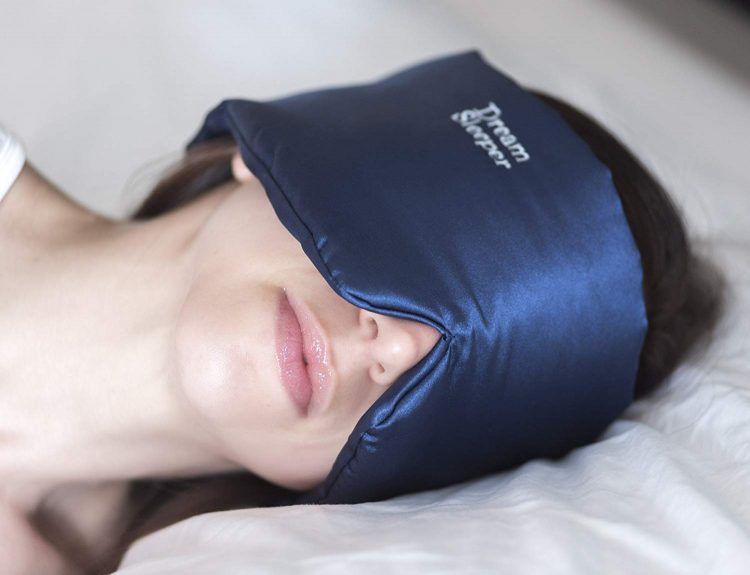 For some of us, sleep doesn't come easy. Maybe you live in a dorm room or some other communal area where lights and TVs are always on. Perhaps, your spouse stays up until the wee hours of the morning reading or playing on his or her phone. Whatever the case may be, a sleep mask can help.
Now, the best sleep mask won't make your partner go to bed or quiet the kids down in your apartment building, but they will block out the light. Are you a third shift worker who sleeps during the day? Allow a sleep mask to trick your brain into thinking it is nighttime!
Sleep masks come in a  variety of styles, colors, and patterns. Some of them are more luxurious than others. How do you know which sleep mask to choose? That's a great question!
There are literally thousands of sleep masks on the market, today. You'll ton on Amazon, alone. We decided to help you out a bit and find the top 10 best sleep masks for you. You can rest assured that the products we've chosen have all gotten high star ratings and rave reviews from the folks who've bought them.
On our list, you'll see brands like ZIMASILK and Alaska Bear. We want you to have confidence in our selections.
Are you ready to find the perfect sleep mask? Awesome. Let's head over to the list.

10. ZIMASILK 100% Natural Silk Sleep Mask
This sleep mask is made from 100% high-quality 19mm mulberry silk, on both sides. it is very soft and smooth. Plus, mulberry silk is environmentally sound and very economical. This sleep mask comes in a variety of colors.
You'll love the breathable, cool, and relaxing feel of this soothing mask. It's very gentle on your eye area and skin. The design is ergonomic and helps relieve stress and muscle tension. This contributes to you having a great night's sleep.
Pros
Adjustable headband won't tangle your hair
Covers light irradiation on the eyes and eliminates interference
No chemical smell
Cons
Can not be machine washed or dried
---
9. PrettyCare 3D Sleep Mask
You'll love the design and feel of these one-of-a-kind 3D sleep masks. They are made with opaque, high-density memory foam. The mask is only 0.4 ounces and o.6 cm thick, so it very lightweight and comfortable. It completely blocks out light while you drift off to sleep.
Check out what the manufacturer has to say about this sleep mask, "Our 3D eye shades have large eye cavities; we use 3D tech to tune sizes, ensuring your comfort. We raised the nasal bridge and thickened the canthus. It will also never smudge your makeup"!
Pros
Relieves dark circles, dry and puffy eyes, and insomnia
Made with precision CNC lathes to form a completely smooth edge and firm joint for increasing your comfort and the durability
Luxurious and stylish
Cons
Laundry back must be used when washing it in the machine or deformity will occur
---
8. Sipwell Jersey Slumber 100% Silk Sleep Mask
Silk Sleep Eye Mask for Men Women, Super Soft Eye Mask for Sleeping Silk with Adjustable Strap, 100% Pure Silk, Gift for New Year, Christmas, Sleeping Aid Blindfold, Blocks Light, Travel Eye Mask
SLEEP DEEPLY ANYWHERE, ANYTIME: Pull out this incredibly lightweight, comfortable sleep mask/ EYE mask anywhere - in a...
INCREASED REM SLEEP: Naturally improve your mood, energy levels and cognitive function and get a full night's sleep...
BLINK FREELY & SLEEP IN ANY POSITION: The Jersey Slumber sleep mask / EYE mask is specially designed for rub-minimizing...
This amazing mask helps to lull you into a deep sleep, anywhere, anytime. Use the stylish mask in bed, on a  long flight, in the hospital…virtually anywhere you need to catch some zzz's.
Did you know that increased REM sleep naturally improves your mood, energy levels, and cognitive function? Allow this sleep mask to help you get there!
Here is a message from the manufacturer, "This Eye mask has many great functions: 1) As a relaxation mask 2)A mask to cover the eyes while applying ointments and lotions to it 3) An eye soother and pillow, The Jersey Slumber sleep mask /EYE mask is ideal for insomnia, migraine headaches and dry-eye sufferers, as the breathable, natural fibers of hypoallergenic silk allow healthy oxygen in, while keeping dry air out. Get this sleep mask /eye mask today and you won't regret your decision"!
Pros
Mask allows you to freely blink and sleep in any position
Equipped with an adjustable soft head strap
Lightweight and comfortable
Cons
Some complaints of the mask being too snug and putting pressure on the eyelids
---
7. YIVIEW Sleep Mask Pack of 3
You can get a  3-pack of multicolored sleep masks that are stylish and comfortable. Each mask comes with a fully adjustable strap that is made from stretchy elastic and won't catch on your hair. You'll love the flexible and durable design.
The 3D contoured shape features a protective curve with more contour space than other masks. These masks won't touch your makeup or eyelids. You'll never have to deal with pressure on your eyes and you can blink freely.
Here's a message from the company, "Light and breathable material and smooth fabric let you release your facial stress and help you get into sleep rapidly. Our sleeping mask is stronger than traditional blindfold, and will not fall apart easily".
Pros
Improves insomnia by blocking out light
Deep eye contours never touch your lids
Encourages long REM sleep
Cons
Complaints that the adhesive on the mask is slightly scratchy
---
6. Mavogel Cotton Sleep Mask
Choose from two different colors when you purchase this handmade sleep mask. This product has been researched and data was collected on various head sizes so that the mask could be made as comfortable as possible. This sleep mask has been designed to fit all head sizes and circumferences.
This mask is 100% handmade. Each thread and stitch have been intricately placed for your comfort.
Check out what the manufacturer has to say, "Because of its comfort and excellent light-blocking ability, travelers can have a quick rest and relaxation from the exhausting journey and wake up with full energy. And the sleep eye mask also comes with a convenient carry pouch, perfect to quickly grab and throw in your luggage, a briefcase or beach bag".
Pros
Ergonomic design
Minimum pressure on the face
Soft, adjustable elastic strap
Cons
Leaves lines on the face if side-sleeping
---
5. LKY DIGITAL Sleep Mask 3 Pack
This new and improved 3-pack of sleep masks is made with wider and deeper eye space than the average sleep mask. You won't experience any pressure on the eyes or face, whatsoever.
Here is a word from the manufacturer, "Adjustable Buckle: Gentle, pain-free, easy-to-adjust headband won't tangle hair or snag pillow. Fully adjustable strap from 15.8 inches to 26 inches, will not fall off while you're sleeping. Suitable for women/men/kids".
Pros
Blocks out light, perfectly
Increases REM sleep
Very soft and made from high-quality materials
Cons
For some folks, the eye sockets are not deeply contoured enough and bump against their eyelashes
---
4. Luxury Patented Sleep Mask, Nidra®
This 100% polyester sleep mask helps you fall into a deep sleep, anytime, anywhere. It is super lightweight and comfortable. Use it in bed, on a flight, long car rides, or anywhere you need to get some rest. This sleep mask comes in two different colors.
Here is a message from the company, "Exposure to light during sleep interferes with your sleep cycle, preventing you from the long and deep night's rest you need to function at your best. The Nidra mask completely blocks out all light and visual stimuli so you can nap or sleep soundly anywhere. Nidra's mask is like having your own personal mobile black-out curtains. Sweet dreams".
Pros
Helps you to wake up looking and feeling refreshed
Allows for free blinking
Patented money-back guarantee
Cons
Some complaints about the mask not being very durable
---
3. GINIMAX 3D Sleep Eye Mask
This amazing sleep mask comes in a variety of fashionable colors and also includes a pair of earplugs. The mask is made from comfortable memory foam.
Check out what the manufacturer has to say about the ergonomic design, "Unique contoured eliminate eye fatigue, which has ZERO pressure to eyes, promoting REM sleep. Bring stronger shading effect and more contour space than silk sleep mask, will not smudge your eyelash/eyelid/eye makeup. Perfect for female eyelash makeup".
This mask is made from hypoallergenic materials with soft eye covers that are breathable.
Pros
Equipped with an adjustable elastic strap
Soft and comfortable design
Serves a multipurpose role
Cons
Elastic tends to stretch out and warp, quickly
---
2. Dream Sleeper ® Sleep Mask
Are you ready to have 100% of sunlight and other light blocked out of your vision? This amazing sleep mask will do just that. It has been rated as a #1 bestseller on Amazon.
The mask is made for comfort. With the fully adjustable, wide Velcro strap, create the fit that works for you. This mask is meant to fit all head and face sizes and shapes.
Here is a word from the manufacturer, "We offer a no questions asked product loss warranty. If you lose or misplace your sleep mask we will replace it for free. Just simply send us an email and pay shipping and handling separately".
Pros
Hypoallergenic
Comes with an outstanding warranty
Extremely comfortable
Cons
Some complaints of the mask being too hot
---
1. Alaska Bear Natural Silk Sleep Mask
Alaska Bear sleep masks are listed as an Amazon Choice product. Enjoy this mask in 13 different colors and patterns.
Take a look at what the manufacturer has to say, "Gentle, easy-to-adjust headband won't tangle hair or snag pillow. And the plastic adjuster stays at the back of your head, not at your temples, which can be uncomfortable for side-sleepers. Fits comfortably with ear plugs and even with a CPAP facial mask. Fully adjustable strap from 15.8 inches to 27.6 inches, suitable for women/men/kids".
This mask is made from top-quality materials such as 19mm natural mulberry silk on both sides. it's very soft and smooth against your skin, not to mention, breathable.
Pros
Made with one premium long fiber strap that is fully adjustable
Equipped with a nose flap for ensuring all light stays out
Perfect for getting rest wherever you may be
Cons
Some complaints about the dye of the mask rubbing off
Why We Chose Alaska Bear Natural Silk Sleep Mask As Our Top Choice…
We've provided you with a selection of 10 outstanding sleep masks that we felt are superior to others. You'll see that we've included various styles and price ranges. We wanted to include a little something for everyone. We stand behind each of these masks.
Now, the choice was hard, but we had to pick a sleep mask for our #1 spot. So, we decided to go with the Alaska Bear Natural Silk Sleep Mask. It is made from high-quality mulberry silk. You'll love how perfectly it keeps the light out.
Which one of these sleep masks will you be purchasing, today? We hope you'll go without top choice, but if not, any mask from our list will be a great buy.
Be sure to click on the Amazon link of the sleep mask you wish to purchase for a safe and seamless checkout.
Last update on 2023-11-29 at 23:29 / Affiliate links / Images from Amazon Product Advertising API