When we live a healthy lifestyle, like eating fruits and vegetables, this projects into other parts of our lives. The many motivational speakers, self-help gurus, and multi-millionaires say that when they began eating healthier, their lives were open to so much more enrichment. Being healthy is the most important goal we should all strive to accomplish.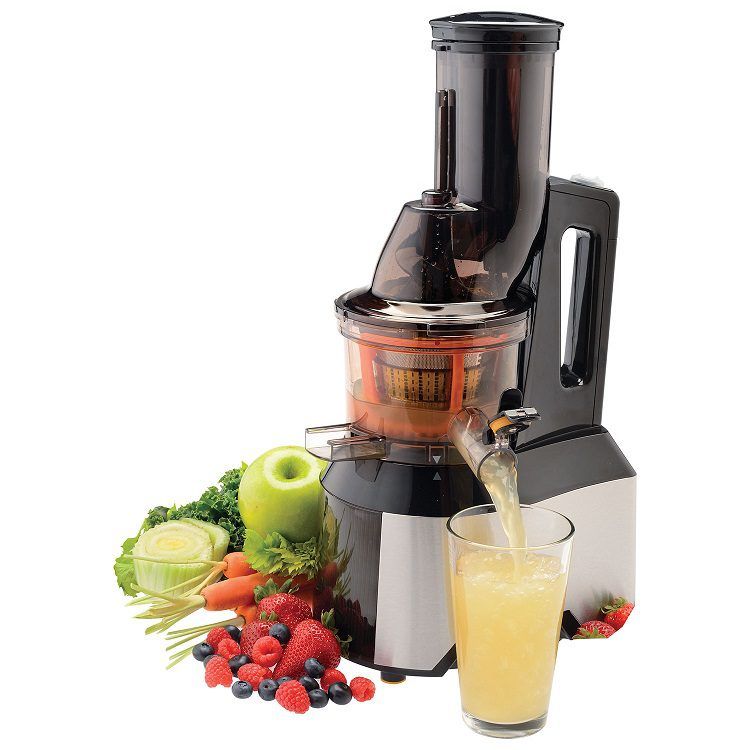 Putting health first is taking back control in your life. We have to take our health into our own hands because this world will not do it for us. Juicing is a great step to begin on this path towards health because it helps in adding fresh fruits and vegetables into our diet in a convenient and exciting new way.
Most importantly, juicing your produce will connect you to the food you're eating. We don't always know what's in our store-bought juices, but by juicing your own produce, you will know exactly what you're eating—or should I say drinking. A juicer will help you save money long term when juicing your own fruits and vegetables.
There is a wide range of juicers on the market, so it is important to consider the right juicer to fit your lifestyle: do you want a centrifugal, or masticating juicer? Do you need a special juicer for wheatgrass? How often are you going to juice?
Below is a list of product reviews that will help you filter through the pros and cons of each the best juicers on the market today. Each juicer is outlined by its features and what you should consider before you purchase your next juicer.

15. Cuisinart CCJ-500 Pulp Control Citrus Juicer
The Cuisinart is a number one best seller. This product uses an electric spinning cone that extracts juice from oranges, limes, lemons, or other citrus fruits. Additionally, the Cuisinart juicer has a stainless-steel look and is dishwasher safe.
Using only 25 watts, it is very efficient and economical while still having a lot of power. In fact, the cone's spinning action is able to get all the remaining pulp out of the citrus leaving only the rind. This juicer is perfect for those times when you have surplus oranges, limes, or lemons.
Pros
• Maximizes the amount of juice from pulp with the auto-reverse and final spin feature.
• Quicker to juice large amounts of citrus compared to manual juicers.
• The long Snap-Up spout that allows room for bigger glasses and will prevent dripping on counter-tops.
Cons
• Although electric juicers help those with arthritis, some customers contend that the Cuisinart required strong pressure when holding the fruit to the cone.
• Customers have suggested that this juicer fills up with pulp quickly so it clogs easily.
---
14. Gourmia GJ750 Wide Mouth Fruit Centrifugal
The Gourmia is a powerful extraction juicer for a wide range of produce from the hardest vegetables to the softest fruits. The Gourmia utilizes a CentriTract Centrifugal Extraction System to get the most juice out of your produce.
The juicer uses 850 watts. Its stainless-steel design is chic and all its parts are dishwasher safe.
Pros
• You can juice whole fruits like apples through the wide chute, which is helpful for those with arthritis that have trouble cutting and peeling.
• Contains a removable pulp tank that holds up to 8 ½ cups.
• The product can be disassembled for easy cleaning.
Cons
• The Gourmia does not extract much juice from kale and spinach. However, a good tip is to begin with juicing your greens by wrapping them together to form a bundle and push through the chute. Then juice a water rich vegetable afterwards.
• Many customers report the machine tends to stop working after few uses.
---
13. Hamilton Beach 67601A Big Mouth Juice Extractor
The Hamilton Beach is one of the most purchased juicers, rated "Best Buy" by one publication. The Hamilton Beach is a stainless-steel design with dishwasher-safe parts and uses 800 watts powerfully extracting juice quickly with its extra wide three-inch chute.
It is reported that the juicer yields up to 24% more apple juice than its leading competitors. The spout can directly pour juice into a cup, and the spout is positioned to accommodate all sizes of cups. In addition, the juicer comes with a cleaning brush for easy access to those hard-to-reach spots.
Pros
• Attached is an extra-large bin to catch pulp, which reduces time in emptying the bin so it allows for continuous juicing.
• Juices all types of produce like citrus, apples, root vegetables, including leafy greens.
• It is a centrifugal juicer which quickly processes produce at a high speed.
Cons
• Customers suggest the Hamilton Beach puts out a lot of wet pulp that contains a lot of juice that should have went through the strainer.
• The suction cups on the bottom of the juicer do not help to hold the machine down as it is jars while it juices.
12. Elechomes Wide Mouth Centrifugal Juicer
The Elechomes Juicer is a powerful 900-watt motor able to extract produce at 22,000 revolutions per minute (rpm). With this machine, you also get a Juice Jug which holds up to 34 oz., and you get a Pulp Collection Jug.
The Elechomes Juicer has a durable and attractive appeal with only food grade BPA-free materials. This juicer is suggested to perform over 1000 presses which could potentially last you years for juicing.
Pros
• The feed chute is 76mm which is wide enough for large fruits to be juiced whole like apples.
• The machine is capable of juicing a wide range of produce, including greens and it can even juice
an avocado!
• There is an overheating protection feature with heat dissipation ventilation on the juicer.
Cons
• Many customers have revealed that the product will begin to put off a smoke smell after the first
few uses.
• Customers also reported that the low setting stops working after few uses.
---
11. Chef's Star Juc700 Juicer
The Chef's Star Juc700 Juicer is a 700-watt machine able to shred produce and turn it into delectable juice. Attached is an extra-large bin for the pulp that allows for continuous juicing without emptying pulp.
The Juc700 is centrifugal juicer with a sleek stainless-steel design. Plus, it is easy to disassemble for cleaning and detachable parts are dishwasher safe.
Pros
• The spout has a unique design that is perfect for pouring into cups with dripping.
• Feed chute has a wide mouth for juicing whole fruits like apples.
• Economical for a high-power juicer.
Cons
• Not capable of juicing greens like kale nor wheatgrass.
• Customers have complained of plastic pieces from the machine ending up in the juice.
10. Aicok Juicer Slow Masticating Juicer Extractor
The Aicok Juicer is a number one best seller because it is a unique and high-quality juicer. As a masticating juicer, the auger spins at 80rpm working very slow to press as much juice out of the produce. The masticating process slows oxidation keeping enzymes intact in the juice.
The Aicok juicer is 150 watts and has an awesome look. It's also fun to watch the process of fruits and vegetables slowly turning into juice.
Pros
• Capable of juicing wheatgrass, kale, ginger, and a wide range of produce which makes it quite versatile.
• It functions as a slow juicer which means a higher juice yield compared to centrifugal juicers by the auger squeezing and reverse function. You will notice the pulp is much drier than pulp compared to centrifugal juicers.
• Because the juicer works slowly, there is less foam, and no clog in the chute.
Cons
• Although it is a relatively quiet product, customers say the machine makes a whiny sound.
• You have to pre-cut pieces of fruits and vegetables before putting into the chute.
---
9. Chef's Star Manual Hand Crank Single Auger Juicer
Chef's Star has both an electric juicer and this manual hand crank juicer. The Chef's Star Hand Crank Juicer is perfect for those off-gridders or tiny house homeowners that are reducing their electric bill or carbon footprint. It's a great arm workout too to process the fruits and vegetables through the feed chute as you crank the handle.
The Chef's Star Hand Crank Juicer is affordable with a colorful appeal. The juicer pushes the pulp out of the front so there are two containers for the pulp and for the juice to be collected.
Pros
• Can juice a wide range of produce like wheatgrass, kale, and other tough greens.
• This product is very portable considering it is manual. You could almost juice anywhere!
• It is quiet—and that's ideal when you're out camping with others or live with roommates.
Cons
• This product is for small quantities of juice considering it can be a lot of work to hand crank a large quantity of produce or regularly juice.
• The juicer has a suction base that many customers say is not strong enough to hold during cranking.
---
8. BuySevenSide Multi-Function Juicer Extractor 4-in-1
With the BuySevenSide Multi-Function Juicer, it promises to work as a blender, processor, grinder, and meat grinder. This juicer has four large blades for processing fruits and vegetables, using 400 watts of power. It's relatively quiet, and compact for easy storage.
The parts can be easily disassembled for cleaning, and it has a safety feature where only when all the parts are properly installed will the juicer turn on.
Pros
• You can juice whole fruits like apples through the feed chute.
• It is a multi-purpose juicer that can even make sorbet.
• The spout has a perfect design for pouring juice.
Cons
• Product reviews seem faked like the provider made many accounts to repeat the same customer review.
• The function of grinding meat is questionable for this product as there are zero customer reviews for using the juicer for this purpose.
---
7. Hamilton Beach Juice Extractor
The Hamilton Beach Juice Extractor is a quality brand, and as mentioned it has been rated a "Best Buy." The juicer runs 800 watts of power with a two-speed setting.
There is a very large bin for pulp attached so you can continuously juice without emptying pulp. The product saves you time from pre-cutting produce so you can fit whole vegetables and fruits like apples into the feed chute.
Pros
• Many customers state that it is very easy to clean with the brush that is included, but the parts are said to be safe to use in a dishwasher.
• The juicer comes with a 40-oz. BPA-free pitcher with lid for juice and a foam separator.
• Juices a wide range of produce, including tough greens like kale.
Cons
• Some customers reported that the machine literally started smoking or smelling of burnt rubber after few months of use.
• Customers also suggest that this juicer would stop working after few months of use or never turn on even once.
---
6. Breville BJE200XL Compact Juice Fountain
The Breville BJE200XL Compact Juice Fountain is a number one bestseller. The Breville is a powerful centrifugal juicer using 700 watts and processes at 14,000rpm. This Breville juicer has the distinct locking arm like other Breville juicers, acting as a safety feature so that it will only operate when all the parts are properly in place.
The Breville exterior is a heavy grade polymer with a unique appearance. The micro-mesh filter basket and blades are stainless-steel. Also, it comes with a 20-oz. container for the juice.
Pros
• Very easy to clean as stated by many customers with the help of the brush that is included. The best way to keep pulp bin clean is by lining it with a plastic bag to catch pulp to be thrown out in compost or in trash.
• Juicer has an extra-large tube of 3-inches, so you can easily fit an apple or grapefruit whole into the feed chute.
• There are mixed reviews that state the Breville can and cannot juice wheatgrass, but it can process tough greens like kale.
Cons
• Does not have dual speed for soft produce.
• Although it states that it is a compact product, it is bulky and heavy for some customers.
---
5. The Breville 800JEXL Juice Fountain Elite
The Breville 800JEXL Juice Fountain Elite is as its name describes: it is superior to many juicers with a fountain aesthetic. It has a unique look for the dual speed control knob, with 13,000rpm and 6,500rpm. It uses a 1000-watt motor to power its centrifugal motion.
The locking arm is an interesting feature as well not seen in other juicers. It has a stainless-steel brushed exterior which brightens up a kitchen. The juicer uses a stainless-steel micro-mesh filter and titanium-plated cutting disk.
Attached is a 34 fl. Oz. pulp bin and, 34 fl. oz. juicing pitcher. It's easy to clean with the brush included, but the parts are dishwasher safe. Also included is a manual and recipe book. There is a safety feature that ensures all parts are properly connected before the machine will turn on. It has overload protection built in to prevent overheating.
Pros
• Has a wide 3-inch feed chute that fits whole fruits and vegetables like apples and beets, so you're saving time without pre-cutting.
• The arm over the juicer is able to move in all directions ¼ of an inch to ensure locking in place.
• It is a high yielding juicer compared to other brands.
Cons
• Its weight of 20 lbs., is heavy compared to other juicers.
• Because it works at high speed, big chunks of produce are sometimes left behind.
---
4. Breville JE98XL Juice Fountain Plus 850-Watt
The Breville JE98XL Juice Fountain Plus works at 850 watts using a centrifugal motion at12,000rpm on high and 6,500rpm on low. The powerful stainless-steel disc shreds produce fast—making 8 oz. of juice in 5 seconds flat. The disc is surrounded by Italian made with a micro mesh filter basket.
The Breville JE98XL has its classic vertical locking arm that secures all parts. Another safety feature is the overload protection where an LED light flashes. Attached is a large pulp container and Nylon bristle brush for easy cleaning.
Pros
• High yielding juicer that is reported to extract up to 30% more juice and 40% more vitamins and minerals than competitors.
• Because of the extra-large feed chute, there is less is not any pre-cutting. It is also suggested that you can juice pineapple even with the rind still on, but I would instead recommend juicing watermelon rind because it maintains that flavorful sweetness, and you're able to use almost all the watermelon.
• It comes with 1 Liter jug with a froth separator.
Cons
• Some parts are not dishwasher safe and could warp in high heat.
• Some customers said that it produces a lot of wet pulp that wasted juice.
---
3. Premium NutriChef Masticating Slow Juicer Extractor
The Premium NutriChef is a masticating juicer that slowly crushes and squeezes rather than fast shredding like a centrifugal juicer. The Premium NutriChef uses 200 watts and juices at 80rpm. This juicer has been scientifically tested to extract more nutrients by retaining the fiber in the produce compared to the common centrifugal juicers.
This juicer has a slender vertical structure. It is quite the unique design, even with a simple switch-button. There is a forward and reverse adjustable system as well that allows you to get the most of your produce. The parts are easy to clean, but certainly are dishwasher safe.
Pros
• Quiet motor considering it works at a low speed.
• The juicer can work at a gentler speed, reducing foam content and reducing loss of extra nutrients.
• This masticating juicer works slow but has high-yield extraction.
Cons
• The juicer weighs about 13 lbs., which some customers say is bulky and hard to store.
• You have to pre-cut produce and wait to feed more pieces in so that it doesn't jam.
---
2. Breville BJE430SIL The Juice Fountain Cold
The Breville BJE430SIL Juice Fountain has the distinct vertical lock arm as many other juicers do. It has a dual speed setting for low at 6,500rpm and high at 13,000rpm. This is a powerful machine, but don't worry—it has a safety feature that will flash when it isn't being overloaded.
The juicer is perfectly designed with an extra wide feed chute for putting in whole fruits and vegetables. Attached is the extra-large container that holds 3.6 qt. (or 3.4 Liters) of pulp. With the juicer comes a Juice Jug that has the capacity to hold a whopping 70 fl. oz. (or 2 Liters)!
Pros
• Operates quietly for a standard centrifugal juicer.
• The juice jug can be sealed and stored in the refrigerator—perfect for storing overnight and having a glass of juice in the morning already prepared.
• The juice jug conveniently has a froth separator.
Cons
• The juicer is being promoted that it has a cold effect on the juice, but there's no heat transfer for any juicer, so this does not make it unique.
• There are many complaints of juice being wasted, and often customers had to strain the pulp to get more juice.
1. Omega J8006 Nutrition Center
The Omega J8006 is widely used among health gurus. It is a masticating juicer and runs at 80rpm. Just because this juicer works slowly, it is a very powerful machine for squeezing the most juice out of each piece of produce. Because it is a slow processing machine, it can also maintain fiber, and prevent oxidation.
As it juices, the pulp is ejected out the front apparatus and the juice flows out the bottom. It has an interesting design. The body of the juicer has a handlebar for easy travel and pick up as well.
Pros
• There is no foaming, clogging, and is quiet.
• Juices wheatgrass, tough greens, and a wide variety of fruits and vegetables. You can make nut butter by processing nuts as well.
• Additionally, it is described as being able to grind coffee and herbs, and make sorbets. Some customers have used the Omega to process frozen bananas into an "ice-cream" texture.
Cons
• You have to slowly feed each piece of produce in the chute one-at-a-time.
• You may have to do a lot of pre-cutting because the feed chute is not extra-large.
The Benefits Of Juicing
Everyone knows the importance of eating fruits and vegetables. However, it's not always easy to get the proper serving amount per day. Everyone lives busy lives, and healthy eating isn't always a priority. With a large number of fast food restaurants available, fruits and vegetables tend to get pushed to the back burner. Luckily, juicers can help everyone live healthier lives in a simple way.
Easy Way To Consume Fruits And Veggies
If you had to trust yourself to consume fruits and veggies the traditional way, you probably wouldn't do it. Most people aren't health fanatics, and they tend to neglect their bodies by eating things that aren't good for them. Instead of grabbing an apple for a snack, they grab chips. Or rather than having a side salad with their sandwich, they eat fries. Juicing is the perfect way to add fruits and vegetables into your diet without even noticing. Plus, if you have a meal that's unhealthy, drinking the juice on the side might make you feel a little better about it.
Less Sugar
Most store-bought juice is not all-natural. It contains added sugar to provide more sweetness, which isn't good. When you make your own juice, you're getting whole fruits without any of the extra stuff you don't need. Plus, you can sneak vegetables into the mixture, which provides loads of other health benefits. Too much sugar can cause weight gain and even illness. So, it's good to have a beverage option, that doesn't cause those issues.
Healthier
Another downside to store-bought juice is that it contains preservatives to give it a longer shelf life. Making your own juice at home gives you the luxury of knowing exactly what you're drinking and put it into your body. Not to mention, if you buy organic fruits and vegetables, you're giving your body an even better version of homemade juice. Even if you purchase natural juice from health food stores, it'll likely be expensive. Preparing juice at home should also save you some money as well.
Creativeness
When you get juice from the grocery, you have to pick one of those flavors that they have available. However, when you make your own, you can create whatever flavors you like. If you enjoy pineapple and watermelon juice together, you can make that—it's all up to you. Whatever variety of flavors you enjoy, you can drink those together, which is not an option you have buying from the store.
Great For Kids
Lots of kids are picky eaters, especially when it comes to vegetables. But as a parent or guardian, you want to provide your children with well-balanced meals. But as you may know, it might not be easy to get them to eat veggies that you cook and serve. Thankfully, juicing is a great way to add vegetables into your children's beverages, and they'll never know. Plus, what kid doesn't like juice? You can give them a cup with their nightly meal and not get any complaints about the taste. It's a win-win for everyone.
Which Juicer Should You Buy?
After reviewing each of the top 15 Juicer, it is very apparent to understand what you will be doing with the juicer. It is also important to pick a juicer with enough power to get through anything you give to it.
The other factor that I have learned with juicers is to get one with flexibility. You want a juicer that can grow with your interest.
For this reason, I feel the best juicer is the Omega J8006. This juicer is known for its great performance paired with its ability to handle anything you would want to do with a juicer.
Take a look at all the Jucier options closely to determine your price range and scope of use. Compare your favorite Juicers and make a pro and con list of your own that best suits your needs.
Check out each juicer for yourself that accommodates your needs, and explore the endless possibilities in one glass of juice. Juicing is taking that first step to your new health regimen. Start the new year in 2022 every morning with a glass of fresh juice. When you have a healthy body, you are creating a healthy mind and spirit.
Last update on 2023-11-29 at 23:42 / Affiliate links / Images from Amazon Product Advertising API