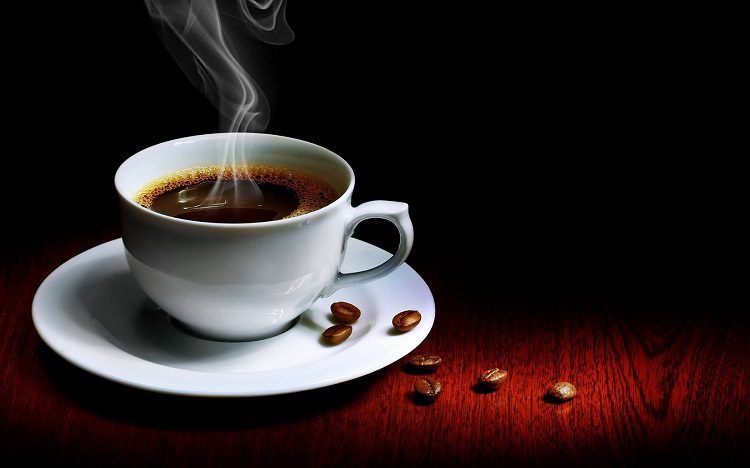 One of the most important parts of your day is your morning cup of coffee. Without it, your day just never seems to start. You feel like you are sleeping all day long. The cup for this most important of morning beverages must be trusted to keep your coffee piping hot and feel good in your hands, as well as having a fun or attractive appearance.
Whether you want to take your coffee to work in the morning or sit with your coffee over the morning paper while you wake up, you become very attached to your coffee mug. A favorite mug feels like an old friend, there to give you warmth and energy when you are dragging.
Coffee mugs can keep your coffee hot for hours and can have fun, playful designs and sayings that just scream what you are thinking. Do you love your dog or cat and want everyone to know while you drink your coffee in the morning? Get a fun dog or cat mom or dad mug to show your loyalty to your best friend with every cup of joe.
Don't settle for whatever mug you can find in the cabinet at home or work. Choose a coffee mug that makes you feel as good each morning as your coffee does, keeps your coffee warm, or reminds you to face the day with optimism and humor.

10. 

Coffee Mug Set Set of 6 Large-sized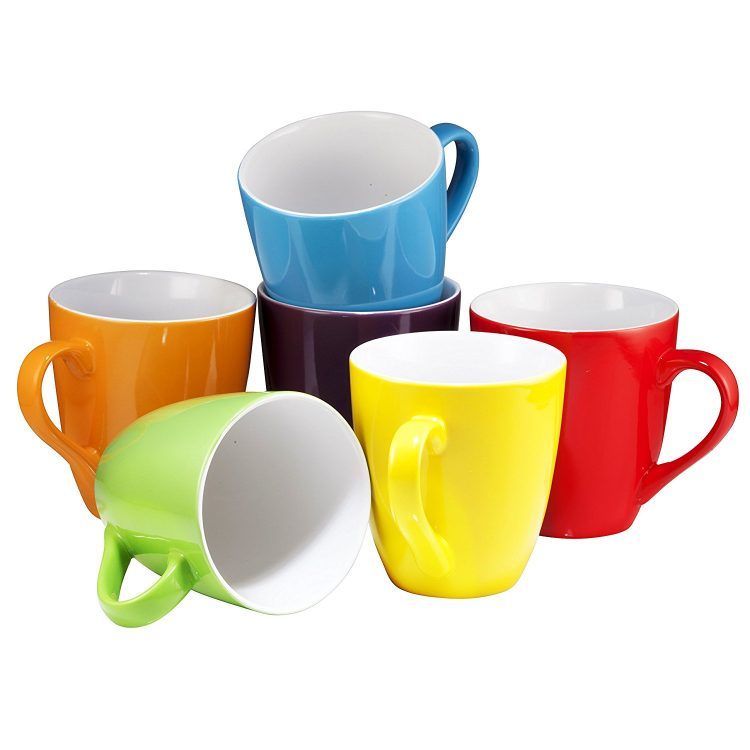 If you want a no-frills coffee cup that is bright and colorful, the Bruntmore coffee mug set may be for you. These large, sturdy mugs are each a different fun color so you will never get your mug confused with somebody else's.
The high-quality ceramic is safe to put in the microwave to heat up your coffee and will hold up to dishwasher washing for years to come. These old-fashioned mugs will give you the pleasant sensation of wrapping your hands around a pleasantly warm mug and taking on the morning.
Pros
Six brightly colored cups

Large, 16 oz capacity
High quality ceramic is dishwasher and microwave safe
Cons
Tend to develop hairline fractures with heavy use
Don't feel sturdy
Too big for some people
---
9. 

Ember Temperature Control Ceramic Mug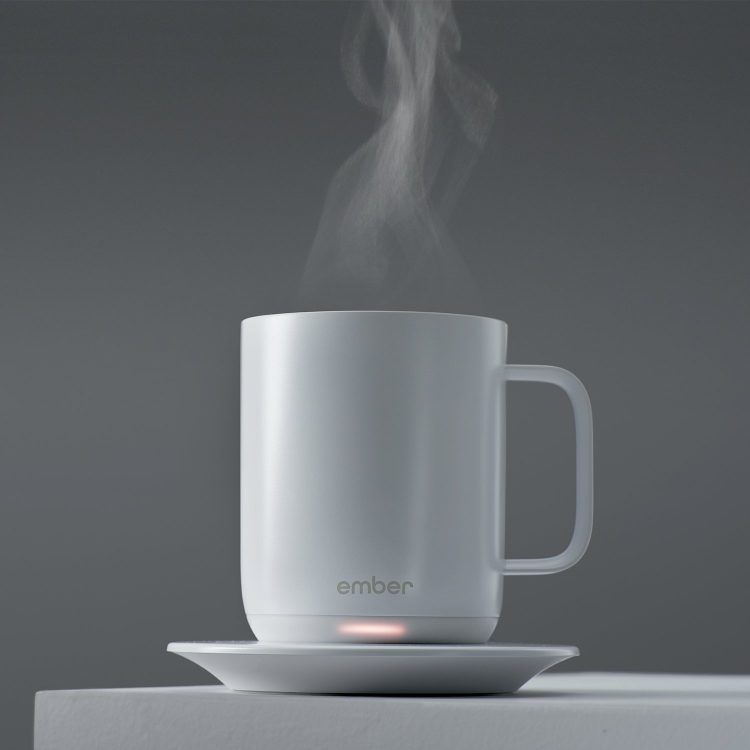 If you absolutely hate a cold cup of coffee and want full control of your coffee with every sip, the Ember coffee mug might be the cup for you. This innovative cup allows you to adjust temperature remotely.
Choose a personalized LED and preset for different drinks. Keep the coffee in your cup exactly the temperature you want it for as long as you are drinking it while protecting the surface the cup rests on and your hands from too much heat. The saucer serves as the heat source so your coffee cup is light and easy to drink from. Say goodbye to heavy metal cups to conserve heat, this coffee cup makes its own heat!
Pros
Keep your coffee at the exact temperature you want for hours
Drink from a graceful, traditional looking coffee cup
Protect hands and surface from heat
Cons
Needs saucer to heat

Need an app to customize temperature and control LED light color
Expensive for a coffee cup
Will scratch if stirred with a metal spoon
---
8. 

Stainless Steel Coffee Mugs with Lids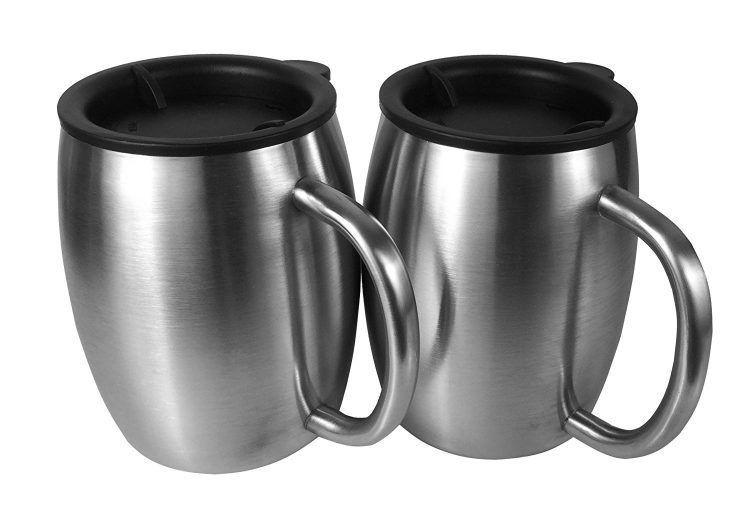 These sleek stainless steel coffee mugs will provide years of drinking comfort. The charming curved design is easy to drink from and clean. The double-walled insulation keeps your drink hot or cold with an air seal.
Don't worry about the cup being too hot or cold or producing condensation, these cups remain comfortable to the touch and dry. These gorgeous brushed stainless steel cups will never rust and are made of 100% food grade stainless steel. At 14 ounces, these mugs hold enough coffee for you to enjoy but not so much that the mug is very heavy.
Pros
Brushed 100% stainless steel

Beautiful curved design
Double walled insulation to keep coffee hot
Cons
Not big enough for a large serving of coffee

Doesn't keep coffee as hot as other insulated cups do
Leaves some people with a metal taste
---
7. 

MyHomeIdeas Stainless Steel Bamboo Mug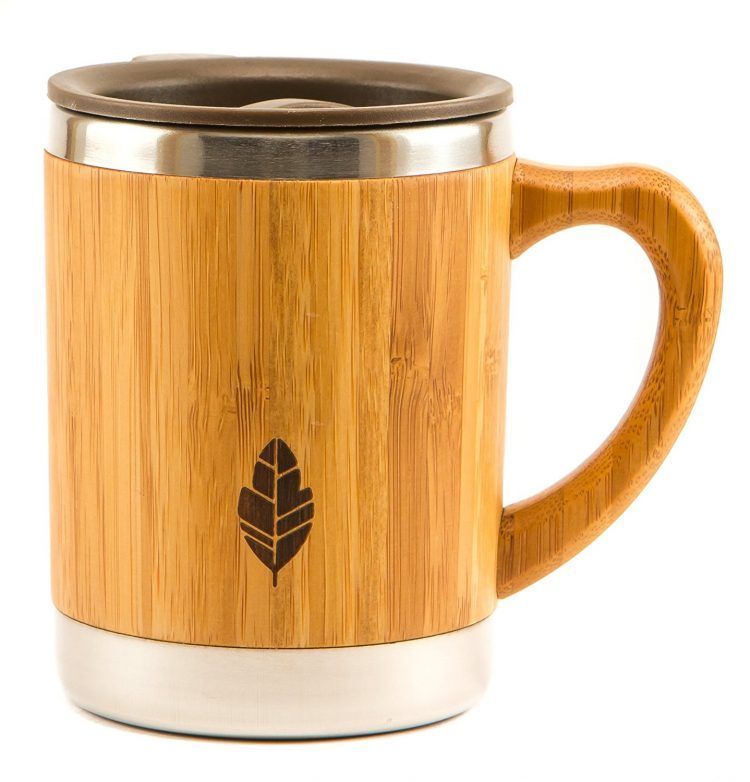 Sick of the sea of stainless steel coffee mugs? This charming and attractive bamboo mug will keep your coffee hot and look classy doing it. These cups are doubled walled to air seal in the heat for long-lasting hot coffee. The stainless steel is 100% stainless steel so you know you won't have to worry about toxins or BPA. The bamboo used in this cup is 100% natural and is pleasing and comforting to hold. This cup will last you years without breaking and is easy to carry. The company warns that the lid is not spill-proof.
Pros
100% recyclable stainless steel

100% natural bamboo
Classy and warm looking
Pleasant to the touch
Cons
Doesn't hold as much as comparable mugs

The lid doesn't fit well
The handle is too small for some people's hands
---
6. 

Contigo SnapSeal Byron  Steel Travel Mug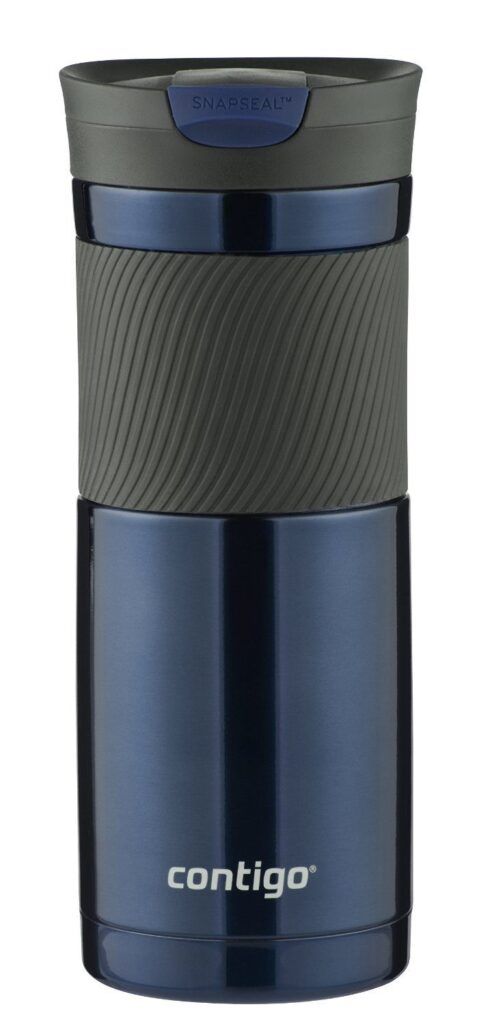 This good-looking mug from Contigo offers an insulated coffee cup that can hold plenty of coffee while offering a comfortable hand grip for on the go coffee. These mugs come in several fun colors for customized style. The leak-proof lid lets you take this coffee on the go without worries for up to seven hours of temperature control. This cup holds a lot of coffee without being difficult to hold or put in the car holder. Contigo packs up their cup with a lifetime warranty.
Pros
Lifetime warranty

Customizable with fun colors
Excellent insulation
Cons
Wears quickly compared to other mugs

Valve is hard to open
Paint chips
---
5. 

YETI Rambler 14 oz Stainless Steel  Mug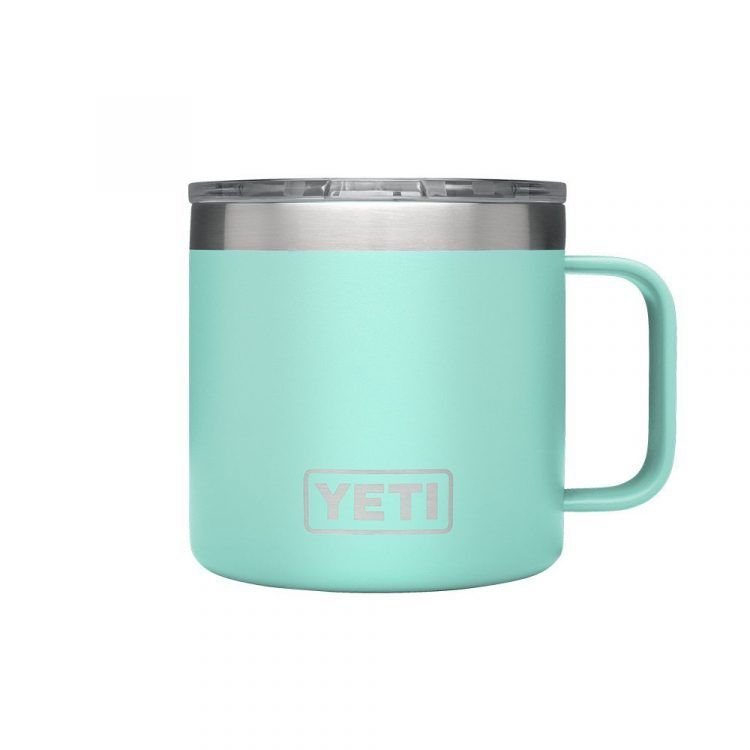 The Yeti is the go-to trusted name in drink insulation. This 14 oz stainless steel mug comes with a convenient handle and in a variety of colors so your mug will be customized to you. The Yeti cup is tough and engineered for long-lasting durable performance.
The grip is comfortable to hold and the coating, if you choose a colored coating, is resistant to scratching, fading, or peeling. The double walled vacuum of this well-made cup will keep your drink hot or cold for as long as you want to sip it. The sweat free design leaves you free of worries about setting your mug down anywhere.
Pros
Well engineered, rugged design

100% stainless steel and chip resistant coating
Keeps your coffee hot for a very long time
Cons
Expensive for a coffee cup

Doesn't have a rubber bottom so may scratch
---
4. 

Jusalpha Royal Fine Bone China Light Blue Coffee Mug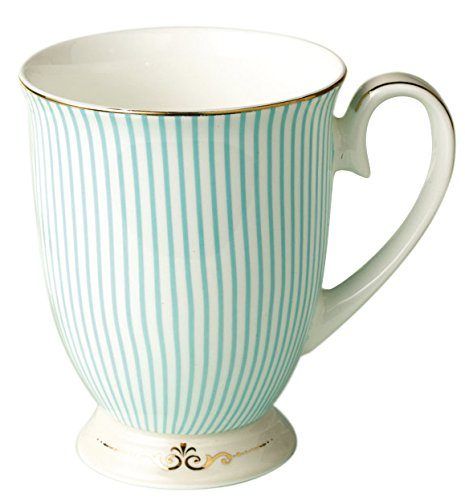 If your cup of morning coffee is about celebrating the beauty of the morning with elegance, this pretty little cup by Jusalpha might be right for you. This lovely cup has sweet gold plating to make your coffee cup look like it is wearing jewelry. This cup is made of fine bone china and has a timeless look. The handle is gracefully curved and the light blue striped pattern looks charming in any setting. Surprisingly this delicate-looking cup is dishwasher safe.
Pros
Gold plating

Fine bone china
Beautiful, classic design
Cons
Feels delicate
Small
Thin so drink won't stay warm long
---
3. 

Thermos  27 Ounce Compact Stainless Steel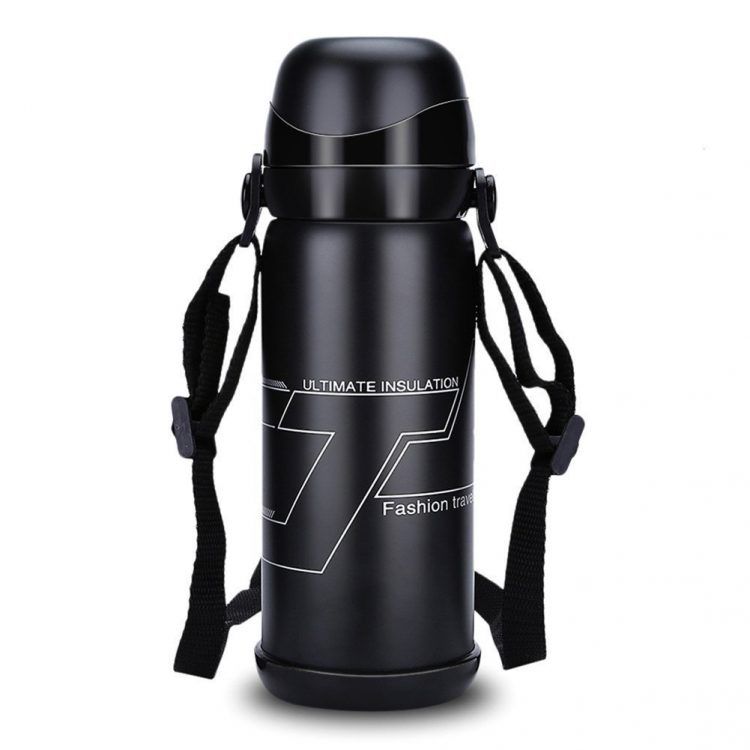 This stylish insulated thermos is ruggedly made of food grade stainless steel, so you know it is rust free and free of toxins or lingering flavors. This mug offers two in one function with the interchangeable caps. One cap has a wide mouth and one has a narrow mouth, both leak free. This thermos also comes with a strap for easy carrying. This cup is leak and air proof so there is no sweating and drinks stay warm for hours. Bring this thermos with you for a hot cup of coffee for anywhere you go.
Pros
Food grade stainless steel

Insulated for long-term heat conservation
Two in one lid
Cons
Not as good-looking as other mugs

Heavy and cumbersome to use
---
2. 

Glass Cappuccino Cups Double Walled Coffee Glasses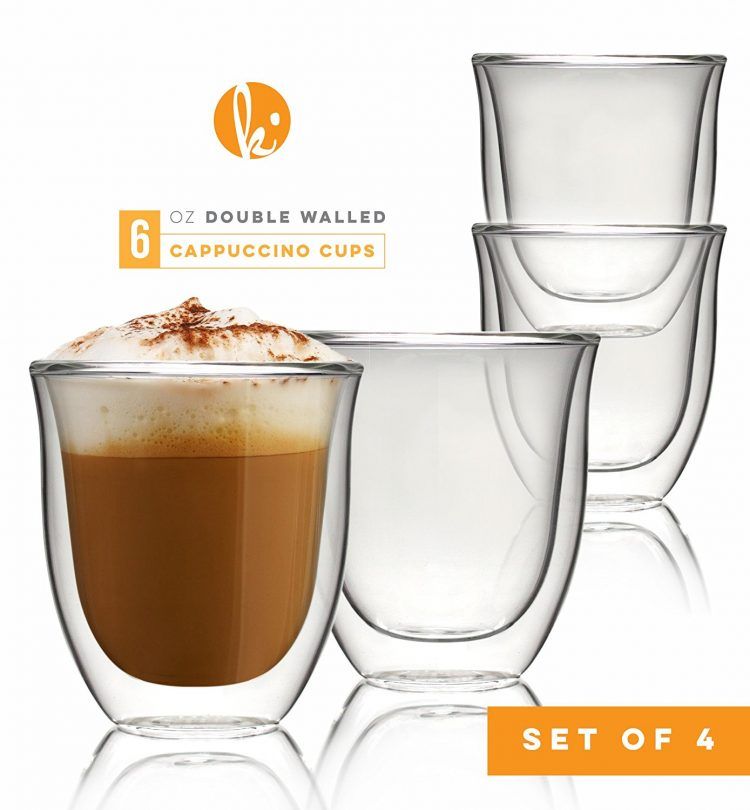 If you want to enjoy your mug of coffee like you're being served by a personal barista in your home cafe, these authentic cappuccino glasses by Kitchables may be right for you. The unique insulated double wall design keeps your coffee hot and your hand comfortable while looking very cool. These cups are shatterproof and easy to clean. They resist scratches and safe in the microwave and dishwasher. These glasses look delicate but are anything but. If for any reason you are dissatisfied, Kitchables promises a full money back.
Pros
Elegant, authentic design

Insulated in attractive double walled technique
Dishwasher and microwave safe
Cons
No handle
Expensive for a set of four
---
1. 

Large Coffee Mugs, Double Wall Glass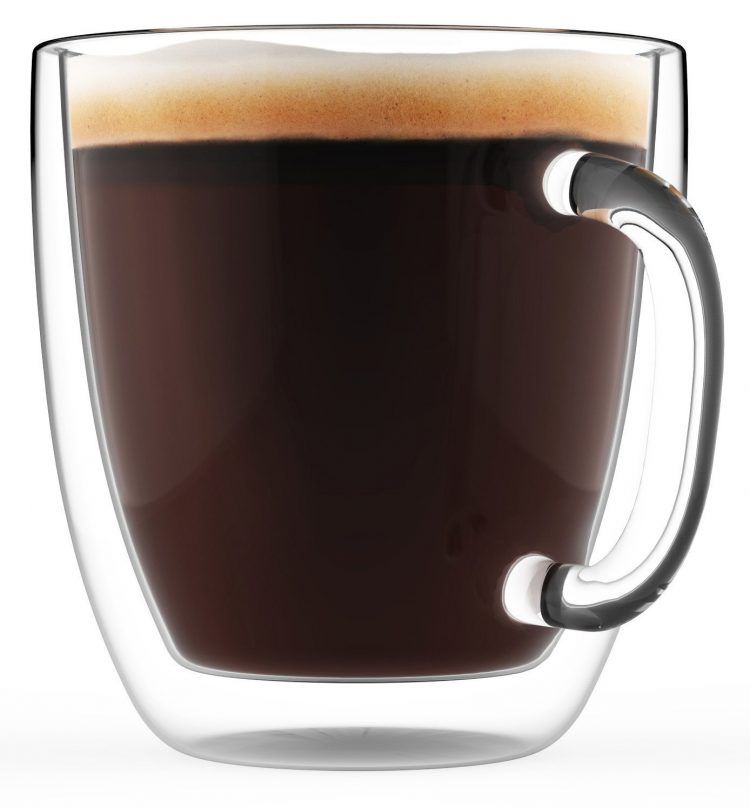 If you want a sturdy insulated glass mug that will hold all the coffee you need with a comfortable lid, this cup from Elixier may be perfect for you. This charmingly designed up has double walled insulation so your drinks stay warm and your hands stay comfortable. Your drink will look like it is floating in midair with this intriguing insulation design. This big mug is easy to hold due to the large handle, and cozy to grip with two hands.
Pros
Large 16-ounce capacity

Beautiful insulated design
100% satisfaction guarantee
Cons
Heavy to hold for long

No lid so may spill
How To Decide Which Coffe Cup Option Is Best
If you are a coffee enthusiast, then you know how important it is to have a good coffee cup. However, if you are in the market for new mugs and you don't know which option to choose, here are a few pointers:
 The Number Of Coffee Drinkers And Your Household
If you live with more than one other coffee drinker, it's imperative that you have multiple cups available. It might even be more simple to buy a coffee mug set. That way, there are several cups available for everyone to use.
A Thermal Coffee Cup
This option is for people who like to switch things up. Not to mention, thermal cups keep hot and cold beverages at their accurate temperatures. So, if you prefer a warm cup of coffee in the winter, you can use the same mug. Or if you like iced coffee in the summer, it is suitable for that as well.
Coffee Cups With A Lid
Sometimes you might not have the luxury of sitting down and enjoying a cup of joe before work. Plus, some people like to get their energy pumping before they get to their job. This is perfect for people who want to drink a cup of coffee on their commute to work. There is nothing like having a warm indulgence while you're in traffic, and it calms the nerves before you start your day. Also, you don't have to worry about spilling coffee on yourself while getting from point A to point B.
Travel Mug
Travel mugs are just as the name implies. It doesn't matter whether you're going to work, to a friend's house, or simply running errands. A travel mug is it a good companion. One of the best things about it is its size. Most coffee cups are generally small, and if you want more coffee, you have to brew more. However, with a coffee travel mug, you can have about two cups in one— which is great for those days when you need a pick-me-up. 
Cappuccino Cups
This next option is good for those who want to sit and have a Starbucks experience at home. When you wake up on the weekends, you can take your time and enjoy a nice brew before starting your day. Not to mention, most cappuccino cups are stylish and provide more of a cozy feel while you're enjoying your coffee. You can't really have a delicious cappuccino while using an unattractive cup. So, if you're someone who enjoys lattes and frothy coffee drinks, cappuccino cups are right up your alley. 
Decorative Coffe Cups
If you enjoy drinking coffee, then it's probably an activity that's fun for you. Well, what's better than doing so in a cute cup? Let's say your favorite character is Mickey Mouse, then sipping out of a Mickey Mouse mug will probably make your day. Or if your favorite color is yellow, drinking from a yellow coffee cup will likely be your favorite one to drink from. There's something about having decorative cups that make the coffee drinking experience a lot better.
Which should you buy?
The Yeti is the best-known name in drink insulation for good reason. If you want to feel confident of a mug that will keep your coffee warm the longest the Yeti is the cup for you. The fun colored designs let you choose a  mug that is perfect for you and saves this mug from the boring stainless steel look.
This mug is designed ruggedly to last you through years of hard treatment. While the lid won't keep your drink in, it will keep it from sloshing out. The Yeti is a good investment in long-term coffee drinking.